Believe it or not, email is still the best for reaching customers for a variety of reasons. How can you use email campaigns to power your B2C communication to engage your customers and drive sales? Whether you are an experienced email ninja or a beginner, get ready for some insights!

Difference between B2B and B2C marketing strategies
Though inbox folders are a private space, there is a constant battle for attention going on inside them. Just imagine how many emails an average person receives per day. These are private messages, invites, discounts and offers, notifications and reminders, business deals, and proposals. Each of them convey some value and if you want to break through the noise, you need to work to make your emails a cut above the rest.
First, you must understand all the specifics of the market and audience you sell to. While B2B or business to business marketing entails promoting products or services to companies, B2C or business to consumer marketing is about dealing with consumers directly.
The main difference between the two models lies in the decision-making process: in B2B, you work with a group of people or stakeholders who make purchase decisions, in B2C, you communicate directly with the consumer who makes the purchasing decision.
Businesses prefer figures and logic, so B2B email marketing focuses on bringing value and explains how to save time, money, and resources. Consumers typically look for utility and use emotions to inform their decisions, so B2C email marketing is all about crafting compelling messages and storytelling.
A majority of the messages we receive from brands are built around a product and showcasing its features. To stand out from the crowd, nail down what your subscribers want and give it to them. We are living the age of information overload, so it's time to provide value and create something genuine.
Just remember the emails that you always open. They don't sound "salesy" at all. As Jay Bayer, the author of "Youtility" says, communications that fascinate us can be amazing or they can be useful. You can invest a fortune in being amazing, but smarter and more efficient marketing is about help, not hype.
Jay Bayer,
social media strategy consultant, founder of Convince and Convert

Stop trying to be amazing and start being useful. I don't mean this in a Trojan-horse, "infomercial that pretends to be useful but is actually a sales pitch" way. I mean a genuine, "how can we actually help you?" way.
How does all of this translate into an effective B2C email marketing strategy? Grab some tips below!
B2C email marketing tips you can't afford to miss
Here are some ideas on how to give your B2C marketing strategy a special twist.
Tip #1: Put your customer first
Some take this tip literally and think they've done the job by adding the customer's name to the subject line. Spoiler alert: that's not enough.
You have a variety of data to consider, including demographic information like occupation, gender, interests, purchasing behavior, subscription preferences, and browsing history. Ask your subscribers about their preferences, collect the data, and segment your mailing lists accordingly. Sending highly-relevant content is the core of the efficient B2C communication.
A valuable insight from Twilio engagement report: apart from being attentive to personal details, give your readers a sense of control. Make it easy for subscribers to manage their subscription and provide some choices on what kind of content they want to receive and when they want to receive it.
Once you dial in your B2C communications, you are a winner! 75% of consumers have rewarded businesses that communicate in the way they prefer by making a purchase; seven out of ten consumers have penalized a business for using the wrong frequency and channel.
Best practice: Under and oversending both influence your email metrics and ROI. Experiment with email marketing frequency using analytics and tests.
The situation is even more critical when it comes to Gen Z and millennials. These groups expect messages to be personalized and prefer to choose the frequency and time of the day. Moreover, they are also more likely to penalize businesses that don't meet their expectations by unsubscribing or posting negative reviews.
Tip #2: Automate your B2C email marketing
It's hard to personalize and send each message manually. SendPulse allows you to easily craft and test automated email campaigns, to help you to send the right messages at the right time. This way you can minimize the risk of annoying your consumers and make your B2C email marketing smarter.
Simply choose some important data points like recent purchases, abandoned cart, birthday, or any other action or event and design communications that will encourage your consumer to take action.
Here is an example of an automation flow built with SendPulse: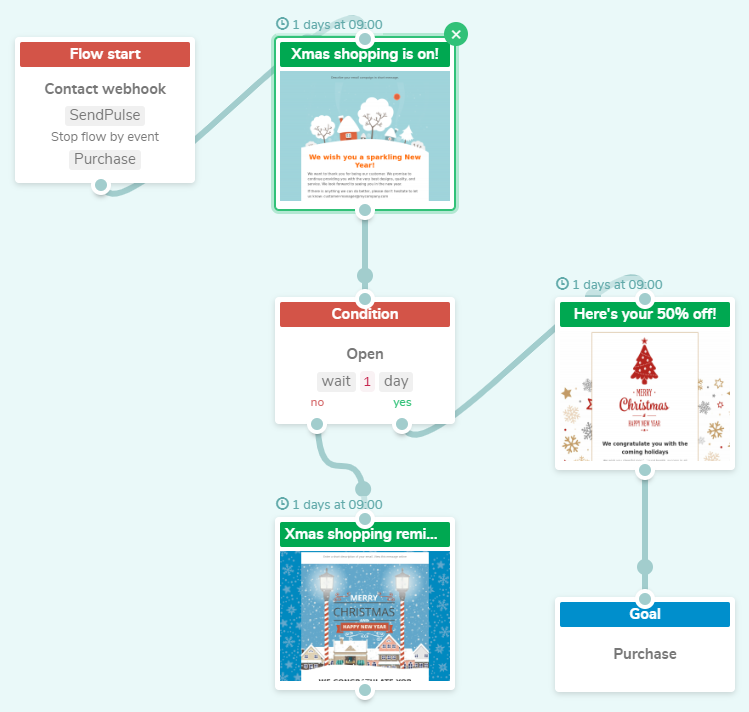 Tip #3: Measure, test, and iterate
In 2020, email is expected to bring in $42 earned per $1 spent on average, but you always need to evaluate your email marketing efforts. Here are some key B2C email marketing performance metrics to track:
| | |
| --- | --- |
| Open Rate (OR) | Shows how many people actually opened your email. Depends on your subject line, relevancy, and sending time. |
| Click-Through Rate (CTR) | Shows how many people click the links you provided in your email. Depends on content relevance, number of links, and calls to action. |
| Conversion Rate (CR) | Shows how many people made a purchase or succeeded in any other action you are targeting them to complete. Your CR depends on all of the above metrics and product market fit: whether your product really solves the problem and has a reasonable price. |
| Return On Investment (ROI) | Shows how much you earned versus spent on your email campaign. For instance, if you spent $100 on 10 emails and got $1,000 in sales, your ROI is $10 for every $1 spent. Don't forget to include costs such as email design and copy, email service fee, and labor invested. |
Unlike vanity metrics like email reach or subscribers, these four metrics are crucial to track your performance and show the direct impact of your B2C email marketing strategy on your business.
When it comes to testing, there are lots of email testing tools worth using to:
validate email addresses;
check your sender reputation and spam score;
review content formatting on different screens and platforms;
assess subject lines and content performance.
A/B tests help enhance performance, allowing you to send messages to two equal groups of recipients. Overall, the process is a lot like working with hypotheses.
For example, if you want to increase your open rate, make a list of ideas that could help:
Deadlines in the subject line will increase the open rate by 10%;
An email with a shorter subject line will be opened by 75% of subscribers;
Emails sent on Saturday will have a higher open rate than emails sent on Sunday;
A cat emoji in the subject line will increase the open rate by 50%.
Because everybody loves cats, let's assume you decided to test the last one. Send an email with the emoji to group A and the one without the emoji to group B. Compare the open rates. If your theory worked, keep it up!
Tip #4: Optimize for mobile
Mobile first! People are accustomed to using many screens, constantly moving between devices during the day. That's why it is critical to make your emails responsive on mobile.
Here are some points on how to optimize your emails for mobile:
use short subject lines;
choose a readable text size;
include clearly visible CTA buttons for every screen size;
use mobile-ready email templates.
Tip #5: Be emotional and concise
Remember that your consumers are emotionally driven and prefer simple and straight-to-the-point communications.
To make your B2C email marketing full of emotion:
choose punchy and emotional subject lines, think of using emoji;
point out the benefits of your offer clearly and right away;
use storytelling and memes;
use cheerful and inspiring tone of voice;
add images to illustrate your product or consumers pain points;
take advantage of psychological hacks like creating urgency, scarcity, social proof, and others.
Tip #6: Experiment with different types of emails
There is no official email classification but two main categories are often defined as:
triggered emails;
business as usual emails.
Triggered messages, including transactional emails, are driven by a certain event or action. They convey information about this action, facilitating the transaction and helping the customer complete a certain scenario. They are automated and have a higher open rate than business as usual emails because people consider them as a helpful tool on their way to success. You should definitely include them into your B2C marketing strategy.

Business as usual emails are curated manually and are sent to inform recipients about products, sell, or promote your brand. If triggered emails support a customer through the journey,
promotional emails
inspire them to start it.
There are a variety of email types in each category:
Triggered emails

Account Activation

Comment Notification

Confirmation

Lead Nurturing

Loyalty / Rewards

Order or shipping status

Product Feedback

Recent Purchase

Recommendations

Review / Testimonial

Thank You

Trial / Free Trial

Business as usual emails

Announcement

Back in Stock / Out of Stock

Contest

Coupon, Gift Card

Dedicated / Standalone email

Discount / Special Offer

Featured Product

Giveaway / Last Chance

Notice

Personalized

Price Change

Product Launch

Security / Phishing

Support / Terms of Service
How to choose email types for your business? For some B2C marketing strategies, it is absolutely necessary to use most of the types of email mentioned above. For instance, in eCommerce email marketing, a variety of triggered emails are a part of every single purchase and business as usual emails serve as the main channel to announce special offers and giveaways. If your business is not eCommerce, be creative and test different types, evaluating the ROI.
Let's move on and check out some emails aimed at driving sales to inspire you.
Types of emails to use in your B2C email marketing
According to Convince and Convert Email Marketing Research, a majority of marketing professionals believe that personalized and single-topic emails are the most effective in terms of engagement and ROI.
We will now take a closer look at the top-5: personalized, single-topic, multiple-topic, milestone, and lead nurturing emails.
Personalized emails
Goal: engaging your audience, building loyalty, and upselling.
Personalized emails have been trending in B2C communications over the last couple of years. Lots of brands go further rather than just adding the customer's name to their messages. They study audience behavior, collect stats, and use them to make extremely relevant and engaging emails: wellness apps encourage recipients to continue training, banks give tips on how to save money, online shops offer look-alike items.
For instance, Grammarly makes the writing process a personal challenge for their uses. It tracks writing stats and wraps them up into feasible goals. Their infographics make it convenient to read, so you can easily make it to the bottom, where an upgrade offer is featured.
Subject: You were a Grammarly legend last week!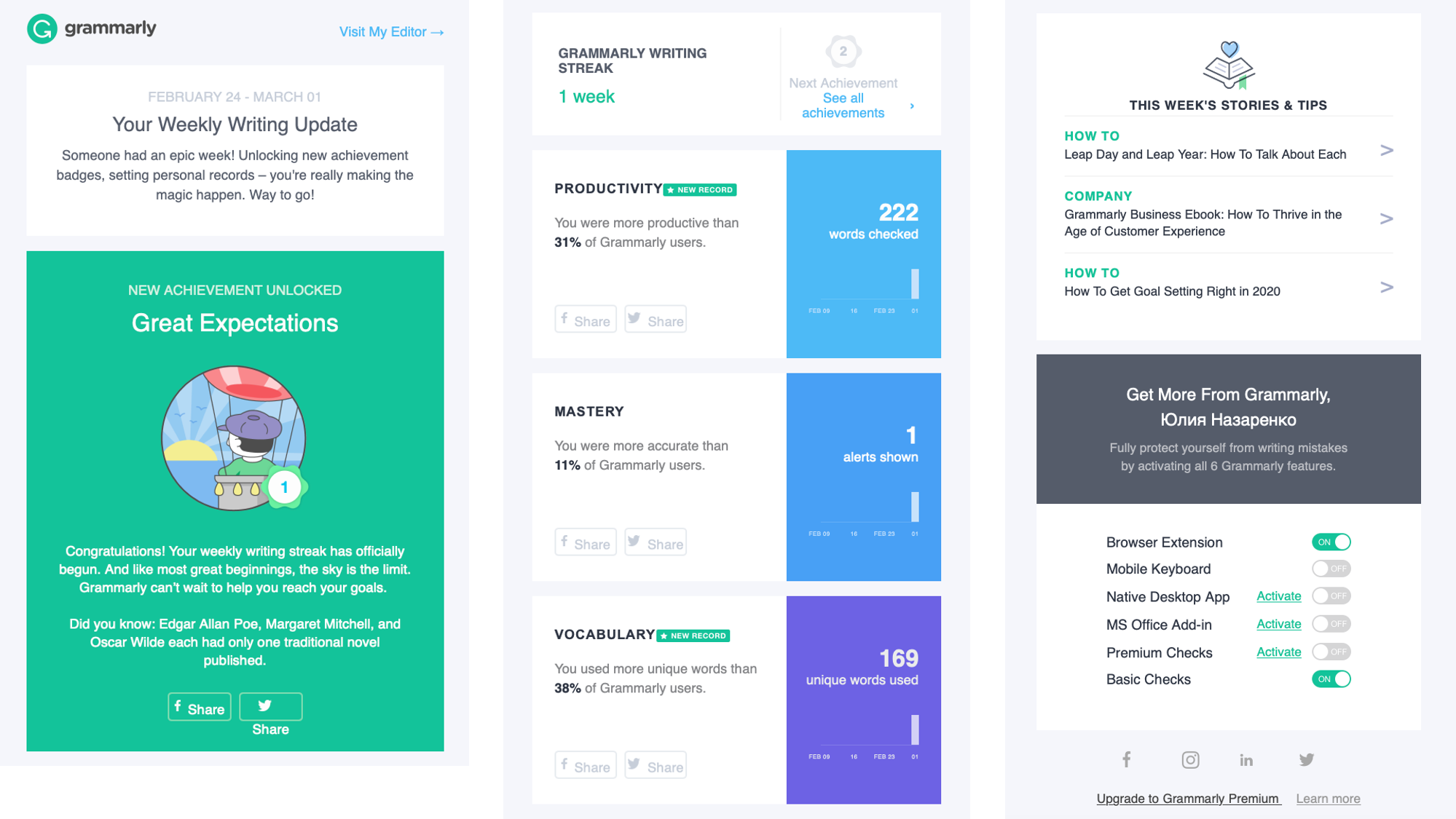 Single-topic or dedicated emails
Goal: to drive an immediate action and get the highest CTR.
The secret of the single-topic email is that it only has one call to action and converts better. That's why dedicated emails are widely used in B2C marketing strategies, especially in promotional campaigns and onboarding.
Here are two single-topic email types you should adopt:
Welcome emails
This email is part of onboarding and makes the first impression. Playful or neutral, straight-to-the-point, or educational, it will reveal your brand's personality and set the tone for future emails.
A welcome email is a crucial part of the customer's journey. So don't forget to inspire a person to move on by including a relevant call to action:
offer a welcome promo code to boost the first purchase in your online shop;
give links to the best articles if you have a blog or media;
help new users get started using your productif you are a SaaS.
For example, Headspace not only welcomes and recognizes a recipient, but also outlines its brand's value proposition: a happier and healthier life. As the app is aimed at encouraging beginners to make meditation a part of their daily routine, the company uses a Start Meditating CTA button. As you see, there is only one call to action to generate maximum traffic.
Subject: Ready To Meditate?
Special offer emails
As the main goal of any B2C marketing strategy is to attract new customers and sell to them, this type of emails is the one we see in our mailboxes every day. To get noticed among other email clutter, you should work on your subject line and curate your offer to the customer's profile. Remember that your message should be appealing — offering a 5% discount can be even offensive at times. Users expect more.
For instance, in its dedicated promotional email, Ryanair offers a 25% off and uses FOMO to instill a sense of urgency and, again, there is only one call to action button to generate leads.
Subject: Spring sale! Up to 25% off 250,000 seats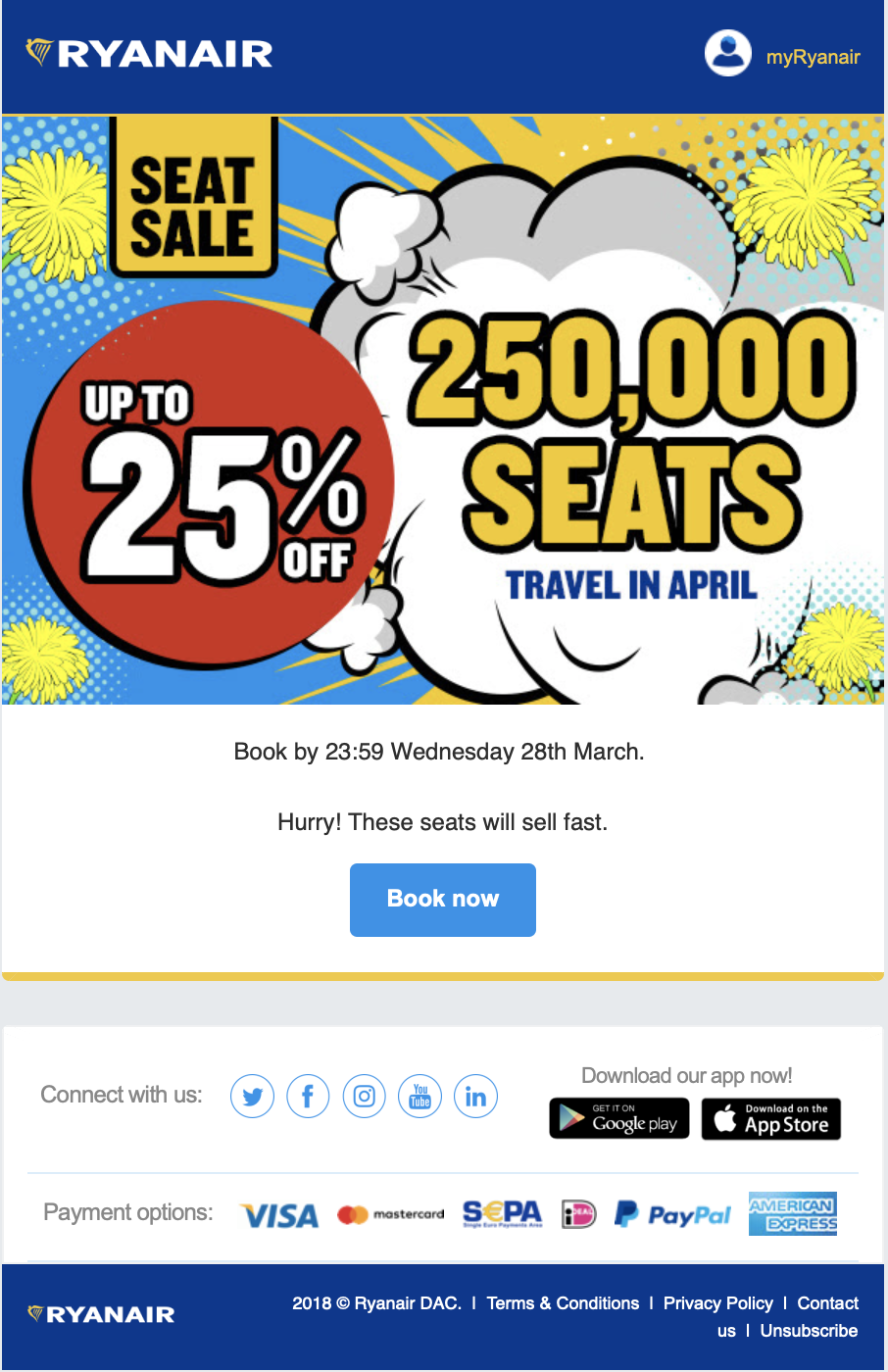 Multiple-topic or newsletters
Goal: growing engagement and loyalty by providing useful information and news.
These emails usually contain a list of useful links or items and are sent with a fixed frequency. Everybody sends newsletters, so don't fall into the trap and treat them as routine — this way, you are at risk of making your customers hit the unsubscribe button.
For example, Fiverr uses the newsletter format to support freelancers during the COVID. They offer a guide on how to survive and an announcement of the Freelancer Fund launched together with its main competitor — Upwork. This kind of communication certainly engages customers and contributes to brand loyalty. This is a great example of genuine and timely B2C communication, which respects its momentum.
Subject: Weekly roundup: Resources you need right now
One more thing to remember: The more CTA buttons you have, the fewer conversions you will get, because people usually don't click more than two links per email. If you have a piece of very important news, like a product launch, consider announcing it via a dedicated email.
Milestone or birthday emails
Goal: growing loyalty, stimulating a purchase, or re-engaging subscribers.
Milestone emails are also single-topic and personalized, but are automated and sent on specific occasions, usually for birthdays or anniversaries. Their conversion rate is higher, so don't hesitate to provide a birthday coupon or a discount to boost your sales.
Subject: Happy birthday! Enjoy this special treat
Lead nurturing emails
Goal: converting subscribers into customers, building trust, and educating subscribers about the product.
These automated and personalized emails aim to convert leads into customers. Use them to help consumers move down your sales funnel, supporting them with helpful and trustworthy information about your service or product.
To design a high-performing lead nurturing email campaign, you need data collection and automate it, so make sure you introduce them to your B2C email marketing from the very beginning.
Best practice: There are many ways to collect your customer's data, including surveys and checkout forms but only ask for the data that you need. Otherwise, you can be at risk of scaring off your prospects.
For example, once you search for accommodations on Airbnb, you will receive an email that will indulge you in the destination's delights and stimulate you to finally make the booking.
Subject: Flavors of Lisbon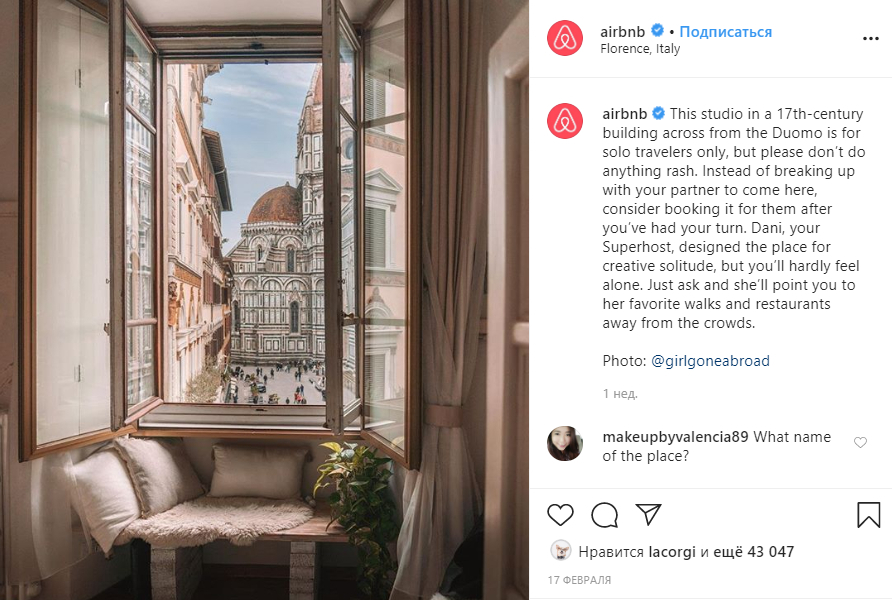 Key takeaways
B2C email marketing is not about squeezing money out of your subscribers; it's all about love! Use data and creativity to bring the right message at the right time and you will get lots of loyalty and sales in return. Other important points to keep in mind:
Prioritize email as a channel, it is still the best for reaching your consumers and raising conversion rates.
Study your market and make your brand stand out from the pack before crafting a detailed B2C email marketing strategy. Use emoji, straight-forward copy, and an inspiring tone of voice to stand out from B2B communications. Focus on your readers' needs and preferences to sparkle among other B2C companies.
Give your audience control of the frequency and email topics and you send to dramatically lower the unsubscribe rates.
Make use of technology and take advantage of automation, mobile-friendly templates, and split tests.
Use a variety of email types to engage your audience and test your B2C communication.
Register with SendPulse and get your amazing B2C email marketing campaigns set up and running!