Looking for a way to establish an online presence on social media but don't know where to start? In this post, we'll learn how to create and manage effective business profiles on popular social networks such as Facebook, Instagram, and Twitter.

Why you need a business account
A business account is a social media page managed by a company or entrepreneur. It's an all-in-one tool for promoting your business and products, boosting customer loyalty, enhancing your reputation, and collecting feedback.
A business account performs a bunch of important functions:
Helps you understand your target audience. Having a business account on social media allows you to analyze the behavior and needs of your target audience.
Enhances your company recognition and outreach. By generating high-quality custom content, you encourage your followers to pass it along.
Streamlines customer feedback. By engaging with your audience on social media, you can find out how you can help them, what they think about your company, etc.
Drives traffic to your website. As a result, you will get more subscribers, leads, sales, etc.
Contributes to a good company image. By publishing targeted content, consulting with your audience, and handling criticism the right way, you can build a healthy reputation.
How to set up and manage a business account on Facebook
To create a business account, you must first register on Facebook.
How to create a business profile
To start a business profile, click the "Create" tab and select the "Page" option.
Next, you need to choose a page category: "Company or Brand" or "Community or Public Figure." Select the former category, as the latter is only for fan communities, celebrity accounts, etc.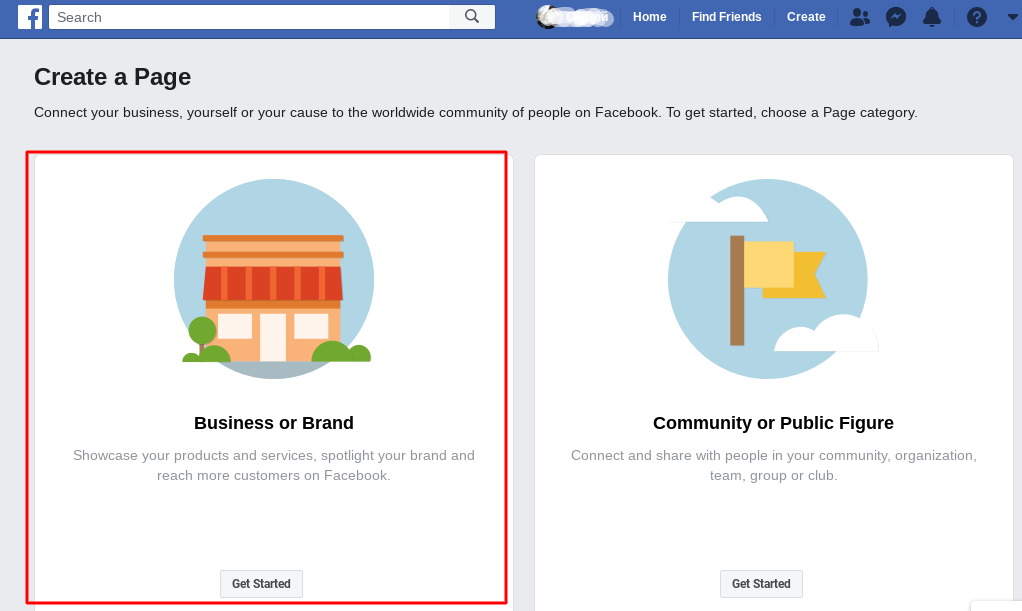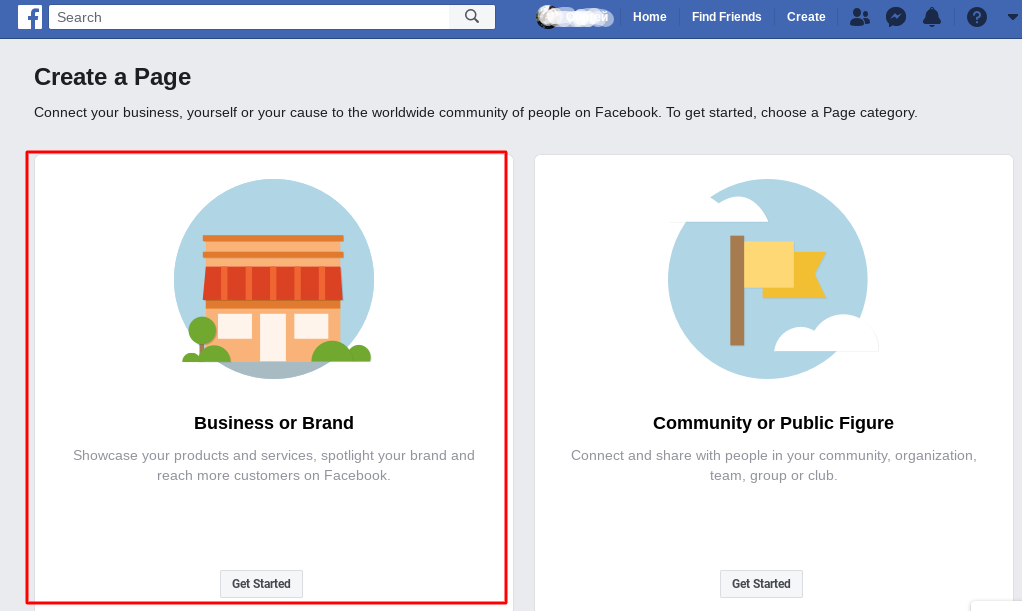 After you hit the "Get Started" button, you'll see a two-field form. Enter your company/business name into the first field. Make sure your company name gives a clear idea of who you are and what you do. Examples: PRIME Logistics Company, Online marketing expert John Silver, etc.
In the second field, enter one or two keywords that describe your line of business. Based on your entry, the system will offer a relevant industry category.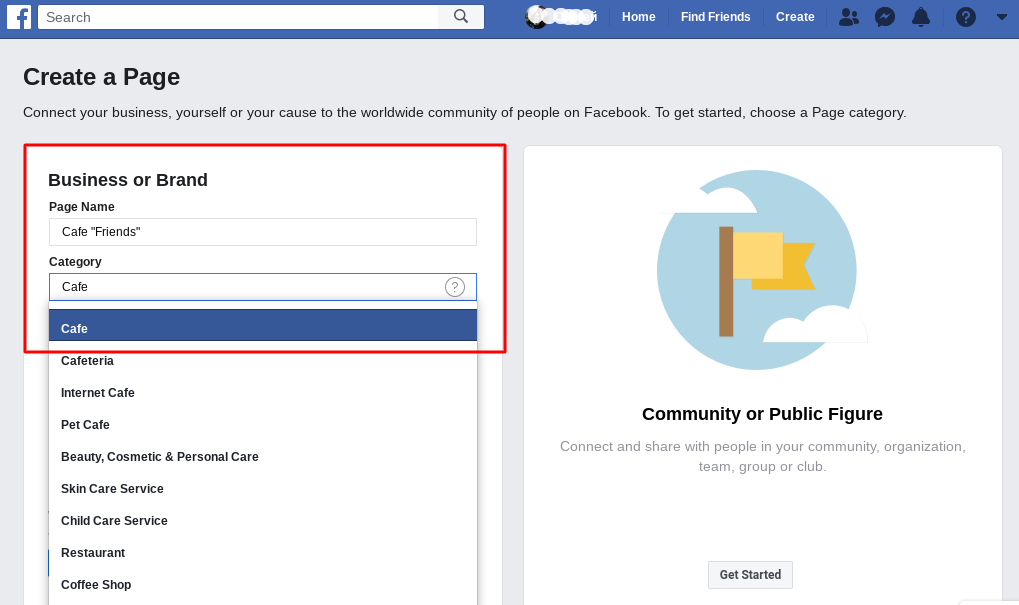 In the next step, you'll be asked to enter your company's physical address and phone number. Here are some tips:
It makes sense to enter your physical address only if you have a café, store, hair salon, or any other venue that customers can visit.
If you provide services remotely or sell products via an online store, check the "Don't show my address" box.
After clicking "Continue," you should upload a profile picture and cover image. If you don't have these images yet, you can skip these steps and come back to them later.
How to choose a profile photo and cover image
To make your business account look neat and professional, be sure to follow the recommendations below.
The ideal size for a profile picture is 170px х 170px. On smartphones, your picture will be displayed 128px wide by 128px tall. Because Facebook renders all profile pictures circularly, make sure it doesn't crop the essential part of your image.
Your cover image will appear as 820px х 312px on a desktop and 640px х 360px on mobile devices.
Alternatively, you can add a 20- to 90-second video clip to your cover. Its dimensions must be 820px х 462 px.
For more information about your profile picture and cover image, read the official Facebook guidelines.
What images to use
When it comes to Facebook profile pictures, businesses tend to use logos without text. If you're a specialist or expert in a certain field, you can upload your headshot against a neutral background. Keep in mind that your cover image and profile picture must look good together in terms of colors and visual style. Businesses often use cover images to display a company slogan, contact information, special offers, etc.
To create a corporate logo, use Logaster. This online service will generate dozens of custom logo templates for your business. Plus, you can get a full Facebook kit that includes a ready-to-use profile picture and cover image for your Facebook business account.
Once you've chosen the right images, upload them to your page.
Key settings
Choose a username that will be displayed in the URL of your business page. Your username must meet the following standards:
It must be unique;
It must contain no more than 50 characters;
It must contain only Latin letters and digits.
If you already have a business name, be sure to use it. Click the link "Create Page Username."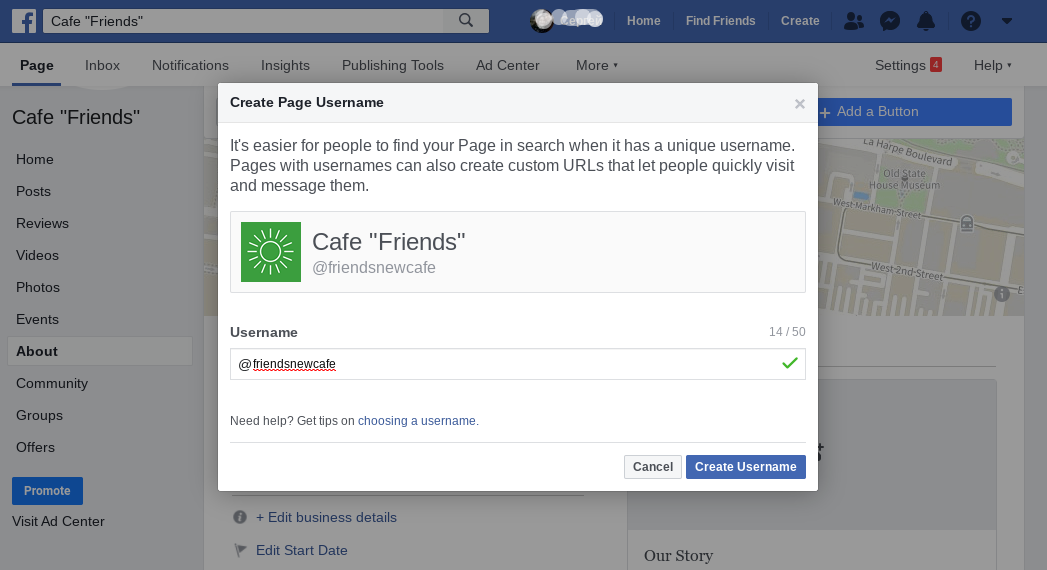 Enter your username into a new window. In the example above, it's @friendsnewscafe. If your submitted URL is unique and correct, the system will mark it with a green check. Click the "Create Username" button.
Now it's time to add information about your business. To do that, click the "About" tab on the left-side menu. A new window with settings will come up.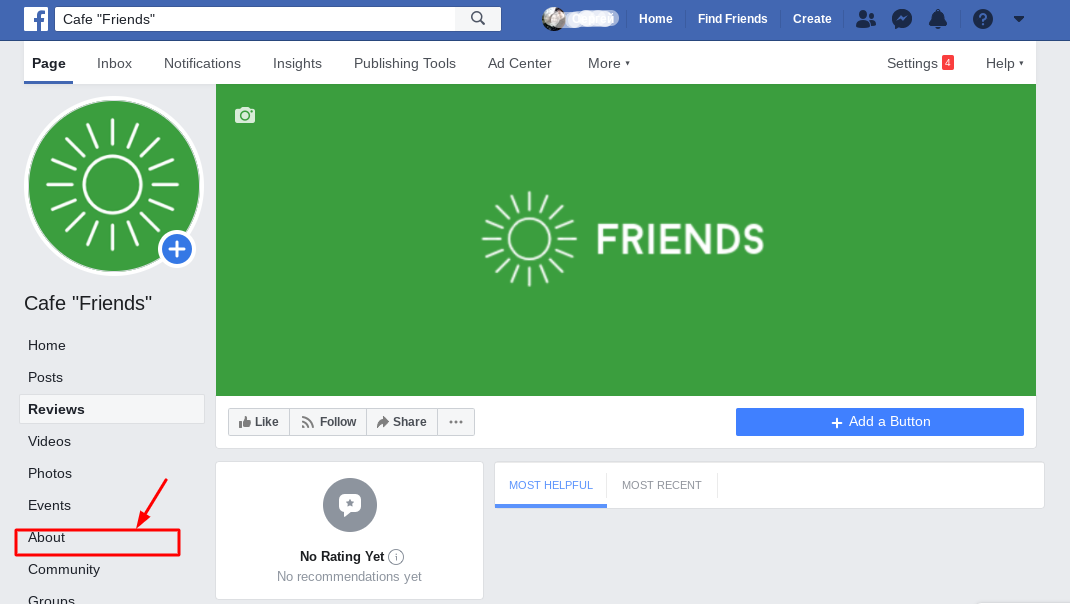 Now you need to fill out these fields:
General — Check if your category, name, and username are correct and edit them if necessary.
Business Info— Here you can add any business details you consider relevant.
Contact Info — Add your contact information and links to other social media pages.
More Info — Click the "Edit" button to add a brief description of your page and brand (up to 255 characters). This information will be displayed on your main page. The fields available on this page may vary based on your previously selected industry.
Story — On this page, you should pitch and promote your brand to encourage users to subscribe to your page. You can even upload an image to create a better visual impact.
In the next step, you will need to add a Call-to-Action button. To do that, click "Add a Button" beneath the cover image.
Facebook will offer you five categories of buttons, with several options in each category.
The available types of Call-to-Action buttons include: "Contact Us," "Send Message," "Call Now," ""Sign Up," "Send Email," etc. Choose the button that fits your marketing strategy. After choosing a button, you will need to set it up. For example, for the "Send Message" button, you will need to select the messenger for users tobe able to contact you.
Now you must ensure that your button works. Hover a cursor over it and select "Test" from the menu. You can also edit or delete the button using the same menu.
For more settings, click the "Settings" button in the upper right corner of the page.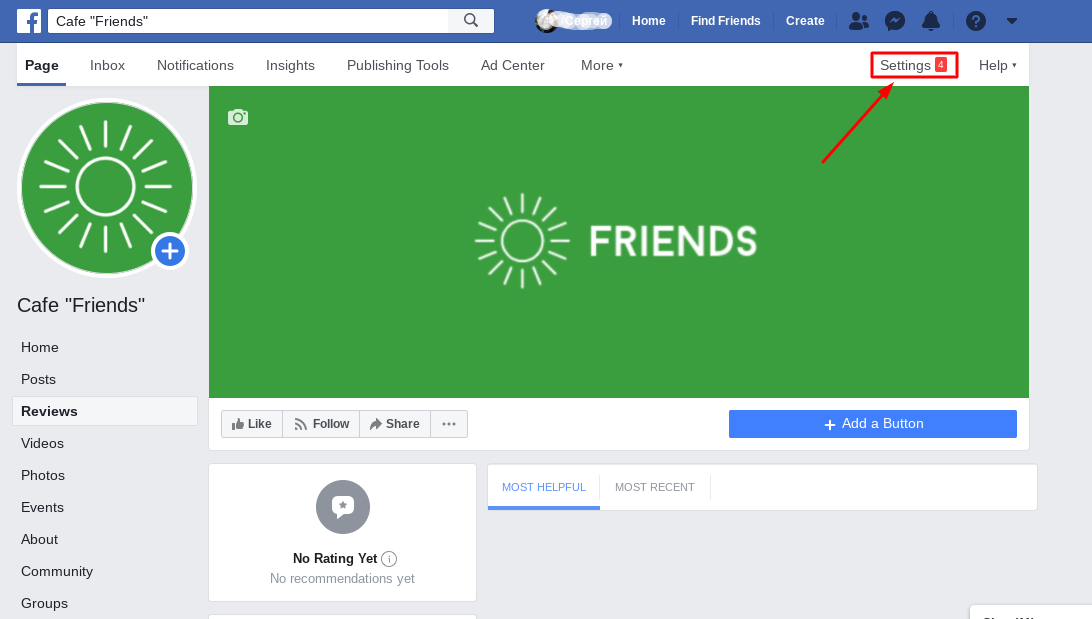 You'll see a new window with multiple tabs. With detailed descriptions and hints, you'll have no trouble choosing the necessary settings.
Tools for promoting your business account on Facebook
Now let's talk about smart tools for promoting your business page and increasing your outreach on Facebook.
Facebook Messenger and chat bots
Because a page manager can't be available to customers around the clock, you'll need a chat bot. Chat bots are highly useful programs that can take some work off the page manager's hands. For example, chat bots can answer generic questions, help customers place an order, etc. A chat bot is active 24/7 and can process several requests at the same time. For example, a chat bot on the Lego page gives customers a hand in choosing the right constructor or contacting customer support.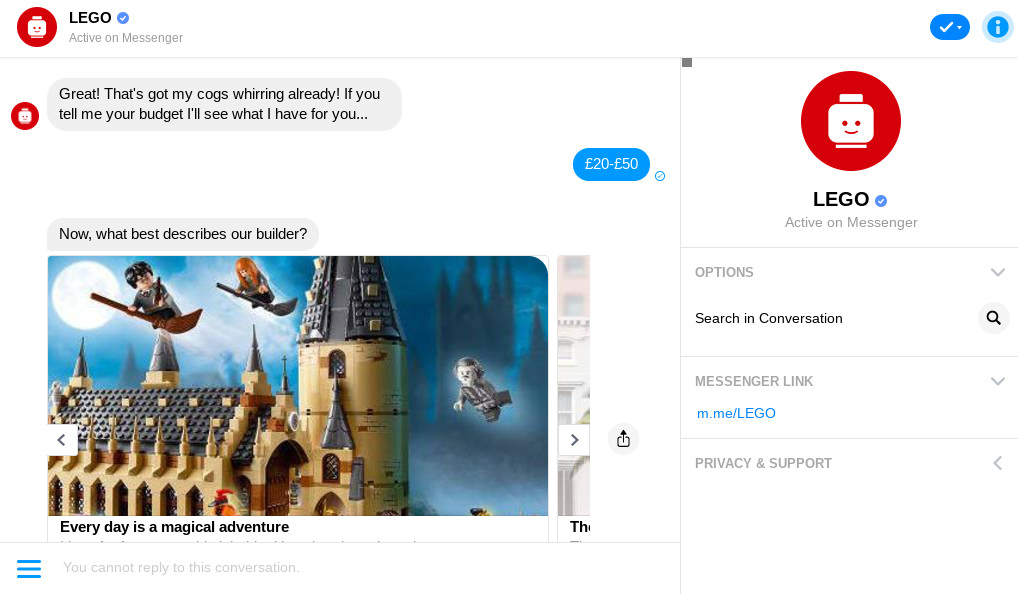 If you want an assistant like this, we recommend using a chat bot builder from SendPulse.
Note. Facebook posts have dynamic URLs. To draw your audience's attention to a specific post, you can pin it or use the Facebook Notes feature. This allows you to create full-length posts, edit them, and add pictures. For example, Adidas uses the Notes feature to highlight its legal information.
Live streams. On Facebook, live streams get more coverage than regular posts because Facebook ranks live videos higher in the news feed. This is especially true for live streams from production facilities or important events. Take advantage of live broadcasts to update your audience on the latest company news, share behind-the-scenes content, express opinions, etc.
Facebook Stories are short videos or photo galleries that disappear 24 hours after publication. Don't be afraid to explore this new posting format and see how your subscribers respond. Facebook Stories is a great tool for building customer loyalty and showing the human side of your business. Companies use Stories to advertise their products, share promo codes, get the word out about special offers, and much more.
Creator Studio is a multi-functional platform for creating and managing high-quality content for business accounts. In addition, it allows you to track vital stats, edit videos, and do live broadcasts. Synchronization with Instagram is also available. Among other things, Creator Studio gives you the tools to:
manage the performance of your business content;
collect data on user engagement;
generate and post new content using a free database of templates and sounds.
Facebook Ads Manager is a paid tool for promoting business accounts, content, and products. It allows you to track statistics to measure the performance of your ads, set up targeted ad campaigns, etc. On top of that, you can leverage the Facebook Pixel tool to track conversions from Facebook ads, create audiences for remarketing, and optimize your ad campaigns.
How to promote your business account on Facebook: First steps
The main thing to do is generate engaging content that is helpful to your subscribers. Plan a range of topics that might interest your target audience and develop a sustainable content plan. Determine the language and tone you'll use when communicating with your potential customers. Studying the business accounts of other companies in your niche won't hurt, either.
Once you have 3 to 5 posts on your page, you can start promoting your business account. Here are some insights you might find helpful.
Ask everyone you know to like your page. Drive more traffic to your page by using the "Invite" button.
If you have an established audience on other social platforms, post a link to your Facebook page and get people to subscribe.
If you're running an email marketing campaign, be sure to tell your recipients about your new Facebook page and what value it can bring to them. Add social media buttons to all your email templates. Plus, you can enhance your email signature with a Facebook invite!
Engage with your audience by responding to their comments and suggestions. Conduct surveys to collect feedback. Take advantage of the Facebook Offers feature, which allows you to share coupons with your subscribers and gain more brand awareness.
How to create and set up a business account on Twitter
Because Twitter does not distinguish between personal and business accounts, we'll guide you through a standard registration process. Go to twitter.com and click the Sign Up button. Enter your username and phone number or email address.
Then you can choose whether or not to turn on ad personalization.
As the next step, you'll need to confirm your username and contact data. If your submitted information is correct, click "Sign Up."
Twitter will send a verification code to your phone number or email. Enter the code to complete the registration process.
In the final step, you will need to create a strong password for your account. You can use the password that the system generates or come up with one of your own.
Done! Now you've joined Twitter!
How to set up a business account on Twitter
After registration, you can start setting up your newly created profile.
Images. Upload your profile picture. Your photo must be at least 400 px wide and 400 px tall. For a business account, use a branded image with your logo on it.
Bio. Describe the essence of your business page in 160 characters. The rule of thumb here is to not overcomplicate things.
In the next step, you can choose to tell all the people in your Google Contacts database about your new Twitter account. Feel free to do that later, after you've set up your account and published a few posts.
Attention. You can skip all the above steps for now and set up your account at any time by clicking: "Profile" — "Edit Profile." You can also add a cover image (1500px х 500px).
Profile settings. On the left-side menu, click "More" for a full list of profile settings.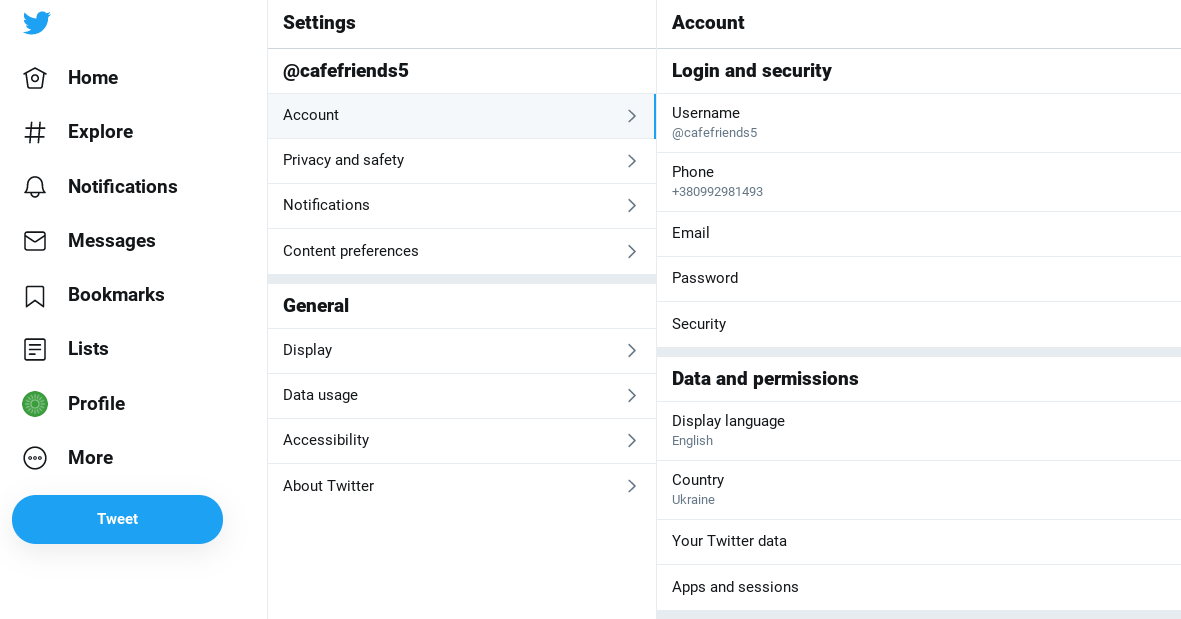 For a business account, pay special attention to these tabs.
In the "Account" tab, enter your username, e.g., cafefriends.
In the "Privacy and safety" tab, you can make your profile private, hide your geolocation (if you don't have an office- or land-based store), turn on the ability to receive direct messages, and prohibit search engines from showing your tweets in their search results.
Use the "Notifications" tab to set up push, SMS, and email messages from other users and Twitter.
Use the "Display" tab to manage the fonts, colors, and background image of your profile.
When designing your Twitter account, you will want to use your corporate colors and patterns for better brand recognition. Add a hotline or email address or ask your followers to contact you via Direct Messages.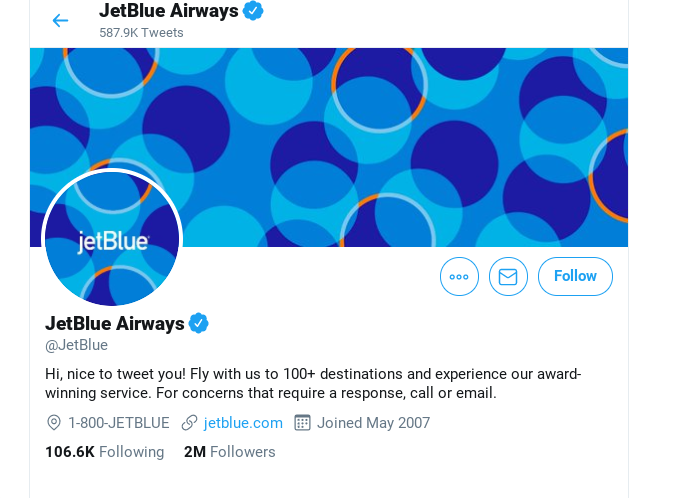 Tools for promoting your Twitter business account
Hashtags. Hashtags maximize the outreach of your posts. Use no more than two hashtags per tweet. Otherwise, the vigilant social network may classify your tweets as spam. Avoid hashtags related to politics, religion, and similar topics.
Ads. Twitter Ads is a paid platform for promoting your brand, products, and ideas on Twitter. You can customize your ad campaign by setting its budget, duration, and target audience. On top of that, you can set up your ads based on your goal, whether it's to raise your brand awareness, drive traffic to your website, etc.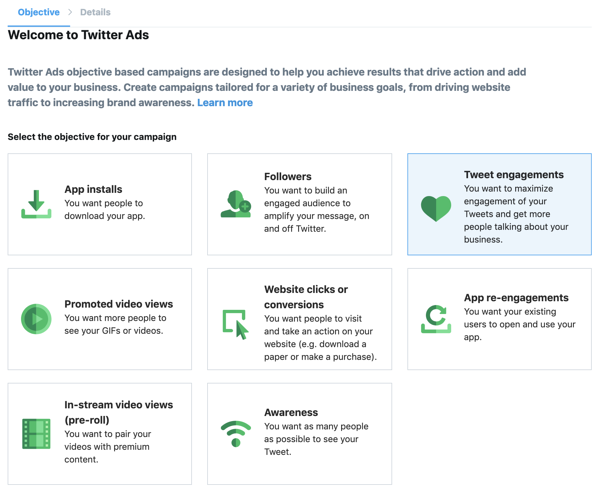 How to promote your Twitter account
The main thing to do is find the optimal posting frequency. Regular posts get more visibility, i.e., are shown to a larger number of people. Follow new trends in your industry and keep your followers updated. Take a look at the Twitter profile of the Forrester brand:
Respond to your followers. To do this, click the Reply icon in the user's tweet and type in your message.
Follow trends. Make it a habit to address popular topics or trends in your posts. Add trending hashtags to maximize outreach.
Use relevant hashtags. If selected correctly, hashtags can double user outreach and engagement. To add a hashtag, type the # character before the word you want to use. You can place hashtags in any part of your tweet.
Add images. According to statistics, tweets with images boost user engagement by 18%. The recommended size for an image is 1024px × 512px. Optimal formats include JPG, GIF, and PNG.
Publish a link to your Twitter account on other social media and marketing materials. When it comes to promoting your business, being shy won't help. Encourage your brand advocates to follow you on Twitter;
Follow other accounts. If you follow an account, chances are that it'll follow you in return. It's an unspoken Twitter rule that ensures a win-win for both sides!
How to create and set up a business account on Instagram
Starting an Instagram Business Profile is a bit tricky. You'll need to have a business profile or fan page on Facebook and a personal account on Instagram. If you already have a regular account on Instagram, you can easily switch to a business profile.
How to switch to an Instagram business profile
Click "Settings" — "Account" — "Switch to Professional Account."


Switching to a professional account

Choose the right profile type: "Creator" (for artists and influencers) or "Business" (for companies and brands).
Choose a category that captures the essence of what you do.


Choosing a category

Add your company email, phone number, and physical address (if any). Your contacts will appear on your profile.
An Instagram Business Profile gives you access to a number of extended features. Among other things, you can view stats on each of your posts or your profile in general, analyze user engagement, auto-publish your posts, promote your posts as ads, and much more. To get detailed stats on your Instagram page, you will need to have at least 100 followers.
How to set up your Instagram Business Profile
Now let's move on to setting up your Instagram Business Profile.
Profile picture. The visible size of your Instagram profile photo is 110px x 110px. Like Twitter, Instagram displays your profile picture as a circle. To display properly and without distortion, your uploaded image must be a perfect square.
Call-to-Action. To enhance your page with a Call-to-Action button, click "Edit Profile" — "Contact Options" — "Add an action button."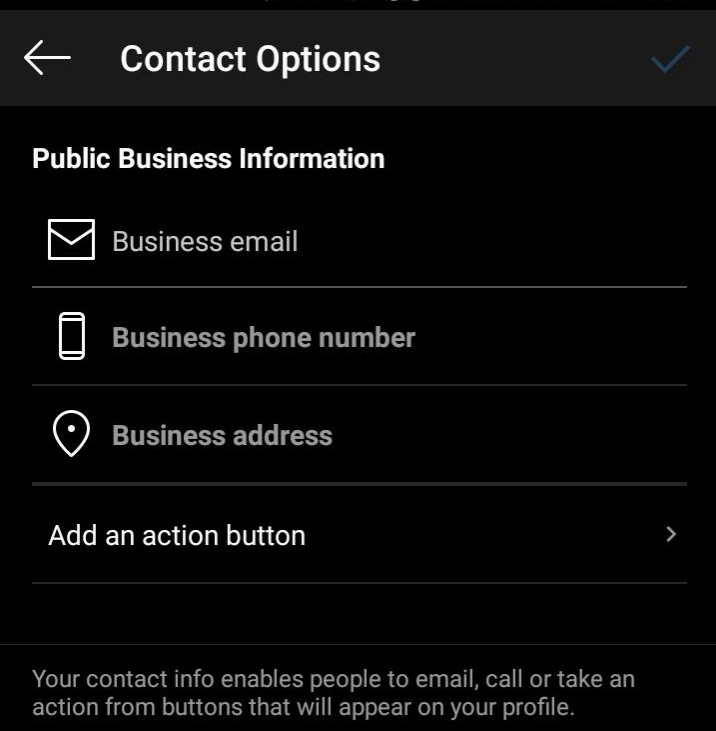 You'll see a list of third-party apps. Choose the app you want to integrate with. The available types of buttons include: "Book," "Buy now," "Message," etc. Make your choice based on your business goals.
Enter the URL for the page where you want people to be taken via the action button. Click "Submit." Done!
Tools for promoting your Instagram Business Profile
Stories Highlights: Stories Highlights are displayed right beneath your bio. The good thing is that they don't vanish after 24 hours. Use this tool to update your followers on company news, new product launches, price ranges, sales and discounts, customer reviews, and more. It's a great way to showcase your profile and guide your audience to the most valuable and insightful content. Check out a smart move from General Electric. The industrial giant dedicated several Stories Highlights to employees who share, with the Instagram audience, the ins and outs of their work.
Instagram Business tools is a dedicated platform that educates companies on how to set up their Instagram stores, create engaging Stories, improve their online marketing strategy, personalize ads, etc. Plus, users get access to insightful case studies of successful business accounts. Paid ads on Instagram are paramount to attracting new clients. To target your ads, use the tools available on Facebook Ads Manager.
How to promote your Instagram Business Profile
Focus on visual content. When it comes to Instagram, impactful visual content is everything. Make sure your photos are clear and coherent.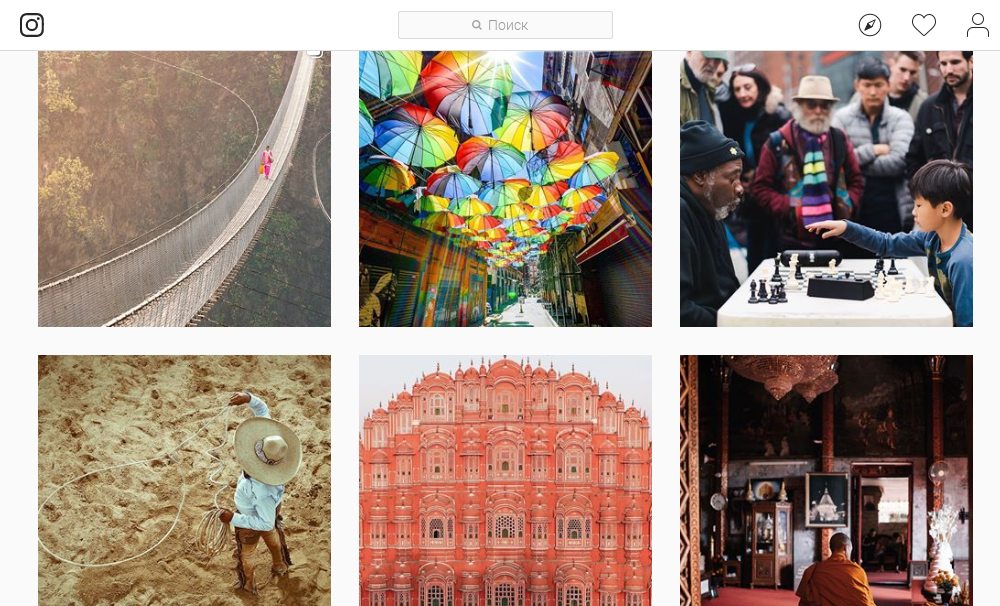 Brand your profile. Use a logo or other branded image as your profile picture. Add your branded watermarks to each photo. Be consistent: The visual style of your Instagram page must align with your brand identity in terms of colors, fonts, etc.
Showcase your product strengths. Use different types of content (photos, videos, Highlights Stories, etc.) to convey the advantages of your products or services. Help your audience find the value in your brand.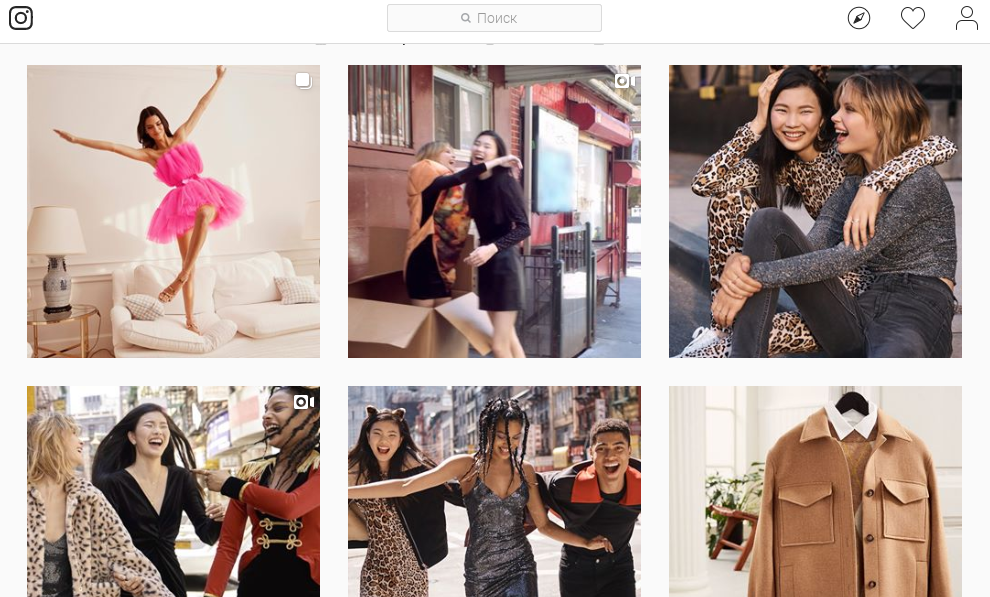 Use discounts and bonuses to attract new followers. Drive new followers to your page by sharing discounts and coupon codes. Encourage your long-time customers with gifts and special offers.
Here are some tips for getting more followers:
Create targeted content specifically for your audience.
Take advantage of Instagram advertising tools.
Run regular giveaways.
Use smart hashtags (check out the Websta tool).
Communicate with your audience.
Conclusion
A business account on a social platform is a great opportunity to showcase your brand, market your products, build a bond with your potential customers, and achieve other business goals. By setting up a business page on Facebook, Instagram, or Twitter, you get access to a variety of effective tools that allow you to optimize your marketing strategy and sales, monitor your vital stats, and boost your user engagement.