Using CRM software for your business is the right decision because it can save time and help manage customer relationships successfully. However, not all business owners are ready to pay for the service. Luckily, there are a few decent options on the market. We're ready to share our list of the best free CRM software to make your business life so much easier.
We've collected everything you need to know: features available on a free plan, as well as the pros and cons that users have discovered while using the CRM tool. But first, let's clear up what CRM software actually is, and how it can be helpful for your business.

What is CRM software?
Customer relationship management (CRM) software is a system that lets you manage relationships and interactions with your existing customers and prospects.
All the user data that you collect is stored on your CRM tool. This allows your team to stay on the same page, and know every detail of the users interactions with your brand: support, sales, marketing — it's all there.
Want to drive more sales?
With SendPulse, you can reach your target audience by sending various types of messages through a communication channel they prefer — email campaigns, web push notifications, SMS, and chatbots for Facebook Messenger or Telegram.
5 reasons to use CRM software
Every business owner wants to provide their customers with the best experience possible and a CRM tool helps you do it. However, providing a stellar customer experience is not the only benefit of using CRM software.
Actually, it can help you:
Keep all customer information in one place. CRM software records all relevant customer details and documents every interaction a customer has with your company. Employees from different departments with permissions can easily access this information or update it if necessary in the database.
Provide better customer service. Every employee can retrieve all customer files, including recent purchases, preferences, interests, and use this information to make relevant and personalized offers.
Elevate internal cooperation. Using a CRM tool, you can assign tasks and see their statuses to easily understand what is in progress and which tasks are a priority.
Save time by automating your day-to-day processes. You can use the customer data stored in your CRM to automate your customer-related daily tasks, from welcome emails to purchase follow-ups and confirmation notifications.
Easily collect and export data and analyze it. Using a CRM tool, you can create relevant reports quickly and analyze all of your data thanks to it being stored in one database.
Now that you have an idea about what advantages to expect from using CRM software, it's time to explore what the market has to offer.
Best Free CRM Software for Business
To create a list of the best free CRM software, we referred to G2 and studied user's experiences and feedback about different tools they used.
HubSpot CRM
HubSpot CRM is one of the best free CRM software on the market. It's a leading growth platform that's been on the market since 2006. Comprised of Marketing Hub, Sales Hub, Service Hub, and a powerful free CRM, HubSpot offers businesses everything they need to grow faster.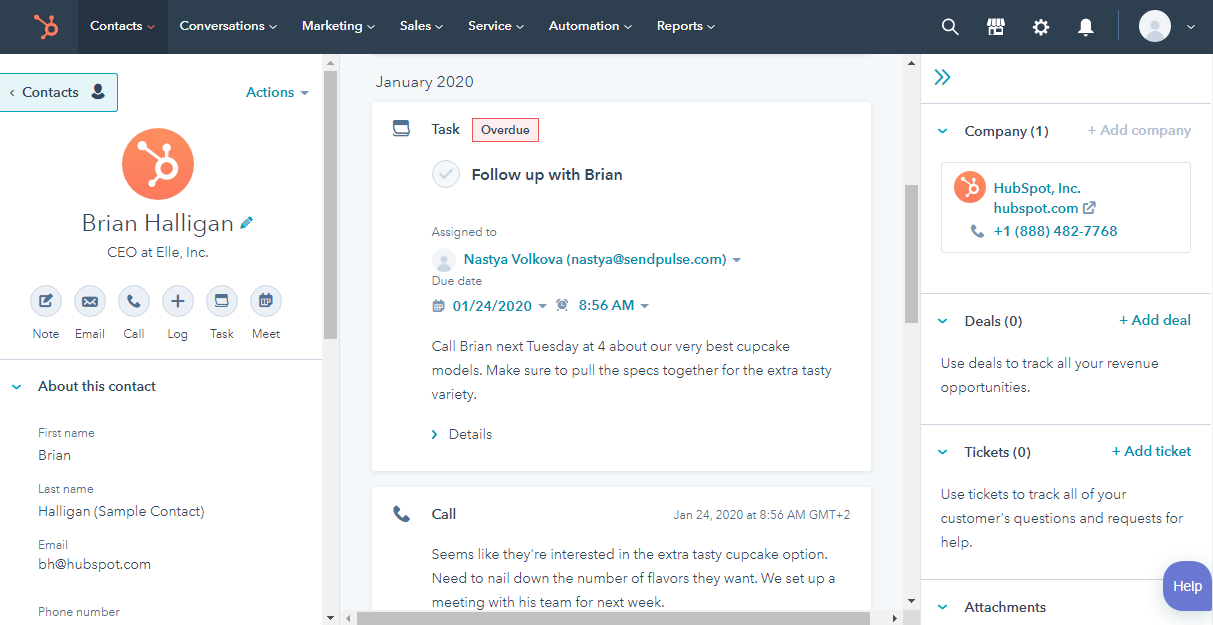 Pricing: HubSpot claims that their CRM is free and will be forever.
Features available on the free plan:
HubSpot CRM provides not only all the necessary features to organize and track your working processes, but also a number of important integrations like Gmail, Outlook, Messenger, and HubSpot Connect.
Pros:
It's completely free, forever.
It supports English, French, German, Japanese, Portuguese, and Spanish.
It offers an easy-to-use user interface.
There are customizable reports available.
It offers an option to create landing pages and email campaigns to gain leads.
Cons:
No real-time data updating when multiple users are making changes simultaneously.
Challenging integrations.
Zoho CRM
Zoho CRM offers a wide range of advanced features and customization options. It helps you convert more leads, engage with customers, and increase your revenue.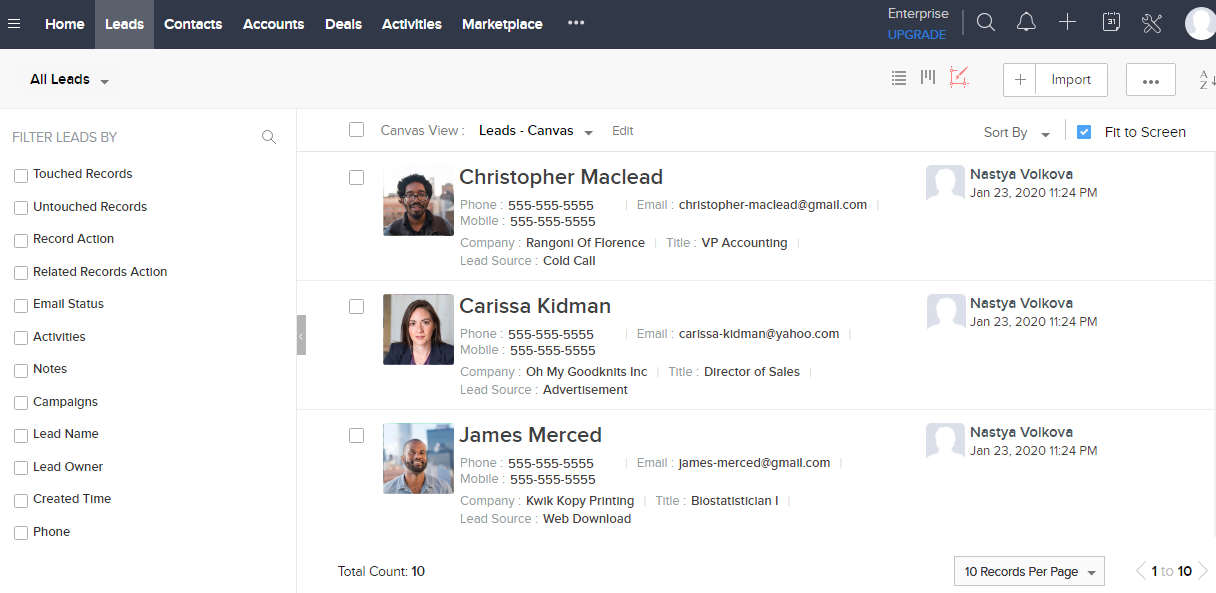 Pricing: The service offers a Free Edition for up to three users and a 15-day free trial if you have more users. For bigger companies, there are several paid plans starting from €12 per user/month billed annually.
Features available on the free plan:
Zoho CRM's Free Edition includes three users and essentials like lead managements, G-suite and Office 365 support, and mobile apps, which makes this CRM tool a perfect fit for your small business.
Pros:
It provides plenty of integrations for small businesses like Zoho Books and Zoho Campaigns.
It's easy to customize, create, and rearrange modules and fields for your needs.
There are sales and marketing automation features.
There's an option to measure and manage sales performance.
Cons:
The support team is slow.
Inconsistent integration experience.
Sometimes the user interface is slow and users must refresh the page.
Bitrix24
Bitrix24 CRM allows users to improve their communication process both with their team members and customers. As a bonus, there's an opportunity to create an online store for free.
Pricing: Bitrix24 offers a free plan with plenty of useful features; expanded plans start at $24/mo.
Features available on the free plan:
The starter business tool suite is available for up to 12 users and has 5GB of online storage. Also included are these free features: unlimited companies and contacts, invoices, lead conversions, pipelines, 1,000 emails per month within the CRM, integrations, and more.
Pros:
Language support for Chinese, English, French, German, Polish, Portuguese, Russian, Spanish, and Ukrainian.
You can track productivity and the results with the human resources management feature.
It's easy to import and export data.
It provides plenty of integrations, including the SendPulse 2.0 module.
Cons:
Slow support response.
Mobile application is slow and needs improvement.
eWay-CRM
eWay-CRM is a complex CRM software designed as part of Microsoft Outlook. This tool does not focus only on sales, marketing, project management, or operation management, but connects them all in one place. It transforms Outlook from a mailing software into an effective CRM. Freelancers and startups appreciate its free version.
Pricing: there is a free plan with limited features; expanded subscriptions start at $24/mo per user.
Features available on the free plan:
Automatic tracking of emails saves a lot of time. Customizable categories of deals keep your leads well organized. The eWay-CRM will tell you when to contact a client and provide a preview of existing communication. The free version includes all functions needed for contacts, sales deals, project workflows, and direct emails.
Pros:
Works offline as well.
It offers an easy-to-use user interface.
It's customizable.
There are templates.
Cons:
Only one user can use it for free.
200 MB cloud storage is not a lot.
There is no mobile/web app available yet.
Support is provided only by email and through a community group.
The CRM doesn't have dashboards with overviews.
Capsule CRM
Capsule CRM is a smart and simple online CRM tool. It was designed to nurture customer relationships, win more sales, focus team activity and report on the progress.
Pricing: The service offers a Free Edition for up to two users; for bigger companies, there are two extended plans, each with a 30-day free trial.
Features available on the free plan:
The Free Edition is a good fit if you have less than 250 contacts. Capsule offers the following basic features to its free users: customization, sales and tracking opportunities, task management, sales pipeline, email integrations, and a mobile app.
Pros:
It has a user-friendly interface.
There's plenty of customization options.
Tags and categories help you stay organized.
There are all kinds of integrations.
Cons:
There are no capabilities to run email campaigns or other types of marketing activities directly in the service.
The sales pipeline needs to be updated and more comprehensive.
Vtiger CRM
Vtiger All-in-One CRM helps businesses improve their revenue, customer loyalty, and team performance by breaking barriers between marketing, sales, and support teams.
Pricing: Vtiger offers a 15-day free trial option for both Professional and Enterprise plans.
Features available during free trials:
Vtiger CRM tool offers the following features for your business: pipeline management, workflow automation, sales insights, smart notifications, social media integrations, 2-way email sync, and more.
Pros:
It features language support for Arabic, Bulgarian, Chinese, Croatian, Dutch, English, French, German, Hebrew, Hungarian, Italian, Japanese, Polish, Portuguese, Romanian, Russian, Slovak, Spanish, Swedish, Turkish, and Vietnamese.
It provides unlimited customization opportunities.
It allows its users to easily create marketing templates.
It offers SendPulse integration.
Cons:
Users report a lack of tutorials.
It has a free trial, but you'll have to spend money to upgrade when the trial ends.
Agile CRM
Agile CRM is a fully integrated CRM with sales tracking, contact management, marketing automation, web analytics, 2-way emails, telephony, helpdesk with a clean modern interface.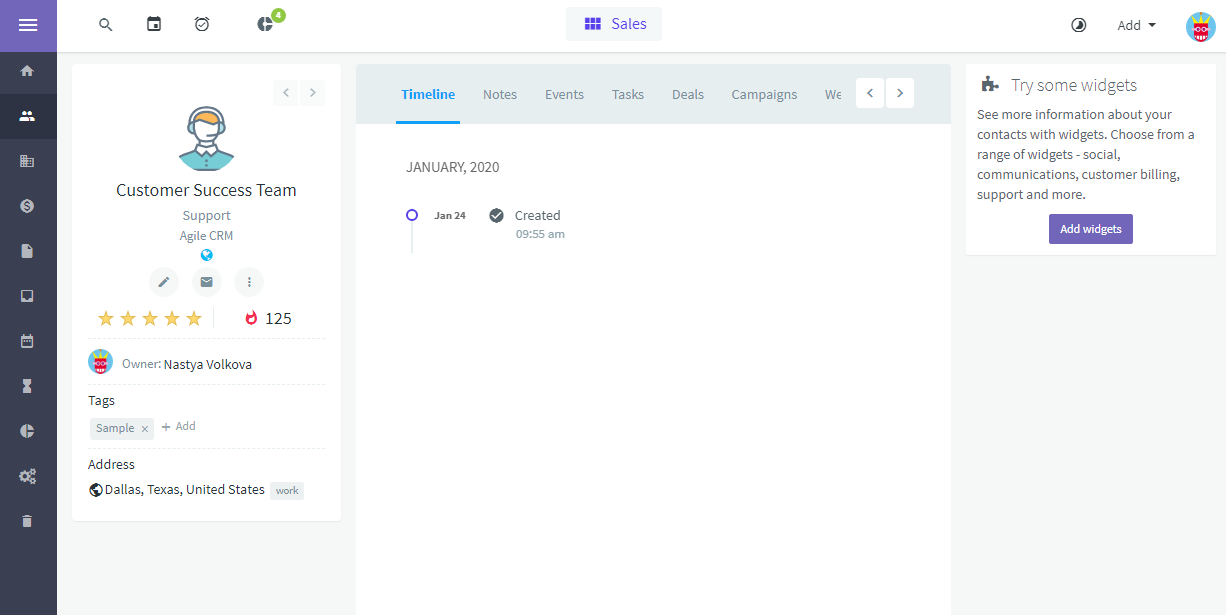 Pricing: Agile CRM has a free plan for up to 10 users; there are three more paid plans starting from $8.99.
Features available on the free plan:
Agile CRM is free for up to 1,000 contacts and companies. The following features are included: custom data fields, lead scoring, appointment scheduling, and email tracking, a landing page builder, and up to 5,000 branded emails.
Pros:
It easily integrates with third-party services.
It provides strong technical support management.
It's interactive.
Cons:
Reports are not clickable.
Limited number of email templates.
Freshsales
Freshsales is a free CRM tool that allows you to scale your business quickly. The main goal here is to manage and improve customer relationships by providing an integrated approach for organizing data and streamlining your workload.
Pricing: It's a free sales CRM tool; there are four more extended paid plans starting from $12 per user/month billed annually.
Features available on the free plan:
Freshsales CRM has a free plan available for an unlimited number of users, contacts, and support. It also provides features such as lead management, contacts, deals, accounts, email, mobile app, and more. These features are enough for a small or midsize business.
Pros:
There are quite a list of languages supported: Arabic, Catalan, Chinese, Czech, Danish, Dutch, English, Estonian, Finnish, French, German, Hebrew, Hungarian, Indonesian, Italian, Japanese, Korean, Latvian, Norwegian, Polish, Portuguese, Romanian, Russian, Slovak, Slovenian, Spanish, Swedish, Thai, Turkish, Ukrainian, and Vietnamese.
It comfortably handles lots of customers' information and details.
It provides tools to track customer engagement.
The development team is responsive to user requests and updates the app regularly.
Cons:
The email system is not organized.
The mobile application is quite complicated.
Really Simple Systems CRM
Really Simple Systems CRM is the perfect CRM tool for small businesses and start-ups. It provides complete sales, email marketing, and customer service functionality in one easy-to-use system.
Pricing: Really Simple Systems offers a limited free plan and extended paid plans starting at €12 per user/month billed annually.
Features available on the free plan:
The free plan for this CRM is available for up to two users and 100 company records. There are all the necessary features for leading your small business: contact and pipeline management, document storage, integrations, custom reports, and customization options.
Pros:
Its interface has a clear and precise focus on the entire sales process.
It's easy to use.
Efficiently integrates with email.
It provides customization options.
Cons:
Slow page loading times.
Lack of integrations on the free plan.
In summary
Congratulations, you've completed reading our list of the best free CRM software. Now it's time to pick the right one for your business. No matter if it's just a start-up or a real estate agency that's been on the market for a decade, we're sure you'll find a decent CRM tool that will help your business grow faster.