Easy setup using the SMTP protocol
Reliable servers and dedicated IP addresses
Flexible API for developers
24/7 live chat support
How to use SMTP for business
SMTP is the easiest way to start sending transactional email campaigns to confirm registration, provide order updates, or thank a client for a purchase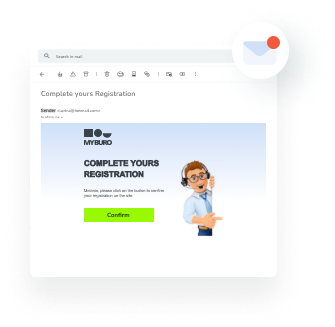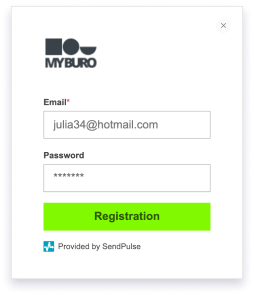 Send transactional emails
Integrate an SMTP server into your CMS, CRM, or website builder to send emails directly to your customers without additional configuration in the email service.
Your clients will receive messages instantly, even if you have thousands of orders daily.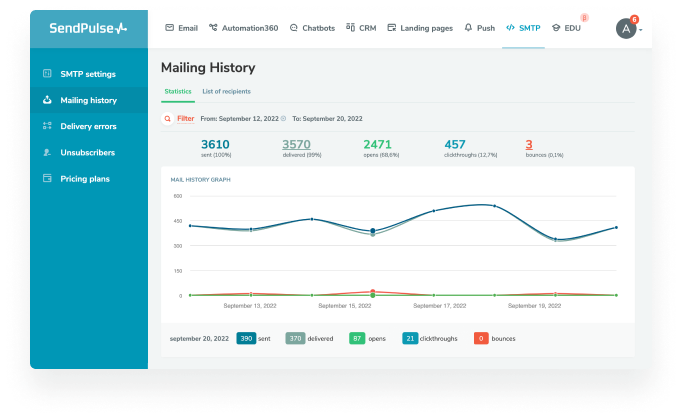 Explore detailed reports in your account
Monitor the number of messages sent, analyze your conversion, click-through, and unsubscribe rate, and dive into many other details to strengthen the quality of your emails sent via SMTP.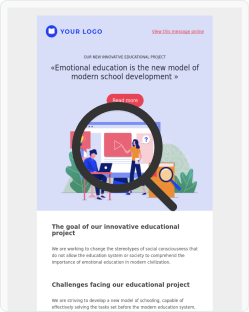 Use free transactional email templates
You can send transactional emails to clients via API using a template created with SendPulse. Personalize your emails by including relevant customer data from your website or CRM, for example, name, order number, shipping date, or payment status, to add value to your communication with clients.
Dedicated IP addresses
We monitor the reputation of all IP addresses to ensure maximum deliverability.
DKIM and SPF signatures
Authenticate your company's sender domain with the help of special cryptographic signatures.
Servers you can trust
Send email campaigns via European data centers with SSL connection support.
Enhance your communication with customers by sending transactional emails via SMTP or API
You can read our detailed API documentation and find all the necessary settings for the SMTP server in your account
Try for free
No credit card required
We will help you get the hang of the SendPulse services
We strive to make our SMTP service as intuitive and user-friendly as possible.
If you have any questions, you can contact our customer support or refer to our free resources.
Integrate email campaigns into your project right now
Send transactional emails instantly via SMTP or API with exceptional deliverability
Try it now
12,000 emails per month for free