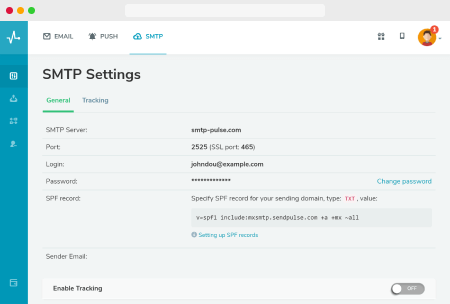 Sending messages through the SMTP relay
Transactional emails are automatic messages sent in response to a subscriber's actions. Subscription or booking confirmation, order updates, notifications — these are all examples of transactional emails.
To send transactional emails via SMTP, enter a server address, port, login, and the password of your SendPulse account into your application.
Email effectiveness reports
Measure email metrics regularly to improve your email marketing performance and ROI. All SendPulse reports — on open and click-through rates, inbox placement, delivery rates and errors, and spam complaints — are available for download.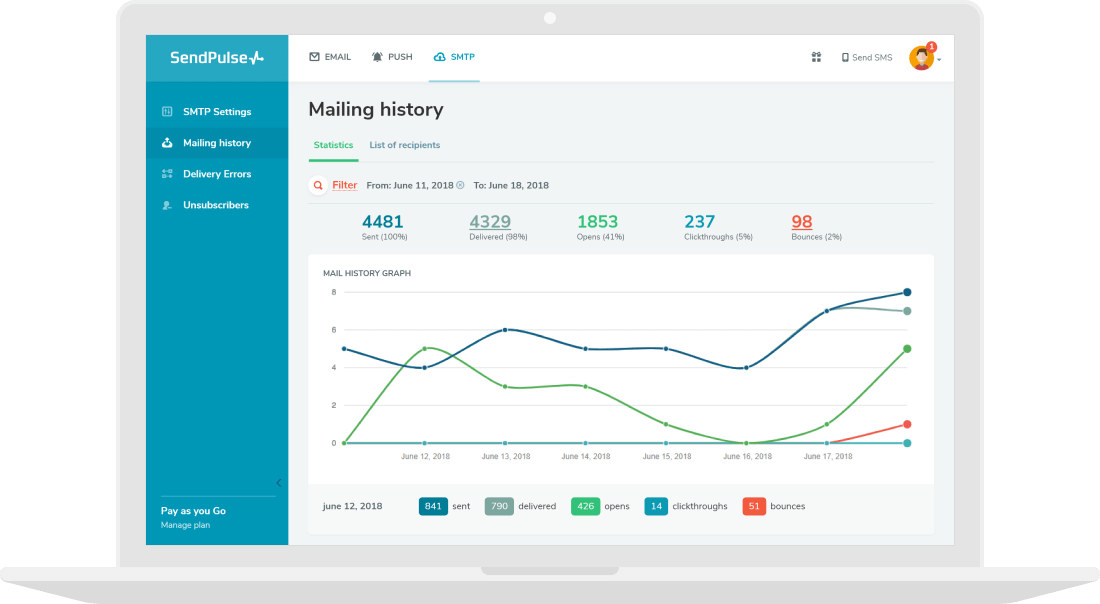 Easy-to-use tools for sending transactional emails
Dedicated IP addresses
A dedicated IP address contributes to a better sender reputation and prevents your IP from being blacklisted.
SPF and DKIM authentication
SPF and DKIM records prevent transactional emails from landing in a spam folder.
List of unsubscribed contacts
Your emails won't be sent to unsubscribed contacts, even if they are on a mailing list.
Open and click tracking
Detailed reports help to evaluate and improve the effectiveness of your email marketing.
Custom tracking domain
Send out transactional emails without any mention of SendPulse in the email header and footer.
Webhooks
Receive information to your system about email status: delivered, undelivered, opened, and clicked.