How to Send Transactional Emails
Sending transactional emails is easy as one-two-three with SendPulse. You just need to register your account, set up an event that will trigger email sending, and create an email or sequence of emails. You can also set up an SMTP server for sending transactional emails.
Step 1: Register with SendPulse
SendPulse is a marketing automation platform that assists in creating and sending all sorts of marketing communications. Feel free to register and start creating transactional emails for your business, while we take care of the technical side of things.
Step 2: Set Up an Event
To send a transactional email, you need to choose the action that will trigger an email to be sent. Pick between one of our pre-designed, or create custom events with SendPulse Automation 360, generate the code, and ask your developer to send data to the event.
Below is an example of code used for an order confirmation event.
Here is all you need to know about event management.
Step 3: Set Up the Automation Flow
Choose the recently created event as the start of the flow. Drag the "Email" element into the working area, customize it, and connect with the "Flow start."
You can build an order confirmation workflow, like in the example below.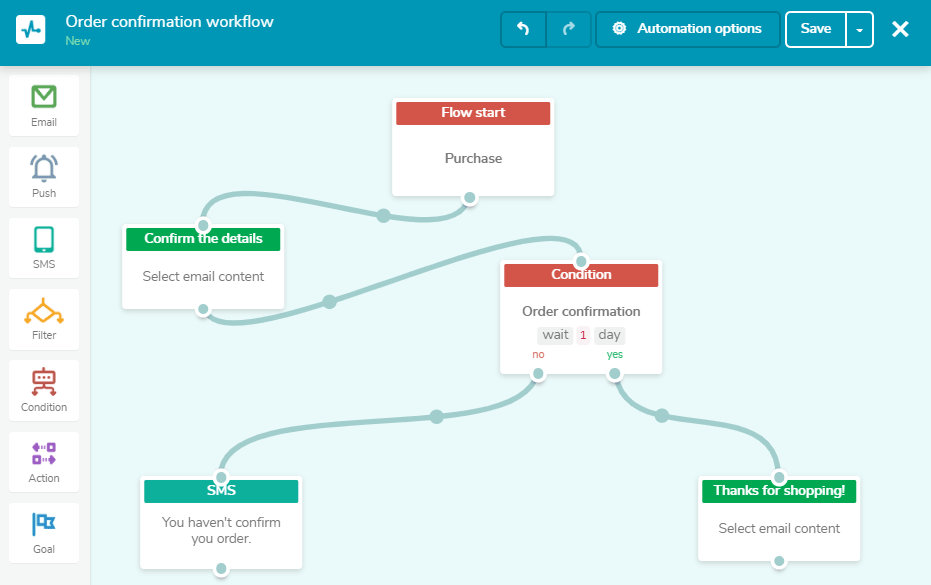 You can use more elements than just an email to build a sophisticated flow, follow up with users, and increase conversions.
For instance, you can add an SMS or web push element for better outreach. You can also target specific groups using the "Filter" and "Condition" elements, automatically move subscribers between mailing lists with "Action," and use the "Goal" element to stop the flow.
Here are all the necessary details about the elements available in Automation 360.
Now, when you are ready, save, and launch!
Step 4: Track Performance
Statistics help you analyze the way subscribers engage with your transactional emails. You can view opens, clicks, and conversions for each element in the flow, and optimize your email content based on the results.
Below is an example of the statistics overview in the Automation 360. You can see four small icons near all of the elements which completed actions, emails delivered and opened, and links clicked.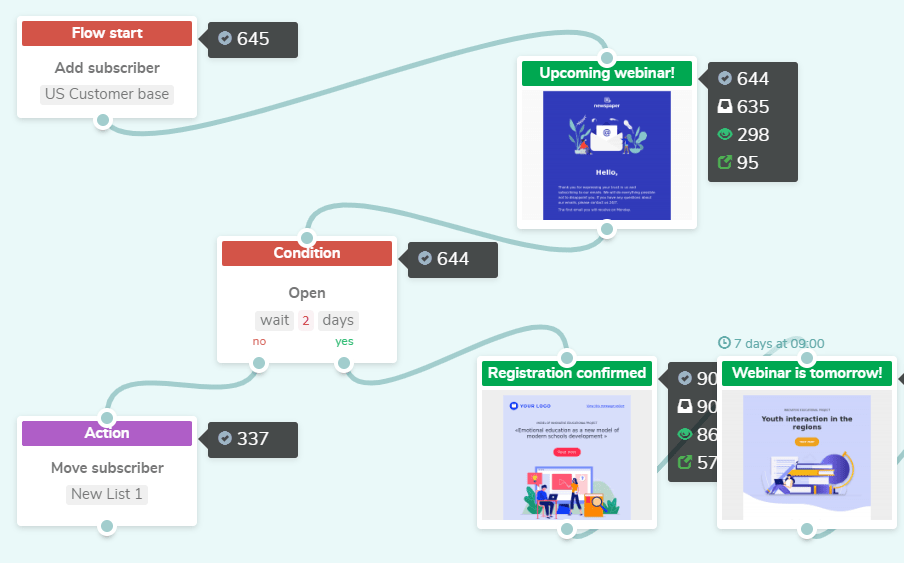 As you can see, creating transactional emails with SendPulse Automation 360 is easy, even for beginners. Anyway, our customer support team will always be there to help you.
In case you are an experienced marketer, you can send transactional emails via our SMTP server. Here are brief instructions on how to set up an SMTP server with SendPulse.
Last Updated: 22.02.2023