You need to speak clearly if you want to be heard. Brand positioning helps your brand achieve that and more. Let's learn how to position your brand for the maximum value and to imprint your brand in your customers' minds. Our recommendations will help you define anew or redefine your brand positioning, be it a personal brand or a midsize company. Off we go!

What is brand positioning?
First of all, you need more than just a pretty logo, although having a good design is not negotiable for your brand's success. Brand positioning is a multifaceted concept. By positioning your brand, you give it a certain image and take control of its reputation.
Brand positioning is what you want your customers to think about when they think about your brand. It's the way they perceive it. You can influence that perception by working on your positioning and aligning your offer with your audience's needs and preferences. In other words, the goal is to be on the same wavelength as your target audience.
Competitive brand positioning means making your brand both desirable and distinctive. To reflect that, you need to come up with a unique brand positioning statement — two or three sentences that capture the essence of your brand and its devotees. Of course, you will need to support your claim by demonstrating your expertise and living up to your promises.
Answering these questions will certainly help you shape that statement:
If your product belongs to essentials, like, say, glasses, you don't need to specify your audience directly. Our example demonstrates exactly that:

As the bible of positioning, "Positioning: The Battle for Your Mind" by Al Ries explains, the basic approach of positioning is not to create something new but to manipulate what's already up there in the mind of your customer. So, let's find out how to take and alter that position in the mind of your audience and why it's so important.

Why do you need to define your competitive brand positioning?
Skillful positioning endows your brand with two important qualities: consistency and visibility. The average revenue increase attributed to always presenting your brand consistently is 23%. Interestingly enough, almost 90% of study participants agreed that it is important to present their brands consistently, but less than half are doing so.
Here comes a key conclusion. By positioning your brand correctly, you'll not only create synergy between you and your core customers but also increase your brand's chances of being noticed by those who have previously ignored it. Also, it's a solid way to distinguish your offer and tell your own brand story.
How to position a brand
Here, we'll describe several fundamental steps you need to take to create strong brand positioning while leaving some room for growth. These practices will also be useful if you want to start a new chapter and reposition your existing brand — just determine your starting point and adjust these brand positioning strategies to your unique needs.
Define your market
Who are your customers? Your customer group is the market you want to tap into. These are the people that are most likely to buy from you. Tech-savvy millennials, hard-working parents, open-minded travelers — you need to clearly see the group you're speaking to and to use their language. Vague wording attracts no one. Sharpen your focus, and it'll make it easier for you to put your brand in your target audience's minds.
Having trouble identifying your best customers? Find your
target audience
fast by following our strategies!
Think about the value your product or service delivers
What do you provide besides an actual item or subscription? What kind of experience, or feeling do you create for your buyers? Try to define it and put it at the heart of your brand positioning because this is what you want your brand to be remembered for.
Highlight your strengths
This is not about what you do — it's about how you do it. Do you bake cakes faster than any other bakery in your neighborhood? Then, mention that in your ads and taglines. Make sure your positioning is based on your superpowers. In our example, customers won't hesitate to order from you last minute if they know you work fast and are always ready to save their event.
Choose the right pricing
How much or how little you charge for your product or service is directly related to how you position your brand. For example, you can justify high prices by positioning your brand as luxurious, with limited-edition items of impeccable quality. Or, you can put an emphasis on how affordable your products are. One thing to remember: you need to align your pricing strategy with how much your target audience is ready to spend.
Make it simple
You need to be able to put your brand positioning statement in one sentence. If you can't, your positioning is too complex and requires some rethinking. Don't worry, you don't have to describe literally everything in a few words — just highlight the most important thing you want your customers to think about your brand.
Avoid being everywhere at the same time
When working on brand positioning, saying no is just as important as saying yes. In other words, you need to know what your brand is not about and who your brand isn't for. You can determine this early on and emphasize it repeatedly in your brand communication by using consistent and recognizable language.
If you are trying to serve different customer groups by using a playful tone in one message and formal tone in another, you will dilute your brand messaging. So, stick to one strong brand positioning approach once you've found it.
Stand out from your competitors
First, take a look around — google your main keywords to see who you're competing with. Go through their web pages and social media resources to understand how they position themselves, what tone they choose, and what advantages they emphasize.
Do a competitor analysis and discover the strengths and weaknesses of other brands in your niche. Then, try to fill in the gaps and distinguish your brand from the crowd by doing what no one else is doing.
Here is an example of how Didriksons set themselves apart from the competition by creating a unique yet simple technology that helps parents take their children's clothing up a full size:
Of course, the goal of making your brand absolutely unique may be unattainable, but there should be some tangible difference. Even if you're selling the same thing your competitors do, put your personal spin on it.
Live by your brand positioning statement
You and your team will need to maintain and reinforce your brand's differentiating qualities, share its values, and act in accordance with them. It is a challenging yet exciting task, especially for customer-facing employees who embody your brand. But when everyone in your team sings along and helps deliver a consistent customer experience, your brand positioning really works.

Give your brand space to breathe, experiment, and grow
Your brand shouldn't be squeezed by limitations that positioning imposes on it. In fact, those limitations are just guidelines, but it's you who decides when and where to make an exception. True competitive brand positioning does not have a strict frame but is more of a playground, a framework for experiments.
Now, here's one more beautiful example to back it up. This is how Jacquemus fashion house celebrated its 10th anniversary in the lavender fields of Provence: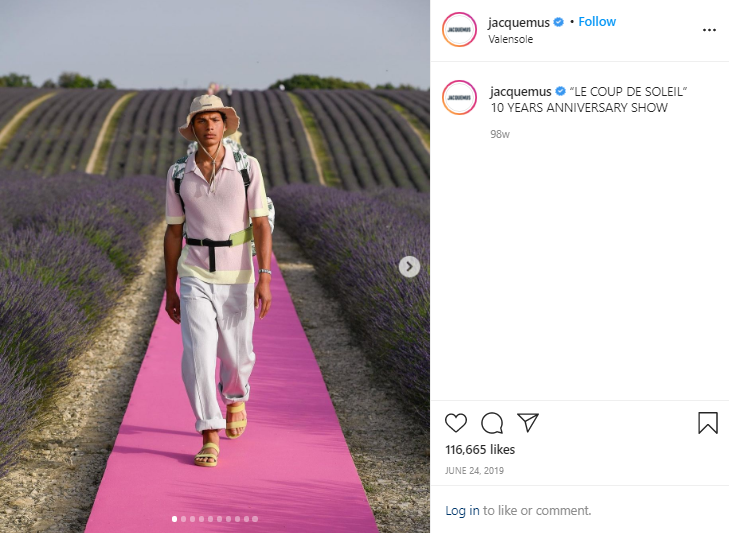 Brand positioning examples to admire and learn from
These brand positioning examples are here to prove what we've said earlier. Your brand positioning is how you want people to know and perceive your brand. These companies have worked hard on their brand positioning strategies and now are thriving — people recognize them almost on the visceral level.
Budweiser Beer
Their positioning is strong and bold: "The King of Beers" and "Kings aren't made overnight." They combine it with choosing influencers who are practically kings in their niche, like Lionel Messi and Halsey. Indeed, it resonates with millions of beer-lovers who like it when their favorite brands and stars reclaim their space and speak with confidence.
Carhartt
This apparel company is known for their indestructible work clothes, and this is exactly how they've been positioning their brand for more than a century. They even encourage their customers to test their workwear in hard conditions because their positioning is centered on the exceptional quality and extreme durability.
JBL
"Sound that's full, bold, and immersive. JBL elevates your experiences, everywhere you are." This is what JBL has to say about their brand, and we can only agree with that. Their positioning fully mirrors what they actually produce and share — portable and perfectly designed loudspeakers and headphones that help people create and enhance their everyday experiences.
Instax
This retro camera brand quickly turned into a hot trend on social media, but only because of their smart brand positioning. Usually, people prefer digital photography and aren't ready to buy expensive film, but Instax made it so easy to capture and share moments that it has gone viral. On their webpage, they reinforce their brand positioning by explaining what makes their product special and irreplaceable: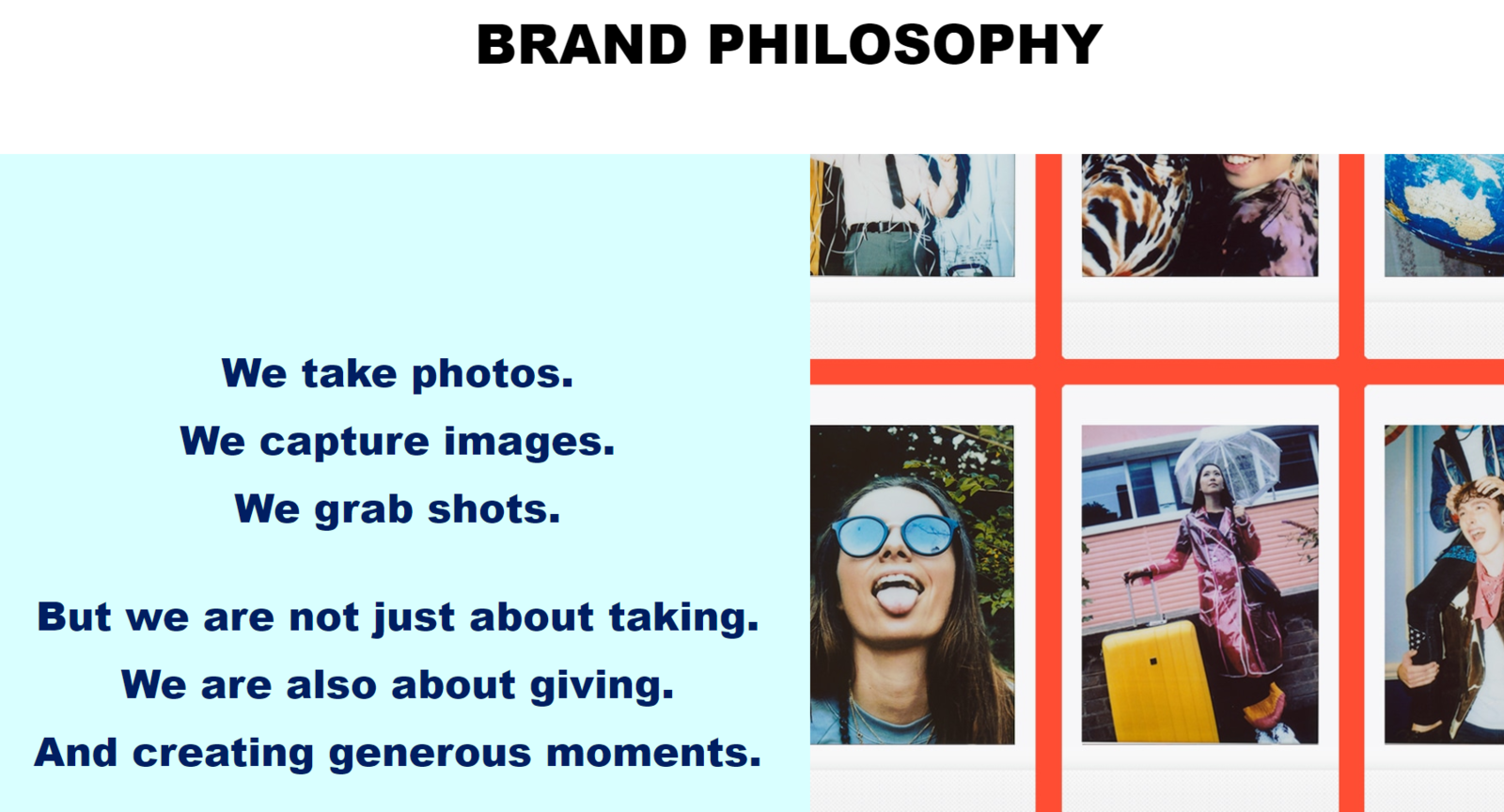 Summing up
Brand positioning, when done right, creates a win-win situation: you do what makes you and your team happy, and your customers stick with you and develop a sense of belonging. Of course, the money component is also crucial here — if you address the right target group and create long-term relationships with your clients — you will see growth and a steady increase in profit.
Competitive brand positioning results in effective customer acquisition. However, you need to nurture all of the leads you acquire. For this purpose, empower your brand positioning with effective email campaigns, chatbot messages, and web push notifications — all of these are available on a SendPulse free account.