Businesses and users exchange more than 20 billion messages on Facebook Messenger monthly. Along with real users, there are more than 300,000 active bots on the app. Let's have a closer look at some of them and review the best chatbot use cases.
Before you start: Make sure to check out our video about building and deploying a chatbot.
What is so great about chatbots?
The Chatbots: Retail, eCommerce, Banking and Healthcare 2017-2022 Report estimates that chatbots will help businesses save over $8 billion a year on customer service staff by 2022. These easy to use bots perform automated tasks, save time for communication with customers, and we all know that time is even more valuable than money.
MarketsandMarkets Forecast says that the chatbot market size is projected to grow from $2.6 billion in 2019 to $9.4 billion by 2024 with a compound annual growth rate of 29.7%. Currently, Facebook Messenger has 1.3 billion global users and chatbots are becoming more and more popular.
Facebook chatbot use cases vary a lot, but almost every company will find them useful for some aspect of pursuing their business goals.
Top tips on deploying chatbots based on successful chatbot use cases
Below, you'll find up-to-date recommendations on how your company can use Messenger chatbots for business and benefit from them.
Chatbot use case #1. Keeping your customers informed about their purchase
Macy's, one of America's oldest retailers, does its best to keep their customers loyal. Whenever they open the Macy's Facebook page, a helpful and polite chatbot gives them the option to have their questions answered. At the moment, as customer service agents are overloaded with queries, customers are asked to visit the customer service help and FAQs pages on the Macy's website.
If customers need help with an item or want to prioritize their query, they can press an appropriate button. The options to choose from include:
Online order
Furniture order
In-store pickup
Once the user makes a selection, the bot asks them to send their order number, name, email address, and phone number.
Chatbot use case #2. Promoting your personal brand
Online marketing coach Molly Mahoney claims that she reached 1 million organic subscribers due by using a personalized Messenger chatbot. Why not follow her example if your product is information or advice?
#mollybot offers visitors several types of engagement. They can choose between watching Molly's video tips, finding out more about bots and ways to make a bot more human-like. Finally, there is an option to listen to Molly's jazz band — yes, she's not just a business lady but also a singer.

Chatbot use case #3. Delivering content to your audience
Jam, 'the first media you talk to' from France, utilizes a Messenger chatbot to engage with its readers in a fun and educational way. You can discuss the 'Sex Education' series, the threatened extinction of bees, or even the global public toilet problem. Jam bot is very informal and engages the public to chat with it in a relaxed manner.
The French-speaking bot gives you interesting facts and up-to-date information while asking you questions relating to the topic. Based on your preferences, it can offer you places to visit and other news stories to read. This demonstrates a brilliant new way to build a loyal relationship with your audience and keep them busy on your social media pages.
Chatbot use case #4. Boosting your sales
The most effective way to increase sales is to focus on your Facebook page's visitors. They are already interested in your products and are so-called 'warm leads,' engaging with them must be your bot's strong point. A live sales team cannot contact such an audience directly, as the traffic is anonymous. That is why a chatbot is required here. It can ask sales-oriented questions to your audience and guide them towards placing an order.

LEGO is one of the companies that can boast of a good chatbot use case in sales. A LEGO chatbot named Ralph helps shoppers choose the right gift. Ralph asks users questions about the age and gender of the recipient and selects the best product option based on their answers. Ralph then invites the user to choose a product theme and proceed to checkout.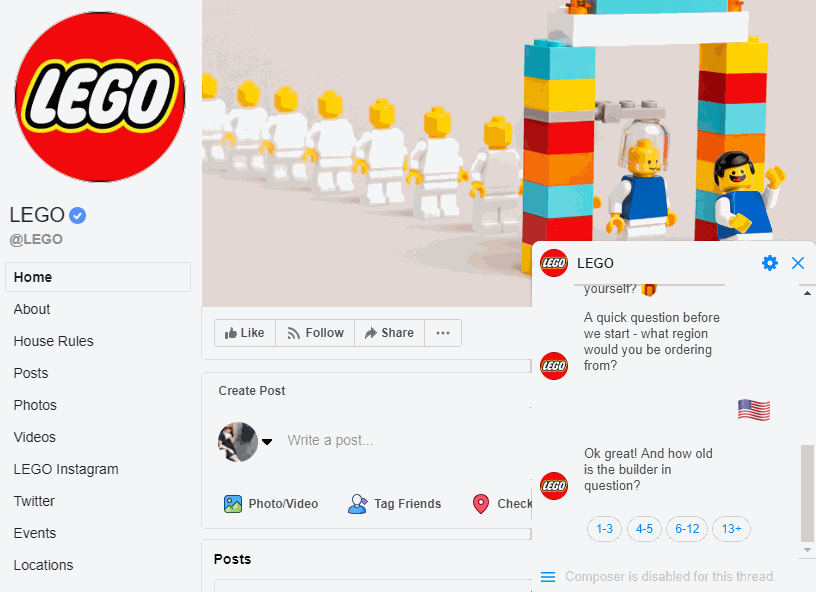 Chatbot use case #5. Engaging with prospects after an event
13chats created a chatbot that is a good example of how to engage with leads after an event. It is a bot that was tailored to the conference. Everyone who wanted to try out the product first was invited to sign up with the chatbot. While exploring the chatbot, the new subscriber got some onboarding information — learned about the 13chats team and was introduced to basic service features.
This chatbot was also able to provide a product presentation, run a private demo, and answer some of the users' questions.
Chatbot use case #6. Nuding your customers towards making a purchase
Jamie Oliver's Messenger chatbot offers visitors one of the most alluring topics — recipes for tasty meals based on the ingredients they choose.
At the moment, Oliver is promoting his book Veg, so when you start to communicate with the chatbot it suggests vegetable and fruit emoji to find recipes from his new book using these ingredients.
Meat and fish lovers are not left behind, they can choose the corresponding emoji, a chicken thigh, from the standard Messenger list and get a bunch of recipes with meat too. A 'Buy book' button appears below the recipe. After clicking on it you will see the colorful cover of the book and another button, 'Buy now,' leading to the book's Amazon page.
Chatbot use case #7. Offering your customers products they might like
Chatbots can easily be programmed to suggest products to customers based on their interests. The Mercedes-Benz Ukraine official Facebook has a chatbot with a button 'Can you recommend something for me?' Buttons like this will tempt your visitors to press it and see your suggested products.
Chatbot use case #8. Making bookings easier
Snaptravel has a Facebook chatbot to promote 'hotel secret deals,' which are supposed to help users 'save 30-50%.' First, it asks a visitor for their destination, budget, and if they have a particular hotel in mind. Based on the answers, it offers a variety of options and simplifies the whole booking process.
The Messenger chatbot can handle a significant part of the hotel reservation process, it helps get in touch with Snaptravel and can answer simple questions from users. If users ask a complex question, the system connects them with real agents.
Chatbot use case #9. Placing orders
This is a popular use case for chatbots, however, not every restaurant has made ordering online an option yet. Look at the Burger's King example. The fast-food chain introduced a Messenger chatbot in the UK market to help users order from a limited menu. It automatically pulls the user's location as well as the address of a nearby Burger King restaurant. Users can pay and checkout via a linked credit card and get an estimated delivery time.
Chatbot use case #10. Keeping your fans entertained
The San-Francisco based basketball team, Golden State Warriors, provides its fans with all the information they might need — from the schedule of upcoming games and essential information about the team to highlights videos and gear shopping.
Fans can read the info on team members, look at the selection of merch items to buy and view past games — all without leaving Messenger. Team member info comes in the form of a player bio and highlight videos. Obviously, fans can spend quite a lot of time engaging with this content-rich bot. The bot is almost entirely self-contained, with the exception of the merch button redirecting the user to the official website.
Create your own Facebook chatbot with SendPulse
Using SendPulse you can create a chatbot quickly and easily with our drag and drop editor. The best part is that it won't cost you a penny. Get started with SendPulse chatbots and send up to 10,000 messages to an unlimited audience each month for free.