When you hear the same fantastic story for the tenth time, it is probably not as exciting as it was when you heard it first. In the same way, even the most interesting and engaging content may lose its charm and become not as effective as before. That's why email marketers try to surprise their audience from time to time. One of the ways to do that is with gamification.
In this blog post, we'll explain what gamification is and how to use it in email marketing. Besides, we will show some gamification ideas you can apply for your email campaigns.

What is gamification
Gamification is the use of a gaming approach to solve non-gaming tasks such as education, employees motivation, audience engagement, and others.
Gamification is based on three core principles:
engagement;
award;
competition.
That means that people will participate in a game if they like the process itself, especially if there's a prize, and if there are other users to compete with.
Why and how to use gamification in email marketing
Quizzes, tests, and surveys are some examples of gamification in emails. Another example is games published on a separate web page, a link to which is provided in an email. It's a good choice for technically complicated games, or if an email is one of the ways to attract participants.
Gamification in business is rarely used for direct sales. On the contrary, sales rise as a secondary effect of user engagement. Even though the main goal of gamification is to raise interest and entertain, its importance in email marketing is very high.
Say, you need to keep users engaged, but even the most valuable emails become less and less popular as people gradually lose interest. In that case, noticing the open rates going down, email marketers can offer a game to the audience ― anything from an interactive email to a full-on quest progressing from one email to another one, and so on.
Here's a list of the most valuable advantages of gamification in email marketing:
Attracting new subscribers
One of the biggest tasks for an email marketer is to grow their mailing list constantly. Lead magnets, freebies, and discounts don't always work well, and many users sign up only for the sake of these bonuses, and then opt out or simply ignore emails.
Gamification can save the day here as it attracts users' attention and gives a fresh perspective to email. Moreover, people who get engaged, won't forget about your emails right away.
Stimulation of interest in the award
People get used to discounts and often ignore them, but to make a discount more exciting for the consumers, you can include a prize in your game. Allow users to win a discount ― and you will build motivation which makes the prize more desirable.
Building up anticipation
When there's a need to announce an important date, gamification helps to create an atmosphere of excitement and anticipation. A real-life example is an email campaign by Litmus, who sent out a series of emails with riddles to attract more people to their conference. We'll consider this case in more detail a bit later.
Entertainment of users
Even though gamification is based on motivation and the desire to get some type of award, gamers are often attracted for the sole purpose of entertainment. If your task is to make your email stand out among the others, then the fun part of this game will come in handy.
Motivation of users to act
A case by Zizi, a chain of Italian restaurants, shows how gamification can increase user engagement. At first, they sent out an email promoting a certificate to visit their restaurant, and the open rate was 12%, while only 1% of the users activated the certificate.
Then, marketers decided to implement gamification: they created a webpage and offered users to win prizes including a trip to Sardinia; however, the certificates were the most likely prize. So, this game helped the restaurant get all the seats filled, stimulate user engagement in social media, and improved the brand's reputation.
Gamification examples and ideas for emails
An email with gamification may require special effort and more time to be prepared. Some games can be developed by a marketer and a designer, while others will require a developer. Below, you will find a few gamification ideas with a different level of complexity for you to get inspired.
Immediate awards
The first gamification idea is to provide users with an award immediately after they take an action. You can use dedicated plugins to recreate a scratch card and include it to your email. Take a look at the example of this approach applied by Neiman Marcus:
There are also games which don't require any special elements embedded into an email — all you should do is to add a hyperlink to the call to action button.
Keep in mind that people will play the game only if the prize is worth it. For instance, if your prize is small and symbolic, the game should be very easy.
Interactive holiday cards
During holidays, mailboxes are usually full of emails and offers, so you have to put in some extra effort to get noticed. Interactive cards are one of the things that will attract users' attention. For instance, EmailMonks sent out this Easter email more than a year ago, but people are still talking about it.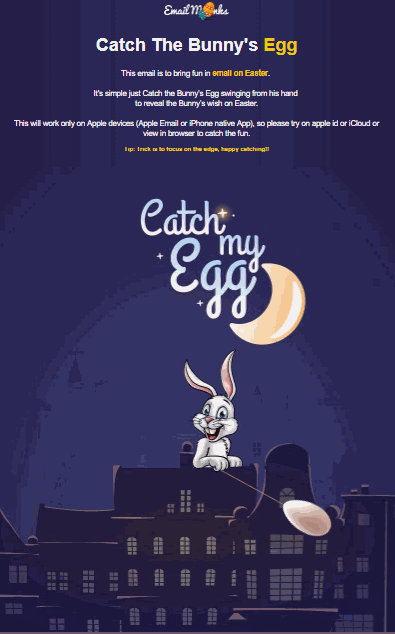 Prize drawings
Let users try their luck and participate in a prize drawing. Email on Acid used this trick to give out holiday coupons to their subscribers.
Pizza Hut made the prize drawing less of a guess and more of a luck game. Users could win a discount from 10% to 50% for their next online order.
Tests and quizzes
Engaging and fun tests will motivate users to read your email to the end. But don't make a test for the sake of making it; you should use it to lean users towards the offer and its advantages.
ModCloth made a cute quiz about pets for their audience to find some new styles which would suit their choice.
Quests
A series of games and quests will definitely increase user engagement and bring more attention to your brand.
Litmus offered users a chance to win a free ticket to their conference. They prepared a series of five emails, each of them having a hidden text or an image. The ticket was drawn among those who completed the task and shared the answer on Twitter with a special hashtag. Competitors had five chances to win a ticket, so users were motivated to open the next email and try their luck.
Another brand Fabiani created a "Hunt for style" quest, offering two riddles that users had to solve in order to win a mystery discount. Every day subscribers received a separate email; thus, they had many chances to win. It made them not miss any of Fabiani emails to have more chances of winning the main prize.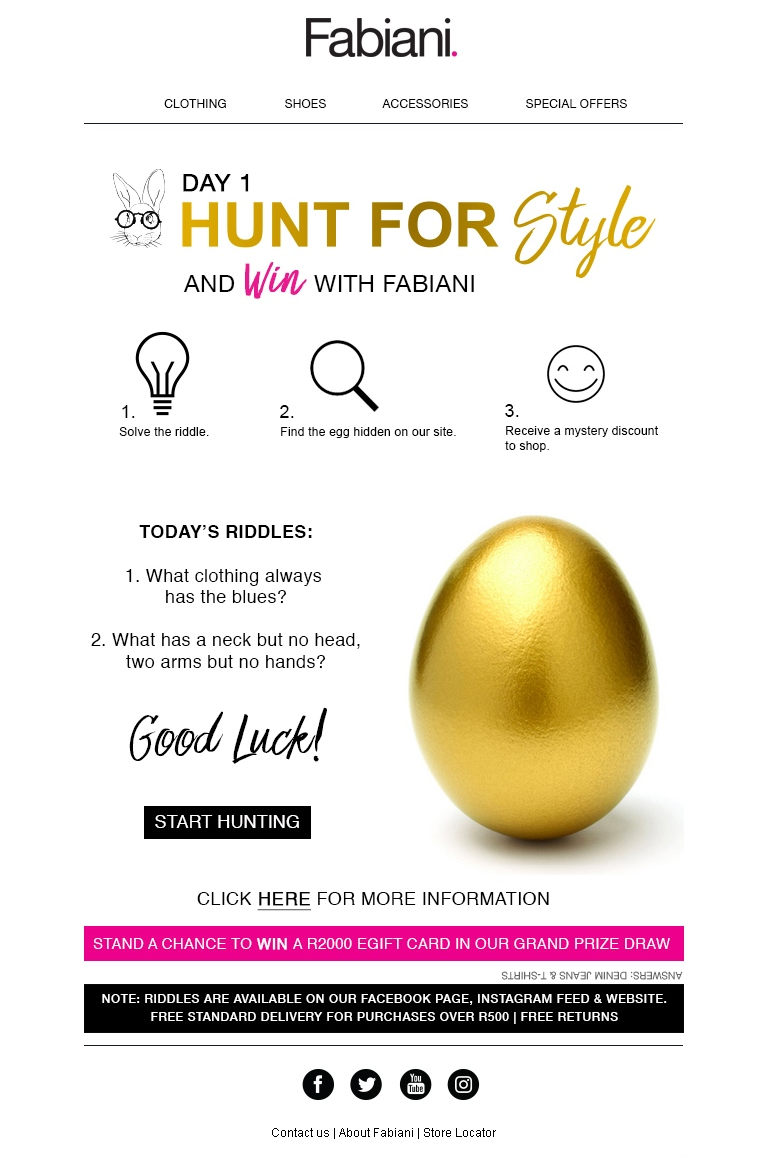 Wrapping it up
To get great results from gamification, you should take a data-driven approach and study your audience: you need to understand what topics and games will trigger their attention and use those in your emails.
Gamification is a relatively new instrument in email marketing, so the surest way to check its effectiveness is to try it out on practice. Sign up to SendPulse to start implementing traditional and new techniques in your emails and achieve your marketing goals.