While trying to push their customers further in the sales funnel, marketers think that sending promotional emails every now and then won't hurt. However, stacks of never-ending promotions will tire out your audience or even scare them off. Read our article to learn how to avoid promotional email traps and how to set up a promo campaign using Automation 360 from SendPulse.

What are promotional emails?
Promotional emails are messages that encourage conversions, particularly, a purchase. Unlike transactional emails, that inform customers about their orders, promotional emails typically focus on advertising products and services.
According to SaleCycle, almost 51% of consumers make a purchase as a result of a marketing email at least once a month.
Types of promotional emails
Take full advantage of promotional email campaigns by introducing various types to your email marketing strategy.
Limited-time offers
Since no one wants to miss juicy offers, you can make use of the fear of missing out, also called FOMO. This way, prospects that are on-the-fence are more likely to make a quick decision and take the target action within a limited time. You can use countdown timers, emoji, various fonts or GIFs to grab attention and stress the urgency of your offer.
For example, J.Crew created a promotional email and announced its online sale limited to only 5 hours. The company provided an actionable CTA and promo code to get the 50% off.
Seasonal campaigns
If there are upcoming holidays on your email marketing calendar, use them to promote your products and services to boost your sales. According to statistics, the average consumer spends $1.226 on holiday presents, so don't hesitate to promote your brand during the holidays.
This is what True Lemon did in with one of their Christmas campaigns. The company used creative copywriting and increased their number of discounts based on the purchase total.
Product launch
Whether you're going to introduce a new product line or feature, dedicating a separate email to it is a chance to evoke curiosity and remind people about your brand. If you keep your mailing list clean and your subscribers engaged, your new product will sell like hot cakes on launch day.
This is how Patagonia launched its new product in its promotional email. Apart from stating the product's main properties and benefits, like water resistance and being made of recycled materials, the brand also indicated the warmth of each parka so that users could instantly find a product to suit their needs.

How to create a promotional campaign in Automation 360
SendPulse allows you to create a triggered series of emails using Automation 360. As an example, we are going to send a series of triggered emails to subscribers who engaged with our previous mass email campaign promoting a particular product. Only subscribers who opened the previous mass email will get the triggered series — this way, we work with leads who are already interested in our offers.
Create an automation
To get started, go to the Automations tab and click 'Create new automation.'
Fill in all the necessary settings in the corresponding fields and click 'Apply.'
Tracking opens and clicks in your mass email campaign
Now you need a webhook so you can track email opens or clicks on your included links. Tracking this information with a webhook allows you to start your series of triggered emails for users who interact with your mass emails. When a subscriber opens an email with a webhook, the triggered email flow will start.
To create a webhook, indicate the 'Contact webhook' as a starting condition for your email flow in the menu on the right.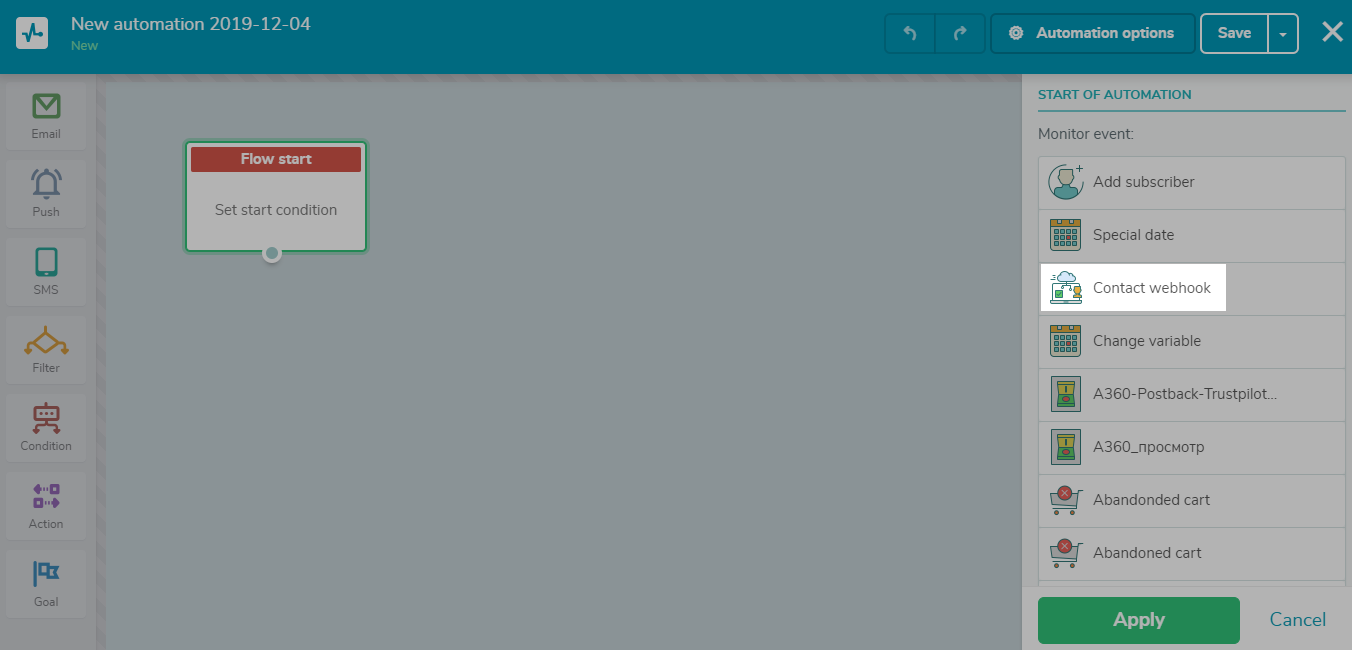 Choose the necessary mailing list and click 'Apply.'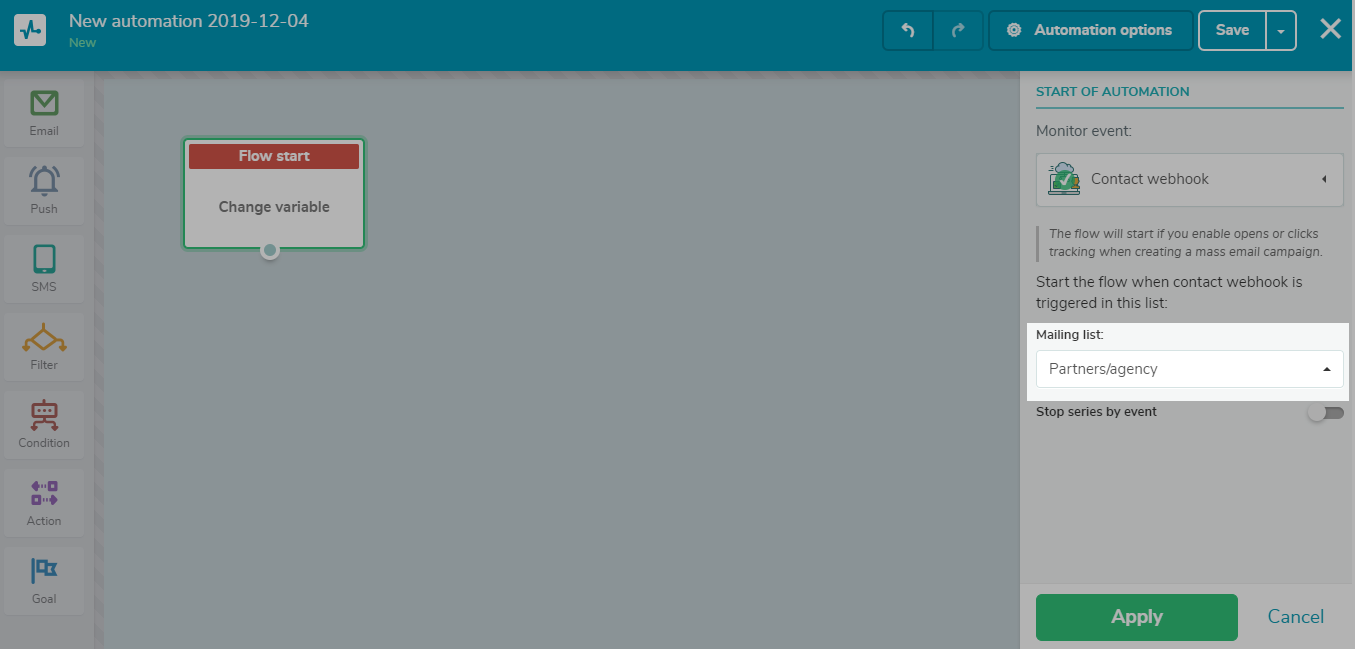 Your webhook is now ready and you can proceed to creating your triggered promo email series.
Set the condition that stops the series for a subscriber
Remember to activate the 'Stop series by event' option and indicate 'Purchase' as your goal event in the corresponding final block.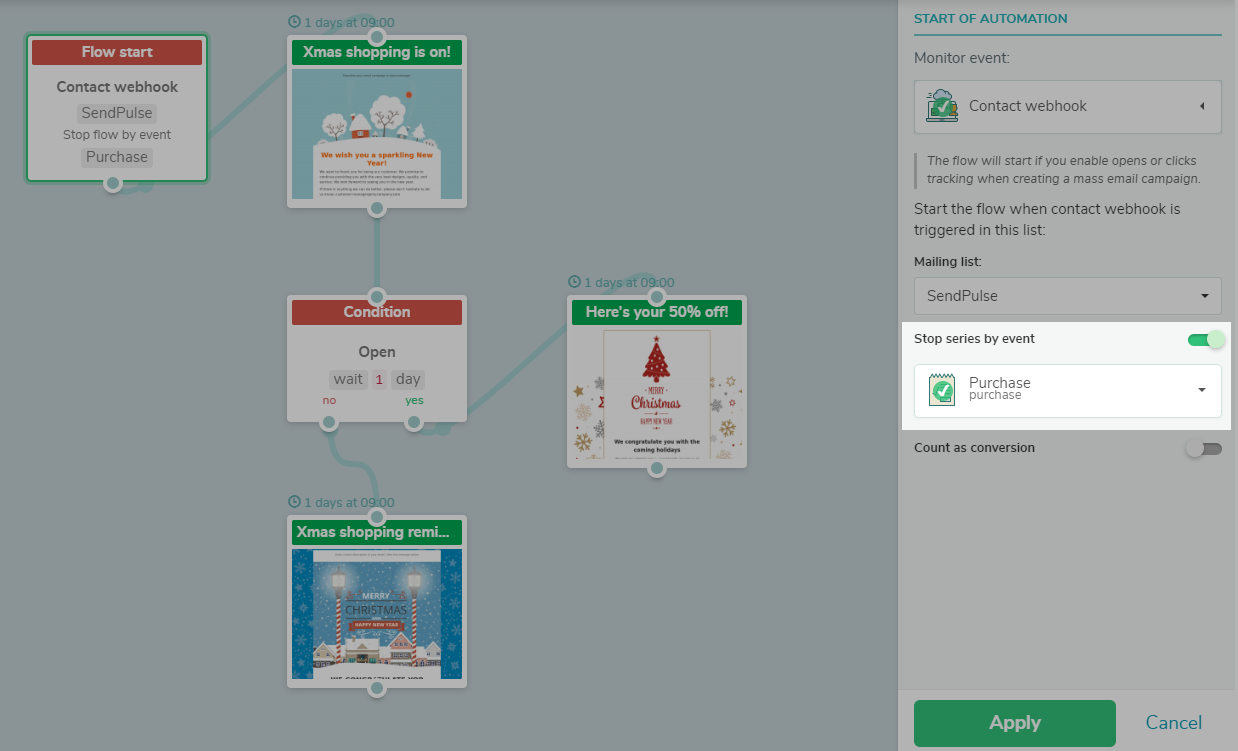 Create the first email and connect it to the 'Condition' block. Choose 'Open' as the defining trigger, decide when it will activate to send the following emails of the series.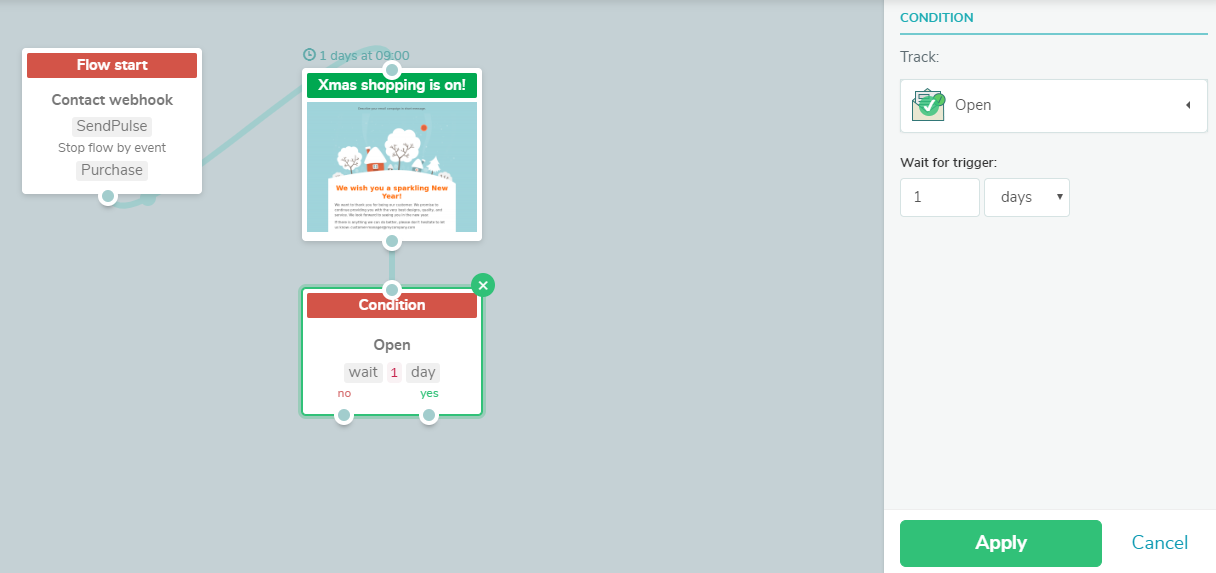 Track conversions
Finally, connect the last 'Goal' block, name it 'Purchase' and click 'Apply.' This way, you will be able to see who converted in your mailing list and segment these subscribers if needed.
Remember to stop the series if the goal is triggered by activating the corresponding option in the menu on the right.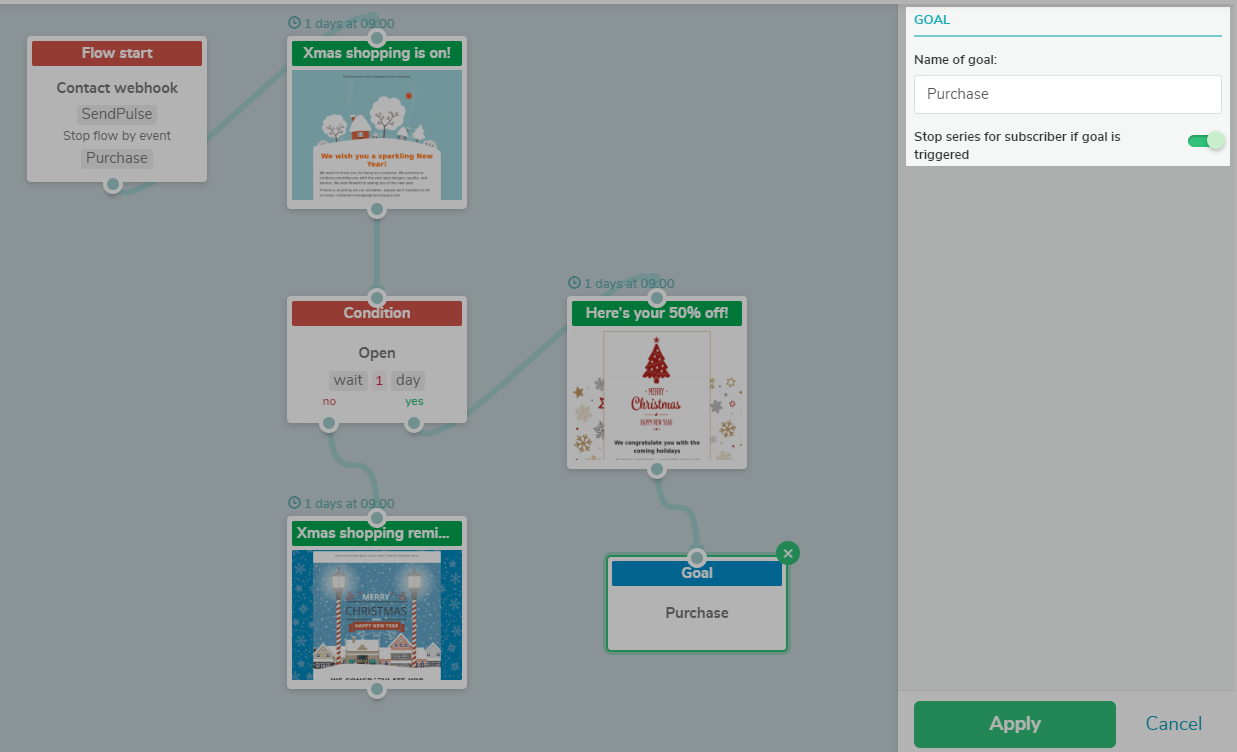 Congratulations! You've created your series of promotional emails that will come into action the moment you send your campaign to the mailing list you indicated in the webhook.
Important! When creating your mass email campaign, in the last step, you need to choose the option 'Send triggered email campaign.' This is how to connect your campaign to the automated flow, shown above.
Here is the full scheme of our automation flow. You can add more emails to yours or even include SMS and web push notifications in your flow if you have more contact information about your subscribers.
Take inspiration from the above-mentioned promotional emails and craft your own promo emails that trigger the users to take action. SendPulse will help your conversions go up by automating your routine. Good luck!