Storytelling has always been a powerful tool to pass information and get a strong emotional response from the listeners. In this post, we'll share five inspirational ideas a would-be storyteller in email marketing can use to create engaging and captivating content for their subscribers.
What is storytelling?
Storytelling is a technique of using ideas or facts to deliver information to the audience and create an emotional connection between the brand and the customer.
Marketers use storytelling to create a meaningful relationship with their audience. In fact, 92% of users want marketers to make ads that feel like a story. On top of that, Statista even ranked storytelling the second most effective approach in content marketing as 81% of B2B professionals recognized its importance: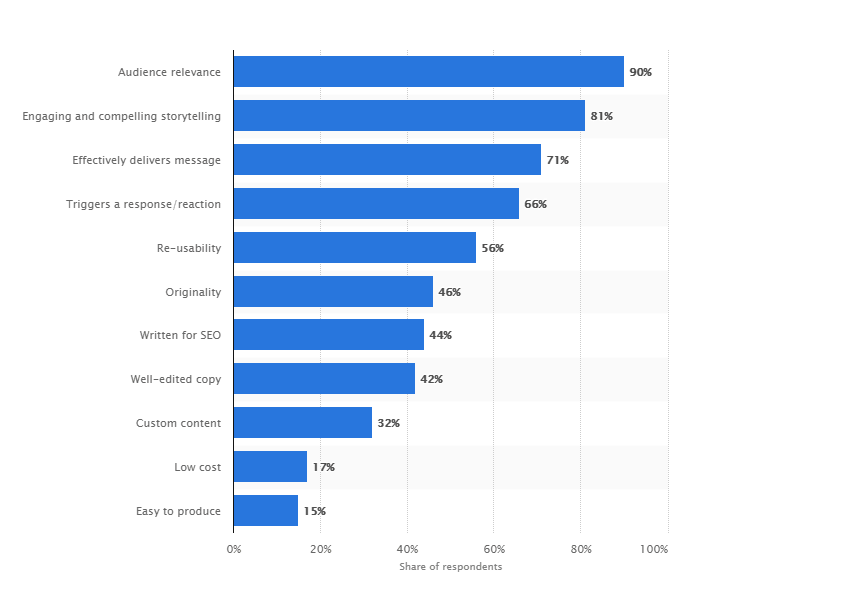 Apart from being content marketing gold, wise brand storytelling has other superpowers that will benefit your business. We are about to uncover the benefits.
Why storytelling is important?
Stories create an emotional bond between the brand and the customer
A story engages different brain areas that release adrenaline and put to work neural coupling — a process that makes readers tune into the beat of your story and experience it as their own. Since people are more prone to emotional-driven purchases, a well-told story can influence customers' attitude towards your brand and boost their loyalty.
Stories carve the brand into the memory of subscribers
A compelling and well-told story can stick in the reader's mind, hence creating an emotional connection between your brand and your customers. As a matter of fact, messages brought as stories are carved in memory 22 times better than bare facts.
Stories uncover the brand personality
Using stories to present your company's values and visions allows you to demonstrate features that can make your brand stand out from the rest. When you speak about your brand's background and experience, you let your customers better understand the niche you are targeting and which problems your product or service helps to solve.
How to tell a story in an email
Before speaking about the types of storytelling in email marketing, let's clear up three components a good story should consist of:
Characters. Every story needs a character to link with the audience. In the case of email marketing, this primary character may be your product, company, or a key personality that influenced its formation. For example: Who started the company? Who inspired you to start the company? How did you come up with the idea of your product or service? Who created the logo?
Conflict. Once you've chosen a key character, hook your readers' attention and make people feel connected to your story by telling them about your experience. For example: What made you start the company? What obstacles did you face? What lessons did you learn from this experience? What errors have you made?
Resolution. Make sure you place your characters and conflict into the right context in your story and leave your subscribers with a resolution — a clear call-to-action to follow. For example: What will readers achieve using your products? How will they benefit from the collaboration with you?
Now let's see which approaches you can use to make the stories work for your email.
Linear approach
Use this kind of storytelling to present the main events of your story in a logical order as they happened. In this approach, the narrator is usually in full control of the story and the reader doesn't interfere with its flow.
The Hustle, for example, used this kind of storytelling in their welcome email. The company's CEO told a story to introduce the team to the subscriber in a light and witty way which is fun to read.
Linear interactive storytelling
This approach gives readers more control over the story flow, becuase they can interact with certain parts of the email content. To use interactive storytelling in email marketing, think of linking text or images to landing pages on your website.
For instance, in their welcome email, Lush revealed their unique features and key principles by informing readers that the ingredients the brand uses are fresh and environmentally-friendly, while the products are hand-made and not animal tested. Subscribers can decide themselves whether or not to proceed to the Lush website for further information they are interested in.

Interactive storytelling with multiple options
This storytelling method requires various story endings depending on the options the reader chooses. Such approach speaks to the user's interests and derives their curiosity to reveal the ending of the story.
When it comes to such approach in storytelling, Loft is a good example to draw inspiration from:
A click on the CTA button leads a user to a dedicated webpage where they can select their horoscope sign and view a weekly, monthly, or yearly horoscope.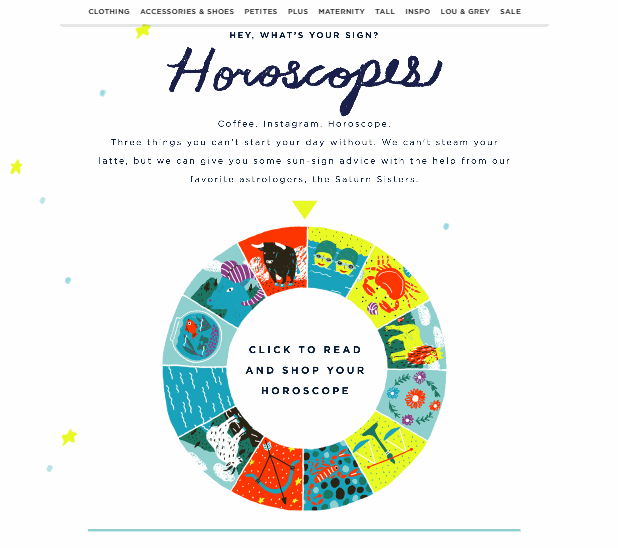 Email storytelling examples
And now let's take a look at the types of stories you may use in your email marketing practice accompanied by the best examples from our inbox.
Success story
Let your existing customers do the talking and share their feedback on using your products or services. Alternatively, you can boast of your company's achievements yourself.
That is what Patagonia did in one of their emails. The company shared the success story of one of their products, the Micro Puff hoody.
'Reason Why' stories
In case you're planning to bring in a special offer, reinforce it with a story saying why you're promoting it. You can connect it to your company's anniversary, a holiday, or any other news hook to pin your perks in the user's inbox.
Dr. Martens, for example, created a one-day sale and explained why: this way the brand marked the anniversary of their iconic footwear.
Origin stories
This type of story would be a nice chance to greet new subscribers and tell them about your company. Show your subscribers what inspired you to start the company or launch the product, how much has been done since then, and what you've achieved. Portray your company's goals and principles. Create an email which will display the perks of your products or services. State why they are unique and how they have influenced or may influence the industry in which your business operates.
Brooks Brothers, for example, dedicated their email to the company's 100-year anniversary. The brand tells the subscribers how the brand originated and also shares the innovations it brought into the industry.
Kate Spade, in their turn, told a story behind their pepper-ish collection in one of their emails. Namely, the company explained why it used chili peppers for their bright creations.

Interview
Show what your company's life is like outside promotions and marketing — engage your audience with a story without trying to sell anything. For this purpose, an interview with your CEO, team members, or other people related to your brand would be quite a refreshing break in your email marketing routine.
Chubbies, for example, used storytelling in email marketing they run to share five interviews with ordinary men who once modeled for the company. The brand unveils how they decided to participate in the company's modeling contest and how their life has changed since then. This way, the company builds trust with the reader, bringing their core message — anyone can be the superstar; you just need to believe in yourself.

Behind-the-scenes story
Create this style of email to unveil how the products are made or how your company's workflow is organized. After all, your audience wants to connect with other people, not brands. Share some team-building content showing how your team works and has fun together, or some interesting details of your company's progress.
Check out an email from MeUndies. The company sheds some light on how their products are created: from the methods of producing the fiber to the actual manufacturing process.
So, be sure that storytelling in email marketing is another working trick to create an unforgettable email, build trust with your audience, and make them take the desired action. Get inspired by our examples, experiment with your content, and use SendPulse to spread it.
And may your storytelling emails stand out in the subscribers' memory — and their inboxes, of course. 😉