Webinars are a win-win tool for viewers and companies. The audience gets to learn something new from an expert and doesn't need to take a whole course or finish a degree for that. The company gets to significantly grow its mailing list with an engaged target audience.
83% of marketers consider webinars to be an effective promotional strategy; consequently, the market is full of webinars now, on any topic and at any time. You have to really push your webinar promotion efforts to get noticed in the ocean of useful information.
That is exactly what we plan to focus on in this post: learn eight super-effective tips to elevate your webinar promotion.
Four steps to take before promoting your webinar
The rule is fairly obvious: promoting a webinar is painful if you try to market a bad one. You can do it, but it will take so much more effort and won't deliver the results you hoped for. It is much easier to sell something valuable and relevant to your audience. Therefore, you should follow some steps when creating your webinar.

Step #1 Know your target audience
You need to know your target audience to understand what can be interesting for them. What kind of things do they work with? What do they struggle the most with? Where are they ineffective or experience a lack of knowledge?
As soon as you discover your audience, interests, and pain points, you will find the topic and the delivery they need. And it will be easier for you to decide how to promote your webinar: you will be ready to answer the question of what pain points it addresses and how exactly it can help your potential webinar participants.
Step #2 Find trending topics
Trendy topics in your field are likely to evoke interest no matter what, especially when it comes to emerging trends. Is there some topic that is actively discussed on Twitter or LinkedIn? Is there a new buzzword that no one can define well yet? What do Google trends in your industry say? Novelty can be promoted easily and bring great discussions during the webinar.
Step #3 Profoundly analyze your competitors
Before you know how to create a good webinar, you need to be a visitor first. Take a look at your competitors: find their strong and weak points and learn what to do and what to improve. Afterward, you can use your improvements as a unique selling point in your marketing campaign and clearly define why your webinar is worth the audience's time more than the others.
Discover how to conduct a profound analysis of your competitors and which tools to use to evaluate their social media and content marketing strategies.
Step #4 Ask your audience
Marketing can start even before the product is finished. In fact, it can start before the idea of the product is there. Ask your audience to help you build a perfect webinar of theirs: let them choose the topic of their liking and tell what they want and don't want to see in the webinar. It is much more exciting to come to the event where you took a small part in its creation, and polls will create this feeling of participation.
Learn more about the importance of customer surveys and how to significantly increase your survey response rate.
Eight actionable tips on how to promote a webinar
Even if your webinar meets your audience's needs perfectly, you still need to let people know about its existence and clearly define its value. These eight webinar promotion best practices can help.
Webinar promotion tip #1 Create a landing page
Webinar marketing strategy isn't much different from marketing of any other product: you need to make it desired. Your future viewer, especially a B2B customer, has to understand what kind of problem your webinar can solve, what benefits one can gain, and how it can change their current situation: will they become more effective, get promoted, or earn more money after your event?

A
landing page
is an essential part of the webinar marketing strategy, no matter what topic it focuses on. When it comes to webinars, your landing page should be the main information point about your event and include the following elements:
title with a small description;
date and time;
main topics;
webinar platform you will be using;
the outcomes of the webinar for your audience;
speaker list and why their expertise is important for the topic;
registration form;
clear CTA like "Register now," "Learn about (your topic)," "Claim your spot," etc.
Here's an example of a webinar landing page describing all the details about the event and featuring a sign-up form:
Webinar promotion tip #2 Leverage the power of website pop-ups
Your website is an effective marketing platform you already have, so make sure you use it to the fullest. You can add pop-ups for your visitors, especially if they are reading a relevant page, mention it in new blog posts, or add information on it to the existing articles that are somehow connected to the topic of your webinar.
Here's another webinar promotion example — Thinkific using pop-ups to attract the attention of their website visitors to encourage them not to miss the upcoming webinar.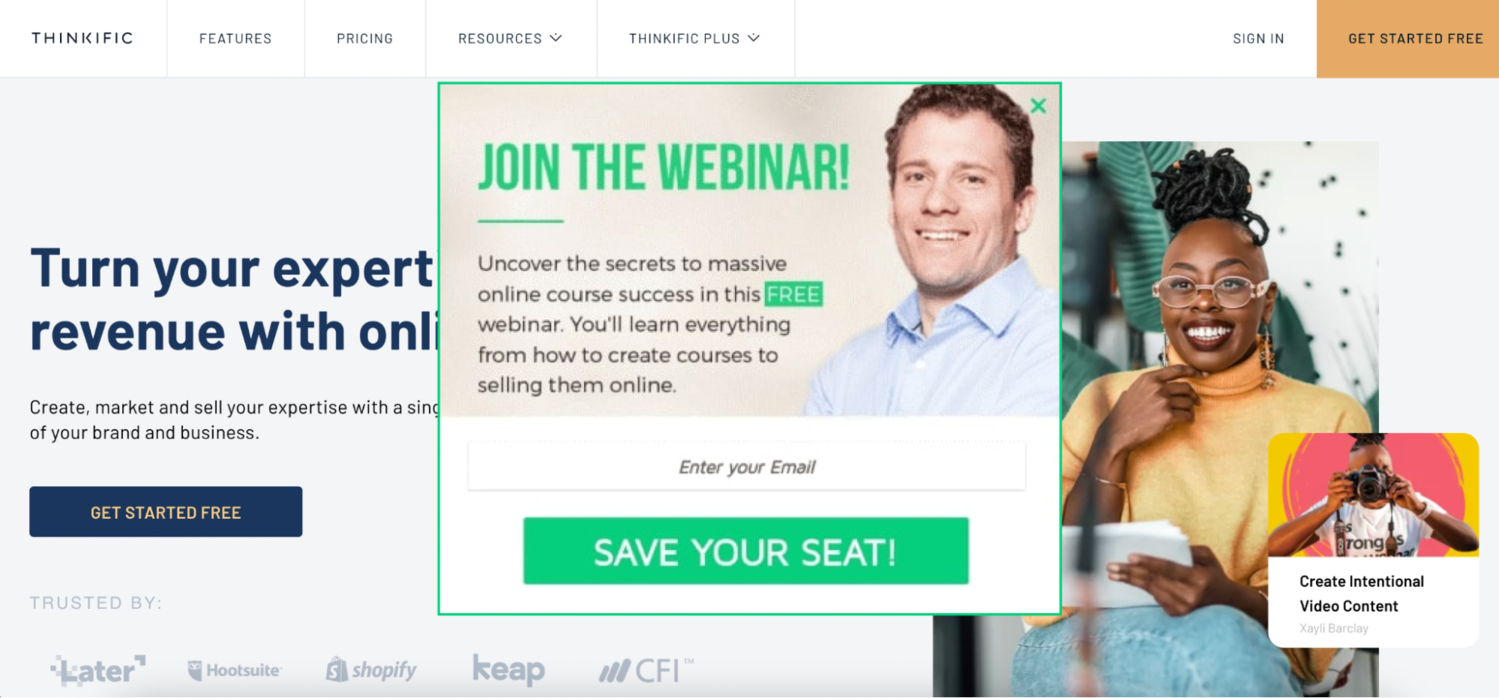 Webinar promotion tip #3 Create a dedicated section on your website
You can also align your content plan with the webinar marketing strategy and start posting relevant blog pieces that can help your audience understand the webinar or its importance better. Having a separate website section for webinars will make your audience get used to the fact that you constantly offer new educational content.
Entrepreneur has a separate page on their website featuring information about upcoming webinars to attract a larger audience to their events.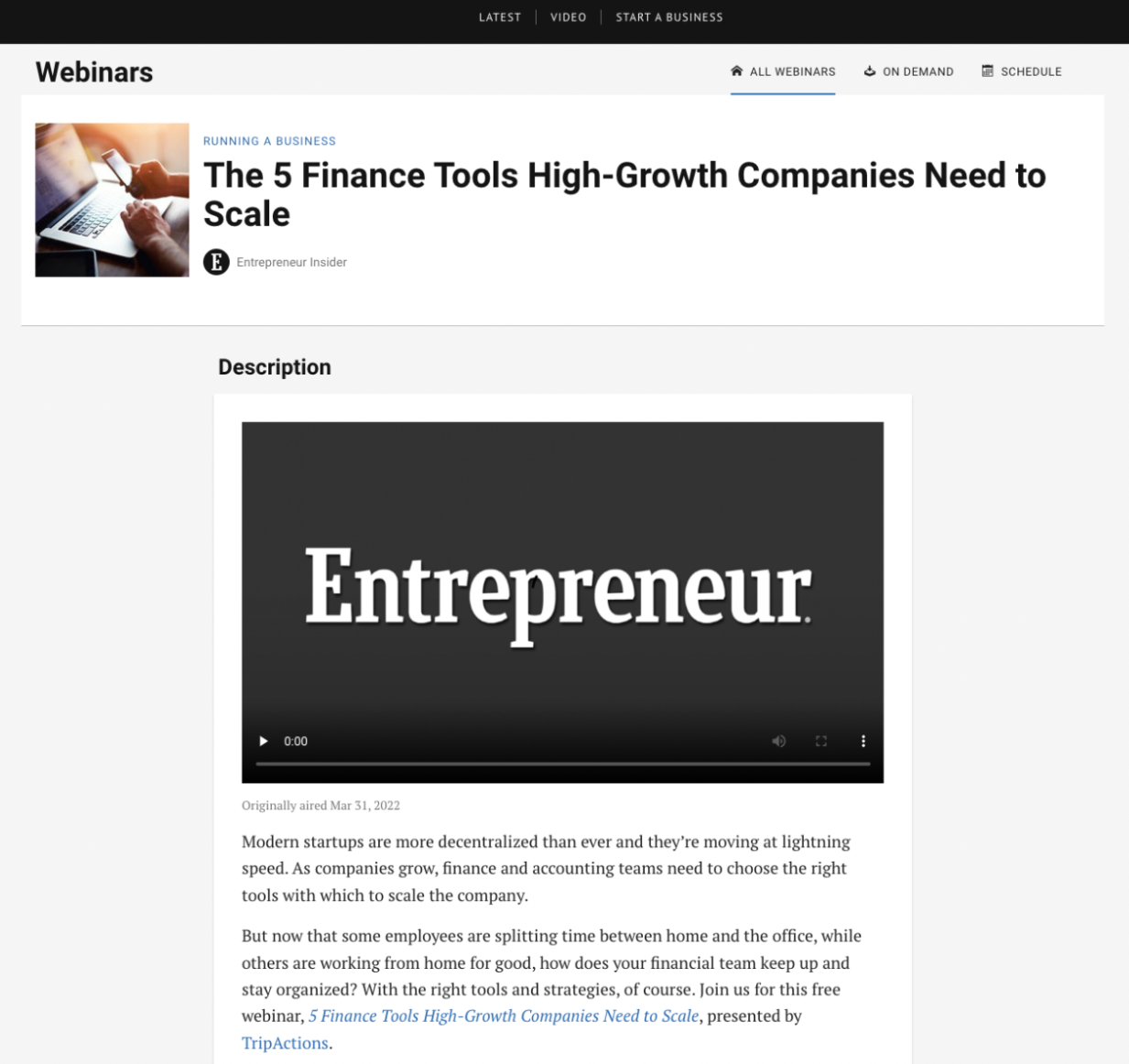 Webinar promotion tip #4 Promise goodies for attendance
Since there are way too many webinars, people are looking for more than just information. You can push it further by promising discounts, your company merch, a helpful checklist, or a case study.
If you want to boost your webinar attendance, consider sending out post-webinar educational materials to those who've watched the webinar. Here's such a webinar promotion example from Thinkific:
Webinar promotion tip #5 Use the power of influencers
You can use this webinar marketing strategy tip in an obvious way and pay influencers to advertise your event. However, you can also find influencers that have relevant expertise and invite them over to share it. As a result, you can promote your webinar by name dropping, making influencers' fans excited, and having influencers promote their speech and, consequently, your entire webinar.
Another good webinar promotion example is how Joey Yap, a best-selling author, promotes a webinar to his Facebook followers.
Webinar promotion tip #6 Create a trailer
Yes, text works, but videos are doing better numbers, especially if the end product is a video too. You can tell a bit more about your speaker and what you will discuss. It is a chance to showcase how well your host makes presentations and show the quality of the future video.
Check out our blog post to learn more about creating a video marketing strategy.
Make sure to check this example of a webinar trailer:
Webinar promotion tip #7 Be present on numerous channels
There are a lot of communication channels you can use to let people know about an upcoming webinar. One of the most popular, accessible, and effective channels is, without a doubt, email. Start with crafting an engaging webinar email series — it will help you heat up the interest of your audience and eventually encourage them to sign up for your event.

Another channel to leverage for your webinar promotion is online communities. Webinars usually have a specific topic, and participants interested in it are likely part of larger communities: marketers, IT professionals, influencers, fitness lovers, etc. Just share a webinar in their community on specific websites, LinkedIn, or Facebook.
Last but not least, use your social media pages for webinar promotion. Create posts about webinars, let hosts make stories, add countdown stickers on Instagram, create an event on Facebook, and promote it to industry professionals on LinkedIn. Here's how Pilot promotes its webinar on LinkedIn: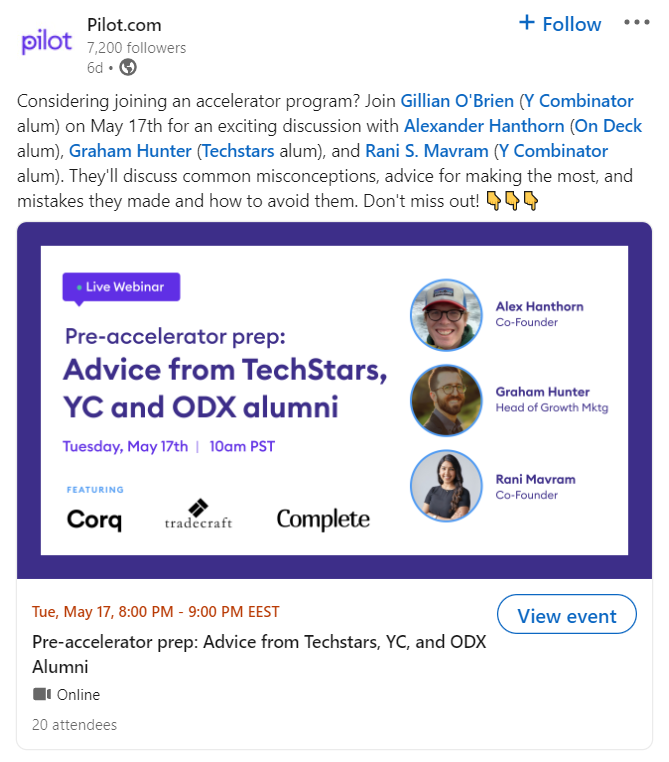 Webinar promotion tip #8 Promote your next event
Your webinar and post-webinar communication can be a promotion platform as well. You can announce your next webinar at the end of the current one and encourage people to come in further messages.
Remember to send thank-you emails where you can mention visiting your next event if participants liked the current one. It will also be a good idea to connect with those who did not come by sending a simple "We missed you" email with a short recap of the webinar.
If you deliver what you promised, utilize customer feedback forms to evaluate customers' satisfaction and do something with the information obtained. Pay attention to those who attended your webinar — they are more likely to be interested in your future events or recommend them to their friends.
Here's an example of a thank-you page that shows up after the webinar and invites people to the upcoming event:
Final thoughts
Webinar promotion can happen at any stage: before the webinar is even planned, after its formal announcement, during the webinar, and after it. You can also have numerous platforms to let the world know about your event: a website, emails, social media, communities, your own webinars, etc.
It is also important to remember that first impressions matter. If you have a fruitful and insightful webinar and clear communication, you are more likely to give fewer efforts for future promotion but get even better results.
To simplify the process of webinar promotion, consider utilizing our landing page builder and email automation service. Such easy-to-use yet effective tools will help you automate routine processes and take your webinar marketing to a new level.