AI chatbot is a tool that applies artificial intelligence and natural language processing to provide customers with human-like conversations and relevant answers. It's a useful software application that enables your company to ensure support at any stage of the customer journey and reduce the workload of your team. SendPulse allows you to build chatbots for Facebook Messenger, Instagram, WhatsApp, and Telegram and use ChatGPT integration.
In this article, we'll unveil the difference between AI and rule-based chatbots and the benefits of AI chatbots. We'll teach you how to use and build an AI chatbot with SendPulse.
ChatGPT
ChatGPT is a conversational AI platform that uses technology to understand clients' questions and respond accurately in human language. The software enables you to provide instant, accurate, and natural answers to customers' questions, recommend products based on customers' needs, and update on relevant discounts and promotions.
There are several types of ChatGPT you can use to solve specific issues. Some help analyze the context and generate more complex text or code. Others allow you to work with translation, complex classification, text sentiment analysis, and summarization tasks. You can create Q&A chatbots and provide instant answers to consumers' questions. Besides, it helps you generate new text. The model understands text structures to create simple plots and titles.
With ChatGPT, you can take your customer support and sales department to the next level. The software empowers your company to provide clients and leads with relevant answers without distracting team members from urgent tasks. The language and messages look human-like so users won't feel the difference. ChatGPT provides answers based on messages' history.
ChatGPT lets you update clients on upcoming deals and discounts based on their shopping history. Messages are sent according to customers' preferences; therefore, they are personalized. ChatGPT empowers you to increase customer satisfaction since consumers get their desired products.
Now that you know some basic facts about ChatGPT, it's time to clarify the difference between AI and rule-based chatbots.
What is the difference between AI chatbots and chatbots?
Sometimes it's hard to differentiate the rule-based chatbots and AI chatbots because they can perform the same tasks. They can engage with users and answer basic questions. However, after testing these two types of chatbots, marketers report the rule-based chatbots' inability to understand all customers' inputs.
Rule-based chatbots operate based on pre-written responses triggered when a user types the input. Sometimes the chatbot can interpret the answers in the wrong way and provide not accurate answers.
AI chatbots use language processing functionalities and can understand the context of conversations with customers. The answers this type of chatbot provides are accurate and natural. They look human-like so clients can't figure out they are dealing with a chatbot. The answers are generated from the knowledge base the chatbot is connected to. It can be trained based on previous conversations with clients. For instance, if the question is the same, the bot can use previous conversations as a source of information.
To sum it up, AI chatbots can understand the context of the conversation and provide accurate answers. They are natural and human-like. After receiving responses from customer support, your clients will be satisfied with your company's service. AI chatbots are trained based on the existing conversations with agents, while rule-based chatbots function based on pre-written scenarios.
Now that you know the difference, let's explore the main advantages of AI chatbots.
Benefits of AI Chatbots
AI chatbots can help you in various areas of your business. They enable you to reduce the workload on your customer support team and sales department. A trained AI chatbot can replace your customer support agents at anytime and provide instant answers. Since clients don't have to wait for your customer agents to reply in hours or days, customer satisfaction with your brand improves. AI chatbots can be used for lead generation and qualification, increased sales, better customer engagement, and essential customer insights.
We'll cover all the benefits of AI chatbots in short. AI chatbots help
provide support 24/7;
use natural language to answer questions;
look human alike when assisting customers;
generate prospects;
qualify leads;
improve sales;
gather information from customer data;
improve customer support;
boost satisfaction with your company;
increase interactions with customers;
reduce bounce rates;
save costs on hiring more customer support agents;
respond to clients' inquiries faster;
provide personalized recommendations based on customers' preferences.
Now that you know the pros, let's jump into the next section to find out how to use an AI chatbot.
How to use an AI chatbot?
AI chatbots can be used in multiple areas: customer support, sales, online learning, and many others. It can provide answers and create written content (articles, social media posts, essays, code, and emails).
AI chatbot can come in handy if you incorporate it right. In this section, we'll unveil how to use a conversational AI chatbot for your company. If your team wants to work towards the success of your brand, you need to take care of several aspects. This type of chatbot is an AI-powered chatbot that doesn't require human supervision once everything is set up. However, before the process begins, you should complete several tasks. Let's find out what you should do to implement your chatbot successfully.
Create a knowledge base. If you want your chatbot to send logical and natural answers to customers, think about developing or improving your site's knowledge base. A knowledge base is a web page on your company's website that stores all the information about your product (guides, how-tos, instructions, etc.). When discussing AI chatbots, a knowledge base is data stored from all conversations. The chatbot becomes better and more accurate if it's trained with conversations. The best way to teach your AI chatbot to provide natural and right answers is to have many conversations with clients. Your chatbot should also be connected to the knowledge base on your website. It'll serve as an additional source of information for your chatbot. Once it receives a question from a user, it'll search the knowledge base for the most detailed answers. AI chatbots can provide responses based on previous conversations with customer support agents. If your chatbot is already well-trained, you don't need to take care of it and track every message. An AI chatbot will do everything for you.
Connect your chatbot to a live chat. Since there's still a possibility of a chatbot not understanding customer input, you need to prepare for such a scenario. For this purpose, we connect your AI chatbot to the live chat on your website. This way, if a chatbot cannot answer the question or provide the right response, the user can always talk to a live representative. For instance, you can automatically connect with a customer support agent after the chatbot gives two unclear answers. SendPulse empowers you to create a live chat and add it to your site within minutes. Prevent dissatisfaction with your brand and get ready with the live chat. Support customers when they need it the most and ensure that they get appropriate responses when necessary.
Adjust AI chatbot answers. To make sure that your chatbot is giving the right and consistent answers, you need to audit it. Don't let your chatbot operate on its own for months because you can't know the answers it provides to customers and whether they are happy with them. Your top priority is customer satisfaction, so you need to take care of it. First, consider surveying to ask how happy your customers are with the chatbot. Secondly, look through the answers your AI chatbot usually provides to users. Thirdly, analyze them and find out whether the answers are appropriate and accurate. If everything is right, you don't have to edit the answers. However, if the answers are not satisfying, there's a need for improvement. Train your chatbot to provide new answers to questions to make clients happy with your chatbot.
Now that you know the tasks you need to complete for an effective chatbot, let's create an AI chatbot with SendPulse.
How to build an AI chatbot with SendPulse?
When you consider creating a chatbot, it's essential to find the right platform for it. Make sure that it doesn't require you to have programming or coding skills to create a chatbot. In SendPulse, you can develop a rule-based and AI chatbot within minutes without any special skills or knowledge. The process is simple and fast.
With SendPulse visual builder, you can set up auto-replies and develop sales pipelines on Instagram, WhatsApp, Facebook, and Telegram. Create scenarios for various messengers or social media platforms and start conversations with customers whenever they need it. You can add a multi-channel subscription widget to convert visitors into clients.
To set up a rule-based chatbot, create triggers that will start the flow. The platform will launch auto-replies and message flows once a user triggers a specific action. The next step is writing auto-replies. Based on the trigger, you need to develop different auto-replies that will be automatically sent out to clients. Then, you should create the logic of your bot. With SendPulse visual chatbot builder, you'll only need to drag and drop the necessary messages and triggers and connect them. Connect messages one by one to establish a sequence of messages in your auto-reply flow. Once everything is done, you need to double-check your chatbot. Use test mode to do it. If the bot works right, feel free to launch your chatbot.
Below you can see how to work in the SendPulse editor.
SendPulse has an integration with ChatGPT. It means that your bot communicates with clients in a human-like manner. Its answers look natural. The answers will also be more accurate since the bot analyzes previous conversations to understand customers' inputs.
SendPulse allows you to create chatbots using four main models: Curie, Davinci, Ada, and Babbage. The model you choose depends on your main business purpose. Some of them are designed to optimize texts, others can decrypt codes. So you need to select the type wisely after you determine your main goal.
If you want to optimize texts, consider using the Ada model. You'll be able to identify keywords, proofread your text, or optimize it to comply with SEO principles.
Below is an example of an Ada model chatbot created in SendPulse.
If you need a FAQ database, consider using the Davinci model. With SendPulse, you can train your bot to provide relevant and accurate answers to customers' questions regarding a product or service.
Below, you can see an example of such a model.
The service enables you to create a helper bot. It will allow you to solve life issues fast with a chatbot. Users can describe their situations in the bot, and it will send them relevant solutions or advice.
Below is an example of the Davinci model for such a chatbot.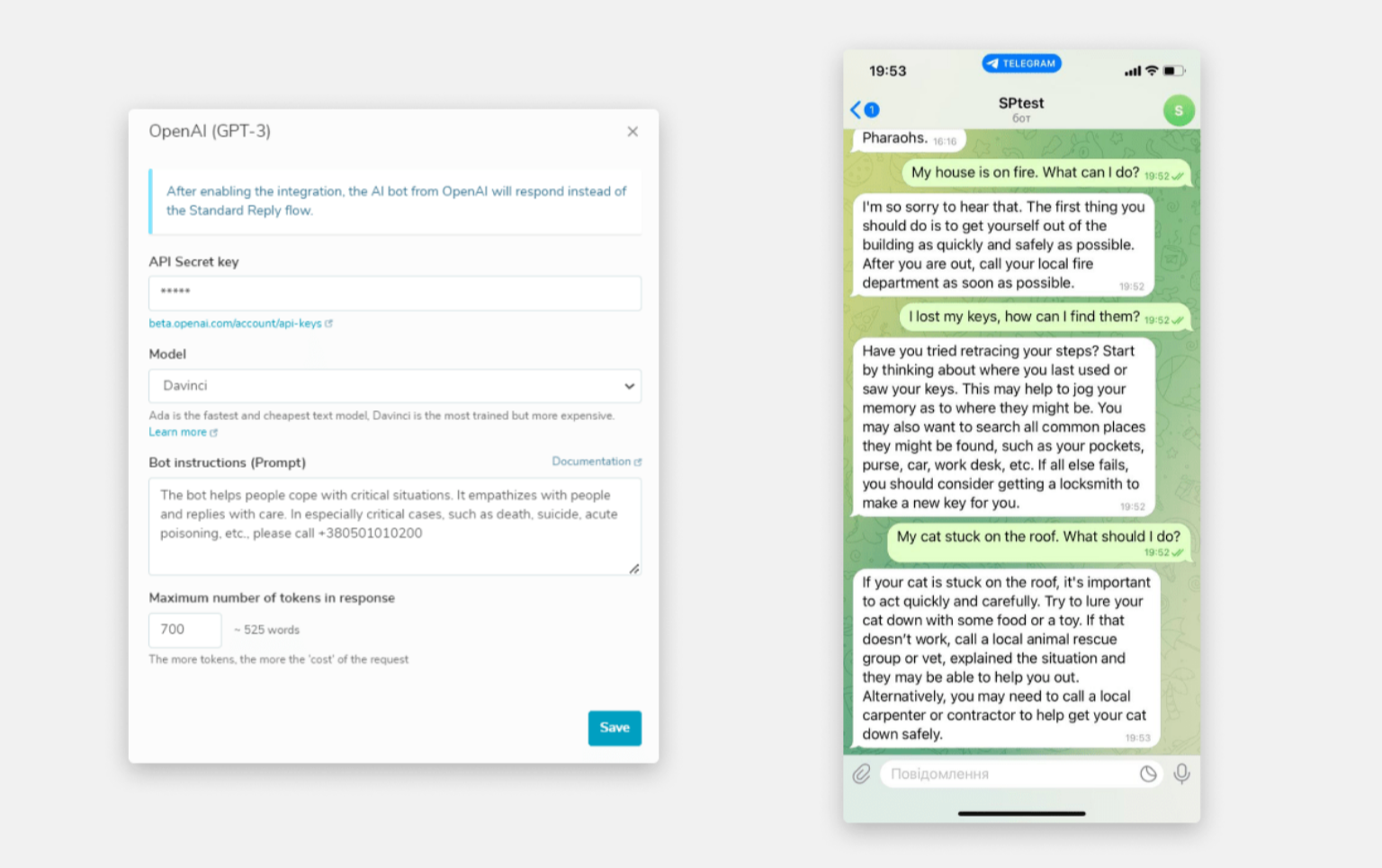 ChatGPT is a new level of support for customers. Besides customer support, you can perform multiple actions using this conversational chatbot. Relevant, natural, and human-like are the words to describe the help you can provide to customers without the intervention of your agents. Register with SendPulse to create quality AI chatbots for Instagram, Facebook Messenger, Telegram, and WhatsApp.
References:
This article defines the term and unveils how AI chatbots work.
In this article, you'll find the benefits of using AI chatbots for your business.
Dive deeper into the chatbot revolution on our blog
Last Updated: 06.09.2023