A customer journey map is a chart that includes certain actions customers take to achieve specific goals as well as the emotions and experiences they have while doing this. It helps companies understand consumers, predict their behavior, provide customers with a smooth user experience, and improve their marketing strategy based on customer demand, needs, and preferences.
The video below will provide you with the definition of a customer journey map and some essential facts you should know.
In this article, we'll unveil why a customer journey map is essential, what purpose it has, and how to use it. We'll also review how to create a map and see several real-life examples.
Why is a customer journey map important?
Now, when the choice of companies varies greatly, a business needs to meet customers' expectations and wants to attract new consumers. A good customer journey map allows brands to step into consumers' shoes and obtain a profound understanding of their needs, behavior, and actions. As a result, businesses can provide the right solutions for their clients' problems and satisfy them.
If a company's departments use this information wisely, they can enhance customer experience, customer support, and communication with clients. Maps help boost customer satisfaction with a certain brand and provide customers with more reasons to come back and become loyal to this company. They also enable entrepreneurs to increase customer retention, develop a customer-centric strategy, and obtain a new target market.
A good visual representation allows business owners to optimize their customer onboarding process, approach prospects and customers by using different marketing methods, meet clients' expectations, and develop sequential buyer journey steps. Companies create diagrams because of their main advantage — the ability to depict the stages consumers need to go through, which allows them to understand clients better and address their needs promptly.
Let's now proceed to the primary purpose of a customer journey map.
What is the purpose of a customer journey map?
Since technology and buying trends often change, getting into consumers' minds and understanding what they want can be a challenge for companies. To do it, brands create customized offers and use different techniques. However, to reach out to consumers, businesses should pay attention to clients' needs and wants and have a clear understanding of their customer journey.
By visualizing the buyer journey, a company's team can receive some insights into the process and obtain essential customer data. A team designs an accurate diagram that serves as a source of information about consumers. Customer journey maps encompass the actions clients perform during their interaction with a particular brand or product, their wishes, complaints, feelings, and experiences.
It's time to dive into the process of visual representation of customers' actions.
How to Create a Customer Journey Map
Determine your goals
Get customer feedback
Focus on one ideal buyer
Specify the main touchpoints with consumers
Analyze customer interactions with your company
Eliminate possible and existing drawbacks
If you want to create a great customer journey map, follow these six main steps.
Determine your goals. Before designing a map, define the main objectives of your mapping. Determine what you want to achieve: increase customer retention, find some information necessary for your future business decisions, or improve customer loyalty and customer experience. Afterward, specify the audience you target. You might also need to develop a buyer persona that will represent your ideal customer during the process. It helps direct all your efforts and aspects of your map towards reaching one ideal customer.
Get customer feedback. Once you set the goals, conduct research. Consider using surveys and questionnaires to receive comments from leads who are interested in purchasing from your brand and customers who already have experience interacting with your company.
Focus on one ideal buyer. After figuring out the types of people who interact with your company, you need to pay maximum attention to one persona that embodies your ideal customer and combines the most important characteristics. This step is essential in creating a map that describes customer experience in detail.
Specify the main touchpoints with consumers. Conduct research to unveil the stages at which prospects and clients interact with you and the channels they come from. Brand touchpoints include your site, blog, social media, online and offline events, online ads, and more. Monitor how often customers interact with you using these channels. As a result, you can get insights into the performance of your website and social media content and identify your most effective marketing channels.
Analyze customer interactions with your company. Once the map is ready, you need to jump to the most important part of the process — evaluating your results. You can perform a website analysis, see how your leading competitors approach customers, leverage CRM to collect customer feedback, and use net promoter score to let customers rate the likelihood of recommending your brand. With these strategies, you can assess the results, define the steps you should take, and meet customer needs.
Eliminate possible and existing drawbacks. After analyzing the acquired data, you can improve your website, content, and the quality of customer support according to customers' wishes. Say, your blog articles don't convert. In this scenario, you need to write expert informative material, create tutorials, and offer demos. For example, suppose your landing page does not bring many registrations. In that case, you might have poorly described the benefits of your product, and visitors don't understand what they can obtain after registering. Consider writing a more detailed and clear description of your product and its benefits to solve this problem.
Now that you know about the necessary steps, we'll move to the next section to discuss how to use these maps.
How to Use Customer Journey Maps
There are various scenarios in which it will be useful for a business to create a customer journey map.
Improve customer experience (CX). Insights into the current customer experience can help you improve your service. Different problems might occur and negatively influence CX. They include the absence of customer service in social media profiles, lack of information, personalization, empathy, inability to deliver solutions, etc. After identifying the problems, you can eliminate them. Utilize effective strategies to make customers feel comfortable with your brand, and encourage them to return. Help your customer support team respond to clients faster using multiple channels, personalize customer interaction, and conduct training programs for your sales and support departments to establish positive relationships with customers and understand their pain points.
Start improving your company. Pay attention to the internal communication in your firm. Customer service is a factor that shapes the image of a business in consumers' minds, so make sure that your reps provide the best service. You should also prioritize customers and their satisfaction with your product.
Next, we'll review several examples of customer journey maps.
Examples of Customer Journey Maps
You can encounter different types of maps that bring various benefits based on your primary purpose. To achieve the best results, you should choose one that can help you reach your goals. Check out the examples below.
Current state map
The map encompasses consumers' actions, thoughts, emotions, and experiences when interacting with your brand. From this chart, you can find out about your customers' current experience. With its help, businesses can improve their customers' buyer journey.
Below you can see an example of a customer profile that includes expectations and opportunities. The client wants to pay a lower price for a plan without having any usage limits. This customer expects clear online information, excellent customer support, and an opportunity to compare plan breakdowns. A mobile company can provide support across different marketing channels, compare alternative plans, and break their current price into smaller amounts to retain this client.
Service blueprint map
This chart uses the basic structure other maps have. However, unlike the current state map, this one also includes factors responsible for providing customers with the best experience. They include response time, convenience, product, expectations, etc. Service blueprint maps help businesses identify things that negatively influence current buyer journeys and decide what needs to be done to ensure a smooth customer experience.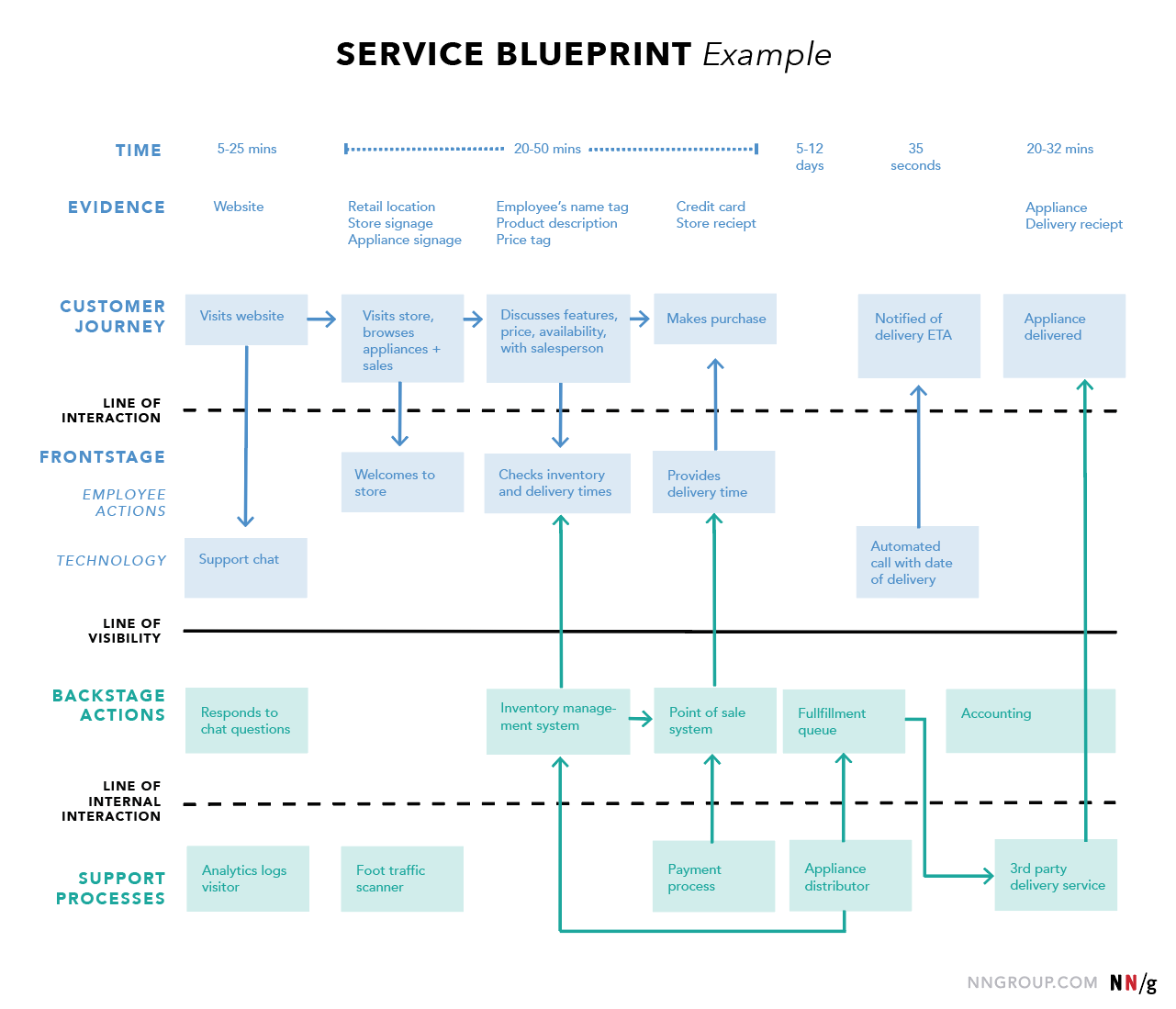 Simply put, businesses develop customer journey maps to enhance clients' interaction with their brands. This way, they improve their clients' onboarding process and buyer journey and boost customer loyalty.
Resources:
This article unveils how to use customer journey maps to improve customer experience.
In this article, you'll find out how to create a customer journey map.
This article provides readers with examples of

customer journey maps

.
Last Updated: 22.03.2023