Facebook advertising is an incredible advertising system that uses a giant social network coupled with advanced technology to serve ads. It allows businesses to create catchy and well-designed ads and tailor them to a precisely targeted audience at a low cost.
Watch this video to set up targeted Facebook ads to promote your products and services and start chatbot conversations with users in Facebook Messenger who interacted with your ads.
According to Statista, in the first quarter of 2020, eight million businesses were actively advertising on Facebook. Last year, advertising brought Facebook $69 billion, while all other activities only brought in less than $2 billion.
Advertising is in focus for the Facebook team, so no doubt they are working hard to make this technology extremely efficient and profitable for marketers. Let's find out why advertising on Facebook may help your business expand and increase your market share.
4 Reasons to Use Facebook Advertising
It has a massive audience
It offers exceptional targeting options
It is cost-efficient
It provides tools for successful outreach
There are several reasons that make Facebook an evergrowing advertising platform. Large enterprises and small family businesses benefit from the five following factors:
It has a massive audience. According to Statista, Facebook has 2.6 billion active users in 2020. That's more than a third of the entire human population, and the number keeps growing. This is why you can easily find a Facebook audience to tailor your ads to.
It offers exceptional targeting options. Facebook Ads allow you to explore beyond basic targeting by age, gender, and location. You can tailor your ads to prospects based on their purchasing behavior, life events, such as marriage, getting a new job, moving to a new house, etc., and their household composition. With Facebook, you can advertise to new teen drivers, veterans, working women, etc. — with accuracy that has never been available before.
It is cost-efficient. Facebook ad pricing depends on three factors: your marketing objectives, campaign duration, and the targeting options you choose. Facebook claims that you can run effective advertising campaigns with any budget, sometimes spending even more money on coffee than on ads.
It provides tools for successful outreach. You can use the "Lookalike Audience" feature to find audiences similar to the audience that converts successfully. This allows you to grow the number of warm leads in your audience exponentially.
Let's analyze some data to understand why advertising on Facebook is worth your while.
How effective is Facebook advertising?
Facebook ads CTR
Facebook ads conversion rate
Let's review two key metrics — CTR and conversion rate — to better understand what kind of results Facebook advertising brings to businesses.
Facebook ads CTR
Facebook ads show an average click-through rate of 0.9%. The lowest CTR is 0.47% for job training companies, while the highest is around 1.6% for legal and retail industries. Here's the average CTR report between industries from WordStream.
Facebook ads conversion rate
The highest conversion rate is 14.30% in the fitness industry, while the lowest is for technology and hospitality companies — less than 3%. Compare the conversion rate between more industries in the report below.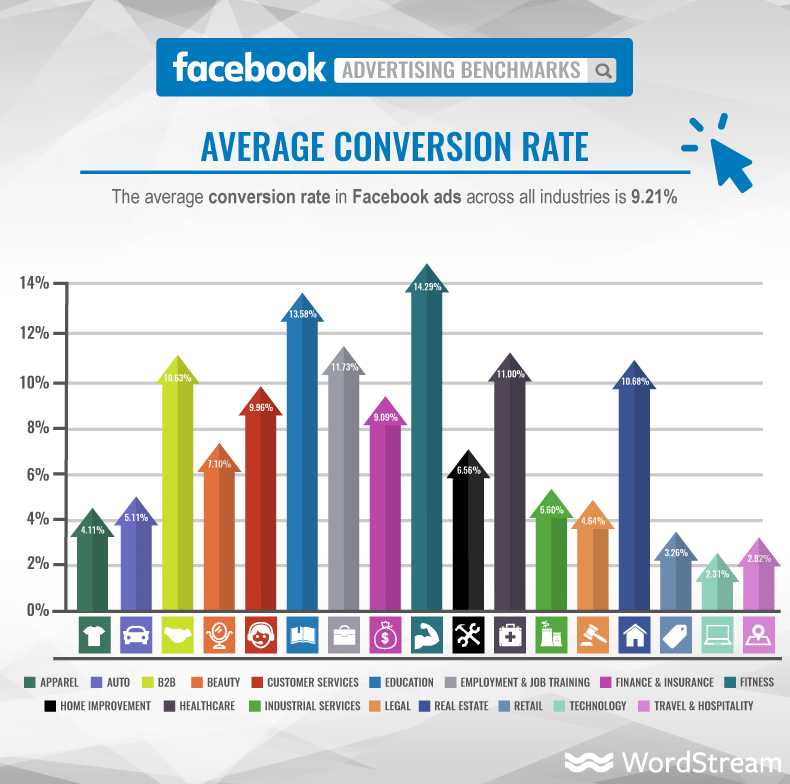 Although the CTR for Facebook advertising doesn't look impressive, it still brings conversions and money due to precise targeting options and large scale audiences. Let's gain insight into how to create ads on Facebook so you can benefit from this technology.
How to Create an Ad on Facebook
Navigate to your Ads Center
Choose an objective
Create an ad
Define your audience
Define the duration and budget
Choose your payment currency
Take the following steps to create an advertising campaign on Facebook for your business.
Step 1: Navigate to your Ads Center
First of all, you need to get acquainted with the Facebook Ad Center. Open your Facebook page and find the "Promote" button. A click on it will open a popup window where you can start creating your ad campaign.
Step 2: Choose an objective
Your objective defines what types of ads you will be able to create. If you just created your page, you can choose between the four objectives:
Promote Your Page;
Promote Your Business Locally;
Get More Website Visitors;
Get More Leads.
After you post, upload videos, create events, etc. on your Facebook page, more objective types appear to choose from:
Boost Post
Boost Video Post
Boost an Event
Promote your Button
Promote your App
Get More Website Purchases
Let's choose the very first objective, Promote Your Page, as our goal for our Muscle Road page.
Let's discuss each type of campaign in more detail.
Ads based on the Promote Your Page objective allow you to promote your Facebook page, boost engagement around your posts, reach out to leads, and increase your overall brand awareness.
Ads aimed to Promote Your Business Locally are good for attracting audiences around your offline shop in a precise location. More specifically, these ads are shown based on a custom radius around your shop or any required location on a map.
Ads that are designed to Get More Website Visitors motivate users to look into your brand, learn more about your products and offers. Based on this objective, your ads will help you invite people to your event, increase video views, and get app installs.
Lastly, you can use Facebook ads to Get More Leads for your company. Ads based on this objective will help you generate subscribers for your email marketing and Facebook Messenger chatbot, encourage users to engage with your brand in many ways.
It's time to move on to creating your ad.
Step 3: Create an ad
Firstly, pick one of four ad formats. Here they are:
single image;
single video;
slideshow;
carousel.
The ad formats available vary based on the objective you chose in the previous step. For example, the "Promote Your Page" objective does not allow you to use a carousel format. At the same time, "Promote Your Business Locally" and "Get More Leads" ads are created in an entirely different format to reach specific goals more effectively.
Once you choose the format, add copy, images, or video to your ad. Facebook Ad Center in alliance with Shutterstock allows you to use a library of free stock images. Don't worry, the watermarks will disappear when the ad is shown to your audience. There is also default text available that will fit the goal. Since our goal is to promote our page, the text says: "Connect with Muscle Road." Here we changed the image and a text a little bit.
Step 4: Define your audience
Precise targeting is where the Facebook Ads magic begins. First off, you can target your audience based on location (including country, state, city, zip code, or a geographical radius to attract local users), gender, language, interests, and purchasing behavior. You can also exclude or include users connected to particular pages and events.
Scroll down to the "Audience" section and click "edit" next to the "People you choose through targeting" to change a preset target audience. Choose gender, age, location, interests, and behavior. We've narrowed our audience to San Francisco-based men interested in bodybuilding, aged between 18 and 40 y.o., which gave us a potential audience of 210 thousand people.
You can also choose "People in your local area." This will allow you to choose the audience based on a radius in miles from a specific point. An interactive map helps you determine the specific location to target your audience.
You can also expand your custom audience by using the "Lookalike Audience" feature. This will help you find similar audiences to your custom audience, thus increasing the number of interested leads for your marketing and ad campaigns.
Step 5: Define the duration and budget for your ad campaign
After you choose your target audience, you need to decide how long to run your campaign and how much money you can spend on it. You can choose to "Run this ad continuously," which means your ad campaign will run until your budget expires. The algorithm estimates how many likes you can expect to get from each day of your ad campaign.
Another option is to use "Choose when this ad will end." Here you can set the duration or choose the end date as well as set your daily ad budget. You can see the amount of money you will spend by the end of your campaign.
Step 6: Choose your payment currency
Lastly, you need to choose a currency to pay Facebook for your ad campaign.
You can start your promotion, or save it as a draft (which expires in seven days, be careful.)
Now, as you've learned to create Facebook ads, let's find out how to analyze their performance.
How to Track Your Facebook Advertising Efficiency
To track your ad performance in great detail, you need to use Facebook Ads Manager. Much like Google AdSense, it allows you to analyze the competition, reach, and the engagement level of your advertisement.
You can add filters to narrow down data in your reports. For example, you can analyze how much money people aged from 17 to 35 bring to your business, compare it with the money you spend on advertising, and remove this age group from your target audience if it's not worth your while. Alternatively, you can spend more money on advertising for this age group if they bring you a lot in return.
You can get acquainted with Facebook Ads Manager here.
How much does Facebook advertising cost?
The price depends on several factors:
Timing. Time of the year, day of the week, and even the hours you choose for showing your ads may affect their performance and, eventually, your advertising budget.
Bidding strategy. A bid is the amount of money you choose to pay for a specific action. You can choose to pay on a CPC, CPM, cost-per-like, cost-per-app-install model.
Ad placement. Whether your ad is shown in the News Feed on mobile or desktop may also influence your success.
Targeted audience. This parameter is crucial, especially if there are a lot of other advertisers targeting the same audience as you. In this case, the price for each click and thousand impressions will rise.
Let's review another WordStream report to find out the average cost-per-click for various industries. It says that the highest price for one click on an ad is $3.77 for the finance and insurance industries, and the cheapest cost-per-click is for apparel and fitness industries — $0.45 and $0,70 respectively. You can compare CPC among industries in the report below.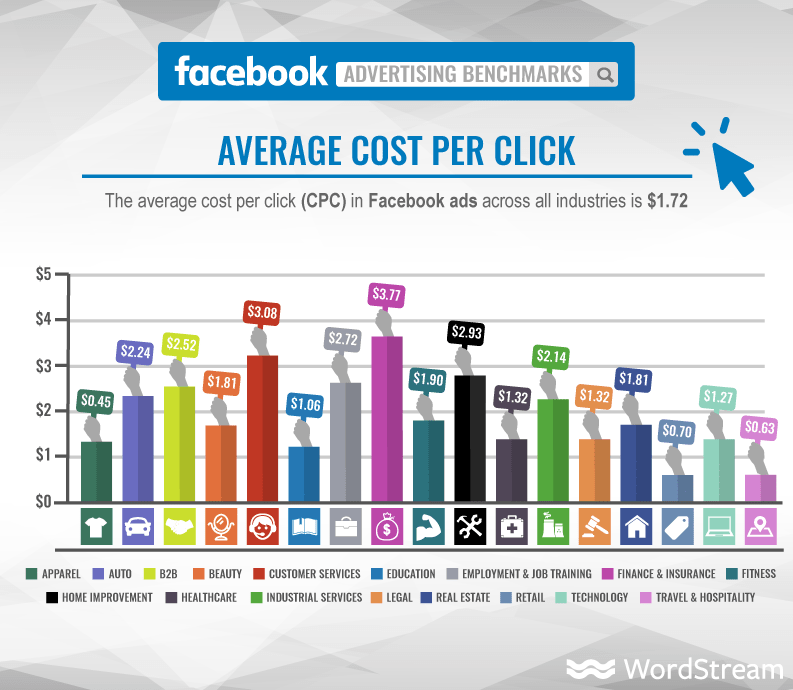 You can also check a comprehensive AdEspresso report that will give you insights on Facebook ads pricing.
You can also create ad campaigns and communicate with your Facebook Page audience via Facebook Messenger chatbots. This technology allows you to build pre-designed conversations to answer FAQ, show your products, tell people about your brand, moving users down the lead funnel.
You can create up to three chatbots free of charge with SendPulse, so consider this option for your digital marketing strategy.
Let's make a comparison of two tech giants that make the most out of online advertising.
Facebook Ads vs. Google Ads
These two companies are often seen as rivals. Yes, they both dominate the online advertising industry, but they offer different kinds of value to advertisers.
Google primarily focuses on search engine advertising, which is extremely efficient due to the nature of today's shopping. At any stage of the sales funnel, people use search engines to find solutions, products, services, compare different shops, prices, and other options. Aside from this, Google's AdSense connects advertisers with relevant websites that receive lots of traffic, so that site visitors see super-relevant ads based on their preferences and behavior.
Unlike Google, Facebook is a social media platform, so their advertising activity is focused on collecting and taking advantage of on-Facebook behavioral data. What's common between Facebook and Google (and sometimes makes them look likeas competitors) is the immense scale of their operations and theira tendency to monopolize the digital advertising market.
Let's finish this guide with some best practices to master your Facebook advertising skills.
6 Best Practices to Create Killer Facebook Ads
Use vertical videos
Avoid text on images
Shorten text
Add multiple images using the carousel format
Add GIFs and videos to your ads
Use calls to action
Remember, Facebook advertising can be extremely beneficial only if you perform it right. We've collected some actionable tips so you can run high-quality ad campaigns.
Use vertical videos. A vertical or square aspect ratio allows your ad to cover more of a smartphone screen. That's because the best part of users holds their phones vertically while checking their News Feed.
Avoid text on images. Put all your text information in your headline or description boxes.
Shorten text. According to the Mobile Marketing Association, it takes people 0.4 seconds to see and recognize ads on mobile. Make sure the text in your ad is short and clear, otherwise you may fail to get your message across.
Add multiple images using the carousel format. If you have a lot of professional photos of your product, add them in a carousel to highlight more specifications and give a better and clearer impression of your brand.
Add GIFs and videos to your ads. Adding some movement to your advertisements is a great way to stand out in the News Feed.
Use calls to action. Facebook offers different CTA buttons to draw attention and encourage people to engage with your ad. Choose the right CTA depending on what kind of interaction with your ad you expect from users.
Congratulations, you've learned a lot about Facebook advertising and are ready to create your first ad campaign.
Last Updated: 06.09.2023