Fusion marketing involves the cooperation between two non-competitive businesses with a target audience and values that aim at achieving the strategic goals with a minimum, and in some cases, zero cost. It implies a partnership that's profitable for both parties and the development of a common strategy to attract new customers.
Benefits of Fusion Marketing
Fusion is an age-old marketing theory that involves using a wide range of marketing vehicles to communicate a brand's intended message. Fusion marketing campaigns include joint efforts that can be beneficial for you and your partner. So let's look at several pros of this marketing strategy, it:
allows you to reach new audiences;
attracts new partners to your business;
provides cooperation profitable for both parties;
is possible even with a limited budget;
brings high ROI;
allows to share costs with a partner;
helps you educate your audience about the product;
improves customer experience with your brand;
offers the opportunity to market to an interested audience;
allows you to expand your customer base;
helps retain customers by providing them a different product ecosystem.
Now that you know the main advantages of this marketing strategy, you probably want to figure out the steps necessary to successfully implement fusion marketing in your business.
How to Do Fusion Marketing
Choose a power partner
Determine your objectives
Write an agreement
Promote your partner
Track your results
Let's review the steps to set up a fusion marketing strategy.
1. Choose a power partner
To start, select a business professional who is in the same industry and wants to create a partnership that benefits both parties. This partner should have a similar target audience but not compete with your brand.
To identify a brand that suits you best, come up with a list of businesses that work in the same direction, and serve similar customers. Next, consider companies that you know and trust. When looking for partners, ensure that these brands share your values, have similar business goals, and are ready to share their target audience, marketing ideas, etc.
2. Determine your objectives
You should also define the objectives of the partnership and the responsibilities of each party. This will remove confusion between brands and help you avoid disagreements.
Ensure that your objectives deliver results and significant values for both parties. Also, they should include measurable goals to track the progress and success of this partnership. Make sure that your offer can fulfill the needs of your leads and customers.
3. Write an agreement
When two companies come together to implement a fusion marketing strategy, it is critical to have a correctly written partnership agreement that contains the terms of the business relationship. An agreement helps you prevent conflicts that may arise between partners based on roles and responsibilities, ideas, and implementation.
4. Promote your partner
There are many ways to promote your partner-company. The Internet is teeming with communication channels that allow you to reach your target audience and communicate your message. If you send email newsletters on a regular basis, then choose the type of email where it is appropriate to refer to your partner. For instance, you can mention your partner's latest article in your news digest. Besides, you have social media channels to share some news from the company you partner with.
5. Track your results
The last step is to review the progress and assess your partnership. It is important to consider mutual goals and metrics, ensure that both companies receive value, and the partnership is on track to deliver its objectives.
The best way to understand how fusion marketing works is to see it in action. Many famous brands have already implemented it in their campaigns.
Examples of Fusion Marketing
Turkish Airlines and The Lego Movie
BMW and Mission: Impossible
Uber and Mission: Impossible – Fallout
Aquaman and Ocean Conservancy
There are several excellent examples of fusion marketing campaigns. Here you can see the most popular of them.
Turkish Airlines and The Lego Movie
The largest mainline carrier in the world by the number of passenger destinations partnered with Lego Movie twice. Brands collaborated for the first time in 2018 to develop a pre-flight safety video — a colorful film starring the cast and self-referential humor of The Lego Movie franchise.
The cast of the movie takes passengers through the pre-flight demonstration. This safety video had massive success as it received 20 million views in one month and won gold at Clio Entertainment Awards. That fact made Turkish Airlines release another adorable safety video in partnership with The Lego Movie 2.
BMW and Mission: Impossible
"Mission: Impossible" was a commercial success and the third highest-grossing film of 1996. The success of this film spawned a series of action spy films. Moreover, the popularity of this movie made some brands think about a partnership with the franchise. You can find several brands that had a partnership with Paramount's best-ranked movie "Mission: Impossible – Fallout."
If you have seen "Mission: Impossible – Rogue Nation," you might have noticed the car Tom Cruise was driving in Morocco. In this part, you can see the demonstration of a new BMW 3 Series.
As the film gained popularity, the German multinational company decided to continue partnering with the "Mission: Impossible" franchise. A luxurious and sporty BMW M5 debuted in the "Fallout," although you only see it for a few minutes. In the film, you can also notice the classic BMW E28, which Tom Cruise was driving between narrow pillars, and jumping downstairs in Paris.
Uber and Mission: Impossible – Fallout
Uber and the "Mission: Impossible – Fallout" franchise partnered to create an exclusive behind-the-scenes video with Cooper Adrian, Tom Cruise's stunt double.
The video aimed at highlighting the company's slogan of 'getting your side hustle on.' In his interview, Cooper said that in his extra time, he drives with Uber to make some money. Additionally, Uber was the sponsor of the red carpet premiere of "Mission: Impossible 6" and provided Uber customers with a chance to win a trip to the film's world premiere in Paris for two.
Aquaman and Ocean Conservancy
A major plot point of "Aquaman" explains its cooperation with Ocean Conservancy, a nonprofit environmental advocacy group. This organization uses science-based solutions to tackle the biggest threats to our ocean. The team of "Aquaman," through social media, urged people to participate in the Ocean Conservancy group's International Coastal Cleanup day, which is conducted annually. The film encouraged people to become Ocean Heroes, download the group's app, and join this cleanup event.
Growing your business is hard. However, you can simplify this process by implementing fusion marketing. It can bring you a good partner, expand your customer base, help you figure out the real needs of customers, receive high ROI, boost sales, and even more.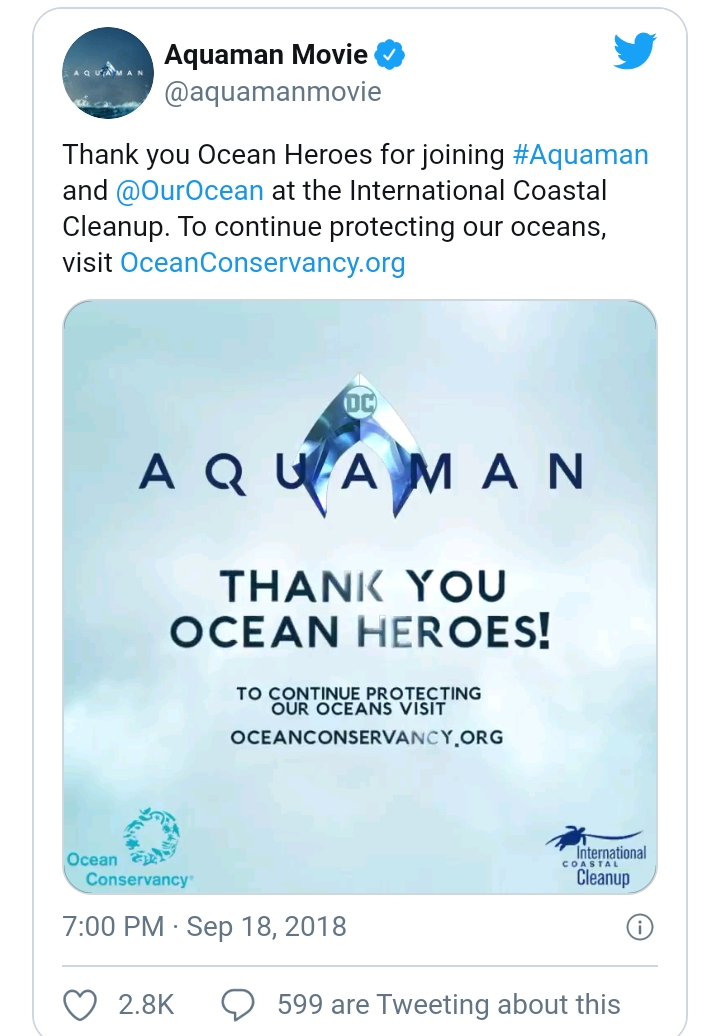 Resources:
The article "How Fusion Marketing Could Help Your Business" on Entrepreneur blog explains the term, brings the examples of fusion marketing partners, and mentions things a brand should consider when looking for a partner.
The article "Fusion Marketing: The Next Generation of Digital Success" on the Lexicon blog explains how fusion marketing works.
Last Updated: 22.03.2023