A loyalty program is a strategy in which a company provides its customers with rewards and discounts for being loyal. It helps businesses retain existing customers and increase product sales. A brand offers to become a part of a reward program to consumers who perform repeat purchases with this company.
In this article, you'll find out the reasons to implement a loyalty program, its benefits, types, and explore some outstanding examples. You'll also uncover how to create a loyalty program for your business.
Why should you create a loyalty program?
According to TechJury, 75% of customers will choose a company if it offers a reward program. If a business shows appreciation to its customers, they are more happy and willing to stay. The more clients stay, the better is customer retention. Loyal clients purchase more; that's why it's important to retain them in any way. Once a business runs a reward program, it encourages current customers to buy more often and spend more money to get a reward. As a result, a brand obtains huge revenues.
You'll notice visible positive changes in product sales and customer lifetime value; they will increase with the right strategy. An accurately executed reward program and its incentives empower entrepreneurs to improve customer relationships. A company earns trust and becomes more credible and transparent.
Since acquiring new customers is a time and money-consuming process, it's always better to retain the existing customers. A loyalty program is a great way to do it. With its help, you'll reduce a customer churn rate. Moreover, loyal customers spend more and bring you better ROI. Once you have a strong base of loyal customers, you can attract new prospects. Keep in mind, 83% of consumers trust friends' recommendations. Happy customers will become free promoters. They will recommend your company and its best products to their friends.
Besides all the listed reasons to implement a loyalty program, you should also see that it can provide customer insights. You'll stay in the know of the way members interact with your program and develop new strategies to improve it.
Now that you know about the importance, let's proceed to the benefits.
Benefits of Loyalty Programs
There are many benefits you can reap after you develop and implement an innovative loyalty program for your clients. With its help, you can
reduce customer acquisition costs;
drive revenue;
improve brand reputation;
gain trust;
encourage customer loyalty;
make more sales;
increase the number of new customers;
receive customers' contact information;
increase the number of repeat purchases;
increase sales during slow seasons;
reward existing customers for staying loyal.
The pros are clear, so let's find out how a loyalty program works.
How does a loyalty program work?
Companies' owners create and run loyalty programs to bring benefits to both customers and businesses. Consumers get special offers, discounts, and gifts, while companies improve customer retention, boost customer lifetime value, and build loyalty.
Customers can become loyalty program members only if they have already completed repeat purchases. Companies reward their current clients in different ways. Most businesses give them points that consumers can redeem for a free product or discount. For example, Starbucks encourages its customers to earn Stars and save them for free drinks or food. If you collect 150 Stars, you'll get a sandwich, oatmeal, or a handcrafted drink for free. There are also subscription-based programs where consumers can get a reward only after they subscribe.
You know how it works now, so it's time to figure out the types so that you can choose the most suitable one.
Types of Loyalty Programs
When you consider a loyalty program for your business, you can encounter various types. You should be ready to identify the one that will comply with your purpose. Let's look through the most popular for you to make a choice.
Subscription-based program. This type entails a customer paying for the service a certain fee to use the benefits of the company. A membership fee creates barriers for customers who can't afford to pay for the service. This loyalty program is extremely popular among services like Netflix, Amazon Prime, Hulu, etc.
Points program. This is probably the most popular type. Companies provide customers with points for each purchase. Once they have enough points, clients can redeem them and get something for free or at a lower price. Clients can use their loyalty cards to check the number of points at any time. Starbucks, Petco Pals, and Mariott reward their existing customers with points they can redeem for something useful later.
Cashback program. Customers can get a certain percentage of the money they have spent with a business and use them later for different purposes. Banks often use this type of appreciation. Bank of America rewards their clients with cash back rewards for using their debit cards to pay for various products and services.
Tier-based program. This type relies on the levels customers can unlock only when they purchase and get a certain amount of points. For example, Sephora gives 1 point for $1 spent. Once customers earn a specific number of points, they can enter a new level with higher discounts and exclusive products.
A loyalty program works for you and your customers, so if you are interested in developing it for your brand, it's time to delve into the process.
How to create a loyalty program?
To develop a loyalty program that brings visible results, you need to consider the following steps.
Conduct research on your current customers. To choose the right type of program and satisfy clients, you need to select an appropriate reward. Your customers will be happier to receive what they want and need. Consider conducting surveys and interviews to figure out the needs of your loyal customers. You should also know the following information: the number of products your existing customers buy and their type, the date they joined your brand, the level of satisfaction, and the revenue each brings to your business.
Get ready for the program. Once you conduct surveys, you need to analyze the results. It'll help you uncover the things customers are interested in the most. Besides, they will help you know about their level of satisfaction with your company. After, you need to gather a team of representatives who will work with members of the loyalty program. They need to be friendly and outgoing to ensure a seamless experience and support at their best.
Choose CRM to set goals and track them. Setting goals is crucial, so you need to communicate with your team. Identify the targets you want to achieve after implementing the program. Goals should be accurate and achievable. For example, attract 40 new customers and close 150 deals in one month. To keep an eye on the progress, make use of CRM. SendPulse's CRM allows you to control all the deals, receive payments, and collect customer data for free.
Decide on the budget. You should think of the budget you can provide for your team to run an amazing loyalty program. The type of program and its rewards depend a lot on your budget.
Choose customers for your program. Now you need to select people who will use the benefits of your program. Identify customers who purchase big, can buy more items, bring huge revenue to your brand, pay fast, and will be loyal in the future. Once you select these people, you have a list of clients to reward.
Work out the strategies that will interest your clients. At this stage, you need to think about rewarding your customers. It can be a discount when a person buys for a certain sum of money or a premium service. There are many ways to encourage customers to stay loyal: provide them with invitations to special events, reward them with free products, access to free shipping, birthday gifts, etc.
Now that you know how to create a program, let's jump into some amazing examples to grab some inspiration.
Examples of Customer Loyalty Programs
Companies have hundreds of tactics and strategies to accommodate clients and boost loyalty. Loyalty programs are among the best options. That's why you can see many programs from brands in different industries. We'll now look at some of them to figure out how to create a successful one for your business.
Levi's Loyalty & Red Tab
Levi's invites its customers to participate in a program and take advantage of it. Consumers can join the subscription-based loyalty program for free by simply providing personal details. Once you become a member of the program, you get instant access to new arrivals and limited-edition launches before other customers can. You get free shipping, birthday rewards, and access to exclusive promotions. As a program member, you can use the discount on custom embroidery.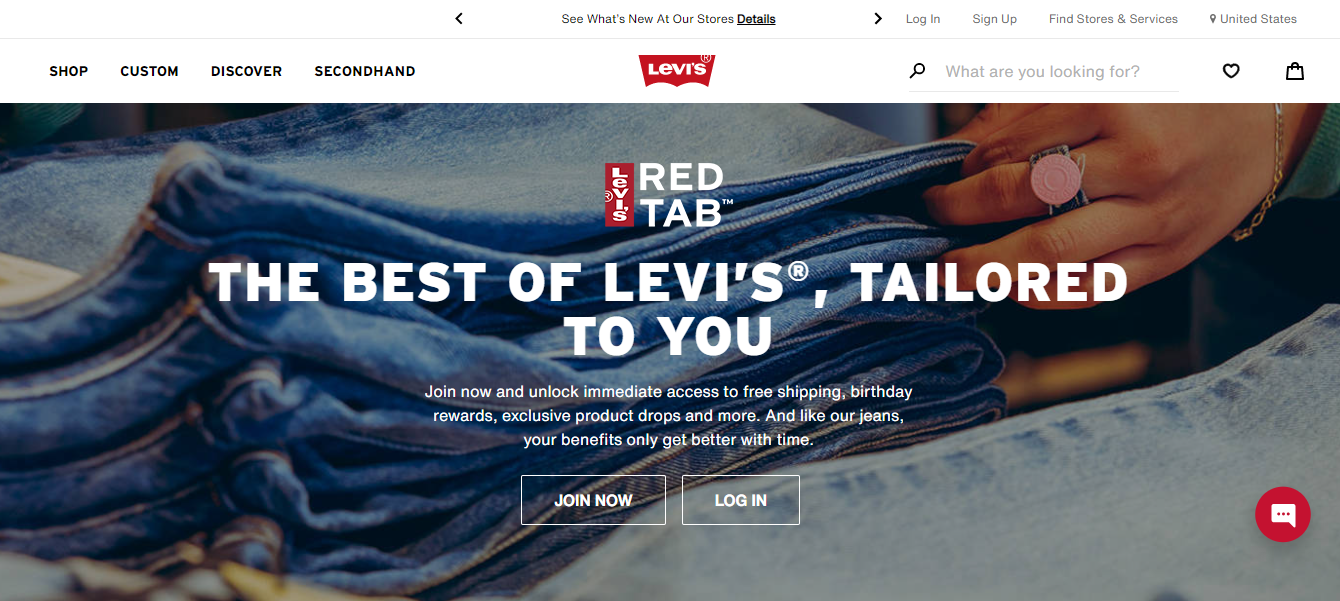 Booking.com and Genius loyalty program
The famous booking service implemented a program based on levels. Users can create an account with lifetime access for free and enjoy the benefits. Once you create an account, you unlock Level 1 and its discounts. If you move forward and complete a certain amount of stays, you can get even more rewards. For example, a 15% discount, a free room upgrade, or a free breakfast.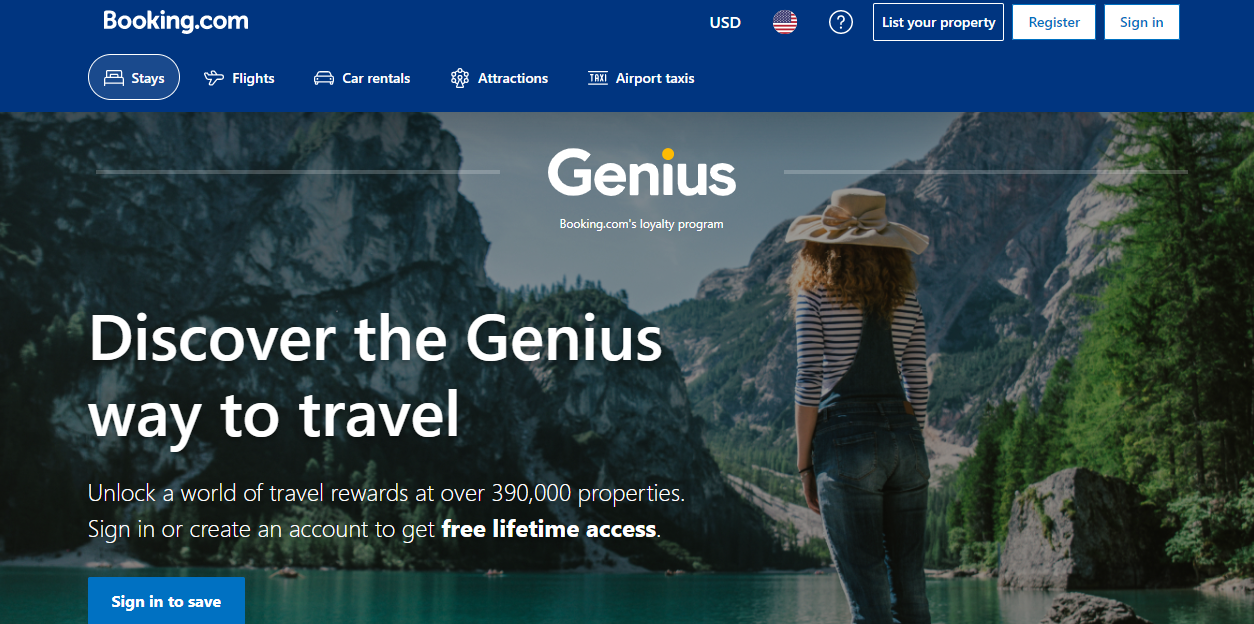 Congrats, now you know how to design an outstanding program. Hope our examples will serve you as a hint in creating your perfect reward program.
References:
This article defines the term and uncovers the purpose of loyalty programs.
In this article, you'll find 7 innovative customer loyalty programs with examples.
In this article, you'll find the reasons to implement a loyalty program.
Last Updated: 22.03.2023