Retargeting is promoting the company's products to the consumers who have already interacted with your brand but haven't made a purchase. Usually, people who have already visited your website or left their contact information in your database see such ads.
In the article, we describe the purpose of retargeting, the way it works, and compare it with remarketing. Also, we highlight the types of such promotions and provide examples.
What is the purpose of retargeting?
According to the WDB Agency, 97% of consumers visiting your website for the first time leave forever without buying anything. Retargeting aims to bring people back and lead them through the sales funnel.
Retargeting shows consumers ads about the products relevant to their recently watched ones. Usually, we observe such promotions on social media and external websites. It lets companies raise their sales and increase the effectiveness of marketing campaigns. The main advantages of retargeting are below.
All these benefits of retargeting motivate many companies to include this type of advertising in their marketing strategy. Continue reading to discover the way such promotion works.
How does retargeting work?
Social Media Today states that it requires 7 touchpoints before prospects react to your call to action. Retargeting helps you remind potential clients about your company, drive engagement and increase the number of conversions. In this section, we describe the two possible advertising models and highlight their peculiarities.
Pixel-based retargeting. This technique is more popular. You should just add an invisible piece of code, called 'pixel' or cookie file, to your website, which lets you track its visitors and their actions. Every time people check your website, pixel drops a cookie file to their browsers. When consumers search through other websites, cookies track their actions and analyze them. While the next page is loading, different advertisers bid on the ad placements on it, the auction takes place, and users see advertisements once they open a website. Pixel-based retargeting lets you provide consumers with timely offers.
List-based retargeting. This technique has been gaining popularity over the last few years with the rise of social media. To use it, you should collect the mailing list of your current clients or prospects and upload it to a retargeting campaign platform. The service will identify the users who have emails from the list and show them your advertisements. You can add additional settings to provide more relevant messages to different groups of clients, but generally, this retargeting model is less personalized than the previous one.
Now you understand the two possible techniques of launching retargeting ads. Let's further discover its difference with remarketing.
Retargeting vs Remarketing
Both retargeting and remarketing focus on re-engaging customers who have already interacted with your brand. It may be difficult for business owners to find out the difference between them. In this section, we compare these two approaches to product promotion and describe their peculiarities.
Retargeting concentrates on displaying ads to consumers who have already interacted with your company but haven't made a purchase. You can see such advertisements all over the ad network. Usually, retargeting involves pixel placement on your website or using a list of potential clients' emails to engage them through social media. You can make such ads corresponding to potential clients' behavior and promote your products when people need them.
Remarketing has the same goal but uses a different tactic. It focuses on email promotion and reaching consumers who have already made a purchase or interacted with your company. Remarketing aims to re-engage them and raise their lifetime value. This approach allows companies to deliver more specific advertising messages and make communication more personalized. However, remarketing is not always timely because it may be difficult to predict customers' needs without tracking their behavior.
We recommend combining these two approaches to product promotion to make your marketing campaigns more effective. Continue reading to find out retargeting types and the ways to empower your ads.
Types of Retargeting Ads
According to Invesp, retargeted prospects are three times more likely to click on your advertisement than consumers who aren't aware of your brand. Understanding different retargeting types will let you make your promotions even more effective. Below we highlight the peculiarities of the most widespread ones and provide tips on how to use them.
Cross-channel retargeting lets you display your advertisements through different platforms. It helps provide marketing messages relevant to the customers' needs and suitable to platforms' formats. Also, it lets increase the number of touchpoints with consumers, raise their brand awareness, and make them feel that your brand is everywhere. However, you should use cross-channel retargeting wisely not to irritate the audience.
Email retargeting helps you empower your email marketing campaigns and re-engage potential clients throughout the internet. To use this type of product promotion, you need to add a piece of code to the HTML or your email signature. It will let you track the leads who open your mailings and show them your promotions on other platforms.
Search retargeting allows you to show promotions on search engine results and sites all over the ad network. Usually, this type involves using a pixel to track the consumers' behavior on your web page and display advertisements to them later. Search retargeting lets you show ads that include specific products that potential clients have viewed before. Also, it can catch customers with promotions when they search for the same product they have already seen on your website.
Social media retargeting can use both pixel-based and list-based models to show your ads. The first one lets you promote your goods to consumers who have already visited your website or interacted with the company's page on social media. The second one allows you to display advertisements to customized audiences. It means that people whose emails you have in your database have connected accounts on social media so that you can reach them there. The most popular platforms that let you use retargeting are Facebook, Instagram, TikTok, and YouTube.
Onsite retargeting doesn't focus on re-engaging. It aims to keep consumers on your website for a longer time by capturing their attention. The most widespread example of onsite retargeting is pop-up notifications that provide discounts to visitors once they want to leave the web page. Also, you can use banners that suggest similar or additional products on the side or at the bottom of the page to increase conversions and raise the average check by cross-selling and upselling.
Now you know the main types of retargeting and can choose the most appealing ones to your company. In the next section, we describe the examples of retargeting ads to inspire you and provide some ideas for effective product promotion.
Examples of Retargeting Ads
To retarget your potential clients successfully, your ad should be eye-catching, personalized, and timely. Below we provide a few examples of such promotions and explain the way they work.
Dataslayer.ai.
Below there is an advertisement for a digital marketing reporting company. We discovered this promotion on Linkedin as we had opened their website a few days before. This banner ad suggests high-quality data integration and offers free services for Ukrainians. Remarkable that the ad is personalized because we were searching their website from a Ukrainian IP address.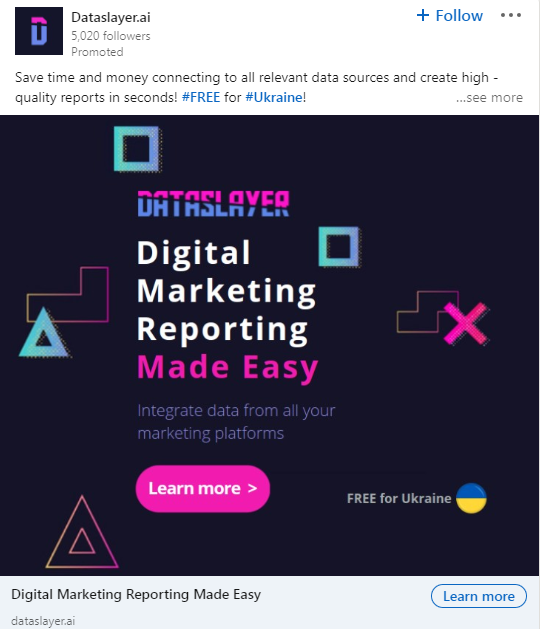 Silk Maison
There is an advertisement from the clothing brand on the screenshot. We discovered it on Facebook after searching for new outfits on their website. The brand offers a discount for their blouse and free shipping over 388$ to encourage us to come back and make a purchase.
Pollfish
Here is one more example of retargeting ads for marketers. We discovered this promotion on YouTube while watching videos about consumer behavior. Our team had opened the Pollfish website many times before so the service tried to re-engage with us. Notice that they use the statistics in their advertisement and state that they 'can reach 800,000 consumers globally.' It let the company stand out from the competitors.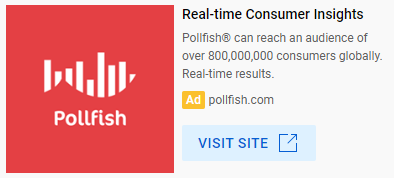 Congrats, now you know what retargeting is, its purpose, and the way it works. You understand its difference from remarketing and can use different types of retargeting ads for your brand's promotion.
Last Updated: 26.06.2023