Shopper marketing is an approach that implies enhancing consumers' shopping experience at the point of purchase. It aims to analyze a customer's buyer journey and increase engagement across all the stages.
In this article, you'll find out the role of shopper marketing and get to know some effective tactics.
Why is shopper marketing important?
Business owners are always looking for ways to increase consumption, hence, sales. Shopper marketing helps them do just that. This approach is focused on raising the consumers' demand and engagement on their path to the purchase.
Implementing shopper marketing means analyzing customer behavior and all the external factors influencing their purchase decision. Since this approach fits online and offline stores, we'll shed light on factors affecting both types of businesses.
Shopper marketing is effective due to the valuable data you can obtain. Conduct research, make observations, create focus groups to collect insights that will be the foundation of your strategy. If you have an offline store, track your buyers' behavior before entering it, when they move from aisle to aisle, and after they leave it. Note what makes them stop and look through specific products and monitor what makes them put an item back on shelves.
Analyze the products shoppers buy most frequently and those they rarely buy. Study their buyer journey to discover how long it takes visitors to convert into buyers. Review your merchandising techniques. Talk to your clients to learn the motivators that make them buy and know which products they are ready to substitute with cheaper ones. Identify the percentage of price-sensitive customers. All this data will provide you with a clear picture of your buyers at the point of purchase. So, you'll be able to enhance your buyers' experience and blow up sales.
Shopper marketing is often confused with trade marketing, so let's discover the difference between these approaches.
Shopper Marketing vs Trade Marketing
The main difference between these two marketing approaches lies in the focus of their activity. Trade marketing is focused on retailers, wholesalers, and distributors. Its goal is to increase the demand within this chain. Shopper marketing is focused on buyers. This approach aims to create an environment for consumers that will drive them to the purchase and ensure the best customer experience.
Now it's time to unveil some effective shopper marketing tactics.
Shopper Marketing Tactics
In this section, we'll provide the tactics with examples for both online and offline stores.
POS materials
These are items placed in stores to attract shoppers' attention to certain products at the point of sales. They also help visitors navigate the store and find the items of their favorite brands. POS materials include displays, wobblers, shelf talkers, shelf stoppers, posters, danglers, etc.
Below is an example of a display table in a store. It attracts shoppers' attention immediately after they enter the store. Marketers can either use it to promote items on sales or present a new collection. This tactic helps increase demand and sales.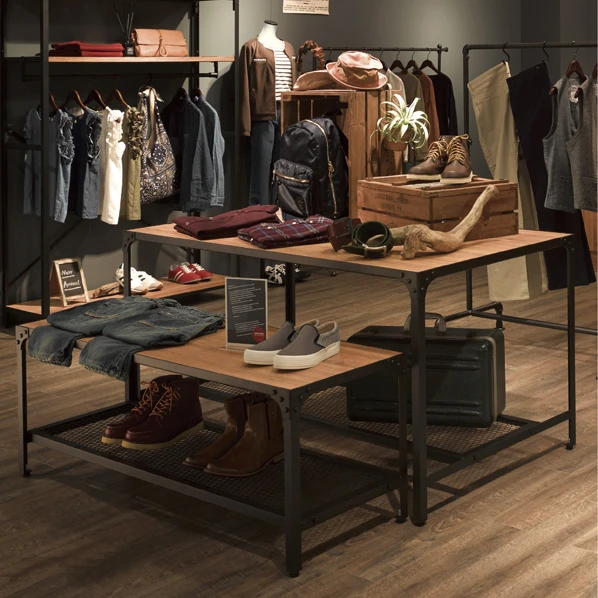 Demos and Product Sampling
They help marketers promote new products, increase awareness, and most importantly, let shoppers test the product and evaluate its benefits. Store visitors are offered to taste products or try some cosmetics before buying. This way, marketers increase shoppers' trust.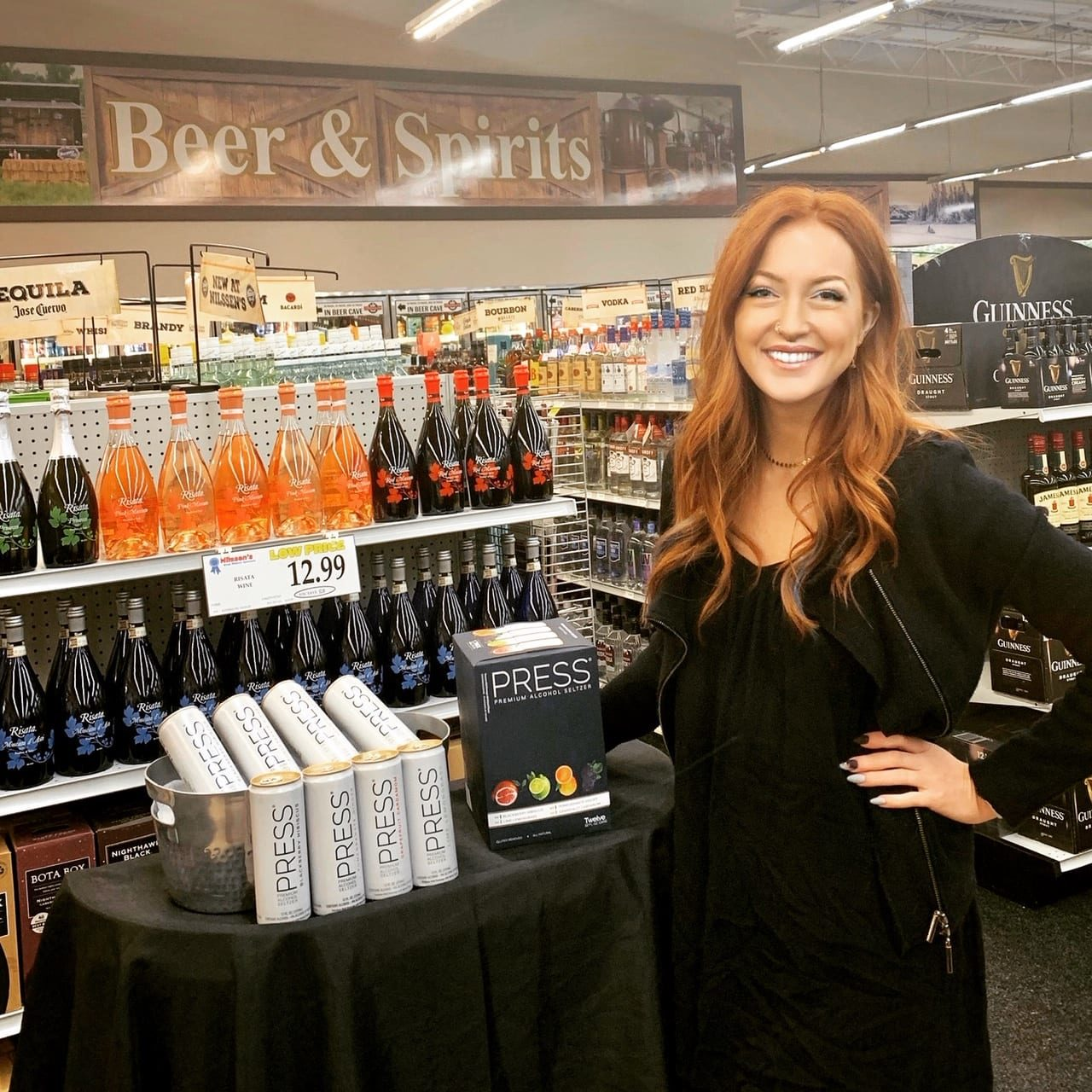 Design and Ambience
Design and ambiance assist marketers in creating a positive shopping atmosphere. Remember the things which make you stay in the store and move from aisle to aisle for a long time. These are music and scents in the first place. The choice of music depends on the industry, but slow and quiet tempo songs tend to make people stay in a store. During winter holidays, Christmas songs help increase sales, as well as jazz and classical music do in stores selling high-value products.
Pleasant scents don't leave shoppers indifferent either. People love the smell of freshly-baked bread, coffee, and fruits.
Chatbots and Live Chats
Nowadays, almost every brand provides either a live chat on their site or a chatbot in popular messengers. They are kind of personal assistants that introduce a store to users, demonstrate relevant items, and help make an order. Users enjoy interacting with them using buttons, quick replies, and input since they can save time looking for the necessary product.
Below you can see how Warby Parker helps their site visitors via a live chat. Users can click a button to get help with the most common issue, look for the answer via a search bar, or chat with the help of user input.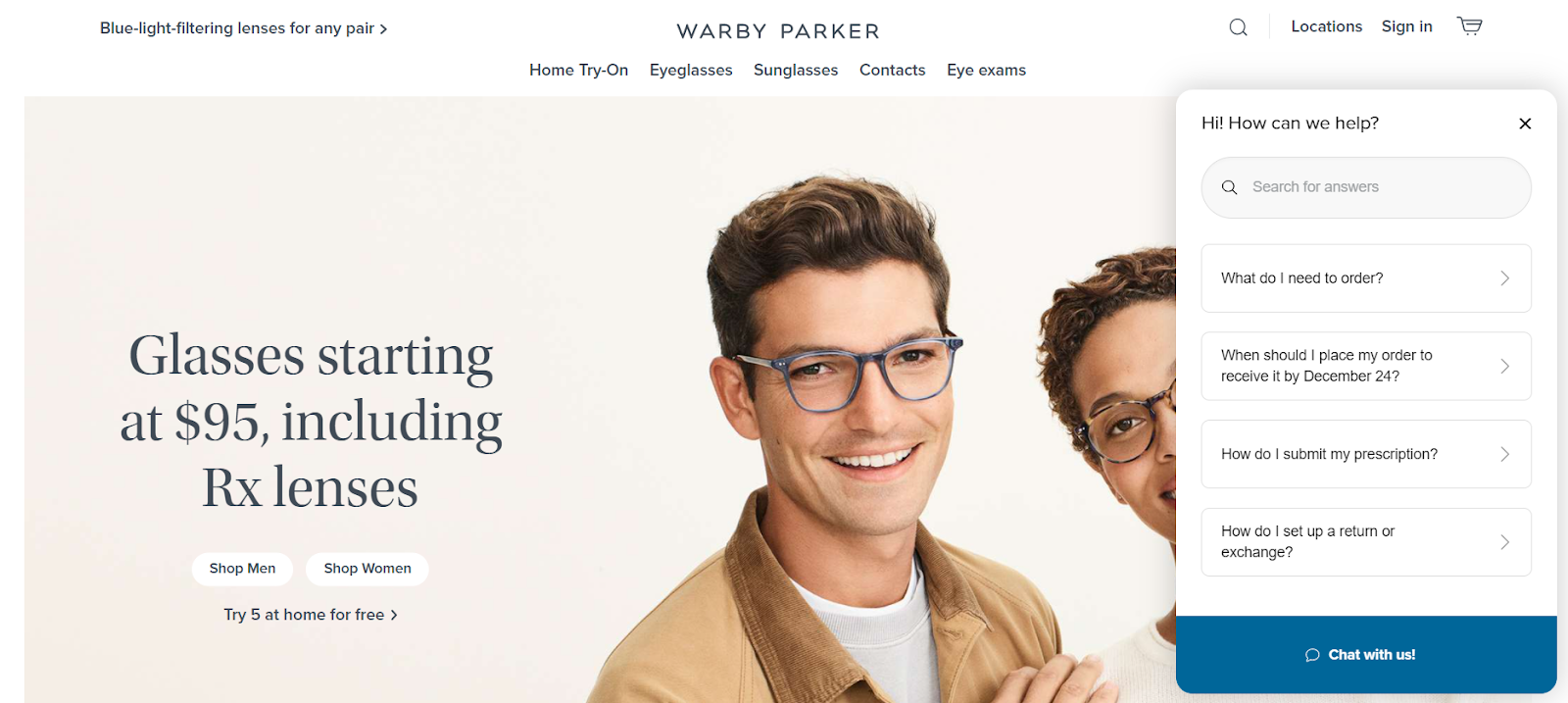 You can create a chatbot for Instagram, Facebook Messenger, WhatsApp, and Telegram without any coding skills for free with the SendPulse chatbot builder.
Geo-targeted Ads
Facebook and Google provide users with the opportunity to create geo-targeted ads. This way, you can communicate relevant messages, content, and ads to users based on location data. This ad is a great chance to attract more people to local services such as car repair, plumbers, medical services, etc.
Congrats, now you know the objectives of shopper marketing, the way it differs from trade marketing, some techniques, and examples.
Last Updated: 22.03.2023