An email subject line is the first text recipients see after your sender name when an email reaches their inbox. It is important to keep an email subject line informative, catchy, and brief. With SendPulse, you can A/B test different subject lines to strike the right chord with your audience.
In this video, our marketer shares 10 best practices for creating killer subject lines. Get inspired!
Why Is an Email Subject Line Important?
Half of the recipients tend to open an email if it has a catchy subject line. Just like an article heading or a book title, email recipients will discard your text if it isn't informative enough or looks spammy. That said, an email subject line must convey the necessary information in a succinct way. You don't want your email to be among the 69% of emails that are sent to spam because of the subject line alone.
This makes it essential for beginners and established firms to practice caution and deliver quality content, no one wants their email to end up in the trash folder without the recipient opening it.
How Can I Create an Effective Email Subject Line?
Personalize your email subject line
Ensure your subject line is brief
Create a sense of urgency
Ask an important question
Use an emoji
Get rid of spammy language
A perfect email subject line results in more clicks and, therefore, effective email marketing, as your products reach a majority of your target audience.
Below are the most important tips to follow
Personalize your email subject line
Over 26% of emails with a personalized subject line have better chances to be opened, due to their unique and specific approach. Research shows that personalizing your subject line doesn't necessarily mean including the recipient's name, new ways have emerged. For example, you can personalize emails with demographic information or offer deals based on your customer's past purchases.
With SendPulse you can easily personalize your email subject line and use smart personalization to approach each customer individually.
Ensure your subject line is brief
Recent advancements in technology have made a massive increase in smartphone use. Now, most people are likely to open emails via their phones. Mobile devices are easily accessible and thus convenient for most people to check their email on the go.
That's why email marketers need to keep their subject line under 40 characters long to avoid getting cut off on mobile inboxes. Additionally, bear in mind that many users won't read an email to the end if it doesn't grab their attention at first.
Create a sense of urgency
You should make an urgency claim that looks genuine and avoid overdoing it. The "emergency" can be a limited time offer explaining that you have little stock left for sale or even a short time left before the offer passes.
Ask an important question
Raising curiosity is important, although it's mainly effective in articles. When it comes to email subject lines, ask an essential question, and let the recipient click to see the answer underneath. Do not start a sentence and finish it in the body as this will be seen as clickbait, and it might result in people ignoring your email or unsubscribing from your services. Here's how to ask important questions:

Use an emoji
Add a smile to the person reading the subject line's face by using the correct emoji. The main purpose of using an emoji is to capture attention and convey emotion.
Get rid of spammy language
Avoid using aggressive or salesy language, and loud formatting like all caps or multiple exclamation marks. These will most likely land your email in the spam folder without the reader ever opening it.
Emails with the above problems can also be sent to the spam folder directly because they will automatically trigger spam filters from many inbox providers. So, to avoid this, offer your expertise and useful information starting with your subject line.
SendPulse allows marketers to check whether their email looks spammy before hitting send. With our email spam checker, you will get useful recommendations to improve your email deliverability straight away.
What Is the Perfect Length for a Subject Line?
The length requirements of a subject line are influenced by the device recipients are using or the performance of your previous lines. Check the open rates of your past emails and analyze which subject lines performed best.
However, according to a 2018 report, 61% of emails were opened on mobile devices, which implies that the characters should be kept at a low count. Therefore, an ideal line should be at around 41 characters, to be sure that no words are automatically cut off irrespective of the device being used.
Ideas and Examples of a Great Email Subject Line
Promotional subject lines
Last chance subject lines
Intriguing subject lines
Follow-up subject lines
Humorous subject lines
Email subject lines for events
New Year subject lines
If you want to increase your email open rate, you should start crafting subject lines that your recipients cannot resist. Each subject line should serve a specific purpose, and below are a few examples.
Promotional subject lines
Promotional email subject lines contain promises of savings and hot deals. They also work perfectly when they are sent at the right time and personalized. Here are some examples:
Special Offer: 20% Off Your First Order
Let Us Fill Your Pantry While You Save Up To 30%
Get 40% OFF + NEW features to level up your 2020
Special Deal Extended: 50% OFF for Cyber Savings!
Last chance subject lines
Including an item with limited availability and texts such as "urgent," "important," or "alert" may motivate people to open the email you send. Make sure the last chance claim is genuine and craft it in a way that subscribers will open the email, so they don't miss out on the offer. Last chance ideas include the following:
Hurry Up, This Offer Expires Today
Enjoy 40% off on ALL Miniso products. Today Only!
Enjoy up to 50% off. Today Only!
FINAL HOURS: Just $75 for a year of Premium!
LAST CHANCE: 50% OFF Cyber Savings Ends Today
Intriguing subject lines
Create a subject line that leaves recipients yearning for an answer or a click to know what the text entails. Asking important questions is one of the best ways of keeping customers curious. Consider the following ideas:
Do You Want To Test Your Luck?
You're Invited
Imagine A Suit This Color…
Follow-up subject lines
The idea works best when coupled with an ideal sense of urgency. It invites potential customers to return to a service they might have earlier abandoned.
You've left something in your shopping cart
We Are Still Giving Instant Discounts
Are Our Tuesday Plans Still On?
Humorous subject lines
Funny subject lines will most likely get clicks, and honestly, they aren't that common. So, be unique and start selling what others aren't in a position to offer.
Nope, Still Not Leaving the Competition, Get 2 Shoes for the Price of 1
Perfect, Here's Another Email
Defense Against The Dark Arts: ESAPI
Email subject lines for events
If you are going to invite your customers to an event, start with your subject line. It should be eye-grabbing and informative at the same time. Users' inboxes are a sort of competition for attention. So, your task is to make them curious about your email. Help subscribers understand why they are receiving this campaign from the very first words.
The following subject lines will definitely intrigue your subscribers.
Ann, We'd love to see you at HighTechConf!
Exclusive ticket price just for you, Ann!
Have a 1-on-1 with the top SEO specialists this June!
Don't forget to send an event reminder email to your subscribers. This way, you'll increase the attendance. Remind your customers about the value they will get after attending your event.
Last chance to meet the top SEO specialists this month
The tickets are almost sold out. Grab yours!
Ann, see you tomorrow at HighTechConf
Check out this article to find more ideas for event invitation email subject lines.
New Year email subject lines
New Year is an excellent chance for eCommerce businesses to boost sales. People are happy to spend money on gifts for their nearest and dearest friends and family. To win this cruel competition for their attention in the inbox, you need to be especially creative. Analyze the methods that work best for you, use personalization and segmentation to send effective campaigns. Take into account your clients' purchasing behavior to offer them what they really need.
The best deals you'll find at the end of the year. Grab your favorite sweaters with 75% off!
Are you ready to party? Shop essentials for New Year and enjoy free shipping today only!
2 hours left until the New Year: Up to 50% off
Are you ready for the party? Everything is $9.99
Email subject line testing
If you have lots of interesting ideas for your email subject line but doubt which one will perform best, run an A/B test. It allows marketers to compare two message variants and find out which one works best. With SendPulse, you can test any element of an email campaign for free.
Considering an email subject line, you can test using emoji, personalization, and questions. It may seem that all these techniques will definitely increase your email open rate but you can't be sure that your audience finds them appropriate. So, you'd better divide your mailing list into groups and send them two variants of your subject line.
To run an A/B test with SendPulse, follow these steps.
Choose a mailing list.
Choose the number of test groups.
Choose a parameter to test — the subject line.
Set up the testing groups.
Schedule sending the winning email.
Preview and send.
In our Knowledge Base, you'll find a step-by-step guide to creating and sending an A/B test.
Email Subject Line Best Practices and Tips
Get rid of your [no reply] sender name
Segment your mailing list
Don't mislead your readers
Run A/B testing
First impressions are important, especially in marketing. In this case, what customers see first is the few characters explaining the service or product you are selling, which makes a subject line so important. It can either make or break your campaign. So, why not invest in the best practices and improve your email open rate?
Here are some additional tips that will help you come up with the most effective subject line to achieve better results and boost your open rate.
Get rid of your [no reply] sender name. No one wants to get an email from a robot. Most likely, such an email will be simply deleted or marked as spam. Instead, use the real name of a person that works on your team. This will help you increase the click rate and build credibility.
Segment your mailing list. People are different, and something that works for one group of people won't work for another. Therefore, you need to properly segment your email list (based on age, gender, profession) and create a customized subject line that will be relevant to each group.
Don't mislead your readers. Don't give people intriguing subjects with promises that you cannot keep with your email. Though it's a great move to make readers open your email, they will be highly frustrated if they can't manage to find what you promised. This is a sure way to lose potential customers forever instead and get negative reviews. Be honest about what's inside.
Run A/B testing. So, how do you know which subject line is the best? Well, A/B testing involves comparing two versions of subject lines to see which gets a higher open-rate. Through this process, you can easily determine the most relevant line for your campaign. SendPulse helps you create A/B tests, and this gives you a chance to better understand your customers and create tailored subject lines. Follow this step-by-step guide to creating an A/B test.
By implementing these useful tips, you will be able to create an amazing and, most importantly, highly effective and well-performing email subject line that will spur people to read your email and increase your open rate. Keep experimenting to come up with a catchy subject line that will work for you.
SendPulse instruments for high-performing subject lines
We offer several professional instruments to increase your subject line performance totally for free.
Email subject line spam checker
Are you sure your email subject line doesn't look spammy? If you use several exclamation marks or write "Free" more than once, the chances are that your campaign will look spammy. As a result, your sender reputation can suffer. SendPulse offers recommendations in the last stage of creating an email campaign. These tips will help you significantly improve your email and decrease the number of spam complaints you receive. You can improve not only your subject line but the sender's name and the email body.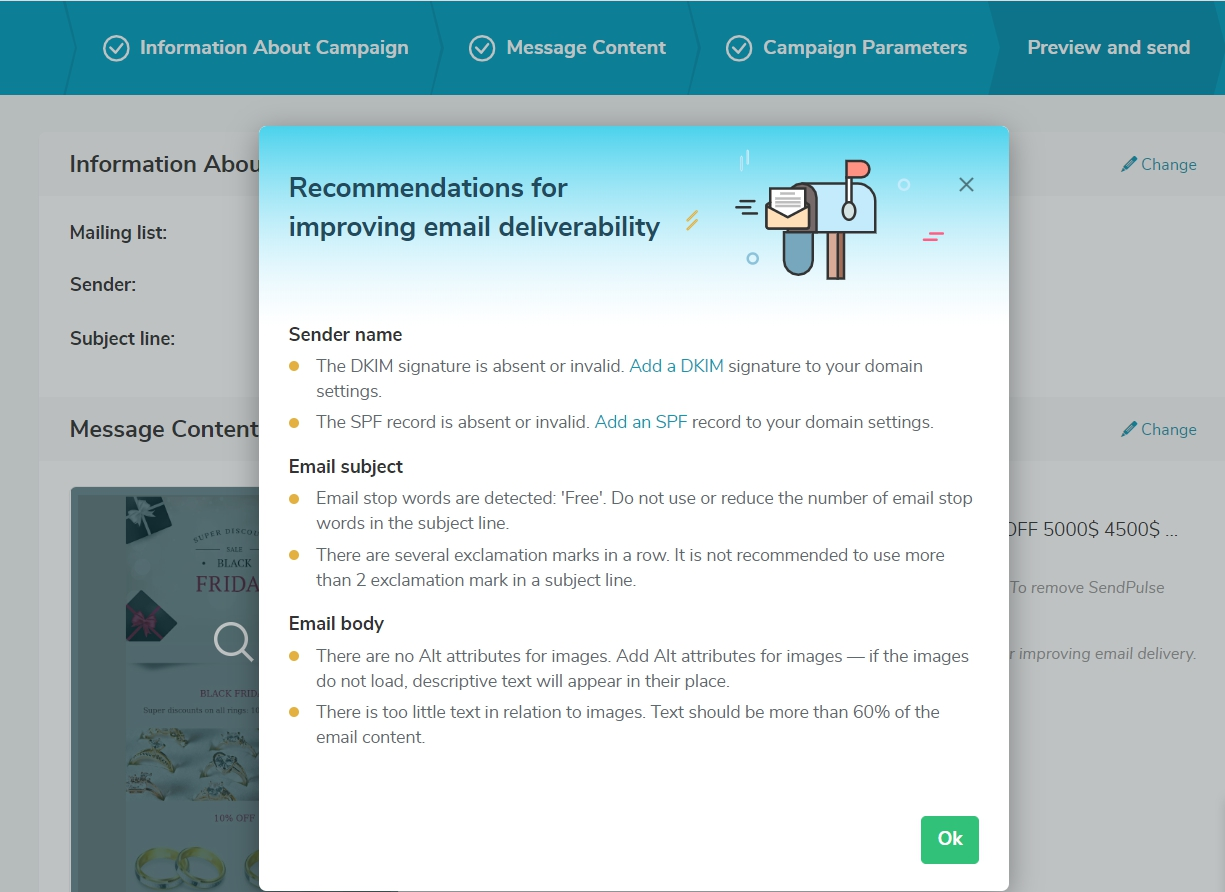 Personalization and Smart Personalization
These instruments involve inserting personal information about subscribers into a subject line, for example, name, gender, and location. This makes an email relevant for each recipient and increases their engagement.
Smart personalization is useful when you don't have the same information about all of your subscribers, for example, their name. In this case, you can specify the text for those users. Thus, every subscriber receives a personalized message.
Split-testing
This is a form of research that helps determine the most effective variant of the element being tested. Create different versions and test each one to see which one performs better.
Our free pricing plan will help you enjoy all the benefits of email marketing. Have less than 500 subscribers? Send 15,000 emails for free every month!
Email subject line examples
Let's look at creative email subject lines. Their authors used stylistic devices to attract readers' attention.
SnorgTees used onomatopoeia to make its subject line speak for itself. These guys know that cats are always trendy and they don't miss the chance to intrigue their subscribers with a cute subject line with an emoji.

Chubbies never ceases to amaze. Their subscribers really wait for their campaigns. In the email below, they used allusion successfully by referring to a famous song performed by Sir Mix-A-Lot. Hope, you're singing it.
Mac is one of the brands that works on creative email subject lines. This time they entertain subscribers using a pun. This way they introduce their new line of eyeliners.
If you aren't very good at stylistic devices, create your own marketing calendar. Discover the holidays and special days your company can use to talk to your customers.
Awesome Merch did just that. They congratulated subscribers on Earth Day and offered their clients eco-conscious products, which is an excellent move.

References
Last Updated: 07.09.2023