Teaser advertising is using intriguing headlines, eye-catching images, and suspense to create buzz around a brand and build excitement about its new product.
In this article, you'll learn why teaser advertising works, get to know how to create an effective campaign and see some examples.
Why does teaser advertising work?
The main purpose of a teaser is to drive the attention of site visitors. Marketers use this type of advertising to announce the release of a product, share the news about its launch, pull back the curtain on a collaboration of a company with a big star. They increase their brand awareness, drive much traffic to the website, and blow up sales with a well-planned campaign.
Teasers do work because people love anticipation. Remember preparing for Christmas. This time brings much joy to people because they look for the best presents for their friends, decorate the apartments, and feel this magic in the air. The feeling of belonging to something big fascinates people. Real fans of a brand feel the same. They enjoy being a part of a community as much as knowing the secrets that others don't know. Besides, people are curious to pass by an attractive or even clickbait headline. Marketers know that people love talking, so they make the most out of teaser advertising.
There's a fine line between a good teaser ad and a cheap clickbait banner cheating people. So, let's find out how to create an effective teaser ad.
How to create an attractive teaser ad?
An appealing teaser ad should make people click and find out more about the offer promoted. The main rule is to stick to your promises. Unmet expectations are the worst thing your potential client may face since it's pretty difficult to recover from a negative first impression. So, always stick to your word.
You can intrigue users by creating mystery around your brand. Keep them engaged by playing a guessing game and revealing the information in small portions. This way, you'll manage to keep their curiosity insatiable. Ensure that your product or news is worth waiting for. Avoid exaggerating, using shocking and cheating messages and statements that can't be verified.
There are lots of formats available for teaser advertising. You can run digital ads placing banners on relevant websites, send email announcements, launch your campaign on TV, release video teasers, etc. The most important thing is to target the correct audience. There's no point in showing your teaser ads to all the users since it will only exhaust your budget.
To promote your offer in teaser networks, you should firstly register on one of such platforms. They make the cooperation between an advertiser and publisher easy and transparent. Then, set your budget, ad display time, and the number of clicks, and create your advertisement. After, a publisher will receive a specific code to be installed on a website. An advertiser rewards a site owner according to chosen pricing model for clicks, impressions, or specific actions.
Now that you know the features of teaser advertising, check out some examples.
Examples of Teaser Advertising
You've definitely seen lots of teaser ads while watching videos on YouTube, checking your inbox, or navigating blogs and news resources. We'll share some examples of different formats of ads.
With a teaser ad below, the company entices an email recipient to follow the brand news not to miss a big sale. The metaphor behind the image speaks for itself, and a countdown timer is an additional sales driver.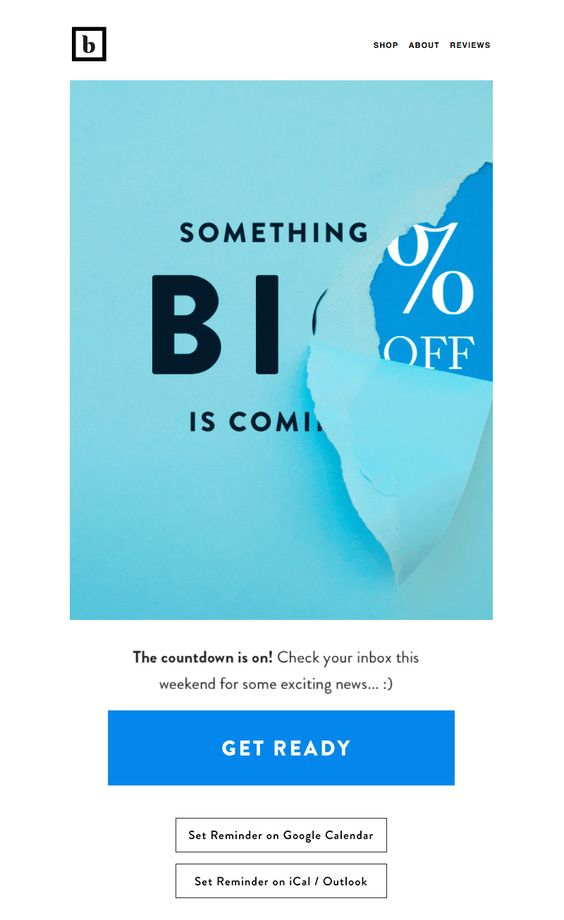 Apple fans are always excited about new brand products. The company does its best to build buzz around its new launches without being too wordy. This time the brand says nothing about their new watch — just asks users to save the date to their calendar.
Now that you know the way teaser advertising works, how to create an effective ad, and have some examples at hand, design a perfect campaign!
Last Updated: 23.03.2023