CRM software can make a world of difference when implemented properly. It helps businesses align their marketing and sales efforts, have meaningful and effective communication with their prospects, and automate time-intensive, monotonous tasks.
Any CRM system is more than just a centralized customer database, and it takes some getting used to. How do you integrate this type of software in your business processes in a pain-free way, without stretching your budget and killing your team's productivity and enthusiasm?
In this post, you'll find a fool-proof CRM implementation plan where we explain each step using our free CRM as an example. You'll also learn about potential drawbacks and how to prevent them.

Why implement CRM in the first place?
Everyone on your team has to develop a clear understanding of why you are transitioning from chaotic spreadsheets and notes to an all-in-one platform. Knowing the reasoning behind it will help you power through and get the most out of your transformation.
A customer relationship management platform is key sales automation software every company needs, even if some of its sales stages happen in person. It's the most reliable way to keep track of interactions between potential customers and sales reps, so it's no surprise that CRM now is the biggest software market in the world.
With a CRM platform in place, you get:
Clear visual representation of your sales process. Capture all sales actions and track communications with your leads and prospects as they happen on multiple channels.
Clarity on how to move prospects to another sales stage. See what your prospect currently needs and what action is required on your part.
Routine task automation. Send personalized follow-up emails automatically and spend more time and energy on one-on-one interactions.
Automated deal creation. Automatically create and update deals after your leads take specific actions, such as contacting your chatbot.
Increase in productivity. Simplify and streamline your sales team's inner processes, and it will inevitably improve your overall performance.
Shortened sales cycle. Keep, assign, automatically update, and process all new deals in one place to minimize communication gaps and human errors.
Efficient lead routing. Quickly select team members responsible for freshly created deals and delegate responsibility as needed.
Data integrity. Keep all your data in one place — it'll be harder to damage, accidentally delete, or steal. On the other hand, new sales reps can easily tune in and access the information they need.
Lead nurturing. Target hesitant potential clients and captivate them with relevant content sent automatically.
Transparency. Check who's working on what and see any roadblocks — no shooting in the dark.
Analytics and forecasting. See how your team is performing in real-time, which deals bring in the most money, who is responsible for them, and how you need to adjust your course to reach your goals.
Access to the history of your interactions with prospects. Let your sales reps see a full history of all calls, emails, meetings, and notes related to a certain contact in a matter of seconds.
Forget heavy spreadsheets and guesswork. In our CRM, for instance, you see all your deals in the form of a Kanban board.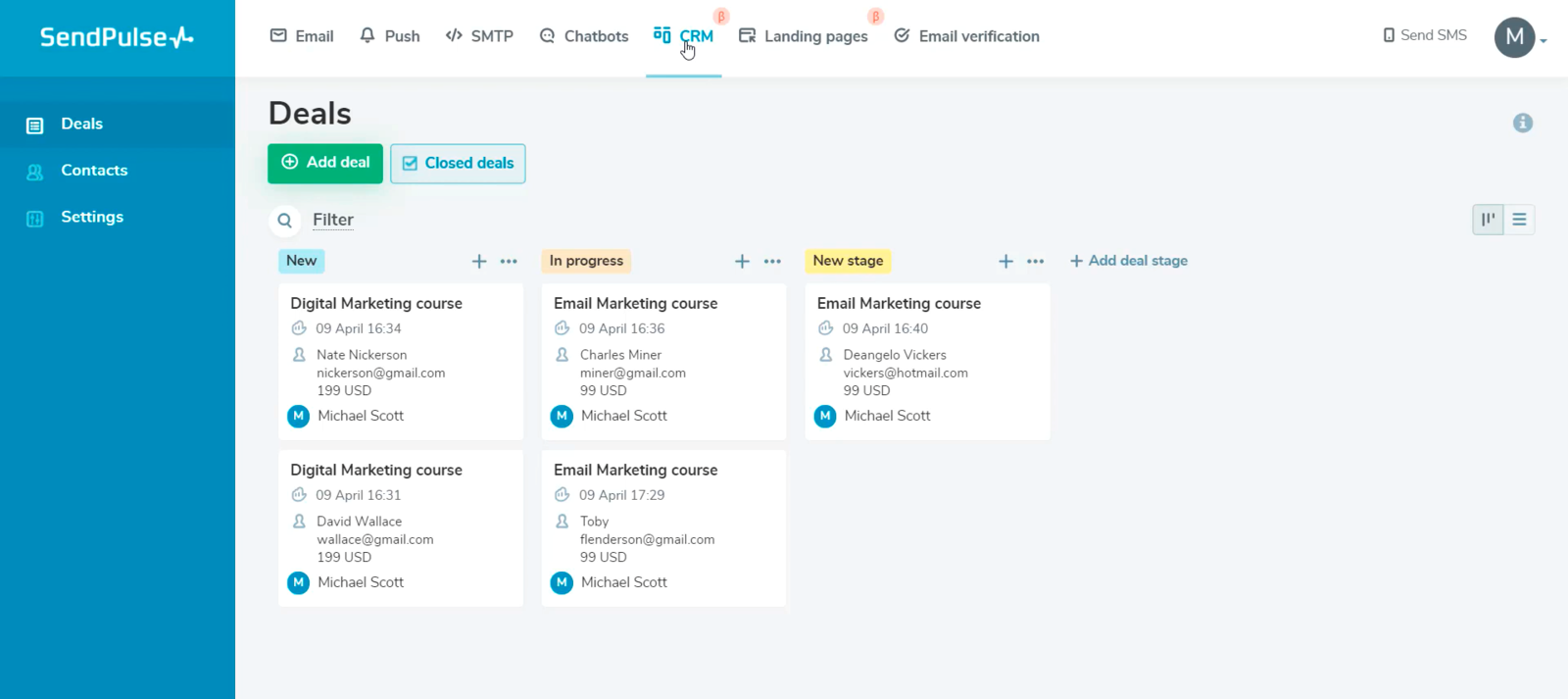 A Kanban board is a convenient way of tracking and managing new, in-process, lost, and closed deals. You get a clear overview of your pipeline and each deal stage. All of your customer data and interaction history is stored in one place, allowing everyone within your team to stay in the loop and see their progress.

How to choose a CRM system worth implementing
Before you think about how to implement CRM software, think about what exactly you want from the service. Don't skip this step by just going with the software that pops up in your browser search results first.
The ideal CRM for your business isn't necessarily going to be the same one that your partners or competitors are using. You need to identify the unique needs of your business and find the solution that will best cover them.
Take the headache out of this equation by pondering a few questions beforehand:
How do you expect your CRM platform to support and improve your work?
What is your budget? (include the costs of reduced productivity during the transition period)
Where do your prospects come from?
What channels do you use to communicate with them?
Can your platform of choice scale as your needs grow?
Where do you store your data now?
Which departments are going to use your new CRM system?
How many users will there be in total?
Who will own and manage this CRM in your company?
Do you need a fully customizable solution?
Do you need AI-powered analytics?
What other marketing and sales tools do you use?
What kind of support does your CRM solution provider of choice offer?
Compare different CRM platforms to find the best software for your niche and then start creating your CRM implementation plan.
CRM implementation: what to expect and how to prepare
After you've chosen the CRM platform you want to migrate to, the next step is to create a roadmap to make that transition smooth. The preparation stage includes choosing a pricing plan, informing your team, and, in some cases, inviting a certified CRM expert. Let's break it down.
Firstly, let's talk about the financial side. CRM software can get really pricey, especially if you need deep customization. The important thing here is not to bite off more than you can chew — pay for just as many features as you need. For example, if you are a small business, why would you need to pay for AI-powered forecasting? It'd be rather inaccurate because you don't have enough data yet. Once again, it makes sense to look for scalable CRM plans.
When you initially present the idea of implementing a CRM system to your team, it's crucial to bring everyone on board. Your task here is to not just describe technicalities but to emphasize the value that your decision will bring. Not everyone is going to appreciate the upgrade right away: some sales reps might worry that they're going to be surveilled while others might be concerned that their performance could suffer. It's important to create space for discussion, clear up any doubts, and clearly articulate the key CRM benefits.
Finally, you can always spare yourself the trouble by inviting a certified CRM partner or a trained expert who can assist you with choosing the right platform and get you up and running. They usually have experience with different industries as well as practical knowledge and skills. You need to calculate the costs of inviting a CRM implementation expert or team — and decide whether to go with them or choose another, more intuitive platform that has a minimal learning curve and doesn't require a team of developers to set it up.
Lastly, make sure you don't sail in two boats. Check whether you already pay for the software that performs similar functions as your future CRM but not to the desirable extent. Get rid of duplicate tools — it'll help you minimize expenses and explore your CRM system's full potential.

CRM implementation steps: from the first touchpoint to feedback
Your CRM implementation plan may look a bit different, depending on your scale, company needs, and how advanced your CRM platform is. What you'll find below is rather a checklist, a roadmap that outlines the key steps you'll need to take no matter how niche your CRM software is. Their order may also vary — if you invite an expert, they'll do most of the work for you.
Step 1. Try it beforehand
You absolutely need to take your software of choice for a spin during a trial period before you make your first payment. Requesting a demo isn't enough when it comes to CRM: you need to take a hands-on approach and test it for a few days to make a final decision.
In the case of our CRM, you can use it for free as part of our marketing automation platform. You can also try other SendPulse core features for free — it's easy to access them from the top bar menu. You can go back to your CRM with one click.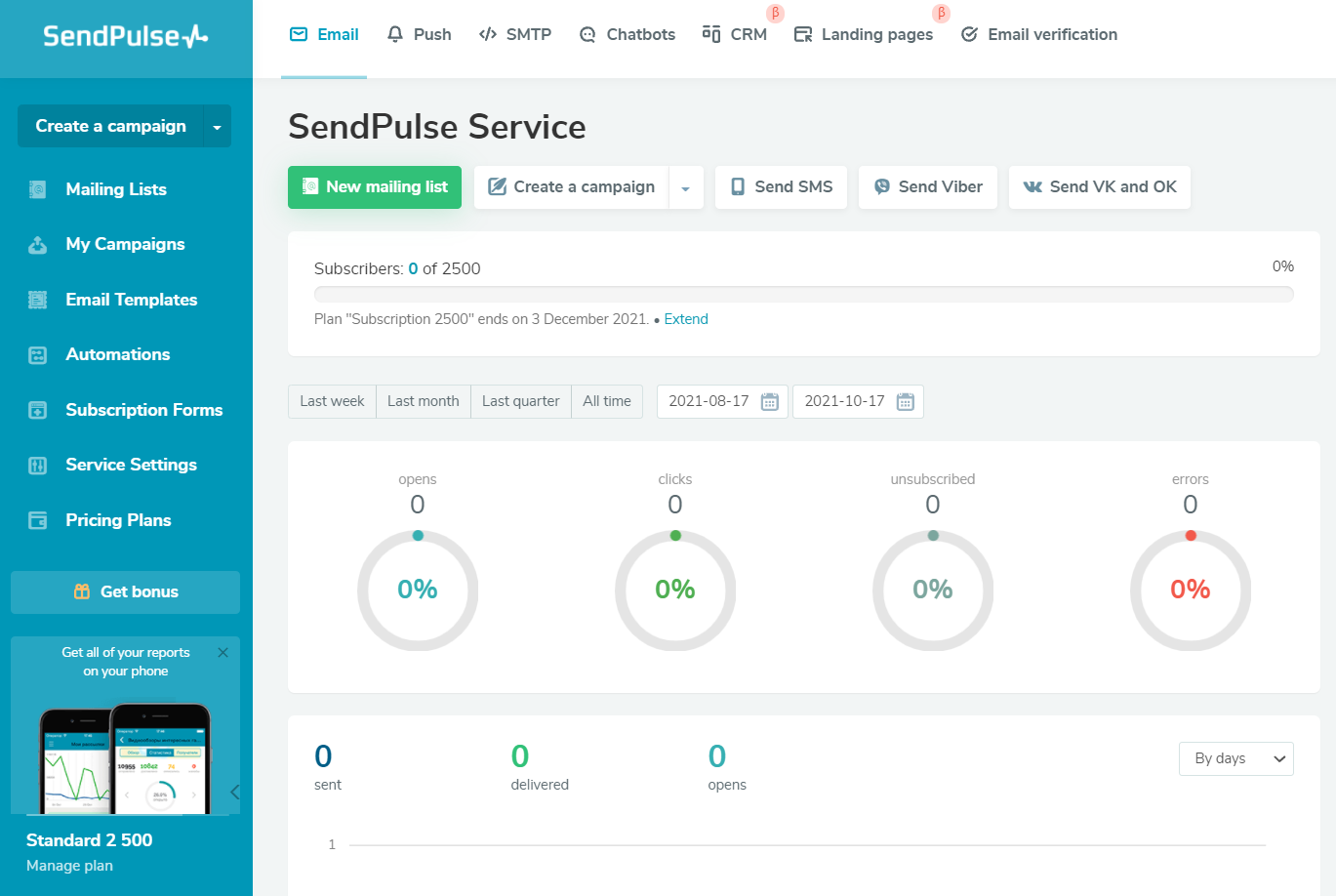 You will, however, need to pay for sending more than 15,000 emails to your leads and customers and other advanced features.
Step 2. Upload your contacts
Before starting data migration, you need to make sure that your existing customer contact information is in a format that can be easily transferred into your CRM. If not, convert your data into a suitable format, such as .csv.
If necessary, go through your contact list to organize and declutter it before importing: update links, remove duplicates and outdated contacts, etc. A quick audit will not only help you tidy your customer list but also speed up the whole CRM implementation process.
In the CRM system by SendPulse, you can upload a file of up to 20 MB in CSV or vCard formats with just one click.
You can find more information on how to import contacts into your CRM in our knowledge base.
Step 3. Integrate it with your other marketing and sales tools
Arm your team with all the necessary tools by making them part of your CRM — there is no need to constantly switch between different websites and apps when it can all be done in a single tab. CRM software providers offer a multitude of integrations, so there won't be any problem adding your favorite email automation or customer feedback tool.
The CRM system by SendPulse is extended with our other products, such as an email automation service, a landing page builder, chatbots, web push notifications, and an SMS service. Your chatbots and landing pages can be used as sources of new deals — for example, you can set up automatic deal creation when editing your chatbot flow.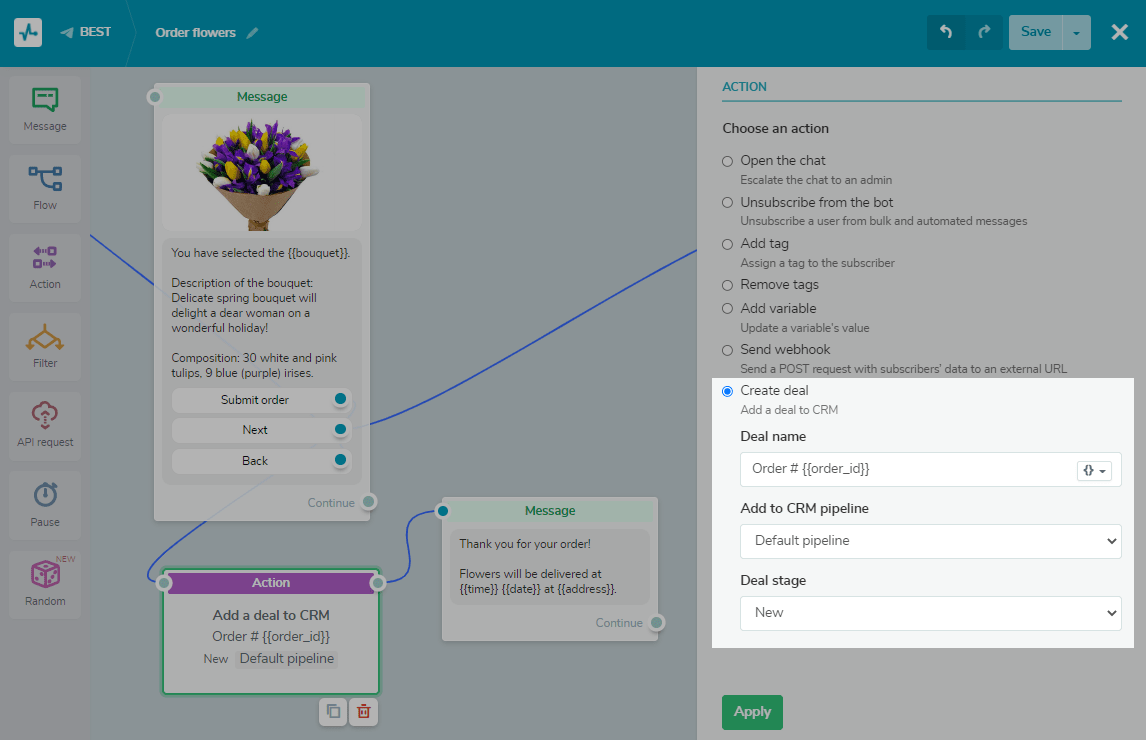 But, you'll also likely need integrations with Zapier, MySQL, WooCommerce, Typeform, GoToWebinar, and other services. While SendPulse provides them, it also offers you its API interface for custom integrations.
Step 4. Train your leaders
If you have a sales team of ten or larger, it makes sense to train your most experienced team members first. They'll not only help others learn the nuts and bolts of the CRM platform quicker but also motivate and support them in doing so. Also, seasoned sales leaders are the ones who bring the most money to the company, so it's in the company's own interest to train them as early as possible to minimize productivity loss.
You can conduct training online or face-to-face. SendPulse has a concise knowledge base where our CRM users can learn how to work with deals and contacts. The explainer videos and step-by-step guides in that section cover the most important points.
Step 5. Test and optimize your CRM before you fully go live
Once you've successfully imported your contacts, you can start working with your CRM and customizing it to suit your company's sales process. Begin by creating your first pipeline and adding your first deals. Add, edit, or delete deal stages to make your pipeline fully reflect your actual sales process.
In most CRM systems, you can add custom fields and tags to your deals to capture additional information about prospects and customers, such as their location, interests, preferred shipping or payment method, and so on. That data will help you personalize your email and social media communication with them.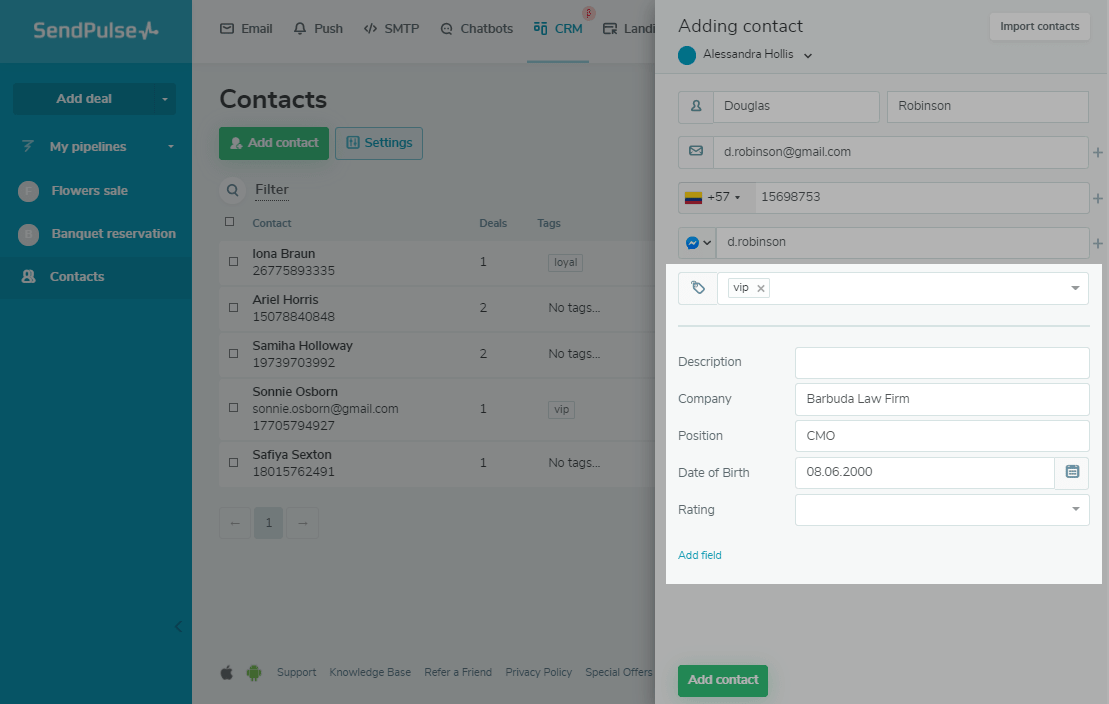 Step 6. Invite the rest of the team
After you've set up your CRM and tested it, it's time to invite the rest of your sales team to join you. Some CRM platforms give their users the option of customizing their individual workspace as well — if that's the case, you need to assist your team members in doing so before they go any further. The fewer unnecessary fields the new system has, the more intuitive the user experience will be.
Conduct in-depth training and provide your new users with onboarding material to help them get up to speed. In this CRM implementation stage, it's important to solve problems before they occur to prevent anyone from becoming discouraged and sabotaging the new software.
Step 7. Divide roles and manage permissions
You assign roles when you invite users, but you can always redistribute user access later, after everyone has joined you. With SendPulse, you can also invite users from other departments to access marketing automation tools without directly granting them access to your CRM.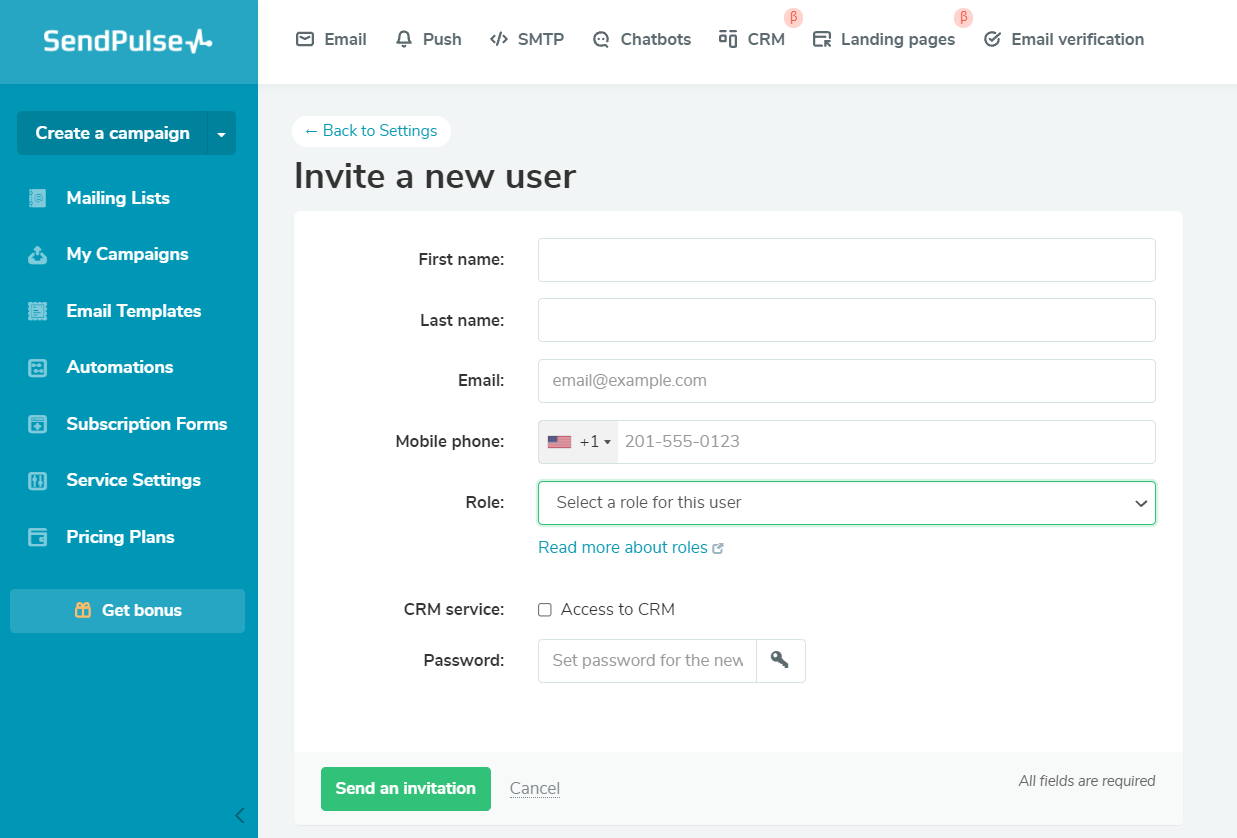 You can collaborate with your team and work together on a project or assign a certain team member to be responsible for a contact or group of contacts and let them process deals individually. It's also possible to choose a salesperson who is going to be responsible for all new deals by default.
In many CRM systems, salespeople can create their personal contact list while also being able to access the main customer database. All in all, software providers offer various ways of controlling which users can access which environments. Whichever system you choose, it is crucial to set up roles and permissions before you go full speed ahead.
Step 9. Start your CRM marketing campaign
As we've said earlier, a CRM platform is more than a unified customer database. Thanks to limitless integration opportunities most CRM providers offer, you can segment your audience and target them with personalized messages on multiple communication channels.
Lead nurturing is a tried-and-true method of converting undecided users into satisfied customers, and your CRM is where you put it in motion. Build quality relationships with your prospects by sending them triggered emails with tailored content right from your CRM and visualize their progress in real-time.
Step 10. Evaluate the success of your CRM implementation and collect feedback
In this step, you need to make sure that everyone in your team has had their portion of training and effectively uses the new platform so that no one is left behind not quite knowing how to work with it. It helps to run a feedback-sharing session to see how successful the initial implementation was.
During this period, your team members might pinpoint unnecessary or missing features, bugs, or other problems they ran into. A few weeks into CRM implementation, you'll already see your first performance analytics and forecasts, which will allow you to assess individual users' activity and set new goals. Expecting a significant increase in revenue at this point is a bit premature as your company might still be adapting to the new system, but the number of booked meetings and email reply rates are likely to improve.
Implementing CRM is easier than it seems
Test this out by starting to use our CRM for free today. We provide you with a complete set of sales and marketing tools and 24/7 support to set you up for success and make sure you can fully concentrate on your business processes. Explore better ways of working with SendPulse — we have plans for teams of all shapes and sizes!