It's easy to get overwhelmed by the sheer number of features Instagram has introduced in recent years. The platform's shift from static images to immersive experiences left many marketers puzzled as to how they should present their brand.
In this post, we want to focus on new, underrated, or underexplored Instagram features that can improve your social media marketing game. Learn how to drive user engagement and conversions by pulling the right strings.
Why should marketers focus on Instagram?
With new social media platforms and trends popping up every day, it's tempting to try using TikTok for business or even migrate to Discord and abandon Meta products completely. But that'd be a bit premature, and here's why.
Influencer marketing as we know it today originated on Instagram. Now, 78% of consumers say that creators are influential in helping them discover new brands. Nearly half of people say they use Instagram to shop weekly. Big brands like Estée Lauder spend 75% of their marketing budget on influencers.
But here's the thing. Most of those creators still use Instagram as their main platform, and that's why businesses should, too. 96% of brands and 88% of creators regularly publish Instagram Stories, but only 46% of brands and 42% of creators frequently use TikTok. So, opinion leaders aren't ready to swap Instagram for TikTok or other platforms completely — they want to stay connected with their community.
Are you just about to start using
Instagram for sales
? Learn how to set up your account for success!
Another reason to keep using Instagram for social media marketing is the metaverse. Mark Zuckerberg made it clear that more virtual reality features are soon to come. Virtual influencers, digital fashion — some of the metaverse features are already there, and this is just the beginning.
32% of creators across the UK and US said they are hopeful about the metaverse. 91% of influencers in both markets say they are curious to learn more about the metaverse and how they can use its tools and features to monetize their creative work. That's why marketers should seize this opportunity and start creating virtual experiences for their Instagram audience now.

13 Instagram features marketers should know about
Let's do a quick rundown of promising, brand-new, or not-so-obvious Instagram features that can be especially helpful to marketers, solopreneurs, and small business owners.
Reels
There's a lot of controversy surrounding Instagram algorithms and trends. Some speculate that businesses should go all-video to get better engagement, while others refuse to confirm and keep posting regular in-feed images. Meanwhile, many international brands have made their choice.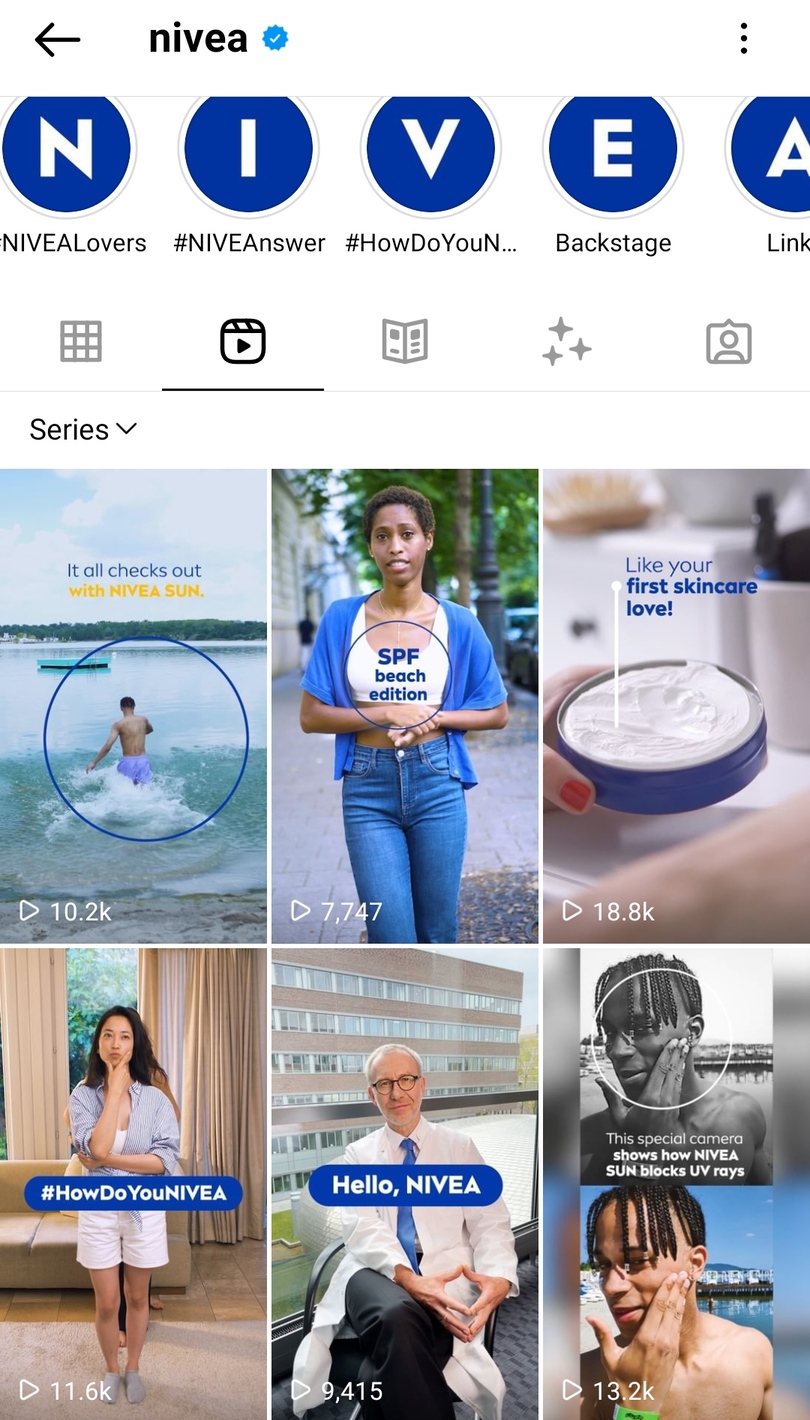 For better or worse, Reels are here to stay, and here are two main reasons why marketers should embrace them.
Videos are heavily promoted by Instagram, and that's why you can see them across the entire app, from your feed to the Explore page. As a result, static feed posts have become secondary and gain less attention — the average engagement rate for feed images has decreased by 44%.
Reels get twice as much real estate on the Explore page, not to mention how they turn into a full-screen experience, so they're two times more likely to attract your target audience's attention.
Thankfully, Instagram has also introduced a variety of tools to create truly diverse Reels, so you can always craft something unique for your brand to let its identity shine through. For example, you can use expanded remix layouts, Reels templates, and the Dual feature.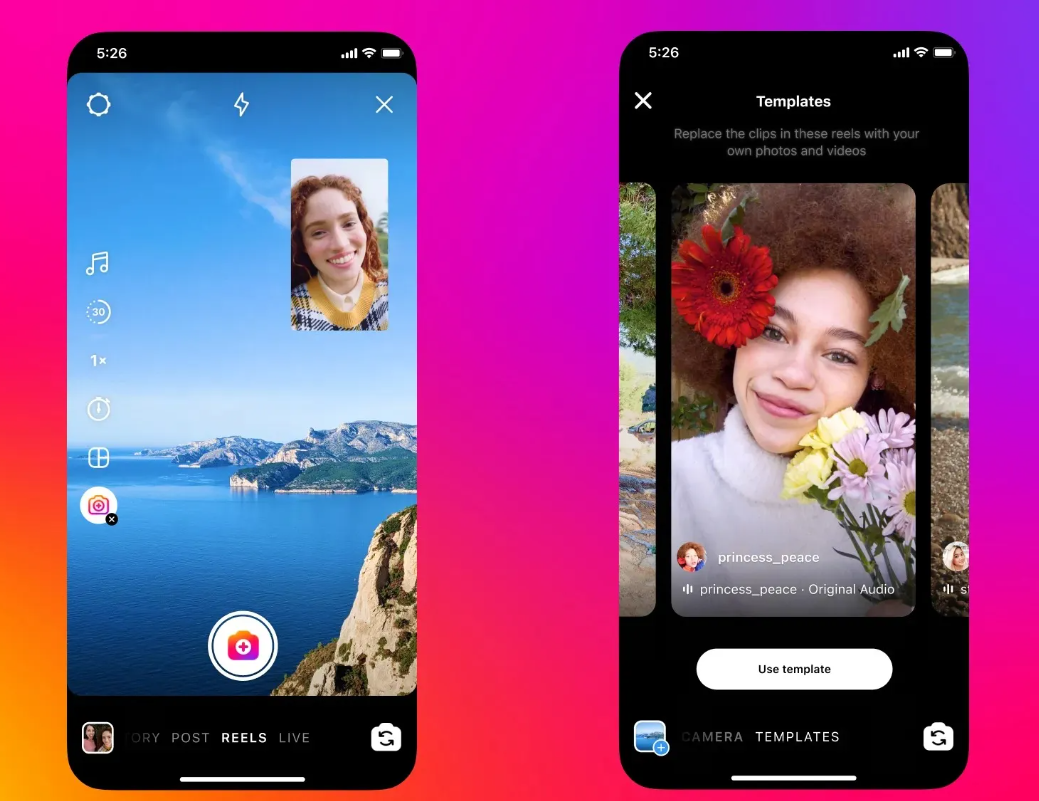 Reels is a fantastic format for product reviews, try-ons, recommendations, how-tos, announcements, educational videos, and so on. You can use them to replace static content and make your posts more immersive, visual, and multi-dimensional.
Branded content ads
This one sounds like a no-brainer, but did you know that using the paid partnership label can actually help you reach a broader audience? Instagram wants influencers to be transparent with their followers about the products or services they promote, so the platform encourages branded content ads.
When partnering with influencers, make sure they disclose the collaboration by adding your brand as a partnership sponsor. As Instagram specifies, adding the paid partnership label can help you reach more users, employ sophisticated targeting, and get clearer analytics.
According to Instagram, branded content ads to campaigns drove 19% lower CPAs and 53% higher click-through rates than campaigns with regular ads where businesses were tagged but not marked as sponsors.
Cross-promotion
If you want your content to be seen, don't shy away from promoting it across different Instagram channels — share clickable previews of your Reels or in-feed posts in your Stories to get more eyeballs on them right after the publication.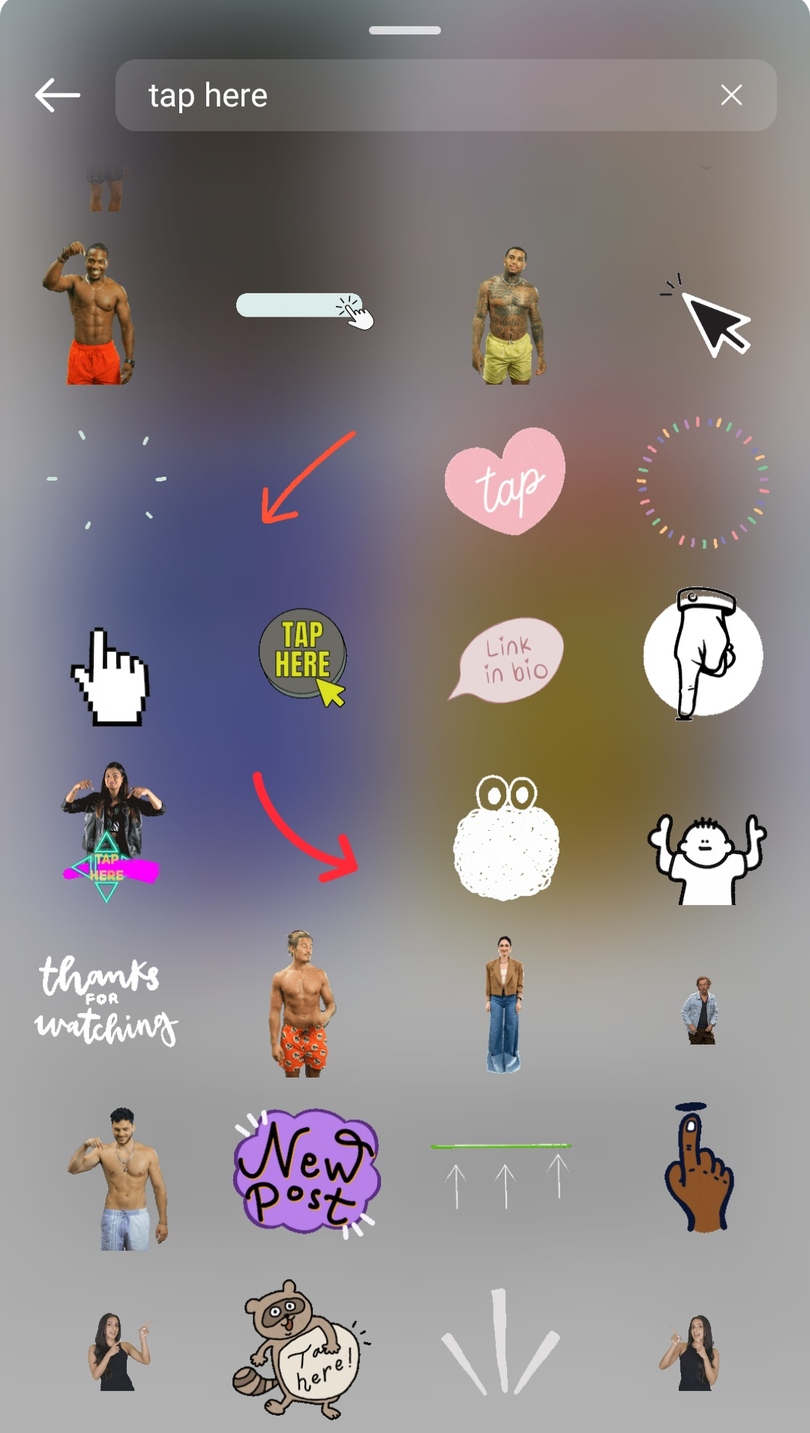 Use animated stickers to show your audience that they can just click on the preview to read or watch your whole post. You'll find the right stickers by typing "click here" or "tap here" in the search box.
Trending sounds on Instagram Reels
Here's another useful trick — you can make your branded Reels go viral by using the songs that are currently trending on Instagram. Just pick a video that you like and check what music they use and how popular it is.
If the track is trending, you'll see a small, pointing-up arrow next to its name.
Click on the name of the track, and you'll see how popular it is and how many Reels already feature it.
Feel free to explore the existing Reels to understand the mood of the song a bit better and come up with something memorable and out-of-the-box.
Pinned posts
You worked hard on your new mind-blowing social media campaign. Don't let it get lost in your feed — pin it on the very top for every profile visitor to see. The new grid-pinning feature allows you to decide which in-feed images or videos to prioritize so they will get all the attention they deserve.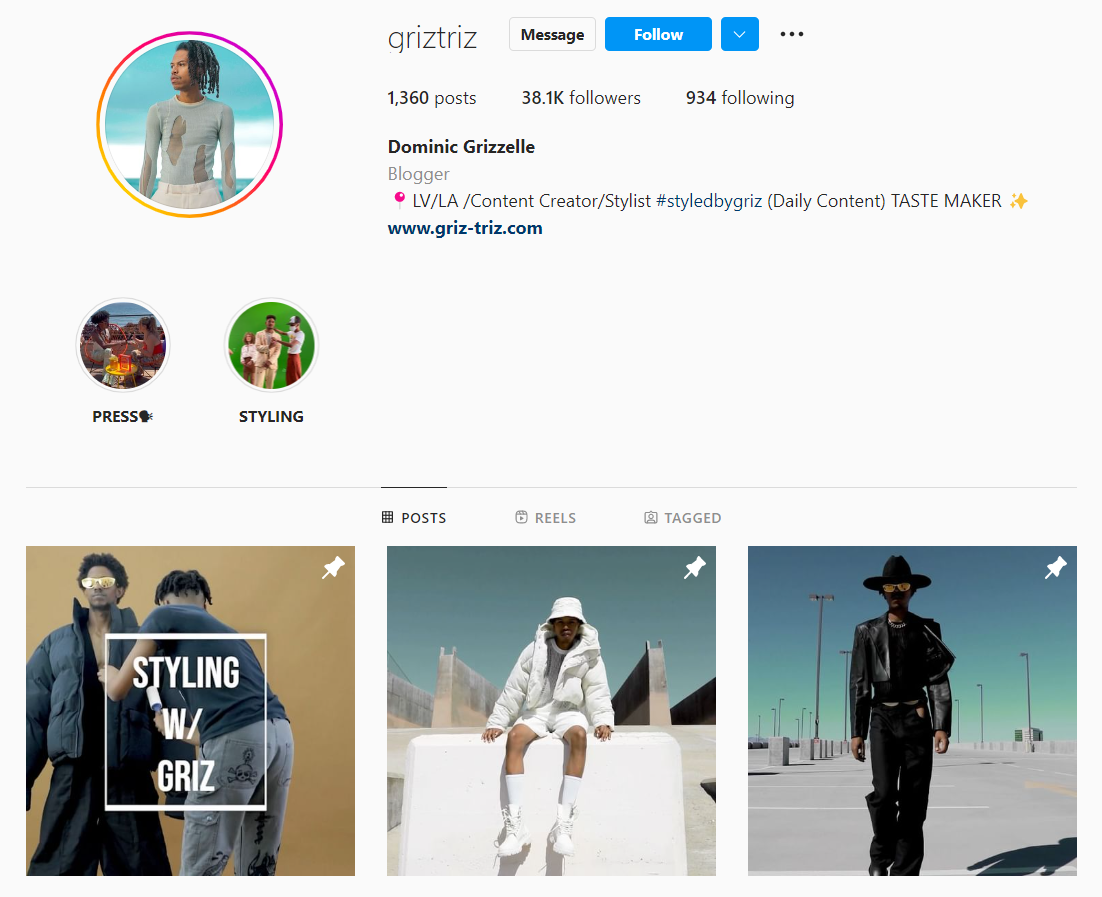 Whenever you work with Instagram creators, make sure to ask them to highlight your collaboration results by pinning them on their grid — this way, their audience is more likely to check out your brand.
Chatbots
Save time and mental energy by automating repetitive conversations on social media while keeping them personalized and natural. Creating an Instagram chatbot allows you to become available to your audience 24/7 and instantly answer their questions or provide help. Instagram itself doesn't provide its users with a bot builder, but you can work around that by using marketing automation platforms such as SendPulse.
SendPulse allows you to build an Instagram bot in an intuitive visual builder — no coding is required. You can create a unique chatbot persona for your brand and give it your recognizable tone of voice.
Marketers can use chatbots to send promotional campaigns and reminders, accept payments, collect feedback, and more. Customize your bot and come up with different conversation flows to address FAQs, inform your first-time visitors about your opening hours, or even help them place an order.
Marketers can use chatbots to send promotional campaigns and reminders, accept payments, collect feedback, and more. Customize your bot and come up with different conversation flows to address FAQs, inform your first-time visitors about your opening hours, or even help them place an order.

Instagram's Creators Community
Although this one isn't exactly a feature, not many marketers know about it. Instagram's Creators is an account where popular opinion leaders and bloggers from all over the world share content creation tips and ideas, bust Instagram algorithm myths, and inspire other creators to monetize their art and skills more efficiently.
For marketers, this is a one-stop shop for learning everything about new Instagram features, trends, and events. Instagram creators are always the first ones to test new tools, so this account allows you to tap into their expertise and better understand what influencers expect from brands.
Scheduling and the countdown feature
Build up anticipation and tease your audience before big announcements or product reveals using the countdown sticker in Stories. You can also drive anticipation by scheduling your Live broadcasts and promoting them in advance.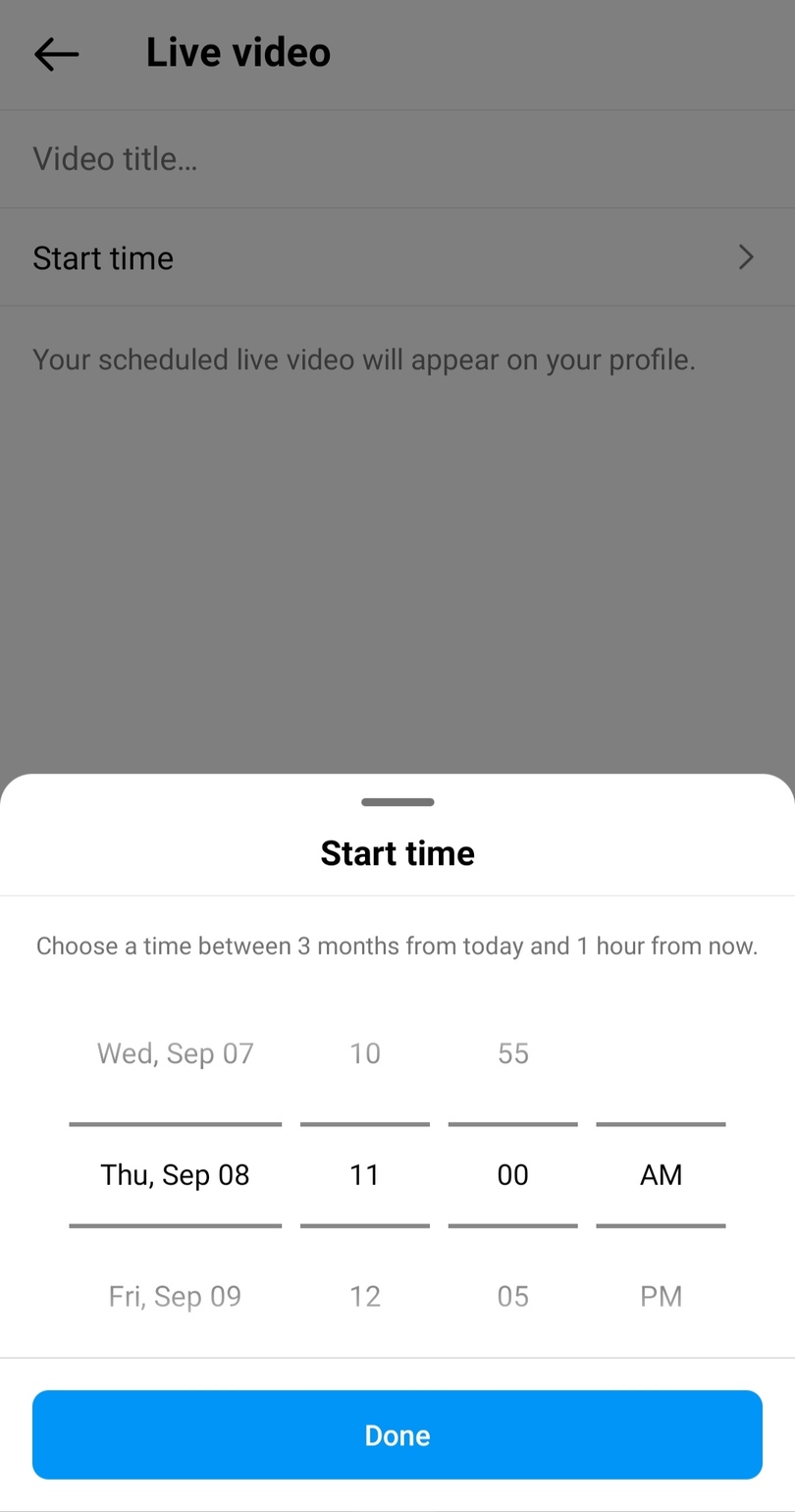 To do that, go to your home feed and swipe right or click on the icon with a plus symbol. Then, choose the Live format and click "Schedule" to set the exact time and date. Once you're done, you'll see the scheduled Live broadcast in your profile, under your bio. After that, you can share it as a post or add it to your Stories to build suspense before the event.
Instagram Explore Ads
Instagram users visit the Explore page to get inspired, have fun, discover something curious, or find new exciting products, creators, and companies. Through Instagram Explore Ads, you can reach your target audience while they're in a discovery mindset and most open to new impressions and experiences.
If you choose this format, keep in mind that your ads won't appear right in the Explore grid — instead, they'll be shown as full-screen video ads between regular Reels. This makes Instagram Explore ads more immersive while also less intrusive because users see them only when they're actively scrolling through various content.
Augmented reality ads
Increase product and brand awareness by creating branded AR effects for Instagram and using influencer marketing to draw attention to them. AR filters allow marketers to make their ads fully interactive and genuinely fun to watch, which inevitably leads to higher engagement.
You can hire a freelancer to develop a professional-looking AR filter for your brand without going bankrupt. A branded AR effect can always be traced back to the original account, so your filters will continue spreading brand awareness even after your campaign is over.
Product tags in Stories, Reels, and Live broadcasts
Instagram shop owners can tag their products in Stories and Instagram videos. It allows users to seamlessly shop products and looks from their favorite brands and influencers. A product tag is a clean clickable URL, and it can be accompanied by a CTA button.
You can tag entire product collections or shops in your Stories by adding shopping stickers to them. During a Live event, you can also tag up to 30 products or a collection. A single tap will lead your subscriber to the product detail page where they can instantly process to the checkout. Other influencers can tag your products as well if you add them as your shopping partner.
If you haven't set up Instagram Checkout yet, you won't be able to tag your products in ads. Checkout on Instagram is currently available to all eligible business and creator accounts in the US.
Creators' insights
Finding authentic niche influencers is always a challenge, but it shouldn't be a gamble. Next time you're choosing thought leaders to promote your brand, ask them to share their Instagram Insights with you. It'll allow you to eliminate guesswork and make decisions based on precise analytics.
Leveraging creators' Insights allows marketers to get more transparency and stop wasting money on influencers that don't have their target audience. In other words, you'll be confident that you're targeting the right age group, region, and gender.
Creator marketplace
Gone are the days of big brands awkwardly sliding into creators' DMs — Instagram has recently announced that its team is working on creating a unified creator marketplace. Currently, the feature is only available on an invite-only basis to brands active in the US, so marketers should keep an eye on it and wait for the official rollout.
Of course, you can use third-party influencer search tools, but switching to the official creator management platform will certainly be a game-changer because it'll be more secure, reliable, and transparent.
Create your Instagram chatbot with SendPulse
Automate part of your social media marketing efforts by building a conversational chatbot for your Instagram account. We have a comprehensive knowledge base and how-tos that can help you create your first bot in minutes and connect it to your Instagram account.
You can always control the behavior of your chatbot and add new scenarios as you see fit. Chatbots enable you to send personalized marketing campaigns, answer popular questions, and provide your followers with important information around the clock, without being physically present. Create your SendPulse account and try it now for free!