Product bundling has long become an important marketing and selling strategy for many businesses. It helps them increase average order value by turning one burger into a whole menu, decrease distribution costs, and reduce inventory waste.
According to Shopify, some of the brands have achieved incredible results after introducing bundling into their strategy:
Soxy.com, a socks retailer, raised its AOV by 358% with the help of bundling;
Hydrant, a hydration beverage manufacturer, grew its overall sales by 40% in the same way;
Lalo, a baby brand, managed to turn 92% of its sales into bundles.
Do you want to access the same benefits and more? Let's learn more about product bundling and its types and look at successful product bundling examples to get inspired.
What is product bundling?
Product bundling is the process of selling products as a group instead of separate products. For example, you can sell not just a single pen but add a pencil, an eraser, a correction tape, and a ruler and sell it as a single unit.

Some businesses prefer to sell items as a collection only; others give more choice and offer to buy them as separate products. Certain companies also offer custom bundles where customers are free to choose the items in the collection — it is mainly used for gift boxes or offers with differences in flavors, colors, shapes, etc.
There are two main approaches to product bundling:
mixed bundling means that a customer can purchase bundled products separately from the same store;
pure bundling means that products come only together.
Now, let's look at some product bundle ideas that you can experiment with for your online store.
Most popular product bundle ideas
There are many product bundling strategies, and businesses choose what works better for them and their customers, testing different options and mixing varieties. Bundles should also make sense since people aren't likely to buy socks, doorknobs, and books in one collection.
Let's check out some available strategies and product collections to choose from.
Bundle complementary products
Complementary products often go together and work more efficiently as a set. For example, it goes for a winter jacket and a beanie or a home plant and soil — they are used simultaneously and would likely be bought together in any case.
Want to increase your average order value? Check out some cross-selling and upselling examples from various companies.
One of the most prominent examples of such product bundling is buying shampoo and a conditioner together. That is what Function of Beauty does: they offer to make custom shampoo and conditioner together because it would help the hair the most. You just take a quiz, and the company will make hair products with ingredients and effects for better results.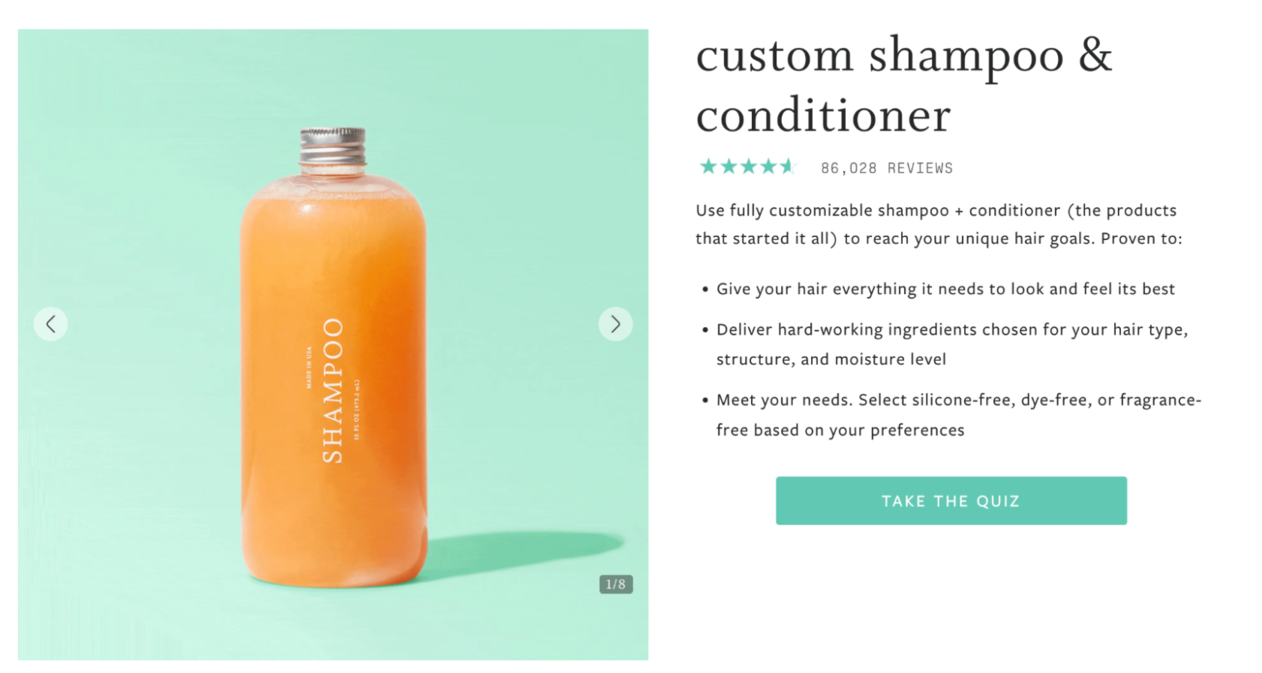 Use occasional bundling
This is about sets created for specific occasions like holidays, personal celebrations, or seasonal changes. You can create special bundles for Christmas, beach season, marriage anniversaries, etc. Almost every type of business can leverage the occasional bundling, especially when it is about advent calendars or season changes.
Check out some tips to improve your email marketing in time for the holidays.
For example, a beauty brand, Rituals, offers special Easter boxes with shower gel, hand balm, perfume, and lip balm. It is a nice small gift that saves time as you don't need to think about what items to purchase as a present and buy a prepackaged bundle.
Introduce a buy-more-pay-less model
It is another classic example of bundling marketing. You buy a collection, but it is somewhat cheaper than buying everything separately. It is a win-win situation since customers get more of their favorite product, and your business sells more within one transaction.
While using this product bundling strategy, you can offer items that are usually bought together nevertheless or provide the same product in larger quantities. The latter will obviously not work with expensive products.
Learn how to squeeze more ROI out of your emails by optimizing them with marketing psychology.
One of the evident bundling examples is McDonald's meals. For instance, the BigMac menu will cost you around $10, but buying all the products separately will cost you about $14. Typically, people never take burgers alone, and such a deal encourages them to buy a drink and some fries even more.
Try subscription bundling
Subscription-based bundling is a great way to sell more goods and stay in touch with your customers longer. It works pretty well with food (you can deliver products to make meals from and recipes or diet-based products), books, fragrances for different seasons, DIY kits, etc. This concept is also known as a subscription box model.

Shaker & Spoon created their entire business around this product bundling strategy. Each month their customers get three recipes and ingredients for 12 drinks. As a result, you can get to try as many drinks as you like and turn a home party into a bar-quality invitation.
Sell bestsellers together
People like trying new things if they have an opportunity to do so. Therefore, they would love to try all your bestsellers, especially if the final price is lower than buying separate items. It is a great deal for loyal customers since they can discover more sides to their beloved brand or buy many favorite products together. But it also allows newbies to try as many products as possible to make a better judgment.
A certified retail therapist, for example, created a bundle of best-selling books.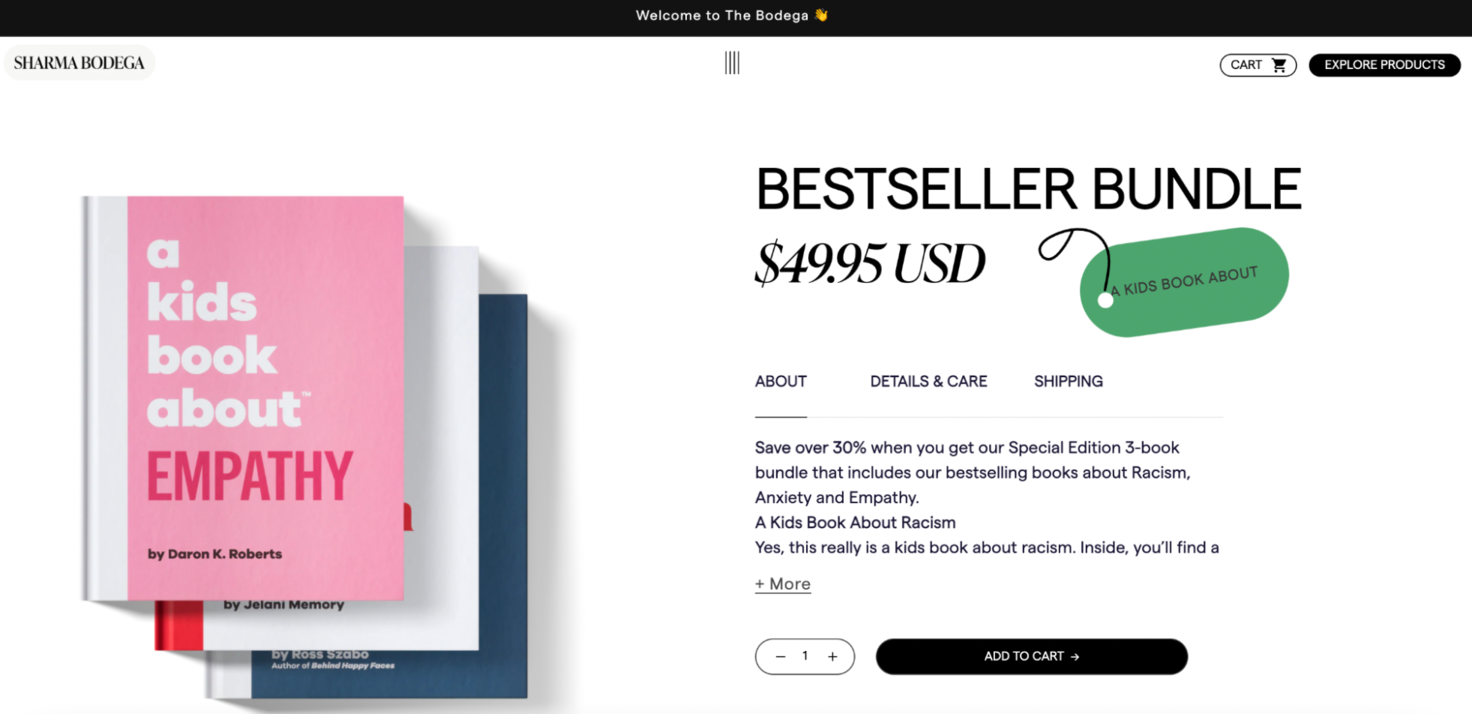 Best product bundle examples to inspire you
Because of its ease and great benefits, bundles have long become a standard practice for many businesses. Some are building their entire existence around selling in bundles: they scrape gift boxes together or sell numerous brands within one platform in such a way.
Here are more product bundle examples to get inspired by.
The Ordinary
The Ordinary is one of the most famous skincare brands with minimalistic packaging and affordable prices. The Bright Set is a great four-step skincare routine bundle that works perfectly for those who are just starting out with skincare and can't properly choose separate products. This set helps them manage their new shopping experience much easier, and the brand manages to sell more products than just a famous acid.
Learn the hottest tips on how to market beauty products in 2022.
By simplifying choosing the right products for a customer, brands can maximize their profits by encouraging a person to purchase not just one or two products but a bundle offered.
Colgate
You can barely find someone who doesn't know Colgate and never used their product at least once in their lifetime. Their toothbrush packaging makes a lot of sense: the more you buy, the less you pay.
Such a marketing approach drastically maximizes sales as it basically upsells people who have initially intended to purchase just a toothbrush with toothpaste.
The Republic of Tea
Teas come in so many flavors that it is nearly impossible to try them all. However, you can try much more if you opt for a gift box. The Republic of Tea made a wise choice of letting customers choose interesting teas themselves to avoid flavors that they don't like and any ingredients that may cause an allergic reaction.
Such a product bundling strategy maximizes sales and familiarizes customers with a wider range of products, potentially increasing the number of loyal customers and leading to more recurring sales.
TBR
TBR addressed one of the main problems of any book lover: when you don't know what to read and need some advice. They read about your preferences and create a book bundle that you will likely enjoy. It is done by professionals and works on a subscription basis, meaning you get three new books every month.
The key here is to increase the company's profit by sparing readers the time to choose books and adding the mystery component.
Kylie Cosmetics
Kylie built her makeup empire on her personality and lip kits which is a perfect example of product bundling. She sells kits for holidays and in collaboration with her sisters.
By offering a bundle of lipsticks, the company allows customers to try more colors while saving some money. The company also saves on shipping costs while delivering a couple of lipsticks together, increasing profit per order.
Final thoughts
Product bundling is a great concept that can be realized in different ways. Your main task is to choose the right product bundling strategy and items. You can do so by looking at your business model and type of product overall and monitoring top and worst selling items, SKU profitability, and trending profitability.
After selecting the most suitable bundling strategy for your brand, make sure to dedicate time and effort to promote your product bundle. For this purpose, consider using SendPulse — our platform offers marketing and sales automation tools that can streamline routine workflows and help companies increase customer satisfaction.