Highly competitive and trend-driven, the beauty and skincare market is evolving more than ever. If you plan to melt some beauty shoppers' hearts with your makeup or personal care, there are many things to take into account. Let's sort this out together and learn how to market beauty products in 2023. Get ready to give your beauty marketing a makeover!

How to choose the right channel for marketing beauty products
According to Facebook IQ insights, the beauty industry has been facing a great change in the way people discover, evaluate, and purchase makeup and skincare products.
Though the majority of beauty shoppers all over the world still buy cosmetics in-store, more and more of them prefer to search and evaluate products from the comfort of their sofas.
Here are some key stats on the makeup consumer's customer journey in the US market:
| | | |
| --- | --- | --- |
| Discovery | Evaluation | Purchase |
| 46% discover new products online, 33% on mobile | 36% assess new products online | 41% purchase new products online |
| | 61% assess new products in-store | 79% purchase new products in-store |
| | 36% assess new products via in-person conversations | |
This shift suggests that omnichannel beauty marketing strategies will make your brand more present and consistent both online and at the point of sales.
Big brand beauty companies follow this trend and bridge online and offline experiences by launching massive digital marketing campaigns backed up by offline showrooms, pop-up shops, and even…vending trucks!
For instance, NYX promoted their newest makeup palette using a vending truck. Targeting their consumers during the summertime, they stationed the truck at Union Square in NYC. The company offered their consumers free makeovers with the new products.
This doesn't mean you should market your beauty products everywhere to get all over the news. The goal is to understand your consumers, their preferences, and shopping behavior, and create strong messaging across all the main touchpoints.
So, which strategies and tactics should you adopt? When it comes to online beauty marketing, you should bank on social media influencers and third-party reviews. These are the primary sources of information for the majority of beauty shoppers.
However, after taking a deeper look at this chart, we have good news and bad news for you.
The good news: though you can't directly work on personal and professional recommendations, social media influencers and reviews are accessible and can be used effectively when marketing beauty products.
The bad news: advertisements and direct marketing are considered the least effective and trustworthy source for marketing beauty products. But you can still use them in the discovery stage of your customer's journey and for lead nurturing.
All things considered, in this blog post, we'll pay more attention to social media but will also cover other digital channels that can contribute to your overall strategy. On to the tips!
Beauty marketing on social media
When marketing beauty products, social media is as essential as mascara. But keep in mind that the most popular social media platforms among beauty enthusiasts are Instagram, Facebook, and YouTube.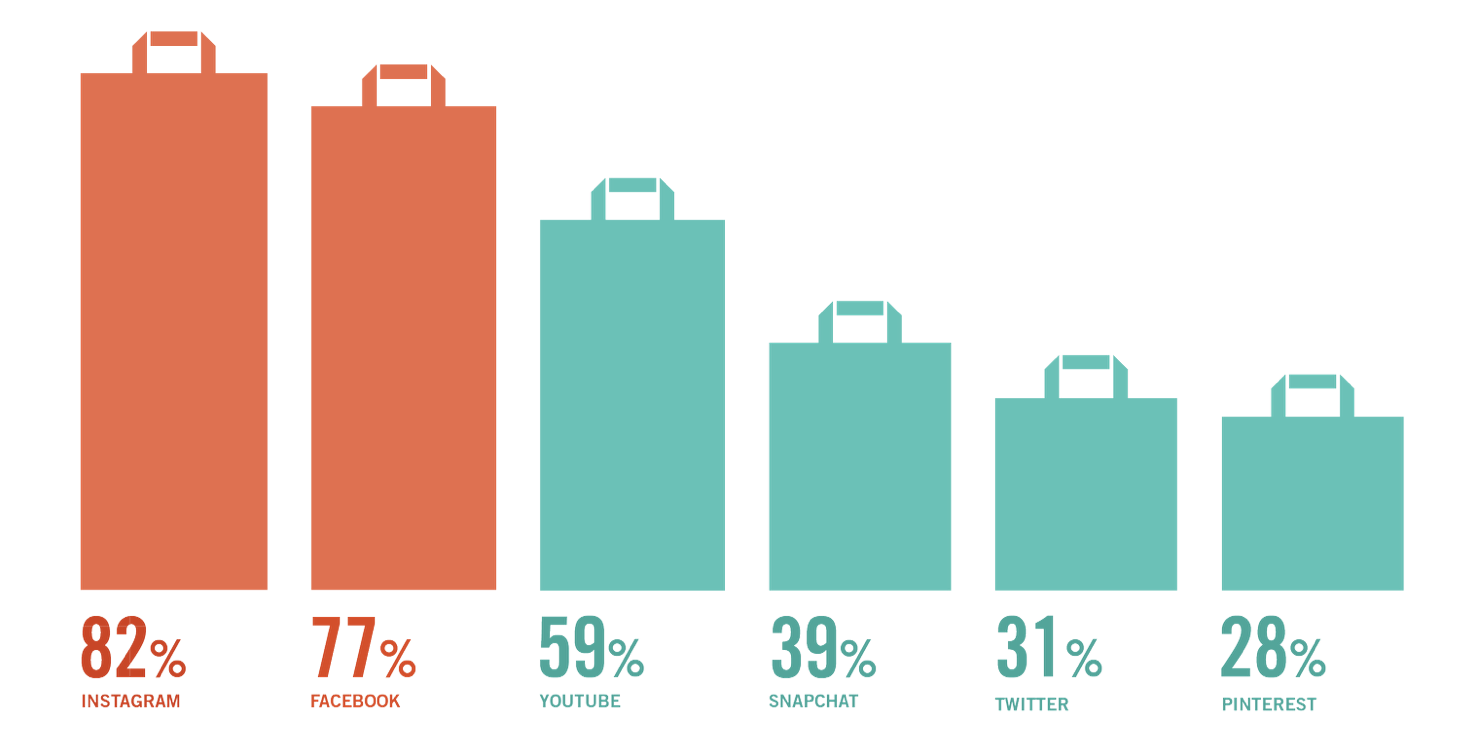 This comes as no surprise, as the top three platforms have lots of engaging visual content. Don't forget that it's a particular appearance and look that you are ultimately trying to sell. That's why images, stories, videos, and live streams speak louder than words.
Apart from that, these platforms are home to influencers and allow consumers to interact with them directly via comments and messages which is a win-win: shoppers get all the information and shopping fun they need, and you can finally be as close to your audience as ever.
Here are the five hottest tips on how to market beauty products on social media in 2023.
Collaborate with micro-influencers
Social media influencers are bloggers or celebrities with certain expertise and a community of followers. Micro-influencers usually have between 1,000 and 100,000 fans and are experts in one or two specific niches.
Micro-influencers have more potential for marketing beauty products because the era of extremely famous bloggers has already passed. Influencers with millions of followers are seen as an equivalent to TV stars who are difficult to relate to.
Consumers listen to influencers who look like them and have the same struggles they do. That's why a non-professional YouTube video on how to conceal pigment spots featuring a person who actually has them will work better than a glossy "perfect skin" ad.
Micro-influencers might not have as much reach as top influencers do, but are much better in terms of user engagement. While top influencers can boost brand awareness, smaller influencers directly influence purchasing decisions.
Case study: Suave Beauty is a company that offers personal care products. In order to reach multicultural hair product shoppers, they launched a campaign, combining African-American beauty influencers and branded content. As a result, they got an 11 point lift in brand recall and a 6 point lift in purchase intent.
Here's how Suave collaborates with beauty influencers on Instagram.
When making a list of influencers for marketing beauty products, pay attention to their relevance and engagement rates. This research can be done manually or with the help of automated influencer tracking tools such as HYPR, Upfluence, Pitchbox, and trendHERO.
For instance, HYPR helps brands search and discover creators in specific areas, evaluates them within the context of the campaign, and automates influencer management with a CRM system.
Encourage user-generated content
While influencer marketing obviously requires a budget, user-generated content or UGC can help you boost sales without spending a penny. Beauty shoppers, especially millennials, love to connect with brands and share their experience with the product. All you have to do is ask!
This strategy has already paid off for the American beauty startup Glossier. They shared the experience of one of their customers, an "ordinary" girl, and it resulted in incredible word of mouth advertising and a flock of highly engaged brand evangelists.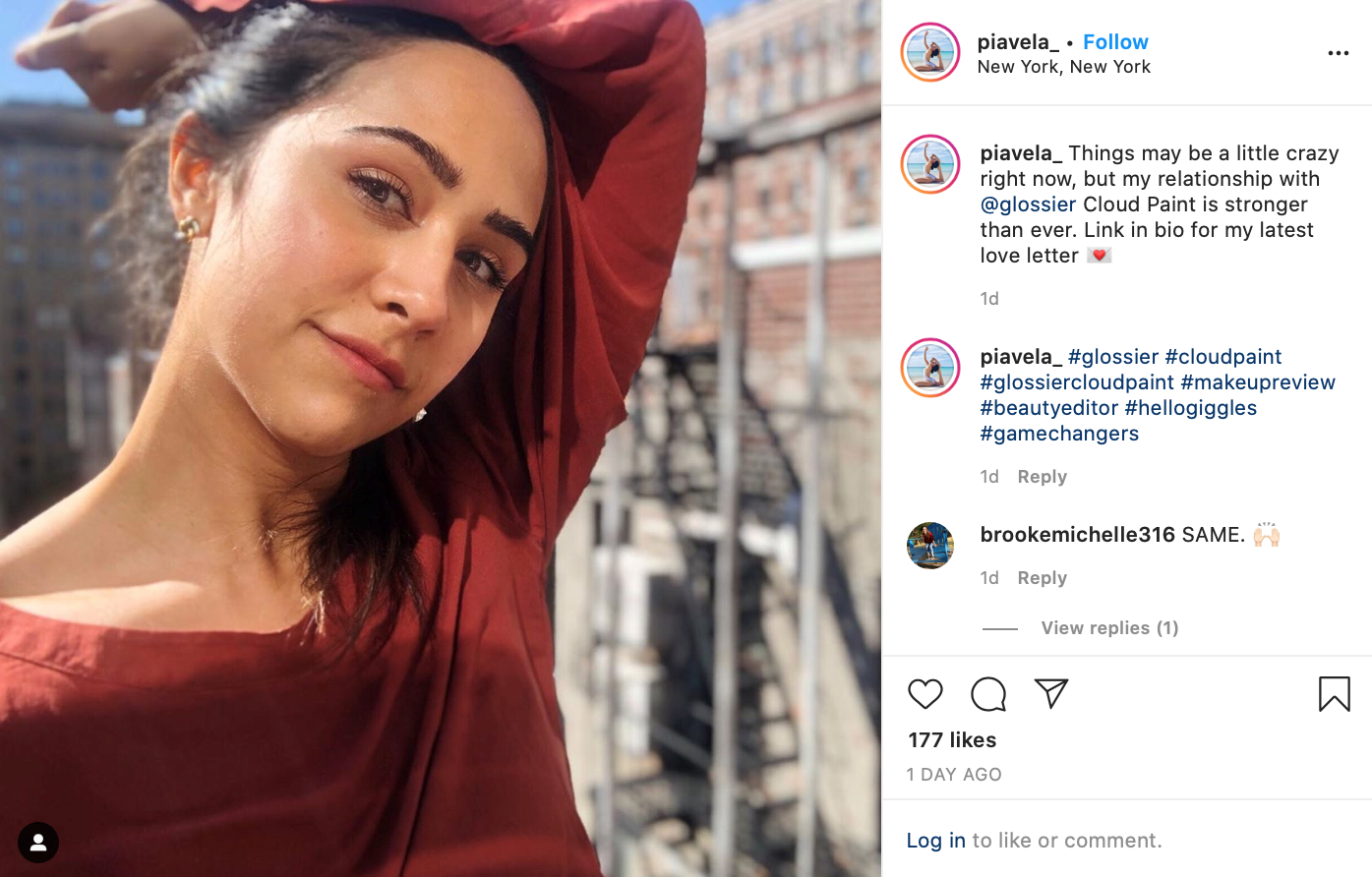 To gather all of the brand advocates, the company created closed Slack groups and a loyalty program with special promotions and member-only offers. The founder of the company Emily Weiss credits 90% of her company's revenue growth to word of mouth advertising from brand advocates, most of whom are in the 18-35 age range.
Emily Weiss,
Founder and CEO of the cosmetics company Glossier and the blog Into the Gloss

What's very motivating to us is this idea of every single woman being an influencer. In the wider world of beauty marketing, an influencer might be a Kardashian who charges thousands of dollars to broadcast a product to her millions of followers. At Glossier, the influencers are regular people — customers who engage with the brand on Instagram, Slack, and at pop-up events.
Apart from going viral, UGC content can also be used as social proof. For instance, Olay calls its community the "Olay tribe" and broadcasts the latest Instagram posts under #olaytribe hashtag on their website.

Make the purchase easy
Use shopping tags when marketing beauty products on Instagram. This feature is called Instagram Shopping and is now available in only a small number of countries, but hopefully, it soon will spread worldwide. There is also a checkout feature available in the US for a select number of businesses.
Instagram shopping tags can be added to organic posts and stories and are featured in Search & Explore. They look like stickers, labeling the products in the photo. If consumers tap on the tag, they are redirected to a product description page with the price and a link to the eCommerce site.
This makes the shopping journey much easier because your Instagram lead won't have to look for links and ask for prices.
Let's look at how Sephora promotes its eye cream using Instagram Shopping. There is a hero image in this organic post, where the cream is labeled with a shopping tag. Tapping on it, you see an "In this photo" card, featuring the product. If there are more products and shopping tags in a post, you can choose the one you are interested in. Choosing the cream, you'll be taken to a product description page with a link to the website.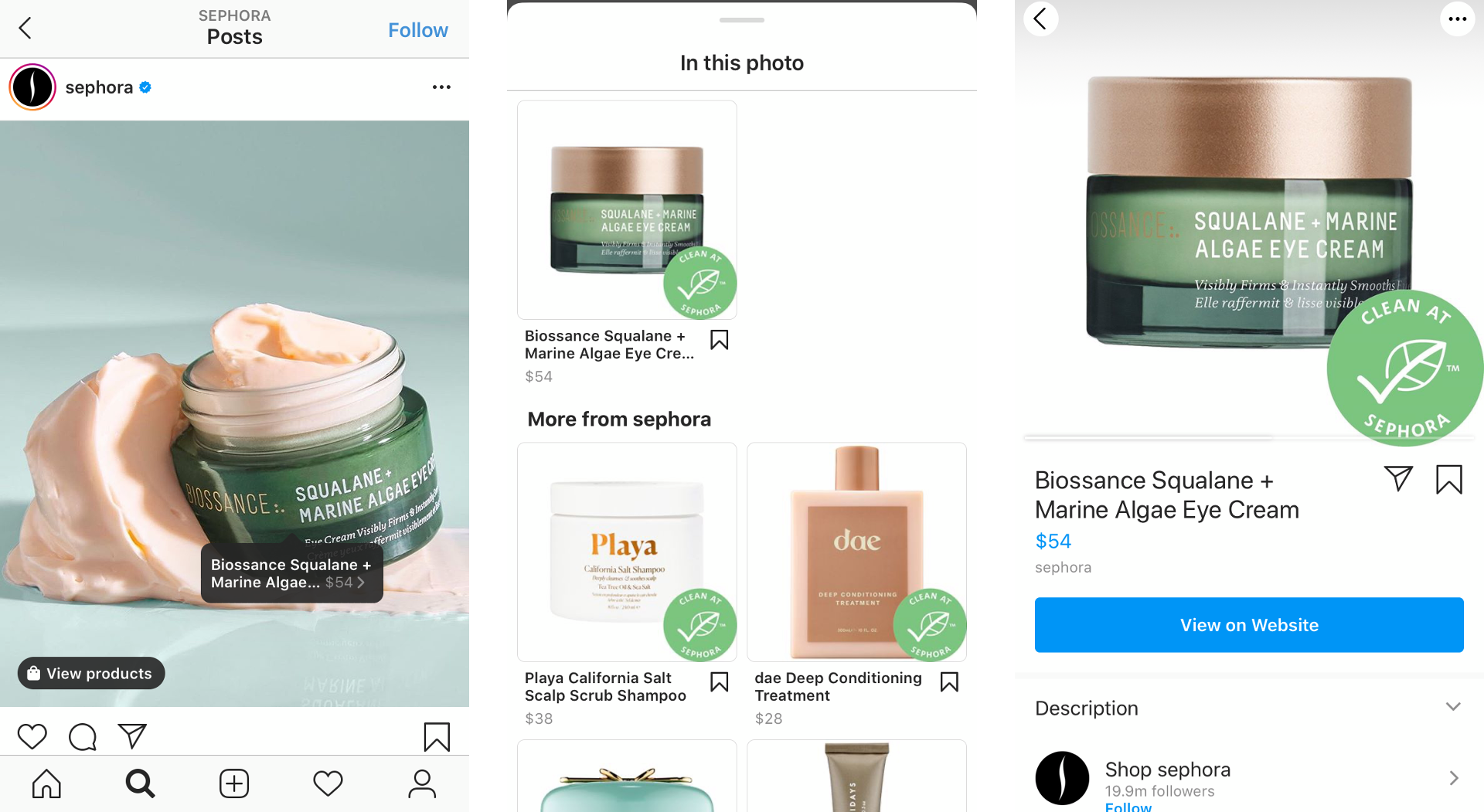 When it comes to beauty marketing on Facebook, an efficient way to drive purchases is to launch a Facebook Messenger chatbot.
A chatbot brings the in-store experience online and helps shoppers feel confident about purchasing online. Preload your bot with tips and personalized product recommendations based on skin or hair type and your customers will have a truly engaging experience, just like chatting with a beauty expert.
For instance, Bobbi Brown launched a beauty concierge that helps customers choose the perfect skin foundation.
Use retargeting and dynamic ads
Decision making always takes a while; the beauty industry is no exception. One of the ways to stimulate a purchase in beauty marketing is to use retargeting.
This tool lets you reach consumers that have already visited your website and re-engage them with personalized ads. This is how it usually works:
When creating a retargeting campaign on Facebook and Instagram, you can use:
CRM contact lists;
website visitors or app users, captured with your Facebook pixel.
This will allow you to create custom audiences and target them with tailored ads, for instance, to increase abandoned cart conversions.
One more tactic to adopt when marketing beauty products on social media are dynamic ads. To create them, you just need to upload your product catalog to Facebook or Instagram, and ads will automatically be shown to your visitors.
Case study: in 2019, the European brand, MyGlamm, used dynamic Facebook ads to reach more beauty shoppers and encourage online purchases. The company ran two campaigns: one for broad audiences to show them the products they were likely to buy and the second one – for retargeting and upselling existing customers. As a result, they achieved a 51% lift in sales.
Make the most of YouTube and TikTok
The main advice Google gives to brands when marketing beauty products on YouTube is to make what creators make. If we take a bird's-eye view of the content produced by creators on YouTube, most of it falls into three main categories:
inspirational videos;
educational videos;
exclusive videos.
Inspirational content means telling stories and letting the consumer discover new products or looks. Educational videos show how to apply products and share professional tips and recommendations. Exclusive videos are behind-the-scenes, getting beauty fans to the places they would never visit or introducing to people they would never meet.
That's how Glossier applies this content mix. Their YouTube channel is split into four playlists. They host "Get Ready With Me" videos featuring someone during their morning routines and this is an example of an exclusive video. The playlists "Feeling like glossier" and "Our products" are inspirational brand stories, and the "Makeup Looks" playlist is for educational tutorials.
Consider using TikTok in your beauty marketing strategy if you target Gen Z consumers. The content here can be promoted by influencers and ordinary people who take part in challenges.
For instance, Milk Makeup, a beauty brand uses short videos and original sound effects to create fun and appealing how-tos and hacks.
Another beauty brand killing it on TikTok is Sephora. Apart from showing cultural and gender diversity, they launch creative makeup challenges to go viral.
In their recent challenge, they promoted an eye shadow palette. The task was to create a look with colors corresponding to your city or area code.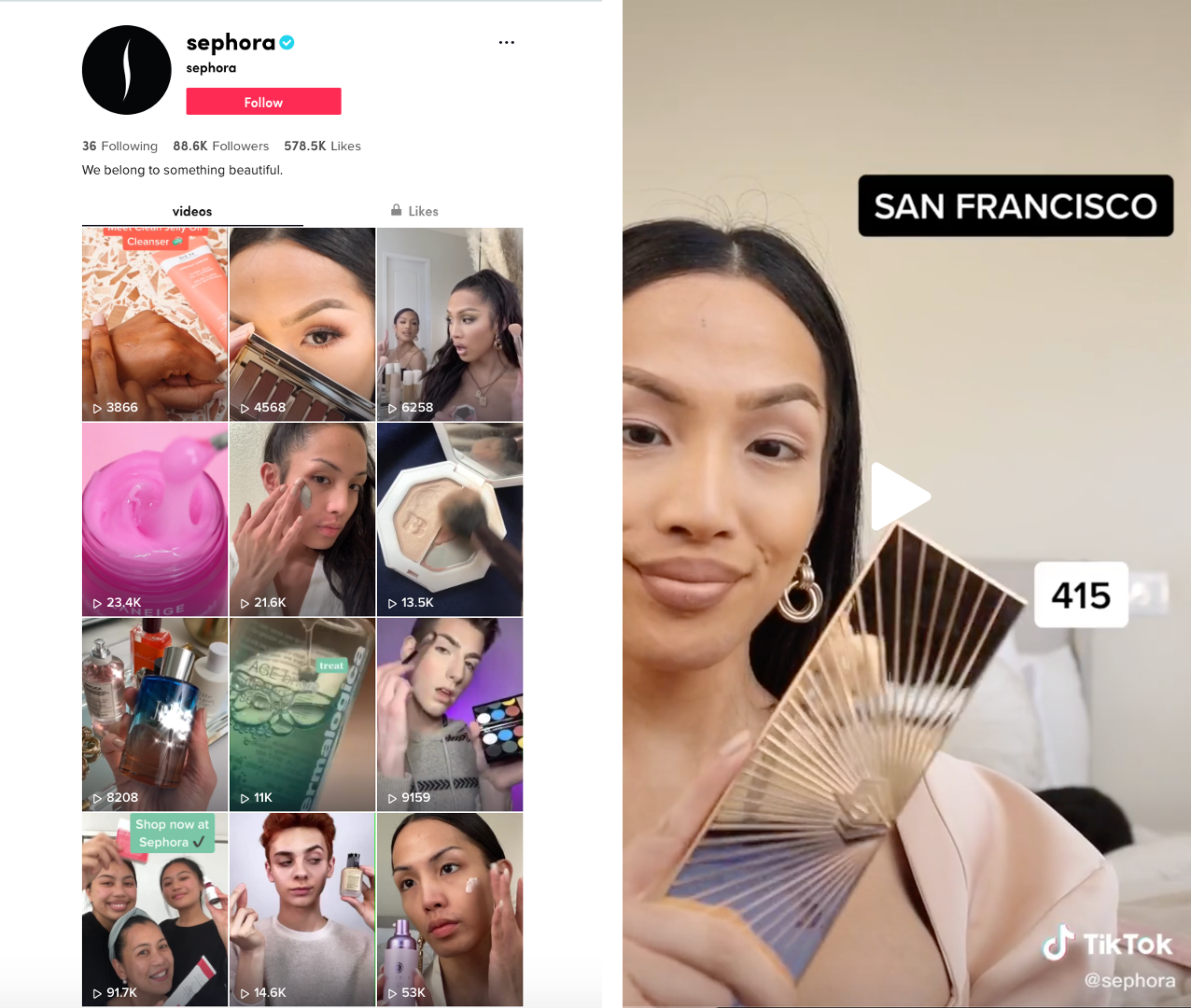 Mobile beauty marketing
Keeping in mind that the majority of consumers use mobile phones to discover new products, make sure your website is mobile responsive. That's the first and most vital thing to take care of. If you get it right, you won't even need to build a stand-alone mobile app.
For instance, Glossier doesn't have an app because its website is perfectly optimized:
it loads quickly despite having a lot of quality visual content;
it is easy to navigate due to a simplified site menu;
it is easy to take action, the main CTA buttons are bold and clear.
Here's how its website displays on mobile: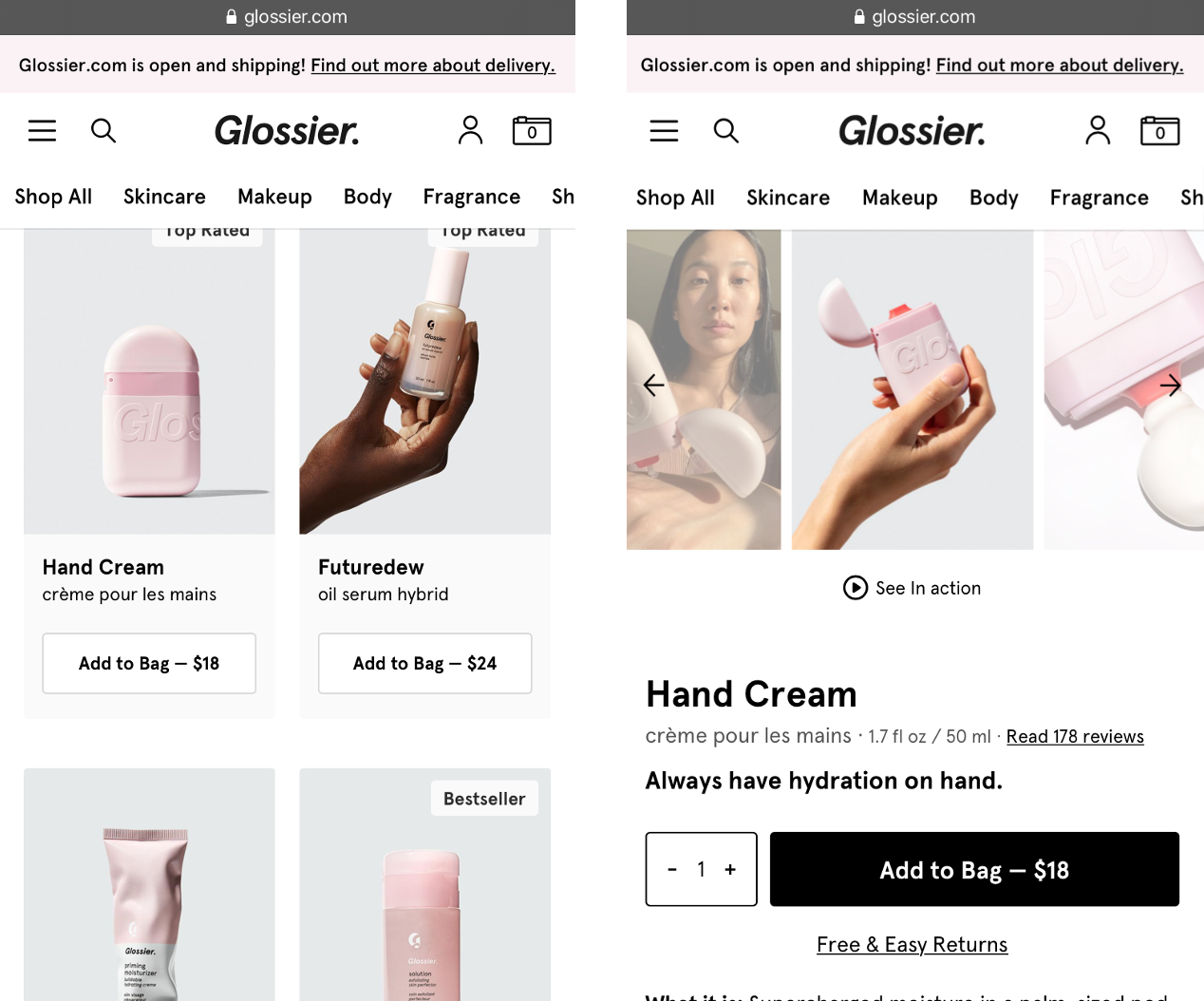 If you still have the ambition to create a stand-alone app, think about a unique experience it can offer besides simply mirroring your website.
Personalization is one of the biggest trends for 2023, so create something that shows you care about the way your product helps a particular person.
It could be a set of useful makeup tutorials, a nail color library, or even an immersive AR experience offering to apply products before purchasing.
Case study: one of the first beauty companies to roll out an AR app was L'Oreal. It was a lipstick-only app, offering users a chance to try on different colors virtually. Shortly after the launch, the company observed a significant increase in sales and built a full makeup AR app immediately. Now AR is used by the majority of big beauty brands.
For instance, multi-brand eCommerce beauty companies make apps to help their customers navigate the sea of brands and products available, offering insider tips and personalized product picks.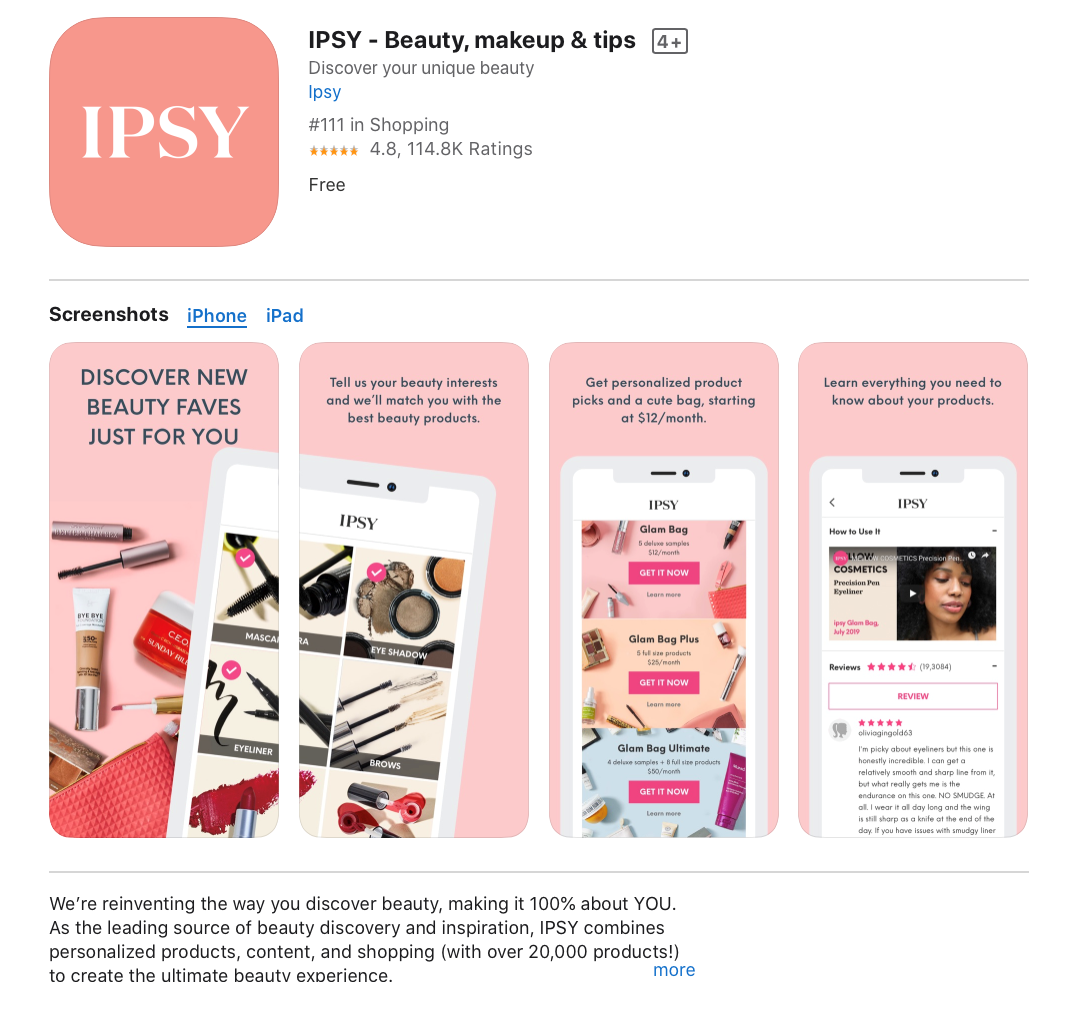 Other channels to fuel up your beauty marketing
If you have a brilliant social media strategy in place and a mobile responsive website backed up by an app, you are 70% of the way there. Let's talk about the rest of the channels you should employ in order to make it 100%, email marketing, and paid ads.
Email beauty marketing
Email marketing is still one of the best tools to upsell to your current customers and nurture leads.
Here are some of the latest B2C email marketing tips to adopt:
make use of customer's data to segment and personalize your emails;
experiment with different types of emails;
use authentic and useful content;
optimize your emails for mobile.
Brands usually use email marketing to announce giveaways and seasonal promotions or give personal discounts on special dates. There are also educational emails and even step-by-step tutorials. For instance, this is how Harry's uses emails to educate their leads on how to pre-shave in a funny and eye-catching way: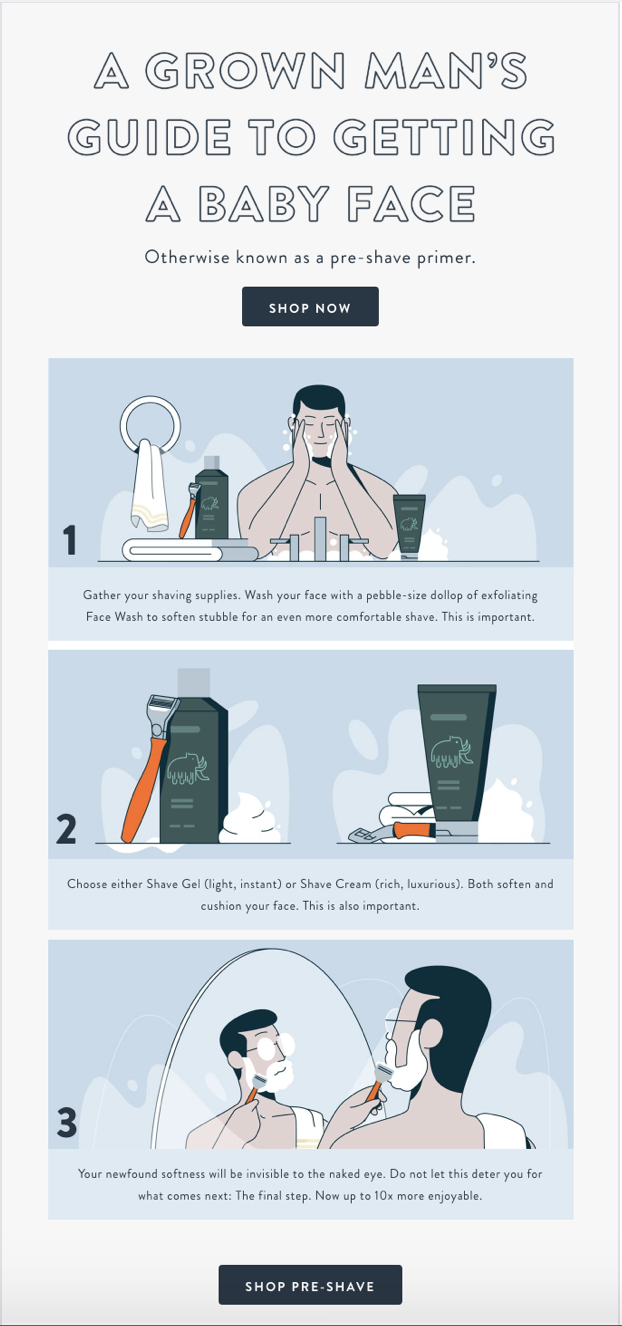 Paid ads
We have already talked about paid ads and retargeting on social media. The only advice left here is: use short video ads when possible.
Case study: WUNDER2, a global beauty and cosmetics company, used video ads on Facebook and Instagram to showcase their products and educate their audience on how to use them. As a result, they got a 9X increase in sales from new customers and a 3X increase in return on ad spend.
You can also promote your products on Google using Google paid ads. There are both search ads and shopping ads to play with.
Search ads help you get to the top of the search list when a person searches for keywords related to your brand or products. Beauty marketing best practices show that you'd better segment your ad campaigns:
for each brand, if you have several;
for each category, like skincare, body, and makeup;
branded and non-branded;
acquisition and remarketing campaigns.
To have a better click-through rate, make the most of your snippet and search ad extension. Mention your products' benefits and shopping perks: free shipping and returns, free samples, welcome discounts, and special prices for sets of products.
There are also Shopping ads that offer to showcase your products on cost per click and cost per engagement basis. They use your product images and descriptions — not keywords — to decide how and where to show your ads.
This is how product shopping ads look on Google:
To sum it up
The first thing to think about when marketing beauty products is that your consumers are likely to discover, evaluate, and purchase beauty products online to offline. That's why you should examine your consumers' shopping behaviors and be present at the main touchpoints:
Invest in social media marketing, as Instagram influencers and third-party reviews are the two main research sources for any beauty shopper.
Make sure your website is mobile responsive and build an app that doesn't only mirror the website experience but also brings something personalized and special.
Don't forget about digital marketing channels like paid search and email marketing, as they will make your efforts 100% effective.
Grow your customer base and sign up with SendPulse to upsell with efficient email and conversational marketing campaigns!