Influencer marketing is a type of marketing that uses influencers to promote a brand to a larger market. Influencers are opinion leaders with a social following base. They appear as experts or trustworthy sources of information.
In the video below, Influencer Marketing Hub unveils the meaning behind the term "Influencer marketing." The video also sheds light on what does and doesn't work on this channel.
If you want to explore the benefits of influencer marketing, grab some useful tips, and learn from some examples, read on. In this article, we'll also teach you how to start influencer marketing for your brand.
Why is Influencer Marketing Important?
Influencer marketing is closely related to social media marketing, as most opinion leaders gather their audience from social platforms. This channel gives you access to an enormous audience – half of the global population uses social networks.
Better yet, influencer marketing enables you to reach people you can't attain through traditional advertising. Two-thirds of consumers use ad blockers, but the same people willingly take advice from influencers.
Brands that already employ influencer marketing have proven the effectiveness of this channel. It's no wonder 17% of companies spend over half their marketing budget on influencers.
So, influencer marketing is crucial in the age of social media and ad fatigue. This channel helps build trust for your brand and drives impressive results. Now, let's move on to the other benefits influencer marketing provides.
Benefits of Influencer Marketing
Brand awareness growth
Content strategy enrichment
Quality lead generation
Cost-effectiveness
Influencer marketing is an effective way to improve your marketing strategy, reach business objectives, and even cut expenses. Let's get into details and find the benefits influencer marketing has for your brand.
Brand awareness growth
40% of marketers use influencer marketing to boost brand awareness, and this strategy works great. Opinion leaders share your brand's story, mission, and values with their follower base. It automatically expands your outreach and positioning online.
Content strategy enrichment
Influencer marketing is a golden opportunity to liven up your social media posts. You can repost the influencer's content or encourage their followers to create user-generated content, as 24% of brands do. You can also use blogger's images for other marketing channels, such as targeted advertising. To avoid problems with copyright, include it in the contract.
Quality lead generation
36% of brands use influencer marketing to generate leads. 72% of them believe that this channel brings higher quality leads compared to other channels. People generally feel positive about the brands their favorite blogger advertises. Better yet, some types of content, such as reviews, attract warmer leads in the middle stages of the sales funnel.
Cost-effectiveness
Other marketing channels require regular influxes of cash from your budget. For instance, to promote your brand through search engine marketing, you have to top-up your account on the advertising platform. Otherwise, your ad disappears from the search engine results page.
A well-thought-out influencer marketing strategy can drive better results for lower fees or even allow you to barter in the future. Another note on influencer marketing efficacy – on average, brands make $5.20 for every $1 spent on this channel.
Influencer marketing can contribute to your business by helping you grow brand awareness and online presence, as well as ensuring lead generation. Depending on your objectives, you can choose different types of influencer marketing campaigns.
Types of Influencer Marketing
Social media takeover
Affiliate marketing
Sponsored content
Unboxings
Brand ambassador programs
Since influencer marketing is around, brands and opinion leaders have developed various types of campaigns. Let's unpack some popular tactics that you can use in your influencer marketing strategy.
Social media takeover
This type of influencer marketing works great for growing your follower base on social networks. However, it takes a lot of courage as the brand delegates running its account to an influencer for an agreed period of time.
Most often, a brand lets an influencer manage their profile for a day. Another option is to invite an opinion leader to run a stream, as Miele did in the example below. They invited chefs Kyle Connaughton, Helena Rizzo, Gaggan Anand, and Paco Roncero to hold a series of online cooking events.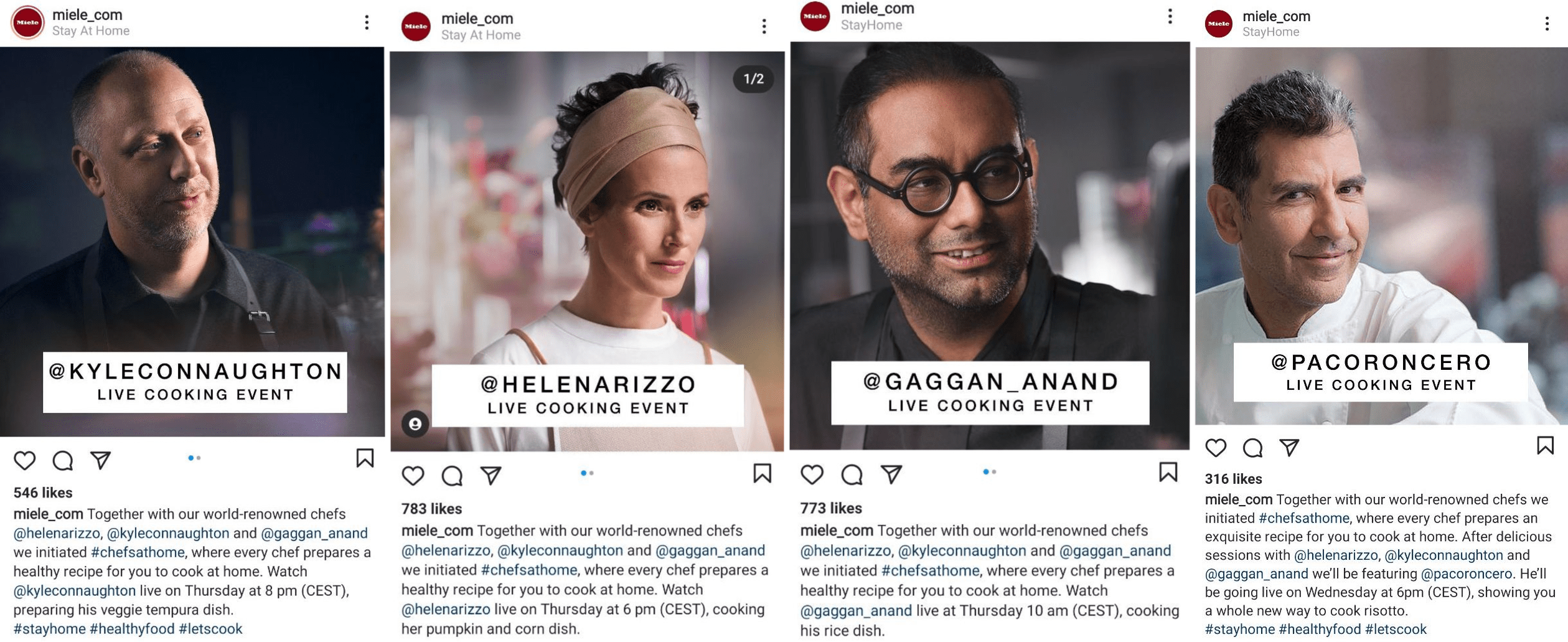 Affiliate marketing
Affiliate marketing is a relatively cheap and effortless way to generate leads. This strategy boils down to paying an influencer for each customer who came from their website or social media account. Meanwhile, you don't have to waste time choosing influencers and negotiating – simply publish an affiliate program on your website and wait.
Here is an example of affiliate marketing from The points guy blog, owned by the influencer, Brian Kelly. The blog is dedicated to cutting travel costs, and Brian offers ways to do so using credit, travel, and hotel cards. Apart from reviews, the blogger publishes offers from partners and gains points and benefits from each purchase.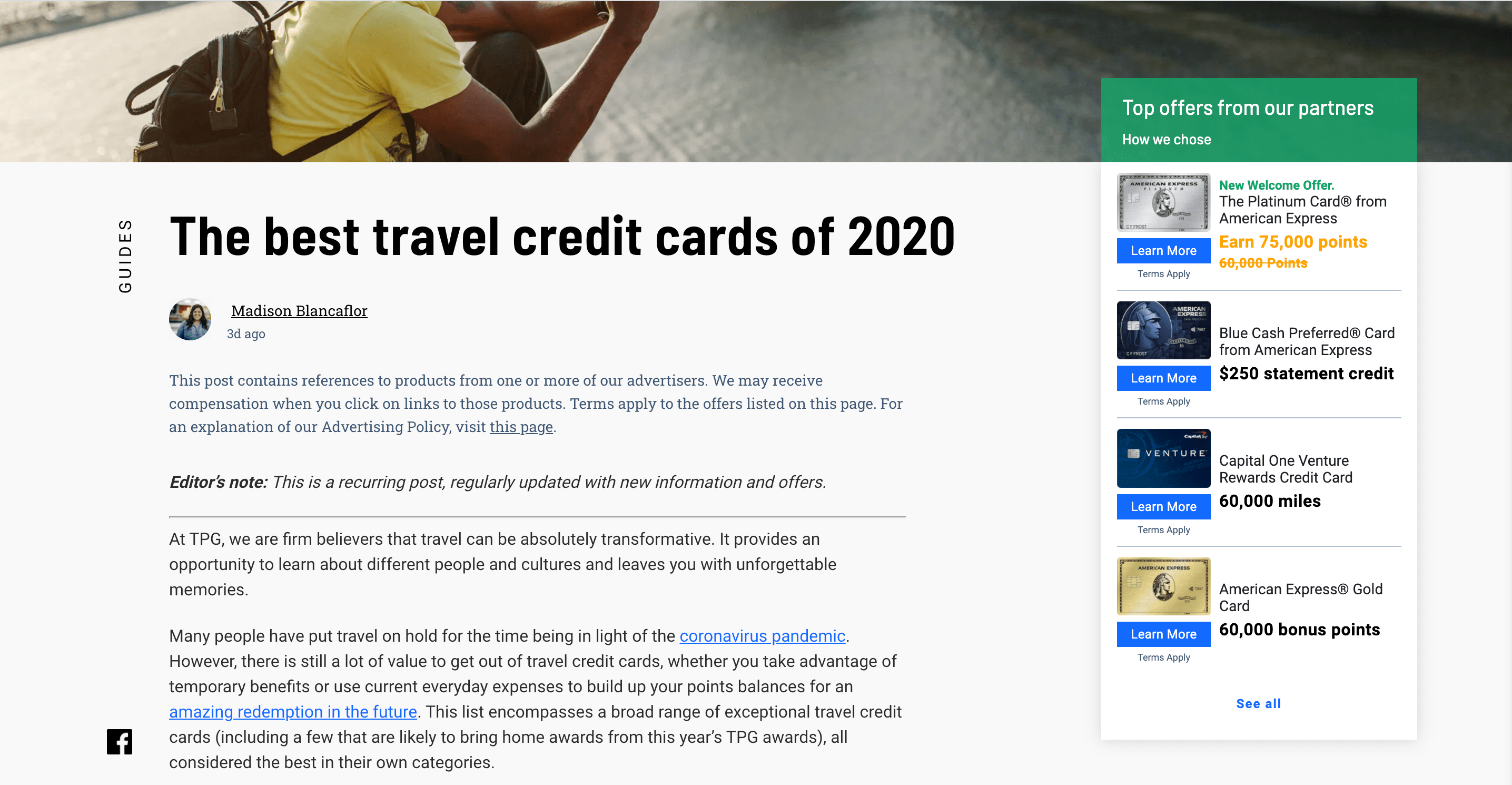 Sponsored content
This type of influencer marketing often appears on Instagram. Brands pay for publishing a promotional post on the influencer's account. The opinion leader takes care of content creation and puts out a post made according to the client's guidelines.
In the example below, jewelry brand Stone armory united forces with Gwen Rachel, who has over 200 thousand followers. The blogger took a picture of herself wearing Stone armory jewelry and featured the company's account in the caption.
Unboxings
Brands often send gifts to influencers hoping that the social media star will open and review them. It costs next to nothing compared with the fees influencers charge for advertising. However, this strategy is quite risky.
First of all, the opinion leader may not review your product at all. Another point is the influencer's negative feedback often becomes dangerous for brands. Finally, sometimes businesses lay themselves out to please bloggers but cut corners packing orders for customers, which drives backlash. So, work around these possibilities before employing this tactic.
The cosmetics brand, Too Faced, impresses influencers with breathtaking gifs for years now. Here is an example – YouTuber AleLaChula got the full collection of Too Faced products for free. The gift was so good the influencer created an unboxing video, which gained 45 thousand views.
Brand ambassador programs
Some people love specific brands so much that they are ready to promote them even for free. Influencers are no exception, so companies offer them brand ambassador programs. This tactic works because opinion leaders recommend their favorite brands heartily.
Sportswear brand, Lululemon, works with an extensive network of ambassadors and features them on its social media accounts. In the example below, you can see a video by Charlie Dark on the company's Instagram profile. Charlie talks about the ups and downs of 2020 and shows his friends wearing Lululemon clothing.
We've explored five common types of influencer marketing. There are many more of them, as influencers and brands united have limitless creativity. However, setting up influencer marketing for your company boils down to a simple algorithm. You'll learn more about it further.
Influencer Marketing Strategy
Define your target audience
Set goals and KPIs
Find the right channel
Determine your campaign budget
Pick the right influencers
Set up the campaign
It's about time to put your influencer marketing strategy into practice. To get the ball rolling, follow the step-by-guide we've crafted for you.
1. Define your target audience
Pinpointing your target audience is the core of every kind of promotional campaign. There are a lot of ways to find this group of potential customers. You may go for people who resemble your best clients. Survey your clientele and define what social media channels and influencers they prefer, the values they share, how they make purchase decisions, and so on.
If your goal is to win new audiences, you need to explore them from scratch. Start by answering the following questions about your audience:
Who are they? Define their age, social status, income, pain points, and so on.
What is their stage in the marketing funnel? You can rely on different marketing tools, such as Ben Hunt's customer awareness ladder.
What are their interests? To spot them, you can study content on the platforms your prospects prefer, find online forums and media, explore social media profiles, and so on.
What are their behaviors? Focus on the studies big brands and agencies publish. Opt for reports on social media, media consumption, or influencer marketing.
Encapsulate this data in customer profiles to keep it on hand and address the information anytime you need. To create a buyer persona, follow our comprehensive guide.
43% of people use social networks to research products before buying them. To make use of this, apply the jobs-to-be-done approach. Define why people search for your products and in which situations they use them. It will help you address their needs with your influencer marketing campaigns.
2. Set goals and KPIs
Like any other type of promotional campaign, influencer marketing can be used to pursue various goals. Your task is to form your objectives clearly, as the mechanics you'll employ depend on it.
Remember to set key performance indicators – they help you understand whether you achieved the desired outcomes or not. Here are examples of KPIs for brand awareness campaigns:
total outreach;
total engagement;
traffic to your website (e.g., views, uniques, clicks);
search interest;
media mentions.
If your influencer marketing campaign aims at sales or specific user actions, make them your indicator. In this case, the KPIs are the number of purchases, registrations, app downloads, email signups, and more.
Avoid setting several goals for one piece of content – contradictory calls to action confuse users and decrease your conversion rate. To get the best results, follow our guide on conversion rate optimization.
3. Find the right channel
Marketers believe that specific social media platforms can be more or less valuable for influencer marketing. 
However, Instagram won't necessarily be the best option for you. Pick a platform by relying mainly on your audience's interests, business goals, and the opportunities each channel provides. For instance, B2B businesses may benefit more from choosing LinkedIn. This channel accumulates 630 million professionals and 90 million senior-level influencers.
Take all the statistics above with a grain of salt. Eventually, the only proven way to find the perfect channel for you is testing. Pick several platforms your audience may be present on and run low-cost effective campaigns to choose the best option.
4. Determine your campaign budget
This step is essential, as total campaign outreach depends on the budget you allocate. Influencers set prices according to the size of their follower base, market rates, advertiser interests, and so on. Thus, a post on account with 1 million followers may cost you thousands of dollars.
If you're tight on budget, opinion leaders with smaller follower bases may be a better option. They can help you achieve your objectives for smaller investments. You can also test the effectiveness of influencer marketing for your brand nano- and micro-influencers.
Chances are a limited budget won't allow you to achieve all of the desired results with only an influencer marketing campaign. So, revise your goals and KPIs according to the resources you have when you get started.
5. Pick the right influencers
All of the work done in the previous steps flops if you choose the wrong influencer. For a perfect match, pick an opinion leader who shares your brand's values. Do not promote a sustainable fashion brand through shopaholic bloggers. Opt for influencers who advocate minimalism, zero waste, awareness, and so on.
Another problem with influencer marketing is the risk of scams and fake followers. To reduce the odds of being fooled, check the influencer's account carefully.
Look over the number of bots or fake subscribers that are subscribed to the influencer. To measure this, use special tools, such as trendHERO.
Make sure followers catch up with the influencer's updates. You can request account statistics on the engagement rate from the profile owner.
Beware of account duplicates – check the name and contacts several times.
Ensure that the influencer's audience is loyal. Some bloggers can gather more haters than advocates. Promoting through them won't get you new subscribers or sales, so examine the comment section.
Choosing the right influencer is arduous work. You can do it manually if you have a limited list of opinion leaders to work with. Another option is to use platforms to find and check influencers – such as Markerly or Klear.
6. Set up the campaign
On average, content creation is the influencer's job. However, you should communicate your campaign expectations and goals clearly if you want to achieve your goals. The best option is to craft a campaign brief, which includes the following points.
Define the platform and profile. Many influencers own several accounts on various channels.
Explain the campaign goals. Provide the opinion leader with clear-cut CTAs.
List messaging points. Create a roster of fewer than four things the influencer should say about your product.
The final recommendation is to develop a contract with a blogger. The document should clarify campaign details, duties of participants, the terms of content ownership, deadlines, desirable outcomes, and guarantees. Include any points you may find important or controversial and be precise about each of them. Remind the blogger to work according to FTC guidelines – federal rules that prohibit unfair or deceptive advertising.
How to measure influencer marketing success
Many brands struggle to measure an influencer marketing campaign's effectiveness. The ways to evaluate it depend on the goals and KPIs you set for the campaign.
If your goal is to boost brand awareness or social media visibility, track impressions, engagement rate, and outreach. The best way to do so is to request statistics from the influencer you worked with. If you want to track search interest and media mentions, do it with Google Analytics and internet monitoring software.
It's even easier to track leads and sales. You can use tracked links, which will show the source of each contact for purchase you receive. Craft them with UTM link builders, such as Tilda or Google Analytics. Remember to shorten links with special services – they will look nicer on social media.
Another way to track leads is to use promo codes. You can create a unique code for each influencer or the whole campaign. This decision depends on how detailed the end data should be. This tactic has one more advantage – it provides the additional incentive to make a purchase.
Use this algorithm to make sure you don't miss something important while launching your influencer marketing campaign. To take your influencer marketing to the next level, follow the tips we've prepared for you.
Influencer Marketing Tips
Look for engagement, not followers
Go for micro-influencers
Build long-term partnerships
Invest in video makers
There is a simple business rule: everything that can go wrong will go wrong. The tips below will help you reduce the odds of making crucial mistakes.
Look for engagement, not followers
Number of followers used to be the primary metric for evaluating an account. However, focusing on the number of subscribers alone is the wrong tactic. Assess the engagement rate as well.
To get statistics on this indicator, look at the numbers of likes, views, and especially comments. The latter provides the most useful insights – if an influencer has only emojis or one-word phrases in the comment section, it's a red flag.
Go for micro-influencers
When speaking about influencer marketing, brands often mean promotion through medium and mega influencers. These are accounts with hundreds of thousands or millions of followers. The truth is, opinion leaders with smaller follower bases can be more effective in terms of engagement.
As you can see in the table below, micro-and nano-influencers have the highest engagement rates across various platforms. Thus, promoting your brand through these accounts can bring you better brand awareness and sales.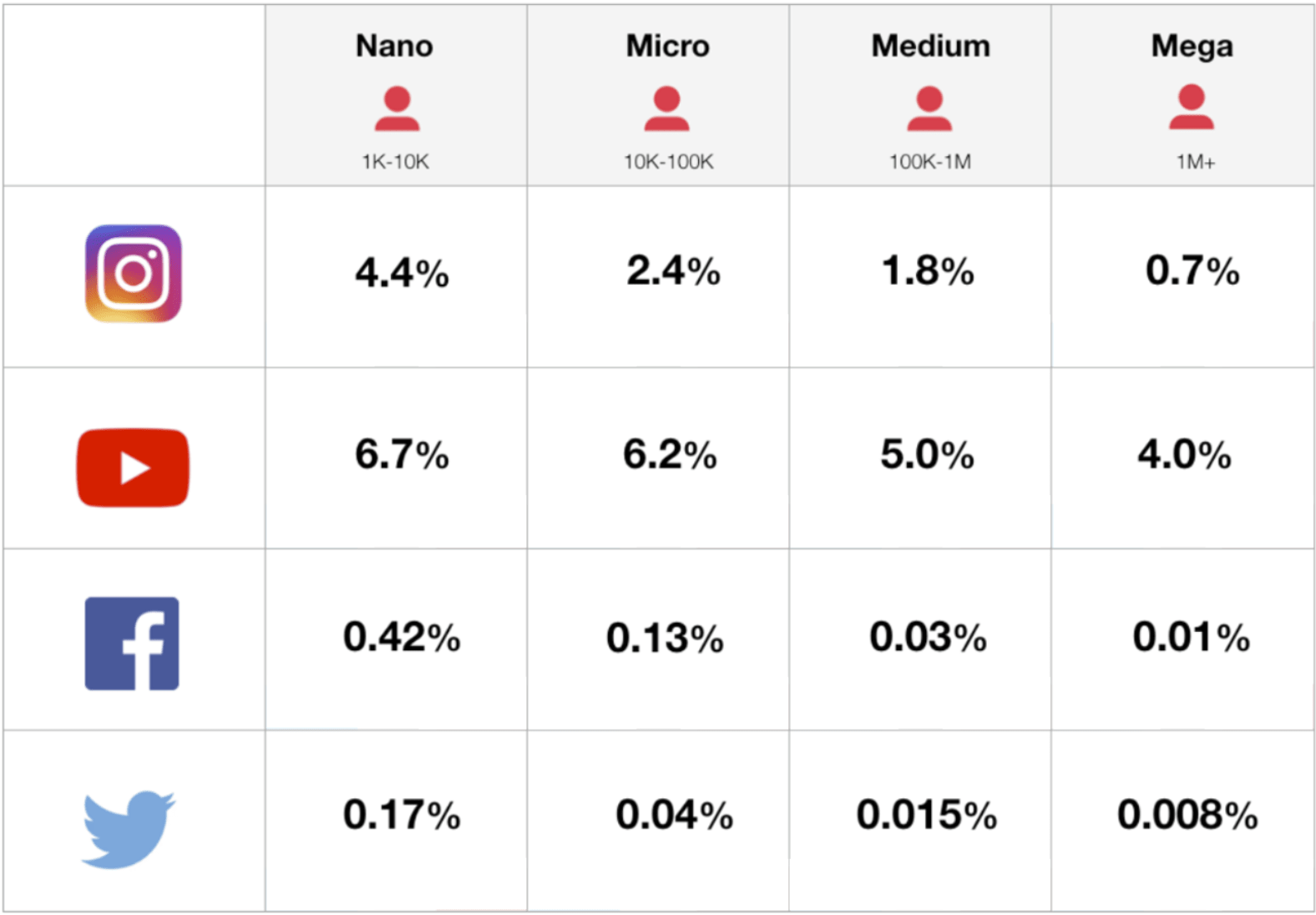 Build long-term partnerships
Working with several influencers is a more effective strategy than sticking to just one social media star. However, trying to embrace as many opinion leaders as possible is not the best tactic either. The best option is to make a list of bloggers and work with them repeatedly, building long-term relationships.
Consistency brings the best results – the core principle for various channels, including influencer marketing. When people come across your brand once and again, they are more likely to become paying customers.
Invest in video makers
Video grows more and more popular every day. Even now, 4 out of 5 millennials prefer videos to other types of content. Meanwhile, traditional video advertising on YouTube does not work so well – viewers hate intrusive commercials and block them. The solution for brands is to go for influencers, who create videos.

Although YouTube is the primary video platform, you can find influencers who work with video content on Instagram, Twitter, and other social networks. So, you don't have to sacrifice your target audience preferences to support this trend.
We've unpacked the definition of influencer marketing, its types, benefits, strategy, and some useful tips. Enough theory – it's time for practical examples!
Influencer Marketing Examples
Like any other marketing strategy, influencer marketing requires offbeat tactics. Let's explore some examples from brands that got creative and won the audience.
Daniel Wellington
Swedish watch brand, Daniel Wellington may be the most famous for influencer marketing. The company advertises mostly through opinion leaders across various platforms and countries. Now, the #danielwellington hashtag accounts for 2.3 million Instagram posts and thousands of YouTube videos.
Daniel Wellington focuses on influencers in lifestyle and fashion niches. In the example below, you can see a promotional post from Instagram influencer, Heather Poppie. The blogger shows an alluring picture of herself wearing Daniel Wellington watches and a ring. In the caption to this post, Heather offers a unique promo code to get 15% off a purchase from the brand.
Nike
Nike decided to go off the beaten track with its influencer marketing campaign. The brand promoted its Air VaporMax collection on the "What's Inside?" channel on YouTube.
Together, Nike and "What's Inside?" created a series of sponsored videos. It included a piece of content with Air VaporMax shoes in frame, an unboxing video, and the main video. The latter demonstrated a sliced pair of branded sneakers. This brilliant decision allowed the blogger to showcase the shoes and prove all their benefits while keeping viewers entertained.
Turkish Airlines
Turkish Airlines started their influencer marketing campaign unintentionally. The company just happened to be the only one flying to Somalia during the humanitarian crisis.
Snapchat influencer Jerome Jarre noticed it and launched a campaign with the hashtag #TurkishAirlinesHelpSomalia to raise money for the country. Within several days, the initiative got a lot of buzz and support from celebrities. As a result, the campaign raised one million dollars in just 24 hours.
In the video below, Turkish Airlines confessed they knew nothing before seeing the hashtag trending on Twitter. However, the company sent ten planes with drinking water and food to Somalia, and agreed to aid the country over the next six months. This move increased Turkish Airlines' brand awareness and reputation.
BECCA Cosmetics
BECCA Cosmetics builds its influencer marketing by collaborating with social media stars. Several years ago the brand coupled with Chrissy Teigen and launched a cosmetics collection. The announcement video generated just under 5 million views, and the brand decided to extend this practice.
In 2020, BECCA Cosmetics united forces with Barbie Ferreira, who has 2.3 million followers. Together the brand and the influencer produced a cosmetics collection called Prismatica. Both sides of this collaboration cross-promoted the product on their platform repeatedly and consistently. In the example below, BECCA Cosmetics showcases the product on their account, while Barbie demonstrates the makeup looks made with the palette on her profile.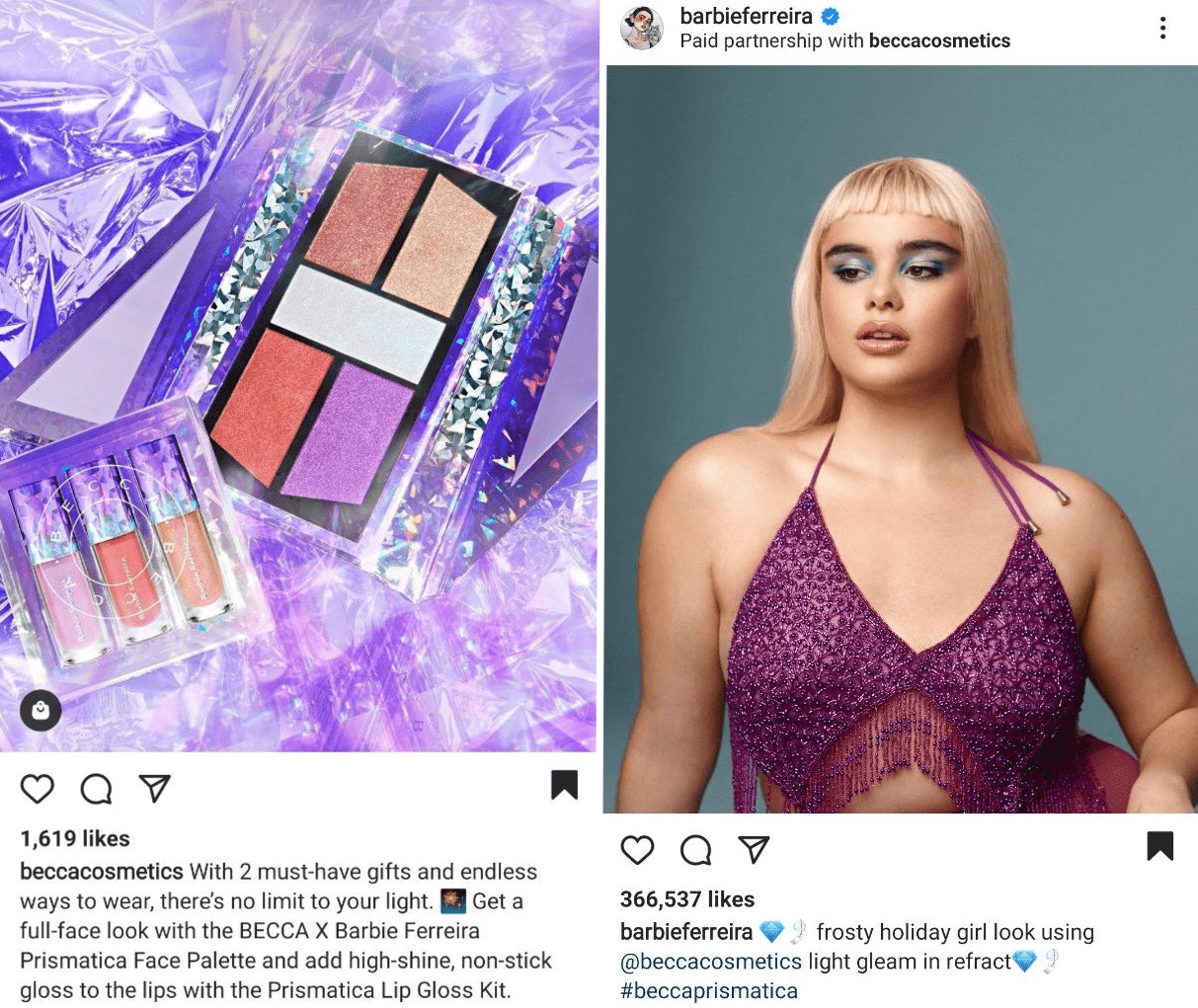 Influencer marketing is an effective way to strengthen your online presence, boost brand awareness, and acquire high-quality leads. To get better outcomes, combine this channel with others – email marketing, SMS, web push notifications, and chatbots. Register with SendPulse and apply them to your marketing strategy.
Last Updated: 07.09.2023