Search engine marketing (SEM) is a type of marketing aimed at promoting a website on search engine results pages. Securing your website a high position in search results, SEM helps you generate more traffic and gain more customers.
What is the difference between SEO and SEM?
It's difficult to avoid ambiguity while speaking about the differences between SEO and SEM. Pushing your website to the top of the search engine results page (SERP) may include organic promotion and paid advertising, such as PPC ads. SEO has always been viewed as organic promotion, while views on SEM have changed with time.
At first, the term SEM involved both paid and organic strategies. In this case, SEO appears as a part of SEM. However, now marketers use the phrase "search engine marketing" more and more for paid activities only, which makes SEM and SEO two different categories. To avoid confusion, in this article we'll use the word SEM for paid search advertising only.
Why is SEM important?
Coupled with SEO, SEM helps your business be on the top of search results in Google, Bing, and other search engine players. The first page of search results gets over 71% of all the clicks.
Search engine marketing becomes more and more significant as a traffic generation channel. While click-through rates of organic search results have fallen by 13% in the first quarter of 2019, SEM skyrocketed by 75% in the same span.
Better yet, audiences are loyal to SEM. 75% of people said paid search ads help them find the information they search for, and over 30% clicked on a paid search ad because it directly answered their search query.
This data shows that search engine marketing is a great traffic source and customer acquisition channel. Read on to learn how your business can benefit from SEM.
Benefits of Search Engine Marketing
Higher conversion rates
Better brand awareness
Immediate results
Consistent traffic
It's tempting to neglect paid search activities and invest in other marketing channels instead. However, SEM has tangible advantages. Let's take a closer look at some of them.
With all those benefits, search engine marketing looks too appealing to leave it on the table. Now it's time to discover how SEM works.
How does SEM work?
From a searcher's perspective, SEM looks like answers to their queries with "ad" or "sponsored" labels beside the search results. Search engines show them at the top of the results page. It helps paid ads gain more visibility compared to organic results.
From a marketer perspective, SEM appears to be a bit more sophisticated. Business professionals use a bunch of networks, such as Google Ads, Bing Ads, and so on. To start advertising, a marketer chooses the network and sets up the campaign by themselves.
To craft a campaign, you need to choose keywords – the words related to your promotion and used by searchers to find the information they need. For instance, if you are promoting running shoes, your keywords might be "running shoes" or "buy running shoes". You can use specific, or long-tail, keywords to target your audience more precisely. Another option to make your campaign more effective is implementing other criteria, such as searcher's location, age, gender, the device they use, or a certain time of the day to show ads.
Once your campaign is ready, SEM platforms decide when and where to show your ads considering competition with other brands targeting the same keywords. This system is called an Ad Auction. Your place on the SERP depends on the maximum amount you're ready to pay for a click and your rating on the platform.
There are a ton of visual formats for how your ads will appear on the search results page. Let's dive into this subject and unpack some popular types of search engine marketing.
Types of SEM
Text ads
Google shopping ads
Responsive ads
Local services' ads
Here's the point where the meaning of the term "search marketing" becomes a conundrum again. Referring to SEM as a whole lot of search promoting ways, we can divide it into organic search activities (SEO), paid activities, and local search, or marketing your business locally.
Meaning SEM as paid activities only, it's possible to talk about different types of ads used by search engines. Let's discuss the types the most popular platform – Google Ads – offers its users. Here are some of them:
Text Ads
This type is the most popular and easiest to craft. Text ads include headlines, body copy, and links to your website. Depending on the cost of the ad and the search engine, they may appear above, to the right of, or below organic listings.
Google Shopping Ads
This type of ad is based on the same principles of using keywords as the previous one. The difference is the visual part – Google shopping ads include pictures and prices. This format is perfect for selling products.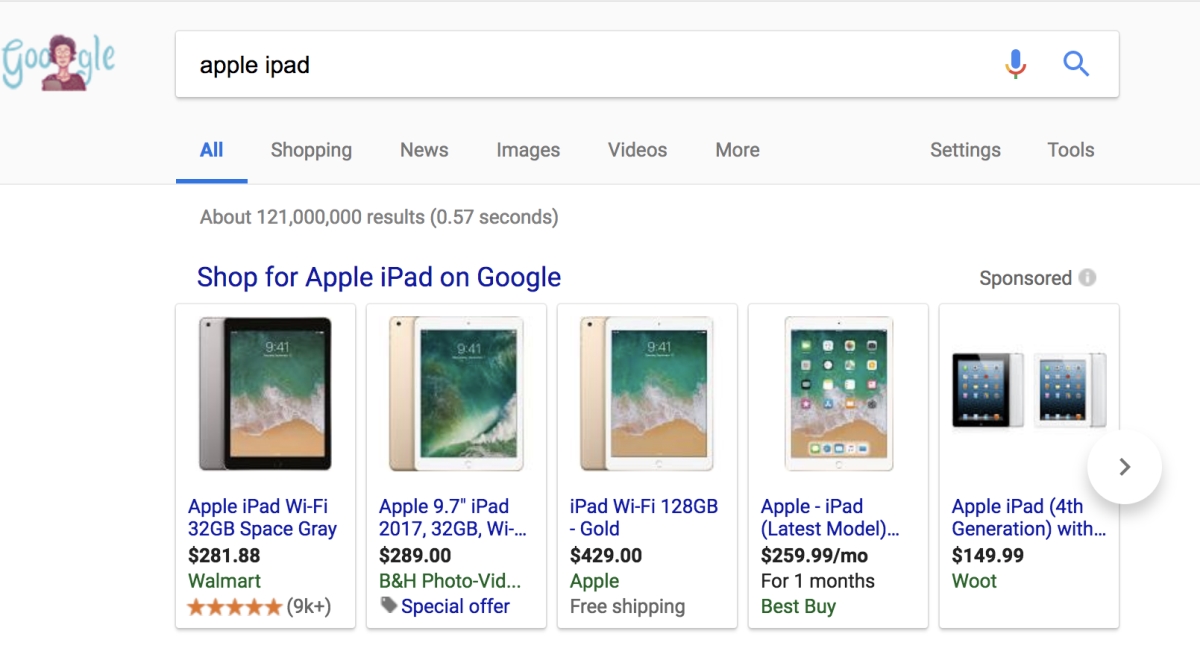 Responsive Ads
This format boils down to letting Google automatically adapt your ads to different searchers' behavior patterns. All you need to do is type several headlines and descriptions for your campaign; the ad platform will test all of the possible combinations and show searchers the top-performing ads.
Local Service Ads
This option was made for local businesses, such as coffee shops, plumbers, real estate agents, and so on. Local service ads allow you to advertise only in a certain area and receive leads directly from potential customers.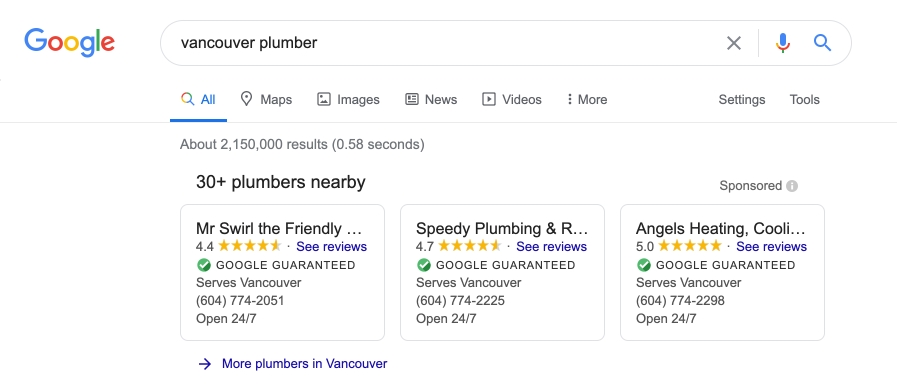 Although we've only listed Google ad types, other search engines use similar formats. For instance, with Bing, you can find ads analogous to text ads and Google shopping ads.
We've unveiled search engine marketing benefits, essential work principles, and several types of ads. Let's discover how to implement SEM in your marketing strategy.
How to Use SEM
Create a strategy
Collect a list of keywords
Add organic search promotion
Experiment with different types of ads
Check your campaign regularly
Launching a new complicated marketing channel from scratch can be tough. To make your experience with SEM smoother, stick to this list of the essential steps.
Create a strategy. Start by setting short and long-term goals for your SEM and align them with your business needs. For instance, if you want to gain more revenue, decide how many new customers you need to acquire to achieve this result. Then, define the amount of traffic you need and the budget you have. It will help you understand what campaigns, and with which frequency, you should use to meet your goals.
Collect a list of keywords. Before rolling out a paid campaign, generate a list of keywords associated with your business. You can copy keywords from competitors, generate them with online tools, such as Google Keyword Planner, or brainstorm with your colleagues. You are free to use more specific or general keywords and combinations of both. The main rule here is to only go for relevant words.
Add organic search promotion. Paid and organic search engine promotion activities work better together. Produced correctly, they reinforce each other and bring greater results. So, remember to add or tailor SEO to your SEM. To start search engine optimization from scratch, follow the tips from our guide on building an SEO strategy.
Experiment with different types of ads. Different types of ads may be more or less effective for certain businesses. To find the best option for you, try various ad formats, such as text or shopping ads. Test several ad platforms; chances are that underestimated paid submissions with Yahoo will be more effective for you than popular Google ads.
Check your campaign regularly. To evaluate the effectiveness of your search engine marketing campaigns, remember to keep track of their results. Check them once or twice a week to be able to make changes in case something goes wrong. Record all of the data and look for trends. 
These basic rules will help you roll out and maintain search engine marketing. If you want to take your SEM game a notch higher, you'll need to implement advanced strategies.
SEM Strategies
Voice search optimization
SEM automation
Device customization
Alternate ad platforms
Like every marketing channel, SEM changes every now and then. We've picked four strategies, which will help you stay on top and crush your business goals.
Voice search optimization
33% of adult audiences reported using voice search monthly at the beginning of 2019. Half of all searchers have used voice input in 2020. Voice search shopping is predicted to be a $40 billion market in two years. To stay ahead, you need to apply voice search optimization to your search engine marketing.
Unfortunately, it's easier said than done – options for voice search optimization are quite limited. However, you can adjust your search ads right now. First of all, include more long-tail keywords – it will help your ads appear in more search results.
Another trick is to make your content more conversational. Notice how people chat in everyday life and apply this style to your search engine marketing.
SEM automation
Investments in search advertising are predicted to reach over $151 million in 2020 with annual growth of around 6%. For marketers with limited budgets, this means colossal competition and, probably, a drop in conversion rates. Thus, you'll need to become even more creative to win the race.
SEM automation will help you get rid of routine tasks and find more time for planning strategies and activities. Consider using the Google Adwords automation features, such as smart campaigns, automated bidding, automated rules, and more.
Device customization
In 2019, 52% of internet traffic worldwide was generated on mobile devices. Probably, your potential customers see your ads on mobile screens rather than desktops. Track the amount of traffic from different devices and try to adjust your search engine marketing to the most prevalent type.
Optimize your ads and content connected with them for mobile to get more customers. For instance, Google mobile users would love to see ads with shorter headlines – 12-15 characters in comparison with 15-20 characters for desktop devices.
Remember to optimize the landing page for your ad leads too. Try to reduce the loading time to less than one second and make your webpage convenient for mobile users. You may also go for bigger buttons, lighter images, simpler design, and so on.
Alternate ad platforms
Google is considered to be the most popular platform for search ads – it makes up more than 70% of the market. However, the share of this giant has been falling for the previous three years, while other market players gain market share.
Take a closer look at other platforms, in particular Amazon. Not only this service is growing year after year, but it also has interesting features, especially for those who sell goods. The bottom line is Amazon ads have higher conversion rates; people may discover your brand on Google, but they come to Amazon with the intent to purchase. It makes Amazon ads the perfect channel to interact with your prospects in the lower stages of the marketing funnel.
Knowing more about SEM strategies, you may think it's time to call it a day. However, there is always some space for improving your performance. To take it to the next level, consider adopting some industry best practices.
4 Best Practices to Improve Your SEM
Personalize Your Ads
Create Urgency with Countdowns
Align Your Ads with Landing Pages
Use Similar Audiences for Remarketing
We've collected several best practices to help you enrich your paid search program. Think about implementing some of them into your search engine marketing strategy.
Personalize Your Ads
Personalization is a must-have for every marketing channel; it brings amazing results. Adding personalization to your marketing activities helps you return 5-8 times more money than you've spent. Better yet, it can boost sales by 10% or more. To make your ads more relevant for your potential customers, you can tailor them by device or by the audience.
Use IF functions in Google Adwords to craft personalized messages. For instance, you can offer different discounts to different types of users: new customers, returning customers, cart abandoners, and so on.
Create Urgency with Countdowns
People fear missing an important opportunity, for instance, a great offer or bargain. It is called FOMO, or the fear of missing out, and can be used successfully in all possible marketing channels. You can play on this psychological trait in search engine marketing too.
Add an element of scarcity to your campaigns by using a countdown timer in Google Ads. It will count days, hours, and minutes until a certain event. You can set up countdowns in any text, responsive search, and other types of ads.
Align Your Ads with Landing Pages
Don't underestimate the importance of search ads and landing pages they send searchers to. However, even if both are done perfectly, they do not always work their best in combination. If your ad doesn't match your landing page, people will leave without making a purchase. On the other hand, the harmonized landing page and ad lead to a 39% increase in conversion.
Make sure your ad and landing page have the same design, addresses the same audience, uses the same call to action and copywriting style. To get even better results, follow our guide on increasing the landing page conversion rate.
Use Similar Audiences for Remarketing
Marketers and business owners realize how important it is to know your audience. They create typical buyer personas and try to target people based on their demographic data.
You can do the same thing for your search engine marketing in two clicks. Google collects data about your existing remarketing audiences. Better yet, it can recommend showing your ads to people with the same interests. All you need is to choose a campaign, select the "Audience" tab, and click the "Similar audience" bar. According to Google, this simple move may result in 60% more impressions, 48% more clicks, and 41% more conversions.
Here are some popular practices brands use to improve the performance of their search ads. Let's learn a couple of new tricks from search engine marketing examples.
SEM Examples
Practice is the best teacher, but sometimes overlooking other brands' tactics leads to better results. We've picked several examples of search engine marketing from different companies for you to adopt.
Numbers for Higher CTR
Numbers have a magical effect on the human brain – we consider them more valuable and trustworthy. Thus, texts with numbers tend to outperform text-only ads. For instance, numbers in headlines resonate with the audience more than any other type of headline.
The same principle works in search engine marketing. According to WordStream's experiment, ads with numbers in headlines showed a 217% increase in CTR and a 23% improvement in conversion rates compared to the non-numbered ones.
The SEO agency Searchberg decided to make the most of the power of numbers and used them twice in their ad headline. At first, the company indicated the exact price for its service to underline the accessibility. Then, Searchberg added the number of days you need to see the result of their work. Combined, these figures create reasonable anticipation in prospects and boost the credibility of a company's proposal.
Sitelinks for more clicks
Extra links in search ads are a golden opportunity to hook more potential customers. You can tailor them to be shown on specific devices with tons of variables. It allows you to create a more personalized experience for different viewers and compose various calls to action. Better yet, sitelinks help you segment prospects instantly sending them to different landing pages.
The most significant advantage of sitelinks is their effect on conversion rates. Google claims that ads with sitelinks have a 10-20% higher CTR. To make those links even more effective, adjust them to the searcher's needs and keep them short and sweet.
Look at this search ad from the travel agency CheapOair. The headlines of each link are concise and straightforward, which makes them crystal-clear for a reader. Better yet, they are tailored to the searcher's query "Alaska cheap flights" – four of them offer reasonably priced plane tickets or great bargains.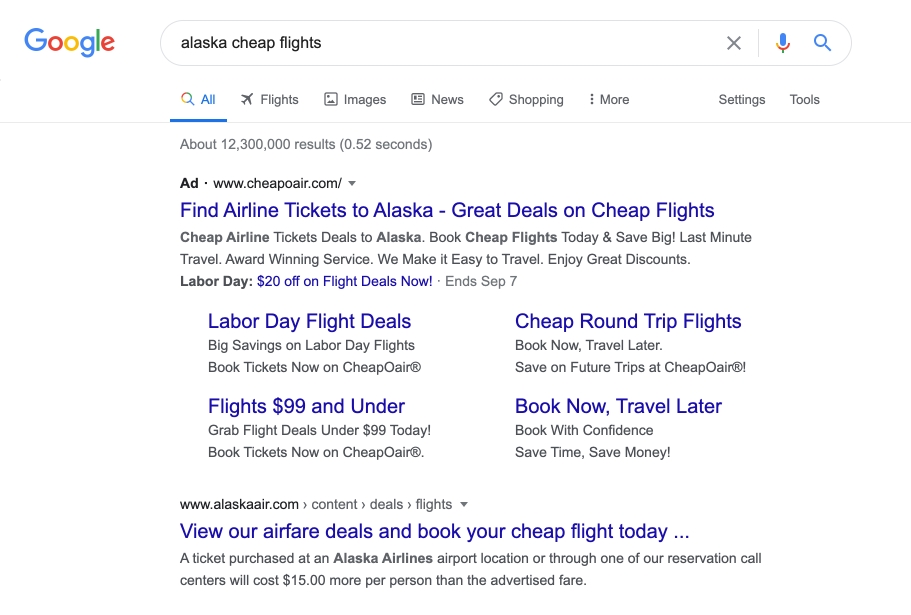 Social proof for better performance
Social proof underlies and increases the credibility of every business. The majority of people tend to believe user reviews as much as personal recommendations. Testimonials on sales pages increase purchases by 34%. So, the efficiency of social proof is beyond controversy, but you might wonder how to use it in search engine marketing.
The term "social proof" encompasses a wide variety of formats, such as case studies, influencer marketing, ratings, and so on. The easiest way to implement them in your SEM is to refer to your exact number of your customers, add brands you work with, or show your ratings. The trick here is to make sure the latter is high enough – consumers will ignore star ratings lower than 3.3.
EconomyBookings promotes its car rental service and refers to its rating on Google. The company has good marks – around 4.9, which sky-rockets its credibility. To increase it even more, EconomyBookings adds a reference to the reviews on its website. There is no possibility to show the exact mark, but the service makes an impression by writing the line "70k+ positive reviews."

Additional marketing activities can improve search results. For instance, email marketing provokes your subscribers to interact with your website more actively, which eventually affects its rankings. To reinforce your SEM with email and messenger marketing, web push notifications, chatbots, and more, sign up with SendPulse.
Last Updated: 22.03.2023