Customer experience management is organizing a company's interactions with the audience to provide positive experiences, improve satisfaction and build strong relations. It aims to study the client's behavior, analyze it and optimize your strategy accordingly.
In the article, we explain what customer experience management is and why it is important, highlight its benefits, and provide tips on managing customer experience effectively. We also describe the 5 best customer experience software.
Why is customer experience management important?
According to Smartkarrot, 89% of companies compete mostly based on customer experience. These statistics prove that customer experience management now plays a crucial role.
Markinblog states that retaining an existing client is 7 times cheaper than acquiring a new one. Generating new leads may be rather expensive because you need to spend costs on building a marketing strategy and product promotion. On the other hand, customer experience management allows you to save costs on launching large-scale advertising campaigns by retaining existing clients.
Providing positive experiences helps increase customer loyalty and satisfaction. According to the Semrush blog, 96% of satisfied consumers are more likely to tell other people about your brand. The same article states that word-of-mouth marketing influences 90% of purchases, so recommendations are a powerful way to increase your revenue.
Finally, loyal clients are 50% more likely to try new products than potential ones. This fact helps companies be more confident in their future launches and gain feedback quickly. Effective customer experience management means gaining more reviews from consumers and improving roadblocks immediately, which leads to faster company development.
Now you understand why working with the customer experience is so important. Discover more about the benefits of effective management below.
Benefits of Customer Experience Management
According to Salesforce, 80% of people believe that a brand's experience is as important as its products. In this section, we'll review the benefits of a positive customer experience for both businesses and consumers.
It allows brands to improve customer loyalty and increase profits. Gartner states that customer experience drives over two-thirds of buyers' loyalty. Effective customer management allows you to build strong relations with clients, increase their retention and turn them into regular ones. Moreover, it helps businesses drive more revenue because brands that provide excellent experience 14% are more likely to increase profits. You can charge higher prices as 86% of consumers are ready to pay more for an amazing customer experience.
It lets companies understand customer needs better. Effective customer experience management involves a deep analysis of the target audience's behavior. It enables businesses to provide more personalized experiences. Also, you can make more informed business decisions and create products that are necessary for the market. Customer experience management helps gain insights on required changes and optimize products immediately.
It helps increase sales. According to Semrush Blog, existing customers are 60–70% likely to buy new products, while new ones are only 5-20%. Focusing on retaining clients allows you to reduce the number of efforts needed to make a sale. You can create a product line and use loyalty programs and discounts for regular clients to motivate them to buy again. Also, you can increase the number of purchases by cross-selling and upselling.
It increases word-of-mouth references. 23% of consumers talk about their favorite products every day, so providing positive customer experiences lets you get more recommendations. Such free reviews are a powerful way to promote your products because 90% of buyers tend to trust a recommended brand. You can attract new clients and drive more revenue using word-of-mouth marketing.
It allows companies to reduce complaints and improve their reputation. Clients who have a positive interaction experience with a company are less likely to pay attention to small mistakes. They tend to provide feedback to the brand directly and highlight the aspects that need improvement. It lets you avoid crises and overcome them much faster because you discover the possible roadblocks immediately. Moreover, it can help you build a strong reputation and reduce the number of similar complaints in the future.
Building a strong customer experience management strategy is necessary in today's competitive market. We provide some steps to do it successfully in the next section.
6 Steps to Effective Customer Experience Management
According to Adobe, brands that provide consistent experiences have 1.6x higher brand awareness, 1.5x higher employee satisfaction, and a 1.9x higher average order value. Continue reading to reach such results and improve customer experience management in your team.
Study and segment your target audience. To satisfy customers' needs and provide positive experiences, you need to understand their buyer behavior. Start from demographics, preferences, and pains of the audience. Then define a few segments of consumers based on their differences and highlight the peculiarities of each one. Consider these groups to provide more personalized messages during every interaction.
Analyze your current strategy. Once you understand how your clients behave, it is time to discover the pros and cons of existing customer journeys. Collect qualitative and quantitative analytics to understand the roadblocks consumers meet at every touchpoint. Such metrics as reach, engagement, and conversions will help you discover the weakest parts of the journey, and buyer feedback can highlight the ways to improve them.
Align content and personalize it. Make interactions with consumers more personalized based on segments you have created. Remember that all customer experiences should be consistent, so it is better to align the messages you deliver. Define the company's values and use them as a basis for all messages you transmit.
Design a customer journey map. To deliver the right message at the right time, you should create a consistent buyer journey. Combine the touchpoints from the previous paragraph and think about how you can provide the most value during every interaction. Your plan should not finish after the purchase. Look for ways to increase customer lifetime value and motivate clients to buy again.
Build long-term relations. According to Markinblog, improving customer retention by 5% increases profits by 25-95%. That's why so many companies invest in building relationships with their clients. Use customer loyalty programs, and provide discounts and special offers to regular buyers. You should also develop an emotional connection because 82% of people with high emotional engagement always purchase from the brand they are loyal to.
Collect reviews and improve your management. In today's ever-changing market, it is not enough to build a customer experience management strategy at once. You should constantly track many different metrics, analyze them and optimize your interactions. Ask consumers for feedback and use this data for future improvement. You can also identify a few of the most important metrics to make your analysis more effective.
If some of these steps seem complicated to you, use one of the services discussed below. In the next section, we provide the top 5 best software to help you with customer experience management.
5 Best Customer Experience Software
According to LeanData, 75-85% of managers consider CRMs, productivity apps, email marketing, and social selling the most important ways to succeed in sales. This statement highlights the importance of using different tools for customer experience management. Discover more about the top 5 ones below.
SendPulse CRM
This platform offers many opportunities to track your interactions with consumers and optimize them. You can collect data about clients into the database, accept orders, control the stages of your deals and assign tasks to different sales managers. It allows you to streamline processes to increase buyers' satisfaction with excellent service. We provide the main features of SendPulse CRM below.
Deals management and sales pipeline optimization. You can add deals to the CRM, define their stages, assign them to different sales reps and control their success. It allows you to get a holistic image of the sales processes in your company. You can prevent clients from leaking out and reveal the cracks in your pipeline.
Well-defined database. Store all the information about clients in one place. It can help you gain more insights into their behavior and provide better experiences with every interaction.
Quick connections. You can connect with buyers from the opened deal or contact record to save time and solve problems immediately. Also, SendPulse lets you get in touch with consumers through email, Facebook Messenger, Telegram, or WhatsApp based on their preferences.
Integrations with other products. To provide more consistent experiences and automate your sales processes, you can integrate SendPulse CRM with other products. Launch email campaigns, answer FAQs in chatbots, use SMS and web push notifications to engage with consumers through different channels and satisfy the needs of different audience segments.
Pricing: CRM is completely free for one client. If you want to use it for the team, choose one of SendPulse email marketing paid plans.
Look at the screenshot below. Here you can see the client card in SendPulse CRM. It lets you collect all the data about your client and use this information to provide more personalized experiences and build stronger relations.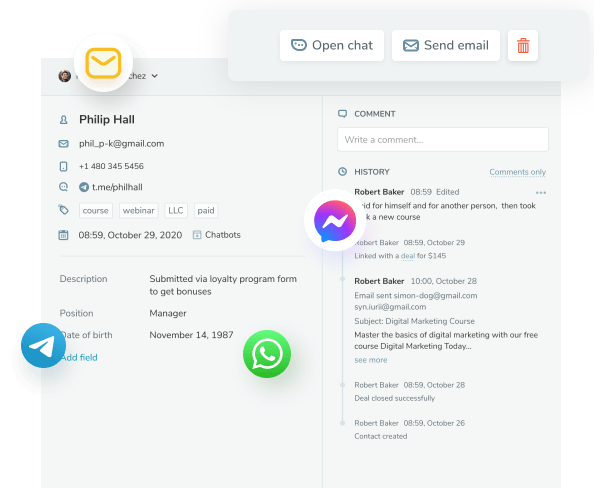 Medallia
This platform helps you track and analyze consumer behavior to gain insights and provide better experiences. You can use AI and machine learning to predict the clients' future actions and personalize every interaction. Also, Medallia offers a wide range of integrations your sales reps can use to serve consumers more effectively. Below are the main features of this service.
Data capture. You can collect information about interactions with consumers from any touchpoint and combine it with operational data. Also, you can gain sales reps' feedback to discover more ideas on how to improve the consumer experience.
Insights into interactions with consumers. Medallia provides analytics across all channels you use. You can discover more about buyers' behavior at each touchpoint and find out opportunities to improve their experiences. Additionally, the service helps with client segmentation and offers pre-built templates for deeper personalization.
AI to predict consumer behavior. This service allows companies to analyze their customers' journeys using machine learning and artificial intelligence. You can discover trends in people's behavior and predict them with dynamic dashboards.
Real-time analytics. This platform lets you calculate and analyze data automatically. Also, Medallia provides suggestions on how to improve your clients' experiences in real-time.
Integrations with other apps. You can interact with consumers through different channels, such as email, web push, SMS, messengers, and social media. There are also integrations with sales, service, collaboration apps, and various applications designed for specific business industries.
Pricing is discussed individually.
There is a dashboard interface in Medallia below. You can track consumer problems with real-time alerts and find out suggestions on how to provide better experiences to your clients.
Adobe Experience Manager
This cloud-based service allows you to manage content and paid promotions, conduct A/B tests and gain insights into consumers' behavior. Adobe Experience deals with social media, websites, and mobile sources, combines all the data, and creates holistic customer profiles. Discover more about the features of the service below.
Content management. This platform allows you to ensure that your content is consistent. You can use it to rapidly deliver information to consumers and automate some interactions across different channels.
Data collection. Adobe Experience collects information about clients in real-time, coordinates it, and provides insights about each customer. You can use these profiles to offer personalized experiences and make your engagements more effective.
AI analysis. This platform tracks and matches data throughout the customer journey to define possible roadblocks. You can use machine learning to streamline cross-channel processes and find new opportunities for development.
Digital documents. Adobe Experience Manager provides forms that let you collect customer responses and make end-to-end customer journeys faster. Consumers can enroll on any channel with a few clicks and e-sign securely, which helps you prevent potential clients from leaking out.
Integrations. This service has open data architecture and allows you to integrate with any platform or enterprise software system you need. You can collect real-time insights on consumer behavior and help sales reps optimize the service they provide during cross-channel communication.
Pricing is discussed individually.
On the screenshot, you can see the interface of the Adobe experience platform. You can choose the sections, such as segments, profiles, sentiments, etc on the left sidebar. On the main screen, there are recent datasets, sources, segments, and destinations. There are also recommended articles on how to improve your customer management.
Clarabridge
This platform helps you manage customer reviews, gain insights from their behavior across different channels and interpret the meaning behind the words during every interaction. AI manages data automatically and notifies sales reps if something unusual happens using real-time alerts. Below we provide more Clarabridges' features that can help you optimize your customers' experiences.
Natural language processing. You can collect and analyze data with a language processing engine from Clarabridge. It categorizes, evaluates, and creates a summary of every call automatically that saves your employees' time for more important issues.
Sentiment analysis. This platform provides lots of templates for different industries to study consumer interactions across the channels. You can understand the real meaning of buyers' words and their attitudes toward your company and use this data to improve roadblocks and design future personalized experiences.
AI-powered analytics. Artificial intelligence helps you identify potential clients who need personal support and provides suggestions to the sales managers on what to focus on. Also, you can gain insights into conversations with buyers and get to know if something goes off the script to react accordingly.
Integrations. Clarabridge collects insights on communication through social media, emails, and chats. The service provides over 100 pre-built connectors to integrate with different applications and effectively manage feedback.
Pricing is discussed individually.
Below you can see analytics provided by Clarabridge. You can discover more about consumers' activity, check the number of your company's mentions, and unique contacts and find out the types of the clients' actions.
Response Tek
This platform aims to collect customer feedback and provide insights on consumers' experiences and how to improve it. It helps streamline processes by responding to the reviews automatically and notifying sales reps only if it is required. Response Tek is cloud-based and can connect with many applications for you to make customer experience management more effective. Find out more about its features below.
Gathering customer sentiment and experience data. This platform lets you track customer demographics, behavior, and details of their journeys. You can manage this data in real-time and improve your service immediately. Also, Response Tek provides text analytics, sentiment, and social media analysis for you to create a more holistic image of the experiences you provide to your customers.
Targeted surveys and promoters classification. You can survey randomly selected buyers and ask them about their satisfaction with the experiences you provide. Response Tek classifies the most loyal respondents as promoters and helps you convert them into your brand advocates.
Trigger alerts. You can define the scenarios that need sales reps' immediate reactions. If some problems happen, they will get push notifications. Also, Response Tek sends alerts when your clients' follow-ups are missed.
Automatic reactions to consumer feedback. This service has a Listening Platform that can analyze people's reviews and answer them automatically. Responses are highly-personalized and fit the context. Moreover, if there is negative feedback, Response Tek notifies your sales reps immediately.
Real-time analytics. You can get an overview of the experiences you deliver at every touchpoint. The service provides automated on-demand reports and can combine customer experience analytics from different channels in one place if it is needed.
Pricing: 30 days free trial, then pricing is discussed.
There is a statistics page of ResponseTek on the screenshot below. You can discover the overall success of the customer experience you provide, track it by channels and rank your clients according to specific attributes.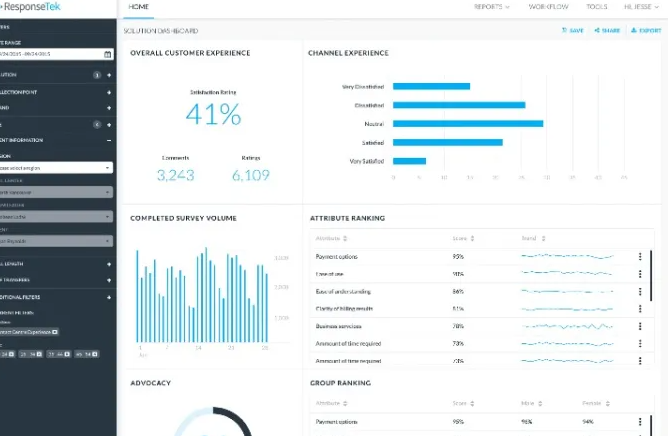 Congrats, now you realize what customer experience management is and why it is important, understand its benefits, and the ways to improve it. Also, you know the best platforms you can use to manage customer experience effectively.
Last Updated: 22.03.2023