Facebook Shops is an eCommerce platform that lets businesses easily sell their products on Facebook and Instagram. Sellers can set up custom online stores without coding, promote items through Stories, and connect with customers.
In the video below, YouTuber and marketer Andrew Ethan Zeng introduces Facebook Shops, leads you through the setup process, and gives some tips on how to launch an online store on Facebook and Instagram.
This article will focus on how to incorporate Facebook Shops into your business strategy. We'll explore the main benefits of this feature, share a step-by-step guide on setting up your store, alongside examples of Facebook Shops, and so on. Let's start by unveiling how Facebook Shops work.
How Does Facebook Shops Work?
Facebook Shops allow you to create a store on Instagram and Facebook from a commerce manager. Like other eCommerce platforms, this tool requires no coding or technical skills. All you need is a US bank account and a tax identification number.
You can build a store from scratch and manage it inside Facebook's ecosystem. Facebook Shops is an end-to-end shopping solution that encompasses promotion, sales, marketing, and customer support. However, you can add a store built on other platforms too. Facebook supports integrations with Shopify, BigCommerce, WooComerce, and more.
Announcing the Shops feature, Facebook declared it a mobile-first tool. Thus, Facebook Shops works perfectly for mobile shopping. Moreover, each store created with this service automatically adapts to any type of device and screen resolution.
Facebook Shops allows you to create collections of products, so you can sort your items and make your shop more convenient to browse through. Also, sellers can change their shops' design, colors, templates, and so on.
Another feature of Facebook's eCommerce platform is its built-in analytics. Commerce Manager provides its users with insights on their shops' performance. The metrics you can see depend on the type of shop you've created. For instance, if you launch a store on Facebook, you'll be able to track sales, visitors, and so on. If you have connected an existing shop to Facebook, Commerce Manager will show clicks on the product details page (PDP clicks) to the website and sessions.
Customers can access your Facebook Shop from your main Facebook page, Instagram profile, or via Instagram Shopping. To learn more about the shopping formats, Instagram provides, follow our comprehensive guide on Instagram Shopping.
Facebook Shops allows potential customers to contact you through WhatsApp, Instagram Direct, or Facebook Messenger. Here they can ask questions, get support, or track deliveries. Better yet, in the future, Facebook will let users make purchases directly within messenger apps.
Bear in mind, launched in 2020, Facebook Shops is a relatively new feature. Thus, it's only available in certain countries, and many of the features are still in the development. However, you should consider using this eCommerce platform since it provides alluring benefits to your business.
Benefits of Facebook Shops
Access to a promising audience
Lower marketing costs
Connect with customers
Mobile-friendly
Seamless customer experience
Over 80 million small businesses worldwide have pages on Facebook. This makes Facebook Shops a great decision for them as they are already present on this social network. However, Facebook Shops have a bundle of other benefits – let's unpack them one by one.
Access to a promising audience
Facebook gathers the most promising audience. According to Pew Research Center, 74% of people, who earn over $75,000 a year, have an account on this network. It makes Facebook the second center of attraction for high-income earners, after YouTube.
Better yet, a big part of this audience is ready to make a purchase. In the US, 15% of social media users shop or browse products on Facebook. 
Lower marketing costs
On average, Facebook is not considered the cheapest marketing channel. Targeted advertising on this network requires certain investments, though it drives great results. Building an online community on this social media platform also takes a lot of time and effort.
However, there is a trick you can use to do cost-effective marketing with Facebook. This network accounts for over 80% of social referral share to eCommerce sites in the US. In turn, referrals are one of the most robust channels for customer acquisition.
Facebook shops allow users to share items and collections via messenger and easily copy links. So, your task is to encourage customers to share your products on Facebook.
Connect with customers
Consumers deem quick responses and solutions highly important for quality customer service. Over half of customers say it's essential to have convenient ways to reach retailers and brands.
Meanwhile, customers prefer messaging apps to get in touch with sellers – 45% of global consumers have messaged a business. Almost a quarter of buyers make purchases through a messaging service directly.
Facebook Shops links your online store to WhatsApp, Facebook Messenger, and Instagram Direct. That makes this platform perfect for maintaining relationships with consumers and providing the support they need.
To stay tuned 24/7, consider connecting a chatbot to your Facebook Shop. This will help you instantly tackle the most common issues customers face. Build a chatbot for Facebook with SendPulse for free to stay in touch with your buyers around the clock.
Mobile-friendly
A poorly designed mobile website undermines all of your efforts to build and promote a webstore.
57% of customers won't recommend a site with an inconvenient mobile version.
Meanwhile, 96% of active Facebook users access this platform via mobile devices. Moreover, over half of the internet traffic worldwide comes from mobile devices. This makes mobile-friendliness crucial for sellers and online stores.
Facebook made its eCommerce platform with mobile users in mind. Facebook Shops allows you to create responsive showcases on Facebook and Instagram and adjust them literally with a single click.
Seamless customer experience
73% of customers say a good customer experience helps drive their buying decision. Eventually, a good customer experience leads to an increase in sales and revenue.
Facebook Shops is designed to provide a seamless customer experience. A customer browses through Facebook, easily accesses a shop from the search results page, finds the collection and item they are interested in, asks a question in a messenger, and purchases from the webstore page on Facebook.
Put simply, Facebook Shops provides your business with a set of benefits that facilitate your day-to-day processes of running an online store. You may wonder if such a tool costs a fortune or comes free. We'll discover that in the next section.
Facebook Shops Fees
If you build a shop in Commerce Manager from scratch and let customers check out on Facebook or Instagram, you'll need to pay a selling fee. Facebook automatically deducts the required sum from your payout.
The selling fee depends on the order total. For purchases over $8, Facebook takes 5% per order. If an order costs less than $8, your fee will amount to $0.40. Let's crunch some numbers to make things easier to understand.
Imagine that you sold a pair of running shoes for $15 to one customer and a pair of socks for $3 to another. For the first order, Facebook will charge you 5% of the price, or $0.75. For the second one, you'll have to pay $0.40.
If you sold both socks and shoes to one customer and sent it as a single shipment, you'll pay 5% of the total sum. So, the selling fee for the $18 shipment will be $0.90.
Facebook charges this fee to cover their expenses on maintaining the service and payment processing. Also, the selling fee includes your taxes, so you don't have to break through the red tape yourself. If you like this option, read on – we'll lead you through the Facebook Shops setup process.
How Do I Create a Shop on Facebook in 2021?
Sign up with Commerce Manager
Fill in your business information
Configure your settings
Fill in the Payouts section
Facebook designed Shops as an effortless and affordable tool for small businesses, so setting up your store here is easy as pie. However, there are certain requirements you need to meet before creating your Facebook Shop.
First of all, you need to be a Business Manager admin. If you don't have an account on Business Manager, follow Facebook's guide on creating one.
Secondly, you'll need a Facebook page and catalog in the same Business Manager account. Make sure you have "Manage Page" permissions for them. You can view and edit those permissions – this manual from Facebook will help you out. Once everything listed above is ready, you can move on to setting up Facebook Stores.
1.Sign up with Commerce Manager
Go to Facebook Commerce Manager and create a new account. Choose "Set up on Commerce Manager" to create a native Facebook Shop from scratch.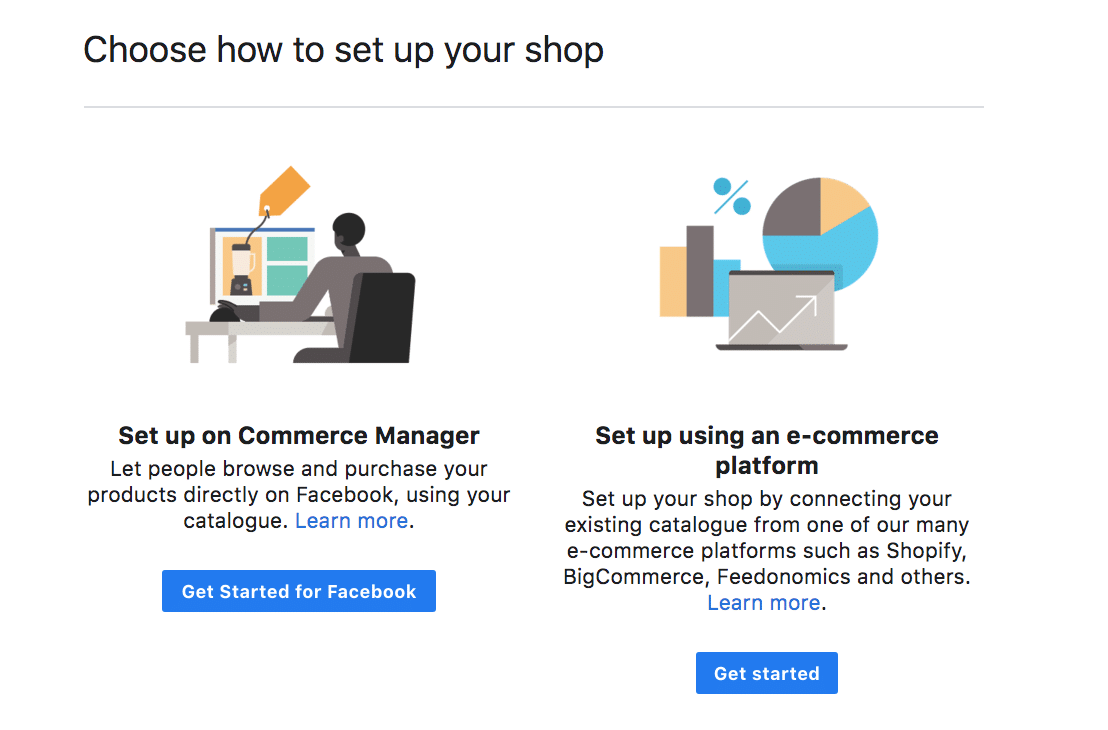 2. Fill in your business information
In the next step, you'll need to set up your business information. Click the "Set Up" button to move further.
Fill in your commerce account name, for instance, "Wow Running Shoes." A tip here is to give your new account your business's name, so customers can easily identify you.
Naming a commerce account. Source: Social media examiner
On the next screen, connect your Facebook page to a new Commerce account. If you have several pages, choose the one that matches your new account. For instance, it's better to connect the Wow Running Shoes shop to a Wow Running Shoes page instead of your personal account. An important thing to remember – your page has to be connected to at least one Business Manager account.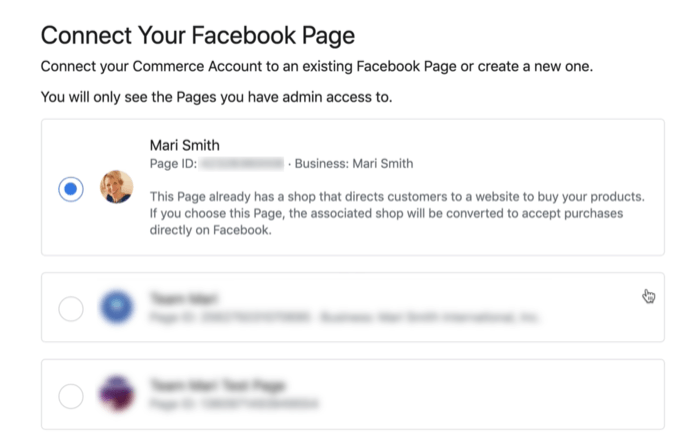 Moving on, link your Business Manager account and click "Finish Setup." If you have several Business Manager profiles, Facebook will show you each of them. Select the one that fits your new shop. Remember, you can't change the account once you connect it to the shop.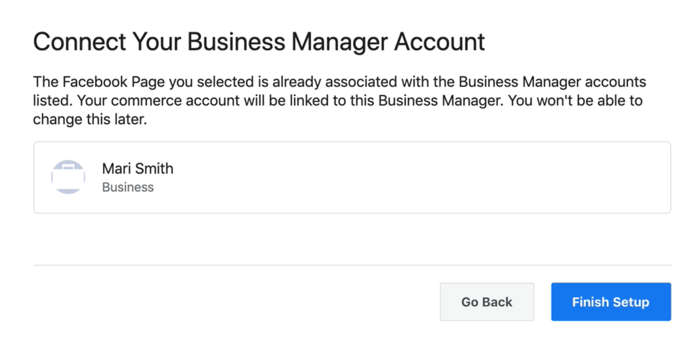 3. Configure your settings
In the next step, Facebook will redirect you to the very beginning to let you configure your settings. To get the ball rolling, you'll need a catalog – create a new one or add a catalog you've made earlier. You can only connect one catalog, but you can change the products in it any time you like.
Then, move on to setting up shipping options. Choose the price and duration for standard, expedited, and rush shipping. According to Facebook rules, you have to ship products within three days of a customer placing an order.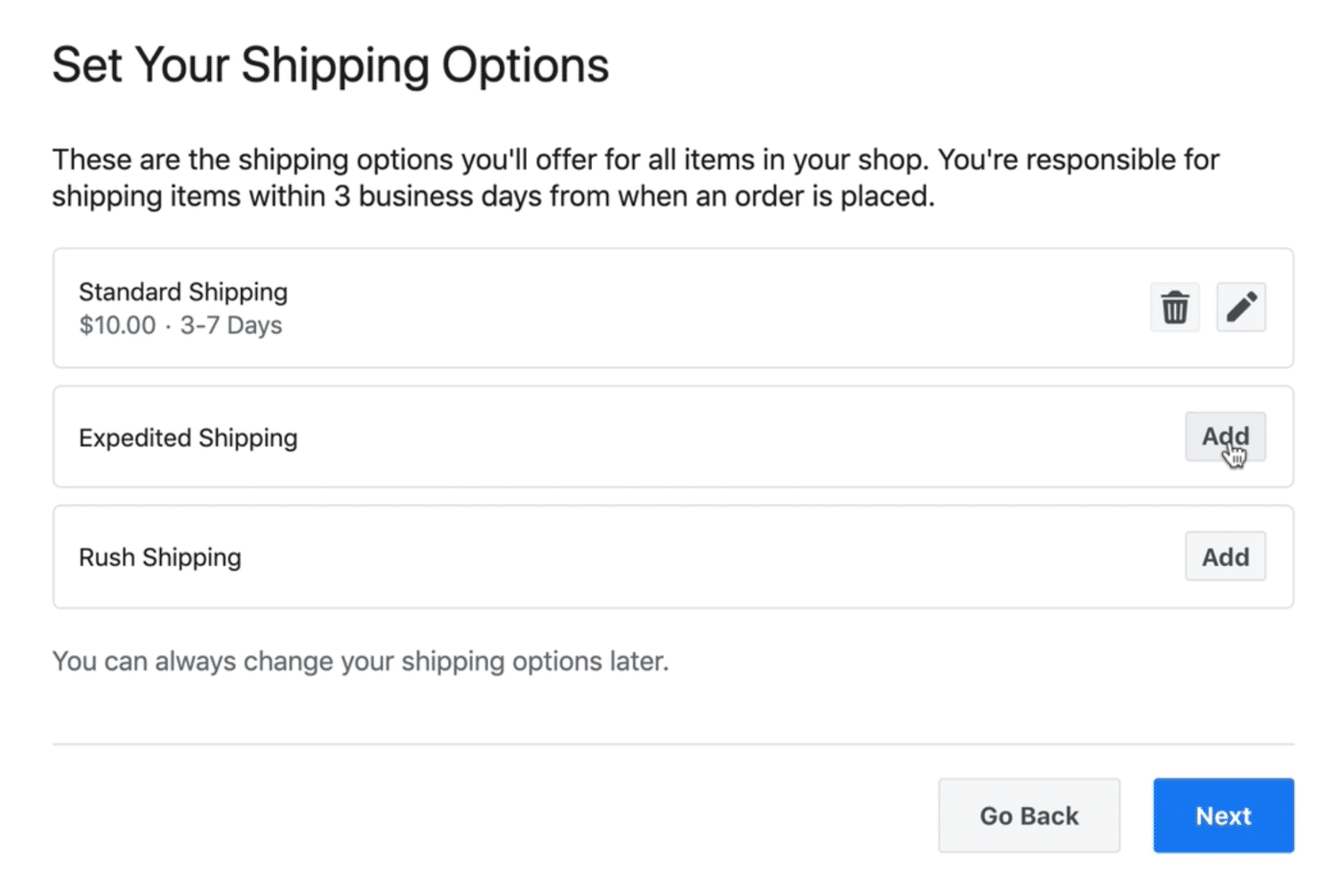 Once you've finished, click "Next" and fill in your return policy. Choose how much time your customers have to return an order to you and add a customer service email. These details are crucial, so without them, Facebook forbids you to proceed with setting up the account.
4. Fill in the Payouts section
Select "Get Started" under "Payouts" on the initial screen. Add your bank account details – you need an American bank account to proceed. Facebook will send payments to the account you've provided here.
Then, select the categories you sell from the drop-down menu. For instance, for a running shoe brand, they might be apparel or clothing.
In the next step, choose the state you do your business in. Provide your tax registration number if you have brick-and-mortar stores in this state. You can skip this stage if you only work in eCommerce or if the Facebook Shop you're creating is your first business experience.
Next, you'll see the Tax & Representation page. Select your business type and add personal data for your business representative.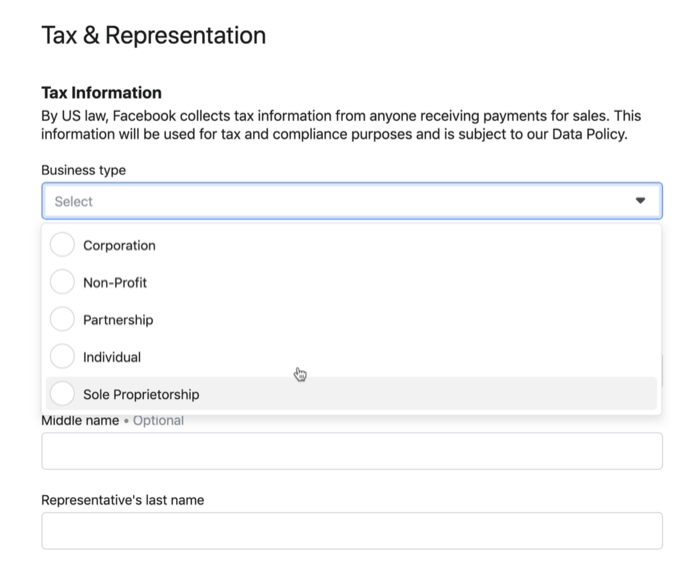 That's it – your Facebook Shop is set up. Now you can move to adding products to your catalog and styling your storefront. It's a fairly easy and intuitive process. However, if you need help, follow the instructions from Facebook. Here are some guides that will come in handy:
Creating a Facebook Shop is the easiest part of eCommerce. To entice customers and drive sales, you'll need to promote your webstore. Follow our comprehensive guide on Facebook marketing to build your promotion strategy.
We've explored the theoretical part of launching a shop on Facebook. Now it's time to move to practice and get a dose of inspiration.
Facebook Shops Examples
Based on Facebook Shops or not, an eCommerce business is a complex undertaking, which cannot be fully embraced in a single article. If you want to get some useful tips and insights on setting up and promoting your webstore, explore our guides on eCommerce marketing and online business.
Below we'll take a look at three examples of Facebook Shops. Each of them can teach you how to design a webstore that attracts customers.
The Animal Rescue Site by GreaterGood
Enticing images are the cornerstone of success in eCommerce. They ignite a prospect's interest in your products and create a desire to buy from you. Thus, you can't downplay the importance of images in your Facebook Shop's product catalog. The Animal Rescue Site by GreaterGood is no exception when it comes to stunning images.
To make its Facebook Shop more alluring for customers, the non-profit selected Instagram-like photographs instead of simple product images. Below you can see the shop's pictures, that transmit the company's values and provoke heartwarming feelings in customers.
Vans
The importance of the layout of your store is nothing to sneeze at when it comes to eCommerce. A sloppy showcase clattered with an assortment of different products will scare away potential customers. Meanwhile, a well-organized layout will facilitate shopping and increase your sales.
The shoe brand, Vans, knows a little something about the magic of tidy layout. On it's Facebook Shop showcase, the company has detached a fresh collection into a separate unit to make it easily accessible for customers. Other items are sorted by complementary colors.
Artifact Uprising
This brand provides another example of a perfectly designed storefront. Facebook Shops gives users the opportunity to create collections and sort products. Artifact Uprising makes the most of it.
Below you can see the brand's Facebook Shop with a handful of collections. Each of them is created according to the issues customers face and framed with perfectly harmonized images.
You can boost the effectiveness of your Facebook Shop by retaining your customers. The only way to do so is by building a long-lasting connection between your brand and buyers. Use other marketing channels to do just that. Sign up with SendPulse to start sending email, web push, SMS, and chatbot marketing campaigns to make the most of your eCommerce business.
References
In the article "Introducing Facebook Shops: Helping small businesses sell online," Facebook explains what exactly Facebook Shops is and what opportunities this feature provides to small businesses.
If you need to set up a Facebook Shop with Shopify, follow Oberlo's guide "How to set up a Facebook Shop in 2021".
Last Updated: 24.08.2023