An online business is a business conducted entirely on the internet. Online business may encompass selling goods and services, as well as SaaS solutions.
In this video, Alex shares valuable insights on how to start a business from home, specifically through online education.
Why does your business need an online presence?
The growing popularity of eCommerce is the number one reason to start your business online. According to Nasdaq, by 2040, consumers will make 95% of their purchases online. In 2020, the number of digital buyers worldwide reached two billion people.
An online presence increases trust in your business – customers feel more confident when they can connect with a company effortlessly. Meanwhile, the internet is crucial for easy access to a brand. According to Microsoft research, the share of people who prefer to get in touch with businesses online is growing. In 2017 alone, the number of customers over 35 using social channels to reach brands doubled.
Lastly, an online presence helps you build strong, long-lasting relationships with your customers. According to a KPMG report, clients stay loyal to businesses if they provide excellent customer support and personalized experiences.
It's not a coincidence that the largest online businesses are famous for their aspirations to maintain profound connections with their customers. In the next part, we'll look at the internet's largest businesses.
Top 10 Online Businesses
Online is a complex realm that encompasses tiny startups and businesses with whopping market capitalization. Here are the Top-10 online companies worldwide:
Amazon – an American internet-based retailer of a wide swath of products;
Alphabet Inc. (Google) – an internet search giant leading in search, contextual advertising, and other online offerings;
Facebook – the world's most popular social network.
Tencent Holdings – an Asian online tech giant best-known for its messaging service WeChat;
Alibaba – a Chinese e-commerce giant;
Netflix – an American video streaming company;
Salesforce.com – the most well-known CRM system provider;
JD.com – a Chinese e-commerce company;
Booking.com – an online travel company that lets users book reservations for restaurants, hotels, rental cars, airline tickets, safaris, cruises, and other travel services;
Baidu – a Chinese search engine.
As you can see, the top earners include eCommerce websites, multimedia services, B2B software, search engines, and so on. This means that there is a place for almost any type of good or service online. Mull over the business niche you'd like to fill – the next part will give you some hints about it.
Online Business Ideas
Direct sales
Virtual assistance
Amazon FBA store
Affiliate marketing
Puzzled over what idea to choose for your online business? To get the ball rolling, think about your existing strengths and skills first. You can apply almost all of them to an online environment. For instance, if you've been working as an HR manager for a while, you can offer consultations and resume creation online.
If you think deeply and get creative, you may find a way even if you can not perform your work online. Let's say you're a general contractor, and you need to be on the spot physically to do your job. In this case, you can launch an online course to share your secrets of craftsmanship with colleagues.
If you stick to this approach, your experience and expertise will work in your favor. However, if you want a fresh start, look at the ideas for beginners we've picked for you.
Direct sales
Direct sales often occur at home, in a cafe, office, and so on. It makes this realm perfect for online businesses. Many companies refuse to keep an in-house selling team and prefer to outsource this work. You can offer your service as a sales representative or join an MLM-company, such as Amway or Avon.
Advantages:
Promising business model. From 2015-2018, direct sales generated an annual growth rate of 1.7%. This trend continues to increase worldwide.
Strong customer relationships. One-on-one interaction allows you to provide personal experiences and keep customers engaged with your brand. It results in a sustainable income for you.
Low investments. All you need to launch your business in direct sales is a landing page and messaging for your prospective partners.
Virtual assistance
Virtual assistants help entrepreneurs, businesses, and executives organize their work. Appointment scheduling, errand execution, and basic marketing tasks are the usual duties of assistants. A majority of these tasks can be performed online.
Advantages:
Perfect for starters. You don't need profound expertise to start a career as a virtual assistant. Your main advantages are being organized, dedicated, and marketing-savvy to a certain point.
Growth opportunities. As you increase your expertise and reputation in this field, you may hire and train other assistants to work under you. 
Amazon FBA store
eCommerce is an enticing niche to start your online business. However, maintaining your internet shop may be arduous work. Consider applying FBA to facilitate shipping, storage, and customer support – Amazon will take care of these processes.
Advantages:
Simplicity. You can zero in on marketing, finances, and legal matters, while Amazon performs the mundane tasks.
Cost-effectiveness. Amazon charges a fee for its services. However, it's still cheaper than handling shipping, storage, returns, and customer support in-house.
Amazing service. Let's face it – Amazon has more resources to satisfy its customers than any small business possibly can provide.
Affiliate marketing
Affiliate marketing lets you get income for sharing a product or service on your blog, social media, email list, and so on. You'll get a commission each time a lead from you converts into a customer. To start with affiliate marketing, join an affiliate program – many companies, such as Shopify, Tripadvisor, H&M, offer this option.
Advantages:
Passive income. By placing a banner on your blog or website once, you can earn commission fees forever.
You will find a couple of tips on finding your niche along with a guide to launching your online business. Read the next part of this writing to learn more.
How to Start an Online Business
Find a niche
Do research
Learn online business laws
Choose the right platform
Drive online traffic
Analyze your performance
Rolling out a business is a complex task that encompasses tons of processes and actions. To make it more clear-cut, adhere to the six essential steps listed below. Bear in mind that this list is not comprehensive, but it will come in handy at the initial stage.
Find a niche
Most online business starters try to get their heads around the idea for their business. If you still cannot decide on this, here are a couple of tactics you can stick to:
Pinpoint issues you face from time to time. Have you ever experienced problems finding a quality good or service? Instead of perceiving it as another annoying situation, think of it as a business opportunity. People around you may struggle with the same issues and wish to pay someone to tackle it for them in the form of a product or service.
Conduct online research. Google can help you find out what problems your audience wants solved. To spot them, do keyword research – find out what people are looking for. The next step is to visit forums where users share their difficulties – read them and try to find a way to solve these problems.
After taking these initial steps, you'll get a clearer vision of what niche to choose. Knowing it, you can play around with the details, such as the products you sell, your unique selling proposition, and so on.
2. Do research
When you've found a niche, you may get excited and want to start acting right off the bat. Avoid jumping the gun – test your business idea first. For this purpose, you'll have to study the market, competitors, and target audience.
Start with evaluating market viability. Try to understand how practical your product or service is and what challenges you may face. Take into consideration as many details as you can.
You've learned a bit about your market while defining your business idea. Now you can test the waters – launch a website to check the demand for your product or service. It's also a great way to gain some traffic and collect pre-orders before you've opened.
Remember to look at your competitors – an in-depth analysis of their businesses gives you hints on your unique selling proposition, marketing, mistakes to avoid, and so on. Make a full list of your rivals, including all the ways your customers tackle their issues. Carefully examine websites, customer experiences, market positioning, price policies, and other details.
Finally, pin down who your target audience is – follow our guide to define and reach them. For better results, combine strategies from the guide with other frameworks, such as the jobs to be done (JTBD) approach or Ben Hunt's customer awareness ladder.
3. Learn online business laws
Legal stuff may seem to be the most tedious part of launching a business. However, knowing online business laws not only keeps your firm from failing, but also helps you get additional benefits.
Start getting an idea about the legal side of eCommerce by reading online business regulations. Whatever country you're in, most of the rules are available online on government or local business associations' websites. For instance, US citizens may look through the Small Business Administration (SBA) site for a rundown of online business laws.
Learn about tax obligations for your online business. Carefully examine different tax regimes and options; some of them may be milder than others. Last but not least, get information about the tax deductions available to you.
4. Choose the right platform
Building your website from scratch with the help of developers or special agencies is not the only option. To find the perfect platform for your online business, consider your niche, your business needs, and the places your target audience prefer.
Sometimes you don't even need a website. For instance, if you're a small handmade store, you can market your goods through Instagram, Facebook, or WhatsApp. All three of these platforms have tools for helping users shop without leaving an existing platform.
Another option is joining a marketplace, such as Amazon, Shopify, eBay, Aliexpress, or others. The main advantage of this variant is the lower competition.
If you decide to go for a stand-alone website, you can still reduce the cost of launching it – just use a website creator. Follow our guide on webpage builders to learn more about different options, essential features, and pricing.
5. Drive online traffic
Your online business needs traffic, so think about how to drive it to your platform. We'll take a closer look at different ways to promote your business online in the following part of this writing. For now, let's discuss some additional rules.
First of all, employ the power of networking. Word of mouth is still one of the most effective ways to promote your firm. Share information about launching your business with your friends and family, former colleagues, social media followers, and so on. This move will create brand awareness and a customer base for the first time.
If your business has an unusual conception or affects social life, you may try to reach the media. Write a press release for local magazines and websites. Include your brand name, mission, and purpose, as well as a brief product assortment.
Media representatives often need comments or expertise for their publications – help them and get your brand promoted. Join services that coordinate journalists and speakers, such as HARO or ProfNet.
6. Analyze your performance
Keeping track of your performance underlies the success of your business. If you monitor your indicators, you can make timely changes to your strategy, outline new development directions, and improve your business model.
Here are three groups of key performance indicators (KPIs) you should keep an eye on:
eCommerce data helps you understand your website performance and customer journey. The most common indicators here are the number of sales, conversion rate, traffic, and bounce rate.
Marketing success indicators help you evaluate your marketing efforts. These metrics will vary from channel to channel. For instance, open rate and click-through rate are important for email marketing, average position – for SEO, the number of followers – for social media.
Business KPIs measure your overall business performance and financial results. Here are a couple of examples: customer lifetime value, gross profit, average margin, and so on.
Leveraging your key performance indicators is almost impossible without a well-produced marketing strategy. Let's unveil the most effective channels for your online business promotion.
How to Promote Your Business Online
SEO
Web push marketing
Email marketing
Chatbot marketing
Instagram marketing
WhatsApp marketing
Thankfully, you can go loads of different ways when it comes to promoting your business online. Here we'll look at some effective channels and best practices to help you drive desirable results.
SEO
Search engine optimization, or SEO, allows your website to appear in top positions on the search engine results page. Your rank in search results is crucial for your online business's success – the first page gets 71.33% of all clicks. 70% of marketers say SEO is more effective for driving web traffic, clicks, and sales than PPC ads.
Best practices to adopt:
Optimize for voice search. Roughly 30% of people use voice search, and this number is soaring. To keep your SEO on point, adapt your content to users' complete questions.
Become mobile-friendly. Mobile device users generate more than half of internet traffic worldwide. To connect with this audience, make your website suitable for mobile screens and optimize your loading speed.
Employ SMM. Social media is efficient as a stand-alone marketing channel. Better yet, SMM affects your SEO positively as it drives quality traffic to your website and improves ranking factors, such as on-page time, bounce rate, and so on.
Nike shows the perfect example of quality work with SEO. The sportswear brand appears in the top-3 position on the results page for the query "running shoes." According to Ahrefs, the website has high domain rationing – 81 and over 35 thousand backlinks.
Web push marketing
Web push marketing is another term for advertising through short notifications in a browser or mobile app. This tool is perfect for keeping your audience engaged with a brand and moving them down the sales funnel. According to SendPulse's statistics, users subscribe to notifications in 44.32% of cases. The average reaction rate to web push notifications is 7.8%.
Best practices to adopt:
Play around with frequency and timing. Non-stop untimely messaging is the main reason web push marketing falls flat. Such notifications irk recipients instead of engaging them. Try to send notifications less than five times a day and consider each user's time zone and lifestyle.
Segment your subscribers. Segmentation works wonders with the efficiency of your marketing – it can raise your CTR by up to 218%. While dividing your subscribers into groups, take into account their browser language, subscription preferences, region, and type of browser.
Add multimedia. Pictures can be a game-changer for your web push marketing – big images drive more attention. You can use multimedia to hook the reader, affect their emotions, and add some extra text.
We've created a notification with SendPulse to boost sales and added an eye-catching image and CTA button. Our tool for web push marketing allows you to segment your audience and preview the notification in different browsers.
Email marketing
Good old email marketing it's still one of the most effective ways to promote a business. It helps brands nurture leads, increase sales, improve customer experience, and build strong relationships with their audience. This channel is ROI-effective – companies earn $42 for each $1 spent on email marketing.
Best practices to adopt:
Personalize your emails. Personalization is king – by personalizing your subject line, you can get a 50% higher open rate. For better results, consider going further and personalizing your email body.
Employ new formats. Simple text is way too old-school – people prefer interactive emails. You can add a bit of interactivity with different multimedia formats, such as sliders, GIFs, or videos. The latter boost your click-through rate by 300%.
Automate your email flows. Email automation is a time saver for busy online business owners. Better yet, it lets you maintain regular connections with customers and boost conversions.
Take a once-over of the flow we've created with SendPulse's Automation 360 tool. It starts after a prospect opens a subscription expiration email. Then, depending on the recipient's actions, the flow automatically sends new messages and drives the lead towards the purchase.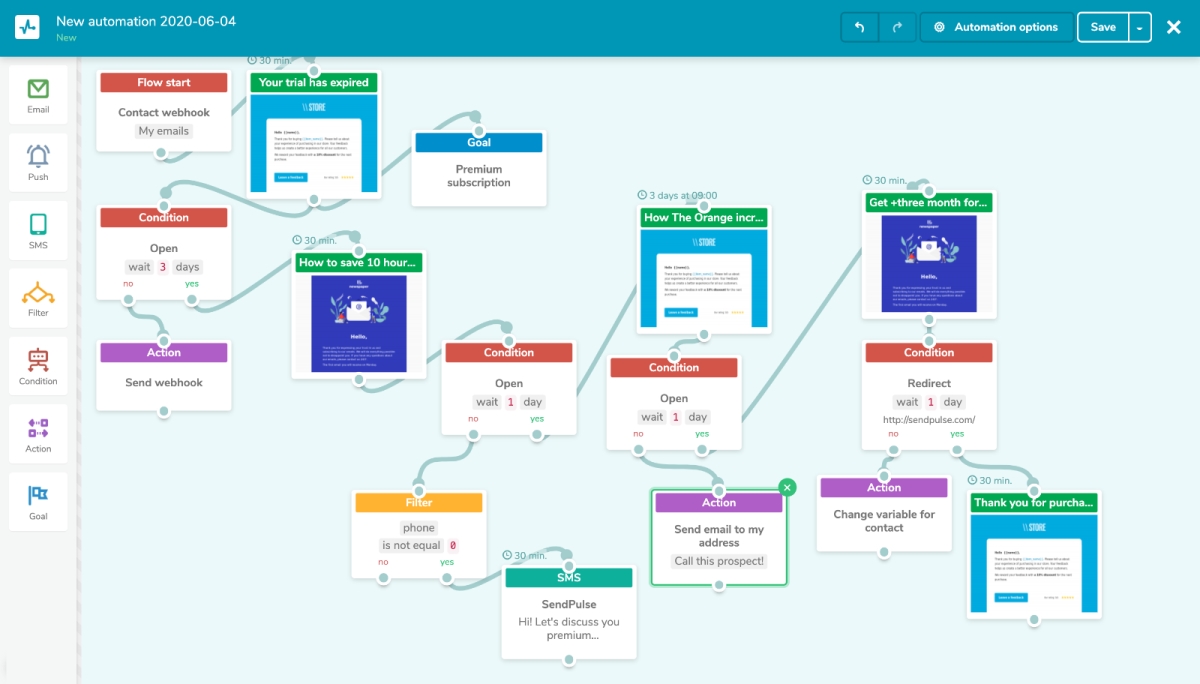 Chatbot marketing
Chatbot marketing lets businesses acquire, nurture, engage, and support customers at relatively no cost. This software, based on predetermined scenarios or AI, can cut operational costs by 30%.
Best practices to adopt:
Create a chatbot persona. People are willing to interact with other people, so your chatbot should resemble a human. To leverage it, give your chatbot a name, create an image, and think up the tone of voice and specific phrases.
Couple your chatbot with email marketing. Together, these channels reinforce each other and drive exceptional results. For instance, you can use a chatbot to collect emails or segment subscribers.
Make your bot proactive. A chatbot can do more than simply answer users' questions. Use your bot to provoke conversations and send promotional campaigns. In this case, you can keep a customer engaged with your brand longer.
In the example below, the simple chatbot created with SendPulse helps clients subscribe to email campaigns and get consultations. Our service allows you to create chatbots for Facebook and Telegram without any technical background for free.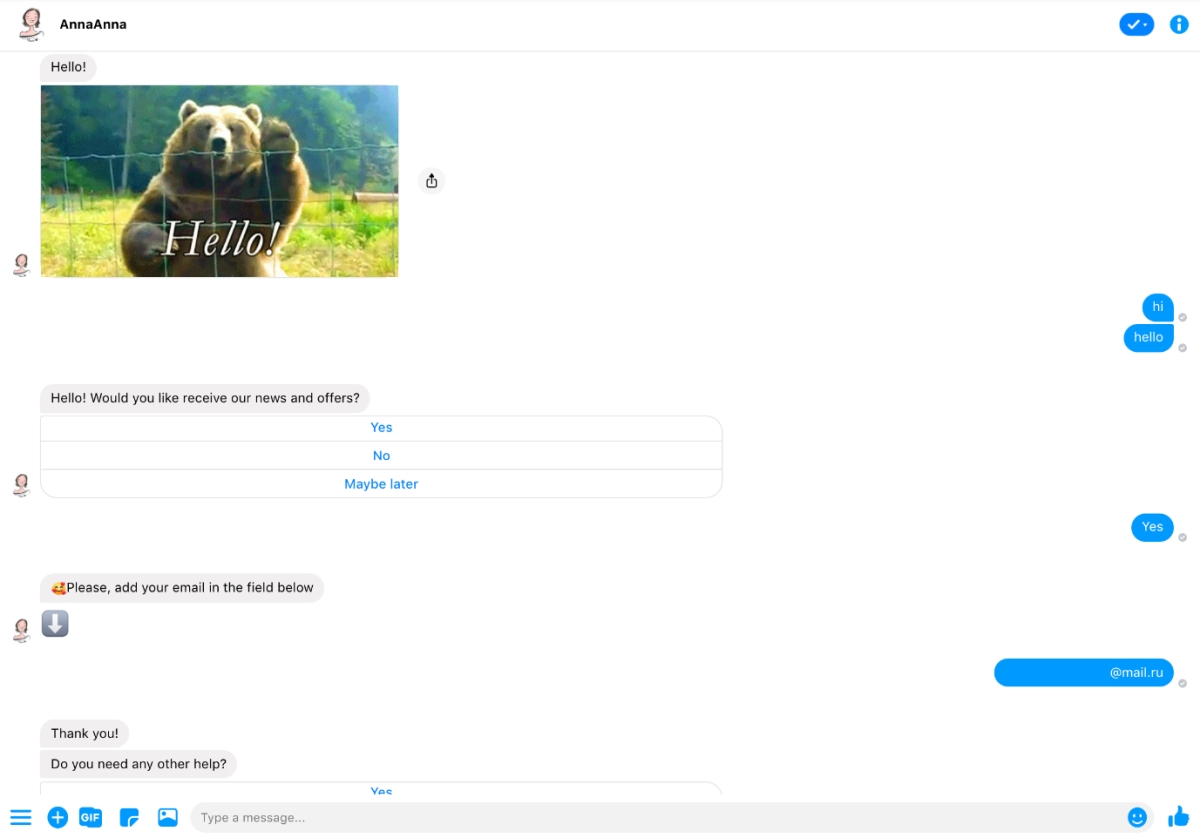 Instagram marketing
With over 1 billion active users, Instagram is the second most popular social network. This channel is perfect for business-to-customer interactions, as 90% of users follow one or more companies.
Best practices to adopt:
Use stories and highlights. With these options, you can market your products effectively. 62% of users said Stories provoked their interest in a product or brand.
Use interactive elements. Instagram Stories have polls, quizzes, challenges, questions, countdowns, and other tools to deepen your interactions with followers. By using them, you can make your content more memorable.
Launch an Instagram shop. With this tool, you can increase sales without paying a dime.
Here is an example of an Instagram shop from Benefit cosmetics. The company showcases its best-selling and the most useful products.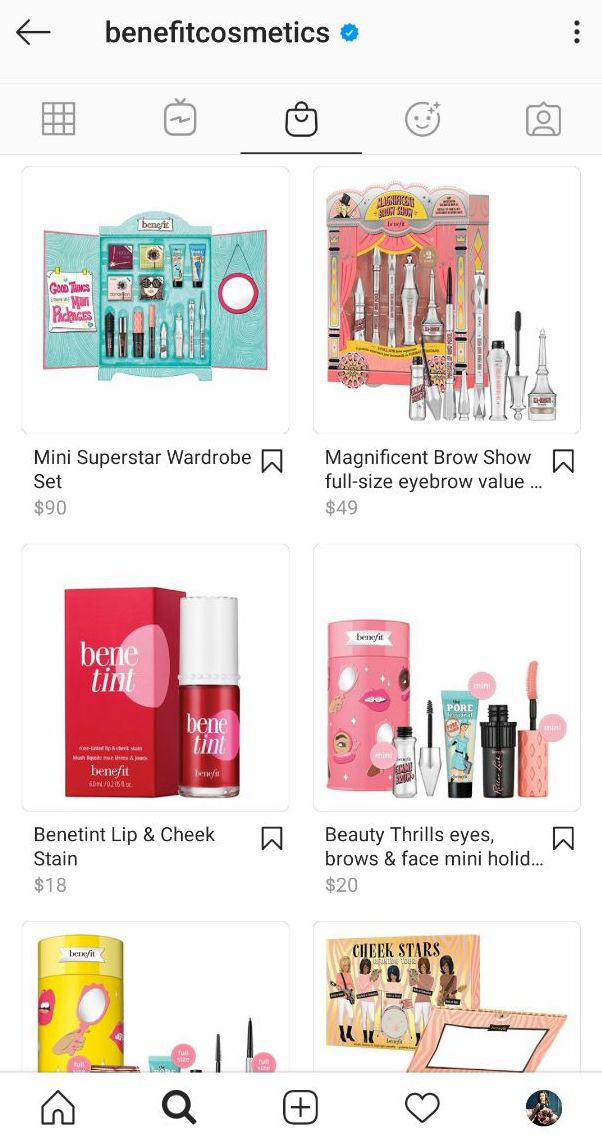 WhatsUp marketing
WhatsApp is the most popular messaging platform in the world, with 2 billion active users monthly. This channel is perfect for small businesses thanks to its specific options, such as product catalogs, statuses, and so on.
Best practices to adopt:
Create broadcast lists. This feature lets you segment your contacts and send relevant offers to each group of subscribers.
Use group chats. This tool is perfect for communications with groups of prospects when they need to make a decision altogether.
Craft a product catalog. Catalogs in WhatsApp resemble Instagram shops.
Look at the example of the WhatsApp catalog below. It allows you to send certain items through the messenger or share links to the whole showcase.
Once you've learned some of the best marketing channels, test each of them. Part of the strategies listed above will work wonders for you, while another part will make no impact. The only way to find the most effective techniques for your business promotion is to experiment with them and stick to the tips we'll share in the next part.
3 Tips for a Successful Online Business
Handling an online business is a complicated task. No wonder you can get disoriented with it once in a while. Let our simple tips guide you in these difficult times.
Work on improving your conversion rates. Work on conversion rate improvement may seem too arduous or time-consuming, but avoid striking it off your list. Better conversion is key to higher profits without additional investment. To soar your conversion rates, follow our comprehensive guide on conversion rate optimization.
Maintain customer data safely. Even leading online businesses have had hard times after user data leaks. The public outrage in these cases is whopping, but understandable – it's a business' duty to keep its customers' information safe. To avoid pitfalls with your customers' data, consider storing it in a CRM system – most of them have advanced data safety features. To choose the best option for you, follow our tips.
Offer great service. High-quality service is the name of the game for most businesses, both online and offline. 96% of customers believe the quality of service underlies their loyalty to a brand. To nail this part of your business, make sure your representatives are friendly, quick, and proactive. 32% of people expect a company to respond to a message on social media within 30 minutes. To automate the processing of repetitive requests and take the load off of your support team, create a chatbot using 13chats. After registration, a big free plan is already available to you, and there is a detailed guide in the knowledge base on creating a chatbot.
We've unpacked the main points of launching an online business, including ideas, essential steps, and marketing channels. To facilitate your work on business promotion, try SendPulse. Our ecosystem of services lets you handle your marketing strategy effectively with no sweat.
Last Updated: 22.03.2023