Social commerce is providing the whole shopping experience through social media networks. Clients discover products, explore them, and purchase them right using social media. The target audience receives the entire shopping experience through Instagram, Facebook, Pinterest, and TikTok. Marketers run campaigns, collaborate with influencers, and buy paid advertising on social networks to showcase, promote, and sell products.
In this article, we'll unveil how social commerce works, its benefits, and statistics. We'll also make the difference between social commerce and e-commerce clear. You'll find out the 11 most effective social commerce tactics and the best examples.
How does social commerce work?
The power of social media can't be underestimated. Brands use the success of Instagram, Twitter, Facebook, and TikTok by marketing and selling products through these networks. Companies provide shopping experiences on social platforms and cover all the processes needed for successful sales. They use paid advertising to promote products, chatbots to instantly answer prospects' questions, and bio links to complete purchases.
Social commerce starts with a brand creating a business account with one or several social networks (Facebook, Instagram, TikTok, Pinterest, or Twitter). The choice depends on the target audience and the product the company offers. After identifying the best platforms for marketing a product, social media managers create and take care of the account. A brand's account should include quality content, a bio link, a business description, photos, and videos of products.
For a good promotion, business owners use paid ads on social media. This way, they can reach the right people with the right offer. Targeted advertising allows brands to communicate the necessary message to the target audience and resonate with them. If this company manages to establish positive relationships with potential customers, it'll increase the possibility of future purchases.
While e-commerce offers a website for customers to buy items, social commerce uses only social media for the shopping experience. In social media, brands encourage client interaction by asking them to share their feedback, opinions, and thoughts They use videos and photos to demonstrate products in the best light, conduct giveaways to increase visibility, ask influencers for promotion, etc.
Social media offers many tools that enable brands to reach their business goals. Now you know how to use it to your advantage. In the following section, we'll unveil the pros of social commerce each business can reap. So let's dive in.
Benefits of Social Commerce
Social commerce became popular for a reason. According to statistics, 4.9 billion people use social media worldwide. That's why there's a point in implementing social commerce for your business. It brings a huge target audience and even more benefits to your company. Let's discover them in more detail.
Being active on social media brings you constant audience growth. Since there are billions of social media users, and the number is constantly increasing, it's worth noticing that the audience is enormous. Brands can use various social media platforms to reach and expand their target audience when the company grows.
Social media engagement can increase your visibility and ranking in Google search results. Socials help boost traffic to your website. It brings a better position in search engine results.
Social commerce enables you to establish strong and trusting relationships with prospects and existing customers. Instagram, Facebook, and TikTok are perfect for encouraging interactions with clients. You can find out customers' preferences, needs, and problems. You can conduct surveys, and receive feedback. With their help, you can improve your product and meet buyers' needs.
Consistent communication with clients helps encourage loyalty and prevent customer churn. Various programs, giveaways, and contests allow you to improve customer loyalty. Clients who see you care will appreciate it by staying with your company. They won't choose another company to buy the same products.
Instagram
Instagram is a powerful platform with various audience segments. You can reach a diverse audience and sell your products successfully. This social network allows you to share different content formats and catch prospects' eyes. You can use many tools to promote your products on the platform: hashtags, tags, Instagram Stories, Reels, posts, videos, etc. By creating Reels, you can expand your audience and establish brand awareness.
Facebook
Facebook allows you to create an online shop and sell products directly from the platform. When developing a shop, you can add product collections and product descriptions. Leads can add items to their wish lists and place orders without leaving the social network.
TikTok
TikTok is a relatively new platform that supports businesses. You need to create a business account to sell products on this social media platform. After that, you can use the integration of TikTok and Shopify. Synchronize your product catalog with your TikTok account. Promote your products organically by making videos and tagging products. You can also use influencer marketing to introduce your brand to a broader target audience.
Now that you know the pros, it's time to unveil key social commerce statistics.
Key Social Commerce Statistics
In this section, we'll cover some statistics to understand why being visible on social media is crucial. Let's dig in.
Now that you know social media statistics, it's time to find out the difference between social commerce and e-commerce.
What's the difference between social commerce and e-commerce
Sometimes, social commerce and e-commerce are misinterpreted. That's why it's essential to clarify the difference in this section.
The main difference between the terms lies in the place where all the products are marketed, promoted, and sold. When discussing social commerce, brands use social media platforms to attract potential customers and sell them products. All the processes, like the shopping experience and checkout pages, are in specific social networks. When discussing e-commerce, we mean a company's website where a prospect explores and purchases the product. For this reason, brands create dedicated websites and apps. This is done to ensure the best shopping experience.
Now that you know the difference, it's time to review the most effective social commerce tactics for your business.
10 Most Effective Social Commerce Tactics
In this section, we'll cover the most effective approaches you can use to your advantage when implementing social commerce. Let's check them out.
Add shoppable content. Creating shoppable content reduces the number of steps a customer needs to take to get a product. This way, you remove barriers that prevent clients from purchasing. This type of content allows consumers to buy items without leaving the network. A shoppable post lets users click product tags and access specific items on your social media shop.
Create engaging content. You need to create quality content to draw attention to your brand and increase your social media following. Consider using different content formats of social networks to capture attention. Reels, short videos empower you to describe your products interactively. Think of creative ways to present your product and encourage customers to purchase. Add stories about product releases, promotions, and special discounts to boost sales.
Ensure seamless checkout. If you want to increase sales through social media, you need to do everything possible to make checkout fast. When clients really like a product, they'll want to buy it immediately. Ensure customers don't need to leave the platform to complete the purchase. A lengthy checkout process can prevent them from buying from you.
Reply to users' questions and comments under posts. To show you care, be active on your socials. Pay attention to customers' comments, brand mentions, and questions. Reply to the questions related to your product and monitor brand mentions. Consider using a social media tracking tool for this purpose. It will allow you to monitor both positive and negative comments. When there are some negative comments, deal with them fast to prevent this information from influencing customer decisions. By replying to users' reactions, you'll show you care about your clients and are happy to assist them.
Encourage user-generated content. As we all know, recommendations are essential for brands. If your company has many word-of-mouth promoters, it'll positively influence your reputation and brand awareness. People can leave their reviews and feedback on special forums, in comments, or in their Stories. You need to make all those reviews visible to your prospects and existing customers. Add them to your Stories or post them in your feed. It will increase trust and customer loyalty.
Incorporate influencer marketing. Influencers are individuals that influence customer decisions. It's necessary to conduct research before asking an opinion leader for collaboration. Identify influencers in your industry and analyze their performance — no need to start with an opinion leader with a considerable following and spend marketing dollars. The amount of followers doesn't guarantee a high level of trust in this person. Find the right influencers that bring results and boost the company's sales.
Provide social proof. Show your prospects that your product really works. Ask for feedback and reviews from clients who already purchased your product. Share their success stories through your Instagram, Facebook, or TikTok. This way, you'll demonstrate the effectiveness of your product and the problems it can help solve.
Ensure excellent customer experience. When prospective customers DM you to ask questions, you should react quickly. Make sure to assign this task to your team members to respond fast. Customer experience covers customer support, content quality, and how you communicate with your audience and others. That's why make sure that the combination of these things is perfect for your brand.
Implement chatbots. To respond to customer questions 24/7, consider implementing a chatbot. With its help, you'll always be accessible to prospects. Happy users are more likely to perform purchases. SendPulse empowers you to create quality chatbots for channels like Instagram and Facebook.
Use targeted advertising. Paid advertising on social media networks will help you reach your target audience and resonate with them. This way, more people will be aware of your product or service.
Now that you know the strategies, it's time to look through the successful examples.
Social Commerce Examples
There are plenty of brands we can use as examples of social commerce. Let's now review the five most successful companies that sell their products through social media.
Milk Bar
Established as a small bakery, it's a thriving nationwide business specializing in cakes, cookies, pies, and ice cream. Before COVID-19, most revenue came from brick-and-mortar stores, but the pandemic changed the situation. The owner of Milk Bar had to adapt and change to online selling. The brand switched to Instagram and succeeded. The company worked on content formats that were interesting and engaging for their audience. Colorful photos of cakes, videos of tasty cookies, and Reels of ice cream captured users' attention. Videos and photos got thousands of likes and views. Today, Milk Bar has 859,000 followers on Instagram and many satisfied customers.
Below you can see how the brand interacts with followers through a giveaway.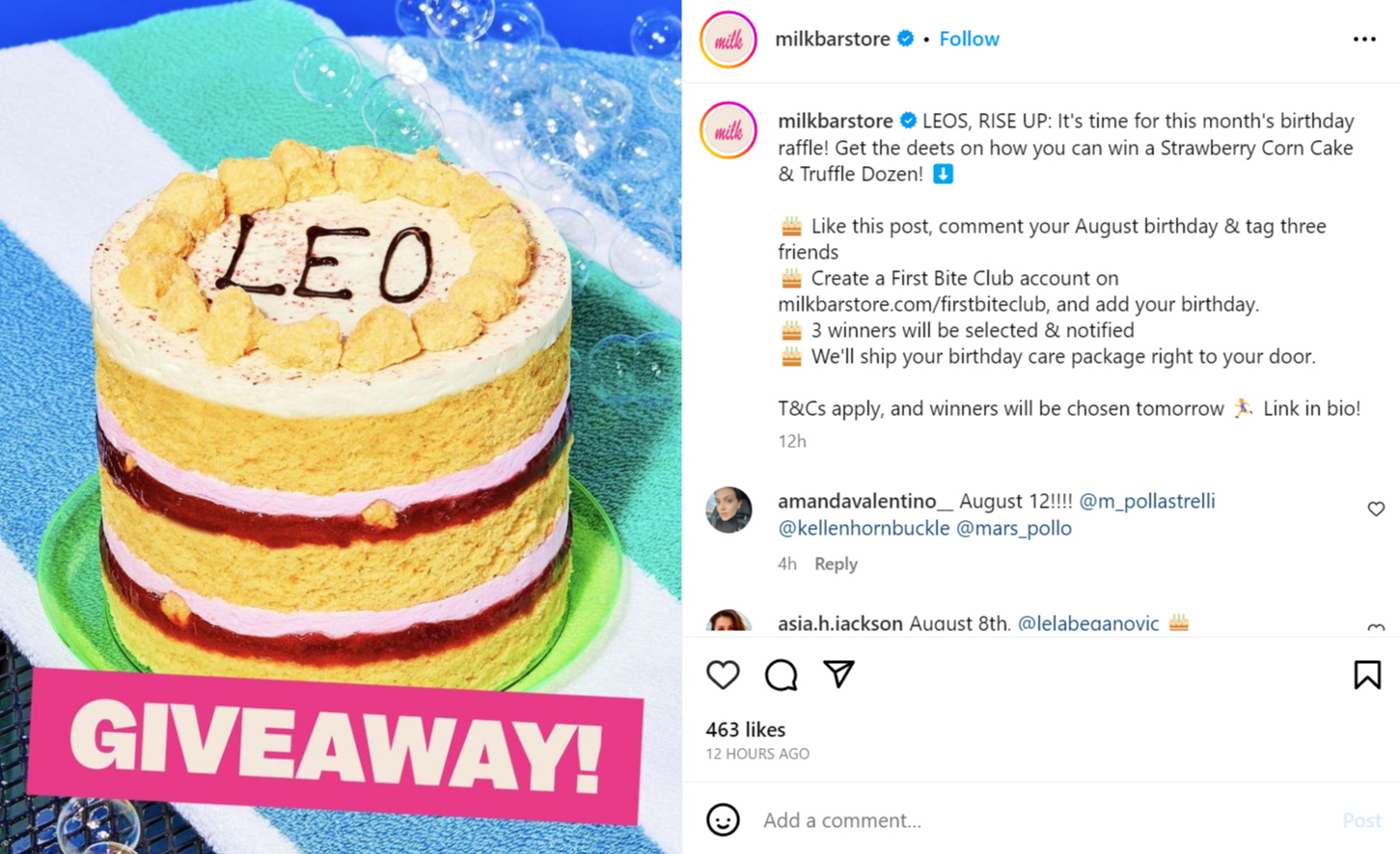 Snug
Snug is a British brand selling sofas. The business ensures fast delivery and the right choice of couches. Snug gets most of its revenue through social media. With its Instagram, it demonstrates the items available and their quality. Videos help show products from all angles and make sure that clients make the right decisions.
CALPAK
CALPAK is a brand producing luggage, backpacks, duffels, and accessories. With Instagram, clients can freely explore the products, read their descriptions, and purchase the necessary items. CALPAK's bright Instagram attracts customers' eyes and encourages them to discover its products. Today, the brand has around 324,000 followers, which proves its success in social commerce.
Kylie Cosmetics
The famous American cosmetics company was established in 2015 and since then has been constantly growing. The brand uses social media to its most. You can see a well-developed Instagram account with Reels, Guides, and Posts. The product catalog is vast; customers can see each of the items and their descriptions in Instagram posts. Kylie Cosmetics is widely promoted by Instagram influencers who make the brand more viral on social media.
Besides Instagram, the brand owner Kylie Jenner uses platforms like TikTok for her cosmetics promotion. This way, she strives to keep her clients updated on new product releases as soon as they appear in the market. That's why the brand can be found on TikTok Shopping. Customers can purchase their favorite items right through the platform.
Below you can see how Kylie Jenner promotes new drops through her personal account on Instagram.
100% PURE
The brand committed to cruelty-free and natural makeup and skincare is extremely popular among customers. The company sells eye creams, foundations, eyeshadows, blushes, hair care, and many more products. Clients can explore each product on the brand's Instagram. The company cares about customers' opinions and encourages them to share their beauty dreams, product ideas, and brilliant suggestions through the platform. With 271,000 Instagram followers, 100% PURE does its best to provide products from clean ingredients and make its clients happy.
Below you can see how the company uses hashtags to attract more prospects.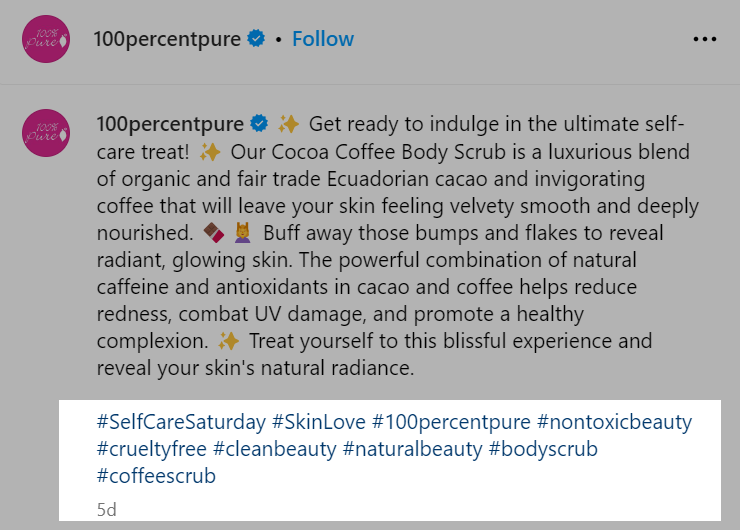 Congrats, now you know what social commerce is and why it's crucial. Hope that the examples and tactics above will inspire you to sell more through social media.
References:
This article defines the term and unveils the benefits of social commerce.
In this article, you'll find the definition, tactics, and examples of social commerce.
Last Updated: 09.08.2023