A website builder is a software that empowers users to develop a site that meets their needs without knowledge of the code. It usually has a drag-and-drop editor so clients can add specific elements and build a professional website for their business.
In this video, Anna, a marketer at SendPulse, explains how to create a website for free without any coding skills.
In this article, we'll uncover why to use a builder, how it works, and how to choose the right one. We'll also discover the 5 best platforms for beginners.
Why should you use a website builder?
Builders enable business owners to design stylish websites without knowledge of the code. However, there are even more advantages you can reap from it. In this section, we'll uncover all the benefits for your brand.
First of all, quality services offer you ready-to-go templates for various types of businesses. You don't need any programming or coding knowledge to build your desired website design.
Building a website allows you to erase the limits of a physical store. You can run an eCommerce business using features, themes, and necessary tools. As a result, you'll be able to integrate with other platforms and ensure an excellent shopping experience for your consumers. For example, you can incorporate needed payment systems, integrate various lead generation platforms, and bulk email services, apply customer management tools, etc. Since online presence is a must nowadays, the majority of website builders have integrations with them. It enables you to avoid searching and installing specific plugins.
One more advantage of a website builder is its cost-effectiveness. Using a special platform, you can save costs on hiring a website designer.
If you worry about how your clients can find your online store, you can use a custom domain name or your registered domain. Your customers will recognize your site and find it easily.
With a site creator, you can save time and adjust the design of your website at any time. Pre-designed templates and themes enable you to create your site fast. Moreover, you can always make necessary changes if you see some drawbacks later.
Now that you know why you should use a website builder for your business, it's time to figure out how it works. It will help you decide whether it suits your purpose.
How does a website builder work?
Website developing services don't imply any installments. So you don't spend time reading instructions, figuring out how to install the program, and how to use it. They are used in a web application which is very comfortable for users. Since website builders target both starters and professional designers, they have a simple interface and easy-to-understand features.
With drag-and-drop editors, you can add all the necessary elements to your new website by simply dragging them to the editor field. You'll see various headings, texts, videos, links, and images which you can add to your workspace. After you finish with the components of your website, you'll be able to see your result instantly. You can adjust the elements if you decide that something looks unsatisfactory or irrelevant.
Usually, you have two options: create a website from scratch or select one of the available customizable templates. If you don't have any coding skills, it's better to use a template. It has everything you need for a perfect website except your information. Insert the text, headings, images, and videos you want to get the desired result.
Now that you know how website builders operate, it's time to proceed to the next section and discover how to select a website that suits your business goals, pricing requirements, and skills.
How to choose a website builder?
When selecting a website builder, you should consider several criteria, including ease of use, features, customer support, pricing, and data ownership. We'll cover these points so that you can choose a good service for your company.
Determine whether the service is easy to use. If you are a beginner, it's crucial to figure out if a builder suits you. Go to the company's website and see whether you need any coding or programming skills, explore how to design a website, and find out if it'll be easy for you to handle it without the help of a professional web designer. Open the service's features and search for a drag-and-drop builder, design options, ready-to-use professional templates, and editing tools.
Explore pricing. Since there's increasing competition for website builders, you have many options. Make sure to select among services that suit you in terms of price and functionality. It's great if a platform has a basic free tariff or a free trial with the main features to understand how the service works. Search for information about a free domain, free SSL, free business email, and free eCommerce features on the builder's website before paying for it. Explore this information to calculate the expenses on a website domain, business email, SSL, etc. Check if a service has some hidden costs.
Discover the platform's features. Your website builder contributes to your business's success and all integrations' productivity. When exploring the features, ensure the service offers a library of templates that satisfies you. Look through the website to see what templates, designs, and themes they offer. Moreover, check if the platform is flexible. It means that you can add some necessary integrations like Google Analytics, payment systems, CRM, email marketing services, etc. See the list of available integrations to ensure the platform meets your requirements.
Contact customer support. Test a company's customer support agents by asking them questions about the service. It will help you determine how helpful and empathetic they are to potential customers. The service should have 24/7 support if you work in a different time zone and have your onboarding. You should also discover whether they have a live chat and a fast response rate. Look if a platform has a knowledge base or a help center in case you can't get through to the support or want to figure everything out yourself.
Unveil data ownership and privacy policy. Although you might not instantly think about these two points, they are essential for effective work and data security. Before paying for any service, read the terms of this service and its privacy policy. It will prevent you from having any issues in the future regarding your personal data.
Now that you know how to find the right website builder, we'll provide you with a list of the best services in terms of pricing, functionality, flexibility, and usability.
5 Best Website Builders for Beginners
We've gathered the 5 best website builders for you to consider. Let's review each of them in detail so that you can choose one for your brand.
SendPulse
SendPulse is a multichannel platform that combines all the necessary marketing tools, including a website builder. The service allows you to design sites, landing pages, and online stores. With the provided tools, you no longer need to hire a website designer and spend additional costs. You can do it all by yourself with an easy-to-use platform and no coding skills. Once you understand which site you need for your company, modify the size of the components and select a color palette.
The platform enables you to build a responsive website design that adapts to any screen size. It means that your site will look good on PCs, laptops, and mobile devices. You just need to add text, forms, and buttons that are visible and good-looking. Customize your website style and add the necessary elements to convert leads into clients. Design a website from scratch or use templates. The platform provides you with ready-to-go professional templates to create websites faster.
Add a live chat to answer users' questions and encourage them to convert. Live chat from SendPulse enables you to tailor your live chat's format, color, and style, hide and expand the live chat widget whenever needed. The dialog history with all your potential customers will appear on one page so you can manage your chats quickly.
Consider adding subscription forms if you want your customers to connect with your brand fast. This feature is available with SendPulse. With multichannel subscription forms, you can communicate with your potential clients through preferred marketing channels such as email, SMS, or chatbots. The service empowers you to add various fields (name, gender, address, or phone number), upload images, and modify the form on the go. Set display options and add subscription forms to the web pages you need. The form will appear on the necessary pages of your website immediately or in a couple of seconds.
You can design a smart widget using templates and add smart pop-ups to your newly created website. With ready-to-go templates, you can set up your pop-up and add it to your site within 10 minutes. Modify display conditions, tailor messages, and deliver personalized experiences with your company.
Customers can pay for products right on your site. Add product galleries, descriptions, shipment options, and payment buttons to sell your products seamlessly. Connect SendPulse free CRM to manage all the deals and their progress. Besides, the platform provides useful integrations like web push, email campaigns, and chatbots.
Below you can see the process of creating a website using a template in SendPulse.
Free plan: One published site, 50 pages, choosing a domain name, and 100 MB of image storage.
Paid plan: Starting from $13 per year for three published sites, 500 pages, custom domain, choosing a domain name, 200 MB of image storage, and accepting payments.
Wix
Wix is a perfect platform for people who want to sell online, promote business, and build a community. With the service, you can create a blog, eCommerce website, and portfolio. It helps you reach different purposes like selling goods online, extending a loyal audience, monetizing content, improving visibility, conducting events, etc.
Wix provides you with a library of 900+ free, customizable website templates that will meet the needs of businesses in different industries and the option to design your website from scratch. The platform will be helpful for starters and professional creators since it has a smart drag-and-drop editor. Moreover, after signing up, you'll get a custom domain, logo, and more brand tools, full-stack web dev tools for custom functionality, and AI technology that assists you during the website development process.
There are even more advantages you can experience with Wix:
fast website loading;
multi-cloud hosting;
space for SEO optimization;
built-in accessibility tools;
24/7 data protection.
Below you can see how to edit an existing template for your business in Wix.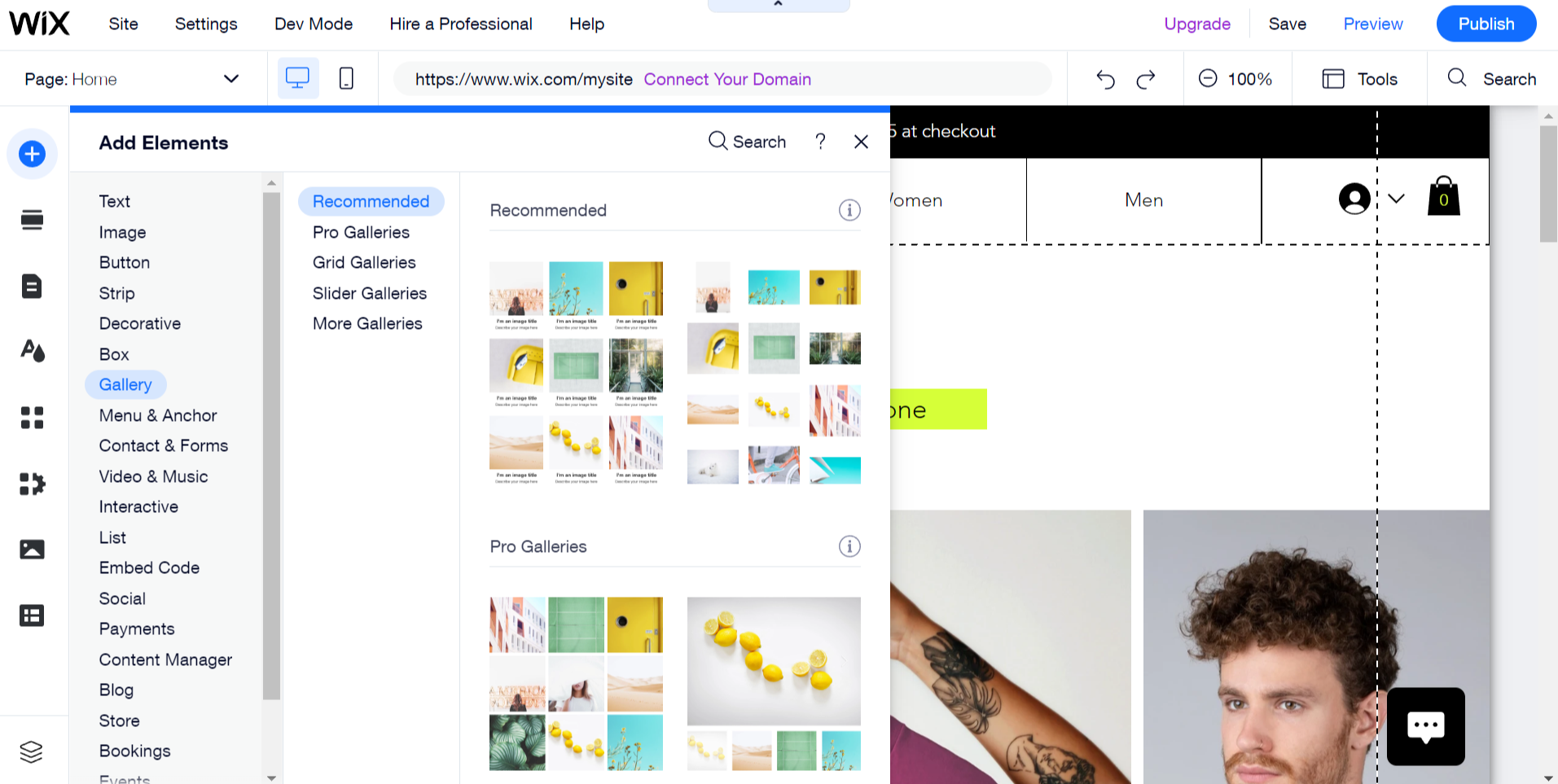 Free plan: Up to 500MB of storage space, up to 500MB of bandwidth, and assigned URL.
Paid plan: Starting from $4.50 per month for 1 GB of bandwidth, 500 MB of storage space, and 24/7 customer care.
GoDaddy
GoDaddy is a service suitable for designing portfolios and setting up an online store. Different features of the platform enable you to create a website, promote it, and get your customers.
GoDaddy provides free professional templates for various industries like online stores, restaurants and food, home services, fashion and beauty, and health and fitness. Drag and drop builder enables you to customize or add entire sections like headings, galleries, price lists, or menus. Moreover, the service takes care of your social media and email campaigns. With GoDaddy, you can create engaging branded content for your accounts. The platform allows you to design your website by using templates for free. Once you decide to start selling, you can upgrade to a paid plan and receive orders.
In one dashboard, you can see and manage various things like reviews, orders, and social media. It's convenient and time-saving.
Below you can see how to build a website in GoDaddy.
Free plan: 7-day free trial.
Paid plan: Starting from $9.99 per month (if paid annually) for custom domain, websites and marketing analytics dashboard, and website chat.
Strikingly
Strikingly is a perfect choice for starters since it's easy to use. The platform offers you a library of website templates and a drag-and-drop editor. You need to add the necessary elements and edit them. In around 30 minutes, you'll get a professional-looking site. With Strikingly, you don't need any knowledge of the code or experience building websites. To launch a website, you need to choose a template and tailor it for your business. The platform offers templates for startups, portfolios, events, blogs, stores, services, etc.
You can create a new domain name or use your registered one. This way, it'll be easier for customers to recognize your business. Creating eCommerce websites is easy with Strikingly. You need to add a simple store and connect it with the preferred payment systems like PayPal and Stripe. You are all set up to sell.
With the platform's features, you can add shipping, coupons, and membership log-ins. Creating signups, forms, live chat, and newsletters in one place allows you to generate leads and expand your audience. Consider developing a membership program and registering your customers within it. This step will help you increase engagement and customer loyalty. Besides a simple store, you can create a blog. It will enable you to share valuable content with your readers in a convenient way.
After building your website, you'll be able to access Strikingly built-in analytics. With its help, you'll see the effectiveness of your blog posts, visitor statistics, and the number of interested prospects. Moreover, you'll receive insights into the success of your website.
In the screenshot below, you can see how to design a website in Strikingly.
Free plan: unlimited free websites, Strikingly.com domain, 5 GB monthly bandwidth, 500 MB total storage per site, 5 multiple pages per site, and 1 product per site.
Paid plan: Starting from $12 per month for 2 limited sites, unlimited free sites, custom domain, free SSL for custom domain, 1 GB storage per site, 50 GB bandwidth, up to 5 pages per site, and up to 5 products.
Duda
Duda enables you to design a well-performing website without any training or special skills. It allows you to access pre-designed elements, create shareable designs, collect and import content, and build websites you can launch in minutes. The platform has a rich selection of templates to choose something appropriate for yourself. Examples include templates for yoga teachers, insurance companies, real estate businesses, professional CVs, design agencies, and many more.
Duda has a Content Library. Creating a website is faster in Duda since it helps you pull all your content from a website or Facebook page into the Content Library. Text blocks, images, and addresses are widgets you can connect to the Content Library to manage your data in one place. Moreover, the service takes care of your team collaboration. You can leverage asset sharing, site comments for quick design iterations, team permissions for frictionless project management, etc.
Utilize no-code website builder software or dive into JavaScript, CSS, and HTML, with the platform's intuitive web design solution. Discover drag & drop tools to create a perfect design for your website.
Below you can see how to design a website using Duda's ready template.
Free plan: 14-day free trial.
Paid plan: Starting from $19 per month for 1 site & AWS hosting included, and email support.
Congrats, now you have a list of amazing website builders to choose the right one. Hope that our article will help you with establishing your business website.
References:
This article unveils the definition of the term and how website builders work.
In this article, you'll find a list of the best website builders.
Last Updated: 12.09.2023