An email campaign is a sequence of marketing efforts that contacts multiple recipients. Email campaigns are designed to reach subscribers at the best time and provide valuable content and relevant offers. Email campaigns allow you to build deep and trusting relationships with your customers.
In this video, Anna, a SendPulse marketer, covers 3 ways to build a better email campaign for your business.
Why should I send email campaigns?
Emails help nurture leads
Emails help keep customers engaged
With emails, you can collect data about subscribers
Emails help convert
Emails help your business improve
Email marketing makes communication with clients easier and more effective. Email campaigns are a powerful medium between your company and your audience. They help not only to increase sales but build your brand image. Below we listed some objectives you can achieve by sending email marketing campaigns.
Emails help nurture leads. Each new lead requires nurturing before making his first purchase. The task of your marketing team is to provide them with the right educational materials. They include how-to guides, live demos, workshops, webinars, useful checklists, tutorials, etc. Each email will make a user move down the sales funnel. Predict all possible pain points that a user may face when dealing with your brand and eliminate them.
Emails help keep customers engaged. Now it's getting much harder to stir users' interest in a brand. So, you have to come up with new formats and new offers. Email is just the place for experiments. Via this channel, you can share important information, show your expertise, and offer exclusive deals.
With emails, you can collect data about subscribers. To provide every user with an individual approach, you need to collect information about them. With an email campaign, this task is as easy as pie. All you need is to ask subscribers to share some important data for you to craft more targeted and personalized offers. Then, you can divide all your list into segments, and send relevant content to each group.
Emails help convert. With all this personal information about your clients, you can create unique promotions for each user. Track their interactions with your brand and you'll get to know their favorite products and buying habits — they will help you send emails triggered by clients' actions. As a result, you'll increase your email performance and sales.
Emails help your business improve. Ask your clients for feedback. You can do this right after the purchase or on a regular basis via a survey. You'll find out what customers appreciate the most about your brand, which difficulties they face, and what they would improve.
These objectives are just the tip of an iceberg. Depending on your niche and type of business, you can set different goals and accomplish them using email campaigns. With a professional marketing service such as SendPulse, this won't become a challenge for you.
Check out our blog to discover effective email tips!
When is the best time to send an email campaign?
The best time to send an email campaign depends on the topic of the message, the audience's lifestyle and habits, and the day of the week.
Typically, the best days are Tuesday, Wednesday, and Thursday because Monday is the busiest day of the week, and on Friday, people try not to leave anything for the next week and cope with their week tasks. Saturday and Sunday often family days, so people spend most of their weekend relaxing and not reading emails. Check out our blog to learn more about the best time to send email campaigns.
The best hours are:
around 6 am as many people have a habit of checking their phones in bed;
around 10 am because people also check their emails at the beginning of the working day;
around 2 pm because people have lunch or coffee breaks;
from 8 pm to midnight because during these hours people are usually free and many of them have a habit of reading emails before going to sleep.
Though, it's much easier to identify the worst time to send email campaigns in most cases: it's inconvenient to read emails during rush hour when people commute to and from their work and at night, as there is a risk of waking them up. You'd better avoid these hours.
It's necessary to use A/B testing to realize the optimal time to send emails for your sector of business. A/B tests measure the email campaign's success by open rates and click-through rates.
When you find out the best time for your business to send email campaigns, you can effectively schedule your campaigns with SendPulse.
Let SendPulse boost your sales!
Increase customer engagement and blow up sales by sending promotional email campaigns for free. You don't even need to code.
Email Campaign Types
Welcome emails
Announcement emails
Testimonial request emails
Holiday emails
Invitation emails
Seasonal emails
Reactivation emails
Abandoned shopping cart emails
Cross-selling emails
Upselling emails
Newsletters
Anniversary emails
There are many types of email campaigns, so it is necessary to choose a style that will help you achieve your goal.
Welcome emails. A welcome email is sent when a user subscribes to your mailing list. Ask clients to set their preferences regarding email frequency and the content they are going to receive. 
Announcement emails. These are sent to announce an upcoming holiday, event, release of a new product or feature, etc. The aim is to make subscribers interested, encourage them to buy or to visit.
Testimonial request emails. This email campaign is sent to ask clients to leave feedback by commenting, reviewing, or completing a survey to improve the service.
Holiday emails. This type of email campaign engages people with holiday discounts before Halloween, Black Friday, Cyber Monday, Christmas, New Year, and other holidays. It builds trust and strengthens positive emotions associated with your brand. 
Invitation emails. This email campaign invites subscribers to visit an online webinar, a party, a conference, etc.
Seasonal emails. Intended for sending relevant seasonal offers like umbrellas in Fall, or sunglasses in Summer, for instance.
Reactivation emails. Emails sent to inactive clients who lost interest or have forgotten about your company. Don't just say goodbye to them, try to reactivate and remind them how much value you can share.
Abandoned shopping cart emails. Sometimes subscribers leave items in the shopping cart without buying them for some reason. An abandoned cart email suggests that subscribers return to their carts and inspires them to complete the purchase.
Cross-selling emails. This type of email campaign promotes related products. If your client bought a smartphone, a phone case would be great to cross-sell.
Upselling emails. It describes and offers more advanced, upgrades, and expensive products than the customer considered or bought before.
Newsletters. The most widespread email campaign. Newsletters provide customers with valuable and non-promotional information. If performed well, newsletters help brands build trusting and loyal relationships with people. 
Anniversary emails. With this type of email, you can congratulate subscribers on the company's anniversary and reward your loyal clients. It increases sales, brand awareness, and customer loyalty. 
Email Campaign Services
To build relationships with your audience and increase revenue with email campaigns, you need a professional email service. It will help you design beautiful emails without any technical skills, increase email deliverability, and automate routine tasks. There're lots of players in the email marketing game today and they largely provide the same features. They only differ in prices and the features and email volume of their free plan.
We've compared the four most popular email marketing services to help you choose the most suitable for your business.
| | | | | |
| --- | --- | --- | --- | --- |
| | SendPulse | MailChimp | GetResponse | Constant Contact |
| Free plan/trial limitations | 500 subscribers, up to 15,000 emails per month | 2,000 subscribers, up to 12,000 emails per month | 30-day free trial | 30-day free trial |
| Automation | ✔ (+ SMS and web push notifications) | ✔ | ✔ | ✔ |
| Personalization | ✔ | ✔ | ✔ | ✔ |
| Segmentation | ✔ | ✔ | ✔ | ✔ |
| Drag and drop editor | ✔ | ✔ | ✔ | ✔ |
| 24/7 technical support | ✔ | ✘ | ✘ | ✘ |
How to Design an Email Campaign
Use an inverted pyramid method
Leave air in the text
Keep your brand's identity
Work out a relevant design
Implement a responsive design
Use helpful resources to speed up the process
Use an inverted pyramid method. An inverted pyramid makes emails easy-to-read. Structure the content from the most significant parts at the top to the smallest at the bottom — it should look like a funnel. On top, there is usually a large image, then comes the narrower text section, and at the bottom, there is a call to action, the smallest part. Such design will 'deliver' your reader to the CTA at the end of your email.
Leave air in the text. Mind that during the years that emails have existed, people have gotten used to reading dark text on a bright background. An abundance of vibrant colors may overwhelm the readers and make them leave the page, blinded. Separate the text in emails into small bites. Save room between the text blocks, images, and buttons.
Keep your brand's identity. Use email campaigns as an extension of your brand's website and social media pages. Keep the set of colors, fonts, and tone of language in the same fashion throughout all of your brand's marketing spaces. Otherwise, your emails will look unprofessional and cheap, or unrecognizable by the customers.
Work out a relevant design. Create a design that corresponds with the goals of your email campaign. Remember, a regular newsletter and Valentine Day's celebration email differ from one another because they both provide a different kind of value. You can use SendPulse email templates for your email campaigns for free and simplify this process.
Implement a responsive design. Modern adaptive designs is a must in today's email marketing. Using a responsive design makes your emails look professional from any device, whether it's a desktop, a mobile phone, or a tablet. All emails made with SendPulse has a responsive design by default.
Use helpful resources to speed up the process. There are a few sites of stock photos, which stand out from the crowd of uniform, corporate resources: Death to The Stock Photo, Unsplash, and Gratisography. There are also tools for creating images like PlaceIt and Canva. Besides, you can use colossal icon libraries like Elegant Themes and Dry Icons for your email marketing campaigns.
Email Campaign Templates
If you don't have time to create your own template, you can use editable pre-designed templates. Every email service offers pre-made templates. With such a template, you only need to replace the standard text and images with your content. You can also edit the colors, fonts, background, etc.
SendPulse provides a variety of free templates for any occasion or event. You'll definitely find a template to inform your clients about an upcoming sale, congratulate them on big holidays, remind them about an abandoned shopping cart, and much more.
If you received an outstanding email and want to use its design, you can do just this with SendPulse. Our Chrome extension allows clients to save any email they like as a PDF, a full-length screenshot, or an HTML template, edit it to your liking and send it to your mailing list. The extension is free.
This is how the extension works.
If you want to increase your brand recognition and awareness, we recommend you create a unique branded subscription form and edit it before sending a campaign. This way, your audience will recognize your design and associate it with your company. Besides, you don't need to know HTML or have any technical skills to create a professional subscription form.
With our drag and drop editor, you can create an email in less than an hour. Drag the necessary elements to your template, design it to your liking, add videos and links to your social networks. Every email created with SendPulse is responsive by default, so they will look great on any screen resolution.
In the screenshot below, you can see how creating an email looks. Drag the elements from the left side and edit them on the right side.
Creating a Successful Email Campaign
Set your goals
Grow your opt-in mailing list
Segment your mailing list
Create emails with a consistent layout
Write a good copy
Personalize an email campaign
Use A/B testing
Set your goals. What is the aim of your email campaign? Having a goal helps you select the type of email, design, and create valuable content for your recipients. Try to set realistic goals that are achievable and monitor your efficiency.
Grow your opt-in mailing list. Find out the best media for gathering subscribers. Create a subscription form for your website or blog and collect the data you consider the most important for your mailing list: email address, phone number, name, gender, country — whatever you may need to create relevant and targeted email campaigns. Don't forget that your mailing list should be double opt-in, which means that you will gather an audience of only people who are genuinely interested in your services. You can significantly grow your audience with SendPulse multichannel subscription forms. Let users subscribe to your emails, chatbots in Facebook Messenger, and Telegram from one form.
Segment your mailing list. Segmentation highly increases relevancy and targeting. It's convenient to segment mailing lists with SendPulse, and opportunities for segmentation are virtually unlimited. Segment your mailing list according to the country, gender, place in the sales funnel, etc.
Create emails with a consistent layout. If the mailing list is up and ready, create an email campaign with the help of a drag-and-drop editor, which allows creating great templates without coding. Besides, you can use pre-designed templates provided by SendPulse.
Write a good copy. The style of the text should correspond to your brand's general identity. Create a funny and intriguing subject line and preheader text. Put the most tasteful information there to encourage the recipients to open your email. The copy inside the email should be meaningful with a purpose in every word and lead a reader to the CTA smoothly.
Personalize an email campaign. Another reliable tool for success with an email campaign is personalization. The data that you've gathered enables you to personalize the subject line and provide subscribers with slightly different emails at once according to their email preferences and behavior.
Use A/B testing. A/B testing gives you a chance to clarify whether your email will impress your audience or not, without sending it to the entire list. The size of your mailing list determines the number of recipients required for testing. For instance, you can test different subject lines by sending two different emails to two equal groups of people. After that, you will know which variant is better. The same goes for email visual and text content, CTAs, sender's name, etc.
Email Content Ideas
Educational emails
Product updates and releases
Cases
User-generated content
Milestones
Videos
Events
Customer success
Surveys
Promotions
Digest
In this section, we'll provide a list of interesting email content ideas that you can draw inspiration from. You'll find tips to help you increase user engagement, retention, loyalty, and, of course, sales.
Educational emails. Lead nurturing is all about educating your audience. When users join your list, they're not ready to buy. You need to provide them with the right educational content at the right time. Right after their subscription send them a welcome email where you'll cover the benefits of using your service. If they browse your site pages often, send them a live demo and offer a free trial. If they get stuck with some features, send them a tutorial, a webinar, or invite them to a workshop. Remember that educational material should correlate with your leads' stage in the sales funnel to be relevant.
Product updates and releases. If you're about to launch a new product or have just updated some features, inform clients. This is your chance to build hype around your brand and increase customer engagement. Here's one important aspect — you should explain how your updates or new product will help solve customers' problems and satisfy their needs instead of keeping them in the know about your achievements. If clients are aware of the benefits they can get, they will definitely go for your product.
Cases. Each brand needs cases. It doesn't matter whether you sell marketing services, clothes, household appliances, repair, or beauty services, you should have cases. They will tell your potential clients how your brand helps customers solve their problems and improve their life. People trust people, not brands. So, we recommend you to publish cases on your blog or on social media, and share them with your leads via email campaigns.
User-generated content. This is content produced by the audience of your brand. It includes comments, testimonials, reviews, photos, videos, etc. Clients create it to thank a brand for a great product and share this great news with their friends. Encourage your customers to create user-generated content, and share it via email campaigns. This will help you build credibility with customers, encourage leads to make a purchase, and impact your SEO efforts positively.
Digest. This is a regular roundup of articles or news. Brands send it weekly, biweekly, or monthly. With a digest, you can drive a lot of traffic to your site, boost subscriber engagement, show your expertise, and boost sales. Summarize either your news for a certain period of time or create a round-up of the articles on your blog.
Milestones. Milestone emails are automated messages sent as a part of the customer lifecycle. Marketers use them to celebrate a client's birthday, the anniversary of their signup, first purchase, or any other achievement. These emails are highly personalized so they perform much better than any other email. With SendPulse Automation 360, you can send a milestone email automatically. You only need to collect customers' personal data and create an email flow.
Videos. Try different content formats to keep subscribers engaged and find out what performs best for your business. Emails with videos show higher email CTR. You can add a how-to video, show some behind-the-scenes content, or share a link to your YouTube channel if you have one. If you produce videos on a regular basis, your subscribers should know about them as most people prefer visual content.
Events. If you hold meetings, conferences, or webinars, you should send event invitation emails and reminders. They will help you create hype around your event, build anticipation, increase brand recognition, and the number of participants. Send an announcement email, let subscribers register and save a seat, and then remind them about your meeting a day before the event and an hour before it begins.
Customer success. Monitor your clients' success using your service. Say, you provide a site builder. Track your client's progress in using more advanced features. Congratulate them on creating their first site and other minor but important achievements. This way, you'll increase customer retention and loyalty. Clients appreciate brands that care.
Surveys. Run a survey or poll to discover what your clients think about your brand. Ask what they like the most about your brand, what they'd like to change and improve, what their favorite products are. Their answers will provide you with a clear picture of your business. You'll get valuable insights that will help you improve your product and service.
Promotions. They're an integral part of any email marketing strategy. With their help, you can boost sales and provide each client with a personalized experience that will result in building customer loyalty. You can run holiday, seasonal, and time-limited promotions. Create a collection of favorite and top-rated goods. Track users' behavior on your site, and send them personalized offers: abandoned cart emails, notifications that their favorite items that are back in stock, or goods that complement their purchase. Offer discounts and free shipping to make the decision-making process an easy thing.
How to send an email campaign with SendPulse
Register an account
Add a mailing list
Create a campaign
Test and send
Measure
Automatically resend to unread
Register an account. Fill the registration form in our service.
Add a mailing list. Upload an existing mailing list or create your own. Never buy a mailing list because it will hurt your business and sender reputation. Use double opt-in to ensure all subscribers have provided you with a valid email address. Check your mailing list with our Email Verifier. It will find and remove invalid email addresses from your list for free.
Create a campaign. Create an email campaign with our simple and intuitive drag-and-drop editor, or use preset free templates. Try to keep your design and copy consistent, relevant to your offer, and your brand's identity.
Test and send. The bigger your mailing list is, the greater chance you have for A/B tests before actually sending your email to your entire audience.
Measure. After the launch, you can gain a lot of data about an email campaign: the number of sent and delivered emails, open rate, click-through rate, and bounces, opens by location, clicks map, domain metrics, devices of the recipients and detailed statistics of errors. Compare these metrics with your expectations and goals to improve your email marketing strategy.
Automatically resend to unread. You can use the auto resending tool to send the same email again to those who never opened it. You need to change the subject line and schedule the time for resending. This feature makes your email campaign more efficient by increasing its open rate.
How to Measure an Email Campaign's Effectiveness
Open rate
Click-through rate
Bounce rate
Forwarded emails
Unsubscribers
Spam complaints
This is a list of measures that enables you to monitor the email campaign's efficiency.
Open rate. This statistic identifies how many emails were opened out of the number delivered. Whether the recipients open your email or not depends on the quality of the sender's name, subject line, and preheader, the first things the recipients see.
Click-through rate. A measure of the number of clicks on a call-to-action button. If the click-through rate is high, it indicates that the content of the email is relevant and valuable for your subscribers.
Bounce rate. This is the percentage of emails that were not delivered. There are multiple reasons for bounces: fake email addresses, a full inbox, inappropriate size of the email, or identification as spam by a recipient's server.
Forwarded emails. This stands for a number of emails that were shared on social media. It indicates how many brand advocates you have.
Unsubscribers. Unsubscribing is not pleasant, though it cleans up your mailing list, as people who are not interested leave in peace without any effort from your side. However, if this number is too high, you need to reconsider your approach to email marketing.
Spam complaints. If your email turns up in the spam box, it's the worst-case scenario because this is very harmful to your business.
7 Email Campaign Examples
In this section, we've collected some inspiring examples of email campaigns. You can use email ideas from popular brands as well as follow them in terms of design and copywriting.
This welcome email is sent by Petco. The warm and friendly tone of their email creates good vibes and makes each recipient smile. The company explains how they can help every pet owner by adding links to useful categories. In addition, the brand lets users create a pet profile to receive customized news, offers, and birthday gifts.

Alex Mill — a popular store of classic essentials — sent this abandoned cart email to the users who didn't buy. They can not only review their cart but get a 15% discount. This is a great technique that helps increase sales.
This birthday email sent by Anthropologie. The brand congratulates the client on his special day and offers 15% off the purchase online and in-store. This helps the brand increase customer loyalty and boost sales.
True Citrus celebrates its clients' anniversaries by sending milestone emails. The brand appreciates customer loyalty and provides a generous 40% discount to prove it.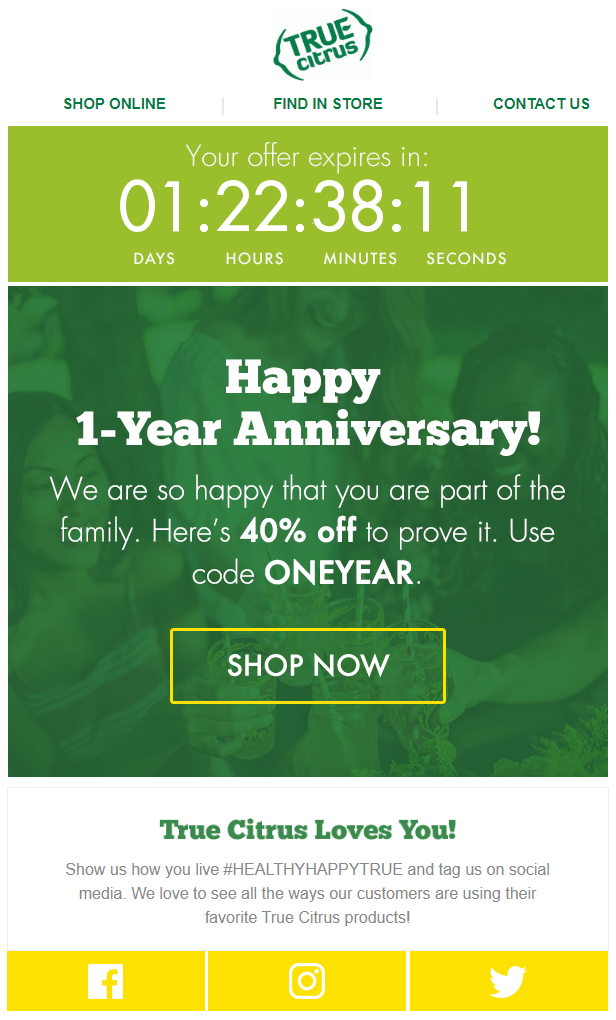 Garnet Hill invites its customers to enter the contest. They can win a $500 gift card after they leave a review of the product they like. This technique allows the brand to boost customer engagement and collect valuable user-generated content.
MAC Cosmetics knows a thing or two about nurturing leads. The brand regularly sends how-to emails to teach their audience how to use their products effectively. In the email below, the brand explains step by step how to cover acne and dark circles.

Segment — a customer data management platform — sent this event invitation email. The brand presents the speakers and clearly explains what the attendees will learn by visiting it.
Email campaign tips and best practices
Let subscribers set their email preferences
Add alternative text for the images
Plan drip email campaigns
Encourage sharing
Send birthday campaigns
Let subscribers set their email preferences. This will make segmentation and personalization easier. You can offer subscribers to set their preferences in a welcome email or add the link to the preferences center to the footer of every email.
Add alternative text for the images. Alt-text is a hidden text which duplicates information from the pictures and saves chances that email will be read in case the recipient has pictures turned off or if they are downloading for too long.
Plan drip email campaigns. Create a sequence of email campaigns to reach more distant and long term goals.
Encourage sharing. Reward your subscribers for sharing your emails on social media. Surprise those who shared your email with friends by offering a discount or sending a thank you email.
Send birthday campaigns. Collect your subscribers' birth dates to congratulate them on their special day, wish them well, and build trustful relationships.
FAQ
Last Updated: 07.09.2023