Personal branding used to be an oddball in the business world. Before, it was more of a super-famous entrepreneur or Oprah Winfrey kind of thing — but no longer.
Now, if you're switching from a full-time office job to freelancing, you need an online reputation to find new clients. When you're launching an online course, you need to prove that you're an expert first. Your digital career is all about earning your audience's trust before you turn them into customers, and a personal brand is your blueprint for success here.
In this post, we will explore how to build a personal brand, market it, make the most out of it and review several personal branding examples to broaden your vision of this notion.
What is a personal brand?
A personal brand is a collective of who you claim to be as a person, the values you stand for, the ways you manifest yourself, and distinctive aspects of your persona reflected in the public's consciousness. That last part is key here — your personal brand is not just how you want people to see you but also how your individuality and experience resonate with them.

When you think about Bill Nye, you think about science and climate change; whenever you see Casey Neistat's new video, you think about the power of will and achieving the impossible.
Although every personal branding strategy is unique and unlike any other, they do have some common traits. A study by New York Times claims that there are six types of personal brands that can be distinguished among content creators.
Altruists
Altruistic content creators are conversant, public-spirited, compassionate; they often prefer actions over words when inspiring someone. They are admired by the audience for their genuineness and authenticity — traits that are valued by all kinds of consumers. The Altruist is often your go-to person for sterling guides based on personal experience and honest tips, given their commitment to helping others.
Careerists
Careerists are, as the name suggests, high-reaching people with a go-getting attitude who know how to build a personal brand and benefit from it. They are most likely to share valuable industry-specific information to make their way up the career ladder and enhance their reputation as industry experts. You will mostly find Careerists having elegant and sophisticated-style blogs or business-themed social media profiles.
Hipsters
Hipsters are known for giving pop culture a wide berth and espousing the cult of individuality when developing a personal brand. They often want to try new things before anyone else does and share their unique experience. Consequently, these are the personal brands you turn to for transparent case studies or even crash tests.
Boomerangs
The Boomerang's personal brand strategy often revolves around entertaining their audience by sharing provocative content. Controversy is their middle name. Boomerangs have a knack for starking the debate around their brand, but they don't always believe what they say when developing a personal brand. Although they benefit from their constantly increasing audience and brand exposure, Boomerangs often walk on thin ice, risking to be merely evasive and manipulative.
Connectors
Connectors tend to start building a personal brand around the idea of bringing people together. They are open-minded, charismatic, and good public speakers and leaders. Connectors enjoy seeing people bond over their ideas, so you can often see them organizing fundraising events, having their own TV shows, channels, or podcasts, or starting social media challenges.
Selectives
The Selective brand type embraces people who are bright, accomplished, have a ton of hands-off experience, and can give you sound advice on almost any industry-related issue. However, they don't share their knowledge with many either by choice or due to the lack of personal brand strategy and skills to promote their product to a wide audience.
Speak clearer, talk louder: discover how to position your brand to be recognized by your customers.
Have you recognized yourself among these personal brand types? Excellent! Understanding your role and persona can help you shape your personal brand strategy, fine-tune your promotional efforts, and maximize your benefits and revenue.
Five benefits of developing a personal brand strategy
The digital world abounds in capable and promising entrepreneurs. Seriously, there is so much talent around the internet that it's impossible to look at sometimes. However, many of them are not running at full speed. Let's dig into the pros of developing a personal brand that can amplify your talent.
More self-confidence
If love sustains you, nothing will sustain you as much as doing what you love every day and being admired for your uniqueness. Being your true self while also getting paid for it is an insane energy and confidence booster.
Creating your personal brand empowers you to let go of that nasty imposter syndrome since it simply cannot be the case, not this time. Your personal brand is proof that you did not just get lucky or achieve your accolade with someone's help — you keep achieving it every day thanks to your skillset and authenticity. Sure, this benefit is more personal than professional, but isn't it where all thriving business careers start?
More brand credibility
The more visible you are, the more consumers trust you. Sharing information-laden and original content enables you to pinpoint your expertise. It's a perfect spot for showcasing your talent and what you are the proudest of through actions.
Try out our tips that will help you develop and manage your online reputation!
People trust other people — that's the rule many businesses live by, but it's especially true for personal brands. Ensure that your online reputation and credibility are not centered around you and your product alone. Bringing out your customers' testimonials when developing a personal brand can help it come off as more humanized and credible.
More business opportunities
Not everyone who follows your personal brand is a potential customer. Companies, organizations, non-profits, bloggers, influencers, journalists, entrepreneurs, and other parties like to keep their eye on opinion leaders, building connections and relationships with them.
When you're creating your personal brand, you have no idea how many stellar business opportunities wait for you around the next corner. With more and more people recognizing you as an industry expert, you are a lot more likely to be invited to interviews, podcasts, charities, webinars, joint projects, online courses, conferences, and so much more.
More career independence
While other types of branding sometimes require you to compromise your interests and do what you don't enjoy, that will not happen when developing a personal brand. Why? Because nobody is there to tell you what to do.
As a personal brand, you hire other experts to support you and help you build a competitive edge to make your big and small ideas come true. A well-performing personal branding strategy is your blessing to be your own boss without having to sacrifice your time and effort on what doesn't inspire you.
More authenticity and value
As the overachievement culture and its toxicity slowly become less and less relatable, your audience does not want to see polished and shiny content and fake smiles anymore. What's also essential is that creating your personal brand does not have to involve hiding your slip-ups.
Learn how to provide more value to your customers with our six strategies!
You can bring the most value to others by being honest and turning your fails into transparent and authentic business cases. No matter how competent and experienced you are, you have not always been like that, and sometimes you make mistakes. This is something that actually makes your content genuine and captivating — not showcasing a new yacht or stacks of money.
How to build a personal brand in seven steps
Creating your personal brand is a long, mythical, and sometimes unpredictable run, especially if you did not get to make your own decisions work-wise before. But it's going to be worth it in the end. We will start from simpler tasks, then move on to more challenging ones, and explore how to build a personal brand.
Step#1 Introspect your personality and expertise
Remember that time when you got home from your hairdresser with a new bob haircut and realized you just wanted to have your split ends trimmed? Been there, done that, but that is not the point here. The problem is that you did not know how you wanted to look to begin with.
This analogy might appear unhinged, but it actually perfectly illustrates the need to fully comprehend where you stand professionally and mentally. You should eliminate the possibility of crafting a detrimental and inauthentic persona due to the lack of self-awareness. Ruminate on the following points to figure out how to build a personal brand that is a reflection of your true self:
What tasks bring you joy?
Are you good at them? If not, what else are you good at?
What tasks are you usually delegated to?
What tasks do you constantly need help with?
Does your vision of your strengths coincide with the way others see them?
Is there something you talk about all the time and can lose the sense of time doing it?
What roles invigorate you?
What are the roles you find uninspiring and stressful?
Step#2 Define your target audience
Does creating your personal brand come off a little like homework assigned by your therapist? That's because it is, actually. The mindfulness you have acquired will also bolster the process of identifying your target audience.
Now, it's not just professional interests that you have to account for. For sure, a community college art teacher with no interest in the IT world won't follow your blog about coding. Still, how do you attract IT experts who are interested when there's already so much content about coding? With the right audience, your personality can help you determine how to build a personal brand and turn it all to gold.
Go over our inside baseball tips and tactics on how to increase your audience engagement.
Your natural charisma and the way you dress up your thoughts captivate certain kinds of people. Whether it's their social or financial status, extroverted or introverted nature, a specific experience that you share, belonging to a certain clique, and many more — use it to find the audience that clicks with you and enjoys just watching or hearing you talk regardless of what you have to say.
Step#3 Craft your persona
Once you have explored your target audience and professional and personal strengths, it's time to fine-tune your public face. At this stage, you need to decide on:
your tone of voice;
ideas you advocate;
ideas you denounce;
the key characteristics that define you.
Try to zero in on the clues and aspects that reflect your personality when shaping your personal branding strategy. If you are laid-back, amiable, and a good teacher, ensure that this is the first thought that pops into your site visitor's or first-time watcher's head.
Stephanie Gilmore's website reflects her adventurous and daring personality as a surfer. She uses the power of landing page visuals to show what her life looks like and attract more visitors.
Even though building a personal brand requires you to be genuine and relatable, it does not imply you have to share every detail of your life. If your content is centered around your non-filtered experience, then there is no reason you should hold something off. However, you can keep some life moments private if sharing them makes you feel exposed or not aligned with your corporate-style persona.
Step#4 Be a storyteller
When developing a personal brand, entrepreneurs usually craft a narrative that will skyrocket their career and keep their brainchild blooming. Think about what drives you when you are rooting for a TV show character. Better yet, what's powerful enough to make you empathize with a bad guy sometimes? In both cases, the answer is their background story.
Explore how to incorporate storytelling into your emails and build your audience's trust!
Giant corporations and businesses struggle to make themselves look more humanized and earn their customers' trust. You don't need to come through hell or high water to achieve the same goal since you already have a story to tell. Everything that led you to where you are now, failures and triumphs, and your inspirations are your head start. The only thing you need to do is to articulate them using the tone of voice you have already established to start building a personal brand.
Step#5 Keep your website and social media profiles updated and upgraded
No, an Instagram profile with pictures of flowers and your dog alone won't suffice as a personal brand strategy, even if they are super cute and aesthetic. Since combining personal aspects of life with business is not a new kid on the block, that's what you should be aiming for.
Apart from your landing pages and email campaigns, here are some mediums you can conquer when building a personal brand:
LinkedIn;
Instagram;
Twitter;
Facebook;
YouTube;
TikTok;
Reddit;
Quora, etc.
You can start developing your online reputation by commenting on other influencers' posts, helping users with industry-related issues, giving a sneak peek of your new projects, and making meaningful connections that can help you find out how to build a personal brand that reflects your individuality.
Ensure that all of the communication channels you leverage, especially your website, include your credentials, social proof, certificates, awards, etc. This way, anyone who might want to see some hard proof of your expertise does not have to go the extra mile to find it.
Centering your personal branding strategy around growing your audience online can help you find people who are active and with whom you truly connect. You can add a chatbot subscription widget or a bio link page to your social media profiles to ensure that people can follow you on their preferable platforms.
Step#6 Develop a content plan and strategy
Having developed your persona, original tone of voice, and heartfelt narrative, you need to incorporate all of this effort into your content. What's imperative when building a personal brand is that you continue posting regularly to live up to your audience's expectations.
Check out our top five video management systems to help you breathe easy!
One of the efficient ways to constantly bring value through relevant content and strike a chord with your audience every time is to plan it all beforehand. Evaluate new trends on your topic, check out what other experts in your niche post, analyze your audience's preferences, and, finally, shape the personal brand strategy you will stick to. Prior research and thorough planning will enable you to stop running out of ideas of what to post, especially when you need them the most.
Creating a content matrix will allow you to avoid posting repetitive, irrelevant, or value-deprived content.
Step#7 Be consistent and visible
A great start is a job half done, they say. However, sometimes keeping it up and getting the other half of the job done is even more challenging, particularly when it comes to content marketing. You need to be consistent and patient with your personal brand strategy to see excellent results.
Get some valuable tips on how to master omnichannel marketing and incorporate it into your routine!
Remember to always keep the same tone of voice, incorporate the same communication style, and advocate the same values across all communication channels. Consider guest blogging and participating in offline and online events to be in the public's eye. Having a detailed content plan and personal branding strategy will not let you get off track here.
Six tips to revive your personal brand marketing
A sheer volume of techniques you leveraged while developing a personal brand can come in handy to market it as well. If you keep targeting a particular audience, maintaining your unique tone of voice across all channels, and posting new content regularly, it will keep working for you as a marketing strategy.
Nevertheless, there is a lot more to personal brand marketing. Let's review some practical strategies that can help you boost and promote your personal brand.
Tip#1 Conduct Q&A sessions
Q&A sessions enable you to connect with your community and impact their vision of you as an expert. Whether you answer purely industry-related questions to help with an issue, questions about your recent project, or simply personal questions — always aim to provide as much value and authenticity as possible.
Take this Q&A session Gary Vaynerchuk does on his Instagram as an inspiration:
You can start a Q&A session on Instagram Stories or Live, YouTube, Facebook, Twitter, or Reddit contingent on your content type and customers' preferable channels to step up your personal brand marketing.
Tip#2 Share freebies and downloadables
Sharing free content is one of the proven ways to grow your mailing list and benefit from the increased number of active subscribers when creating your personal brand. You can use checklists, eBooks, recorded webinars, short online courses or guides, and discounts as lead magnets to engage more potential customers.
This lead magnet example can be your inspiration on the way to acquiring more subscribers:
However, once you get more subscribers, you need to make sure that they stay on your mailing list without reporting you as spam. For your personal brand marketing to thrive, you need to keep sending them value-rich and relevant content only as often as they prefer.
Need some extra tips on how to battle the spam folder? Check out our post to learn how to prevent your emails from going into spam!
Tip#3 Consider guest-blogging
Guest posting is an excellent personal branding strategy to exhibit your competence and experience in the industry. Look for sites that post content relevant to your area of expertise and have a similar audience and excellent reputation.
Explore how to create a surefire pitch to post your content on top-notch domains.
You can find various guest-blogging opportunities using Google search and keywords. Say, if you are looking for graphic design blogs, then your keyword would be "graphic design." You also need to enter "submit guest post" with a plus sign before the phrase so that your query looks like this: graphic design + "submit guest post."
As you can see, Google has found over a hundred thousand results for you in less than a second. Try this method next time you want to apply for a guest post.
Tip#5 Incorporate cross-marketing tactics
You can enhance your digital footprint, increase your exposure to a larger audience, and amp up your personal brand marketing by collaborating with another brand.
The possibilities are endless: you can offer your fellow personal brands to hold a joint webinar, go live to discuss your industry's recent trends, or simply give each other a shout-out on social media.
Not sure where to find an influencer for your next project? Our post can help you learn how to attract niche influencers who are actually influential!
Tip#6 Guest-star in a podcast or start your own
Podcasts are now as popular as ever, and there is absolutely no reason why you should not use that to your advantage. In case you feel like you have a lot to say about your industry's trends, issues, or misconceptions, you can start your own podcast to refine your personal brand marketing. This tactic will allow you to constantly collaborate with other influencers and expand your impact on the industry. Or you can become a podcast guest and boost your online recognition.
Awe-inspiring personal brand examples
Since every person, by their nature, is unique and unlike any other, different personal brands are also unique and might need distinct strategies and tactics that work for them specifically. We have gathered personal branding examples from widely varying industries to help you understand which personal brand strategy suits your brand's needs.
Elon Musk
The guy is not exactly unproblematic as he was repeatedly accused of his multi-planetary business ambitions and wasteful extravagance. However, you have to hand it to him — he achieved a stellar (pun intended) accolade in terms of his personal branding strategy.
Despite his image of a high-reaching man of intellectual pedigree, Elon Musk also managed to win the public's affection with his meme-worthy tweets and comments on social media. Sometimes Elon can become quite a popular meme himself.
Although the owner of Tesla Motors and SpaceX is vastly renowned, you will not see any mentions of Elon Musk's name anywhere on their websites.
Perhaps that's because everyone knows him nevertheless — and that's why Elon Musk is on our list of personal branding examples. Although you don't need to launch Teslas into space to promote your personal brand, consider being active and genuine on social media since it's an integral part of your authentic image.
Another aspect Elon Musk's personal brand example can teach you is to keep your website intuitive and up to date so that your visitors can find what they came for seamlessly.
Gordon Ramsay
So another a bit problematic guy, but again — you know him. Chef Ramsay is notoriously famous for haranguing people for their cooking skills on television and also making a living for it. He hones in on developing a personal brand you can describe as insightful, intense, and contentious.
Gordon Ramsay is often invited as a podcast guest to discuss the culinary world and provide his expertise. It's one of the best personal branding examples since podcasts don't just reflect your industry competence, they also mirror your personality, which contributes to your brand's authenticity.
However, what helped chef Ramsay to reinforce and market his personal brand the most were the reality shows: "Hell's Kitchen," "MasterChef," and "Kitchen Nightmares."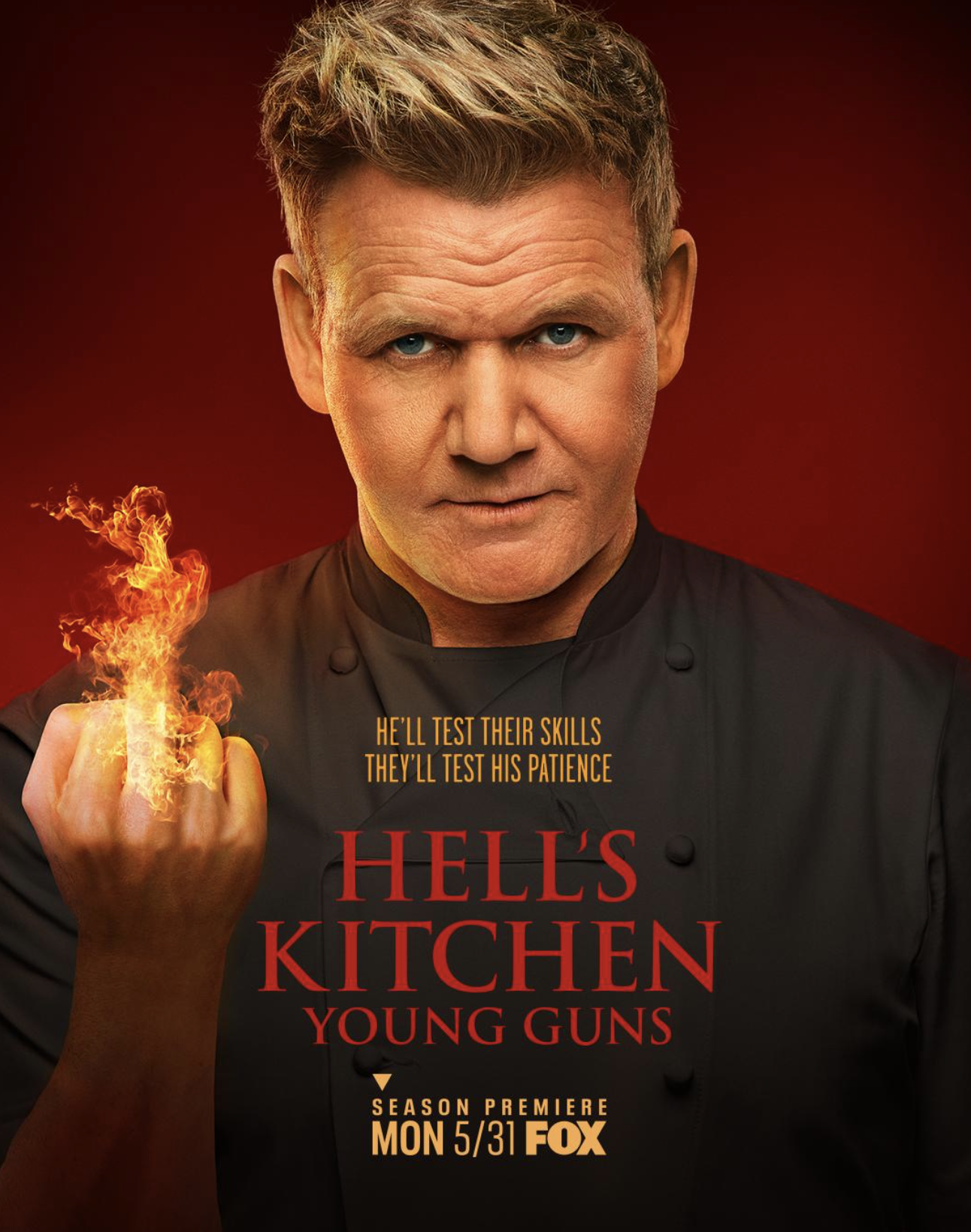 Don't get the wrong lesson here — you definitely don't need to be so abrasive and on-the-verge-of-plain-bullying as Gordon Ramsay. What you can learn from this personal brand example is that embracing your passion and being 100% confident about doing what you love is your bulletproof way to brand authenticity.
Reese Witherspoon
Sweet, vivacious, inspiring — it's all about Reese Witherspoon, an actress and entrepreneur. Reese leverages all kinds of social media platforms to amplify her voice and expand her already-immense target audience as her personal branding strategy. Every month the actress picks a book she loves with a female lead and gives it a shout-out on her Instagram, inspiring her followers to read it too.
Reese manages to captivate and attract more followers with her book club, and the books featured often end up being adapted into big-scale movies and TV shows. The actress has also founded the Hello Sunshine company, the focus of which is women and stories by women.
Reese places her pictures all over Hello Sunshine's website, making her face and personality more and more recognizable every time new people visit it. Another reason why we include Reese Witherspoon into our list of magnificent personal brand examples is that you can find anything from the actress's new book, social media profile links, and new interviews to her book club links in a few minutes. That's what we call a well-built and intuitive site architecture.
Banksy
We've reviewed an extravagant brand, contentious brand, and loveable brand. But we haven't had a mysterious one yet, so let's fix that.
Banksy's personal branding example proves that you can build a brand without ever showing your face or having an elaborate and fancy website.
Although no one is sure whether Banksy is one person or group of people or of literally anything that regards him, his works have been hitting a home run since the world first noticed him.
Banksy mostly achieved his (perhaps unplanned) glory thanks to word-of-mouth promotion and powerful messaging. Banksy can serve as one of the most outstanding personal brand examples and teach the influencers about the potential of distinct styles.
For sure, it's better to create a more complex website than the one that Banksy has, but forging your unique content style that will define your persona when creating your personal brand is an A-list tactic. Banksy's personal branding example demonstrates that sometimes you can just let your brainchild do the talking and benefit from a massive word-of-mouth promotion and brand exposure.
Aleksandria-Ocasio Cortez
Alexandria Ocasio-Cortez is a politician, activist, and renowned and skillful debater. You can describe AOC's personal brand as public-spirited, tenacious, and robust, which suits her role of a young Congresswoman perfectly. Apart from her political presence, progressive ideas, and classy outfits, she is also known for her social media activity, especially on Instagram and Twitter.
Alexandria leverages Q&A sessions on her Instagram to answer subscribers' personal and work-related questions: from her education and work routine to the ways she finds inspiration and hope.
Alexandria also posts interviews with celebrities, goes live to talk about recent social issues, and plays Among Us with her audience. This is one of the best personal branding examples that can provide you with inspiration for your own Instagram activities.
Whenever you're ready
And that's got to do it. However, just to consolidate your knowledge of personal branding, let's go over the key points you should stick to when creating your personal brand:
be honest and genuine
be active on social media
create a compelling narrative
be consistent
don't disregard your fellow influencers
There is no denying that building a personal brand is an unnerving and sometimes even vexing task. Still, you don't have to go through that alone. You can rely on your team to help you with content planning, promotion, or design and on SendPulse — with your landing pages, email campaigns, and subscription widgets. Focus on building a connection with your audience and doing what you truly admire, and let us handle the technical side of things!