Have you ever thought about how your business is affecting people and our planet? Because your potential customers sure have — almost 90% of consumers are convinced that companies are responsible for their carbon impact and that they should do more to reduce it.
But it's not just about the climate.
More than 80% of buyers think that businesses should participate in solving social issues, too. Better working conditions and higher pay mean that more people will get access to proper education, nutrition, and healthcare and will be able to make more sustainable choices themselves.
So, in business, sustainability also refers to developing a fair, inclusive, and transparent recruitment process, creating a comfortable and safe working environment, using materials from certified sources, and so on.
Let's talk about sustainability marketing and why it should be the cornerstone of any marketing activity in 2022. You'll learn how your company can start promoting a more sustainable mindset to attract conscious consumers while staying true to its brand identity. We'll also show you five inspiring sustainable marketing examples and discuss how to make sure that your green claims are trustworthy and accurate.
What is sustainable marketing?
Until very recently, companies all over the globe have been producing and selling goods like there's no tomorrow. This seems to be changing.
More businesses are adopting long-term thinking and striving to become ethical and purpose-driven. They recognize the growing demand for sustainable products and are trying to accommodate it.
Learn how to improve a brand image and bring some positive change with cause-related marketing.
Sustainable marketing helps your company communicate to its customers that it cares about future generations and what they'll have to deal with. It's your way of showing that your brand is aware of its social and environmental impact and is trying to improve it.
Sustainable marketing includes but is not limited to promoting:
environmental education;
responsible consumption;
transparency;
recycling;
waste reduction;
activism;
social responsibility;
community empowerment;
equality;
circular economy.
To put it simply, sustainable marketing sparks conversations about how we produce and consume things. It also encourages both brands and customers to be more mindful of their choices and decisions.

Why do you need to focus on sustainable marketing in 2022?
Unlike other marketing trends, sustainability isn't going anywhere any time soon. The more consumers learn about the climate and how different industries are affecting it, the less forgiving they get.
Amazon fatigue is about to become a new phenomenon — around 40% of young customers already acknowledge that they feel guilty after impulsively purchasing low-quality goods from unethical companies.
The new generation is becoming aware of how their buying habits and lifestyle are affecting the planet, and they don't want to trade their values for convenience anymore. Zoomers take a critical look at brands before purchasing from them.
Most young consumers say that they would walk away from a retailer that was caught violating human rights or environmental laws. Even the most reputable brands experience backlash when their unethical production methods get exposed.
But there's a bright side to sustainable marketing, too. For example, it can help you:
find a new angle for your offer and improve your brand positioning;
foster your brand community and increase customer loyalty;
stand out from the competition by becoming a more transparent, value-based company;
build and maintain investor trust by demonstrating that your business has a long-term vision.
The toughest part about sustainability in marketing is that it requires real efforts and actions. It's not enough to create a dedicated website page and be done with it. Claiming to be a sustainable brand when you are not will only make customers frustrated and harm your reputation in the long term.
Check out some actionable tips on online reputation management.
Meanwhile, greenwashing is ubiquitous — for example, independent reports show that 91% of green claims by fast fashion brands were found to be unsubstantiated or misleading.
On the bright side, if your brand actually strives to make a positive difference to our planet and society, even on a small scale, it'll be easy for you to find the right words to reflect those actions.
As long as you're staying open and honest about your social and environmental impact, your target audience will pay attention to you. And if your company has not undertaken any sustainability initiatives yet, now is the right time to change that.
Learn from the best emotional marketing examples and explore ways to tap into your audience's emotions.
How to create an authentic sustainable marketing strategy
You can start off by analyzing your company's current environmental impact and focusing on your existing achievements and future initiatives. Also, it makes sense to check if there are some prominent sustainable marketing examples in your niche you can draw inspiration from.

For example, if you are a cosmetics brand, here's what your potential sustainable marketing efforts might look like:
Describe how using your products help your customers learn self-love.
Share customer stories about your products positively affecting their mental wellbeing.
Educate your customers on how your packaging should be recycled.
Give your subscribers tips on how to store and use cosmetic products to extend their shelf-life and reduce waste.
Share sustainability tips and collaborate with eco-conscious influencers on social media.
Encourage and promote sustainable initiatives and projects within your company.
To shape your own, one-of-a-kind sustainable marketing strategy, you can ask yourself and your team the following questions.
| | | | |
| --- | --- | --- | --- |
| Culture and values | Supply chain | Product | Vision |
| How can you fold sustainability into your company's goals? | How do you package, store, and transport goods? | How does your product help your customers live a more sustainable, healthy, and happy life? | What are your sustainability goals for the next five years? |
| Do you actively attract candidates from diverse backgrounds? | What materials do you use? Where do they come from? | What happens to your products after they break? Can they be repaired or recycled? | Are there any activists, opinion leaders, NGOs, or foundations you'd like your brand to be associated with? |
| What is it about your company culture that draws people in? How does your company ensure their wellbeing? | How do you ensure that your suppliers use ethical practices and uphold the same eco standards? | What do you do to prolong the life of your products? | Will your devoted customers be willing to pay more for more sustainable product options? |
Answering these questions will help you understand what needs to be done in the future and what facts you can already use in your marketing communications.
Five sustainable marketing examples
For this section, we've picked real-life examples of companies that successfully balance business growth and positive impact and leverage sustainable marketing.
Of course, these and any other brands don't have it all figured out. They have a long way to go before becoming carbon-neutral and fully sustainable and fair, but it's a marathon, not a sprint.
It'll take time for businesses to embrace new standards, but we clearly see that positive change is happening, and that's what matters most.
Sustainable marketing example #1 IKEA
IKEA's vision has always been sustainability-oriented on its own: "To create a better everyday life for the many people." In its marketing communications, the company doesn't push consumption for the sake of consumption. Instead, IKEA promotes a mindful, slow-paced, and healthy way of living.
The company constantly introduces eco-friendly changes and innovations helping its customers produce less waste, reduce energy consumption, and save money. For example, IKEA phased out all non-rechargeable alkaline batteries and replaced them with rechargeable batteries. Also, it aims to use only renewable or recycled materials by 2030 and offer more plant-based options.
IKEA's sustainable marketing efforts include:
collaborating with startups developing clean-energy and water-saving solutions;
promoting initiatives for cutting food waste;
ensuring unbiased recruitment practices;
sharing business stories related to sustainability;
showing where its wood and cotton come from;
sharing its achievements and future sustainability goals;
teaming up with civil society organizations supporting social entrepreneurship;
regularly publishing sustainability reports;
sharing its profits with IKEA foundation, independent philanthropy focused on climate and communities.
Also, IKEA recently tested an innovative pop-up store stocked entirely with second-hand IKEA products.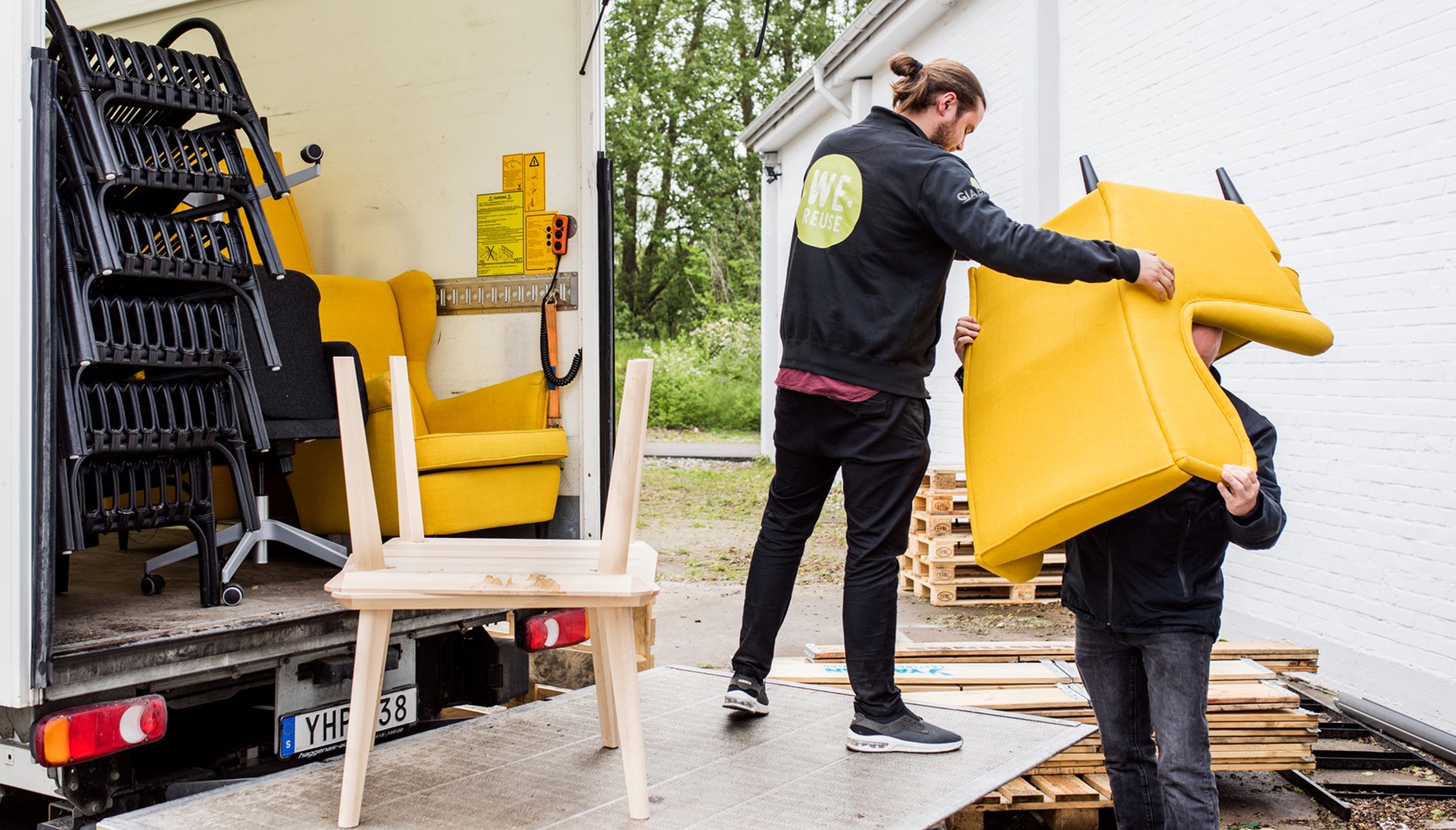 Like any other corporate giant, IKEA also periodically faces criticism for some of its practices. But sustainable marketing helps the company make up for its past mistakes and prove that its positive impact prevails.
Sustainable marketing example #2 Patagonia
Patagonia is a purpose-driven company showing that it's possible to make profits while also helping the planet. Here's just a small overview of what the brand does to improve its environmental impact.
Patagonia's sustainability marketing activities stretch well beyond the confines of a typical commercial green initiative.
The brand offers free garment repairs and also encourages its customers to get more use of the gear they already own by attending Patagonia's DIY repair workshops and watching repair tutorials. Patagonia fixes around 1,000 items a month and has an ambitious plan to keep all of its gear out of landfills.
The company pays a self-imposed Earth tax by donating 1% of its profits to environmental nonprofits. Patagonia also gives grants to grassroots environmental organizations and shares activism stories.
Patagonia is very open about:
its owned facilities and suppliers;
the origin and quality of its materials:
its worker support system;
its production processes and chemicals being used;
how the living wages in its supply chain are ensured;
how the key fabric qualities such as safety and waterproofness are tested.
Last but not least, Patagonia intentionally offers free delivery on orders over $75 to encourage customers to shop more consciously and purchase in bulk instead of ordering, say, one pair of socks. This is a subtle way to lower carbon emissions without making shopping at Patagonia unaffordable.
Sustainable marketing example #3 Honest Tea
This organic tea brand is on the mission to promote a healthy lifestyle, reduce its environmental footprint, help farmers get access to better equipment and education, and make organic drinks more affordable.
Not every mass-produced soft drink brand can develop a sound sustainable marketing strategy, but Honest Tea pulls it off with ease. The brand takes a humble but confident approach and focuses on its small wins, such as introducing more unsweetened drinks in recyclable bottles.
Honest Tea uses sustainable marketing to attract a more conscious audience looking for on-budget beverages that are also good for them and the planet. In its marketing messaging, the brand clearly states that its ingredients are responsibly sourced and fair to farmers. In addition, the brand educates its customers on how to do recycling the right way.
Honest Tea also publishes reports to demonstrate how it is keeping its green promises. The company accepts donation and sponsorship requests and partners with environmental organizations and foundations.
Sustainable marketing example #4 The Body Shop
This cosmetics company has been promoting sustainability and self-care from day one, and now its tagline openly says "We exist to fight for a fairer and more beautiful world."
Discover other marketing approaches beauty brands use to promote their products.
The Body Shop has quite a few sustainability initiatives aimed to reduce its carbon footprint. For example, the brand has created a refill program to reduce the amount of single-use plastic its customers have to throw away.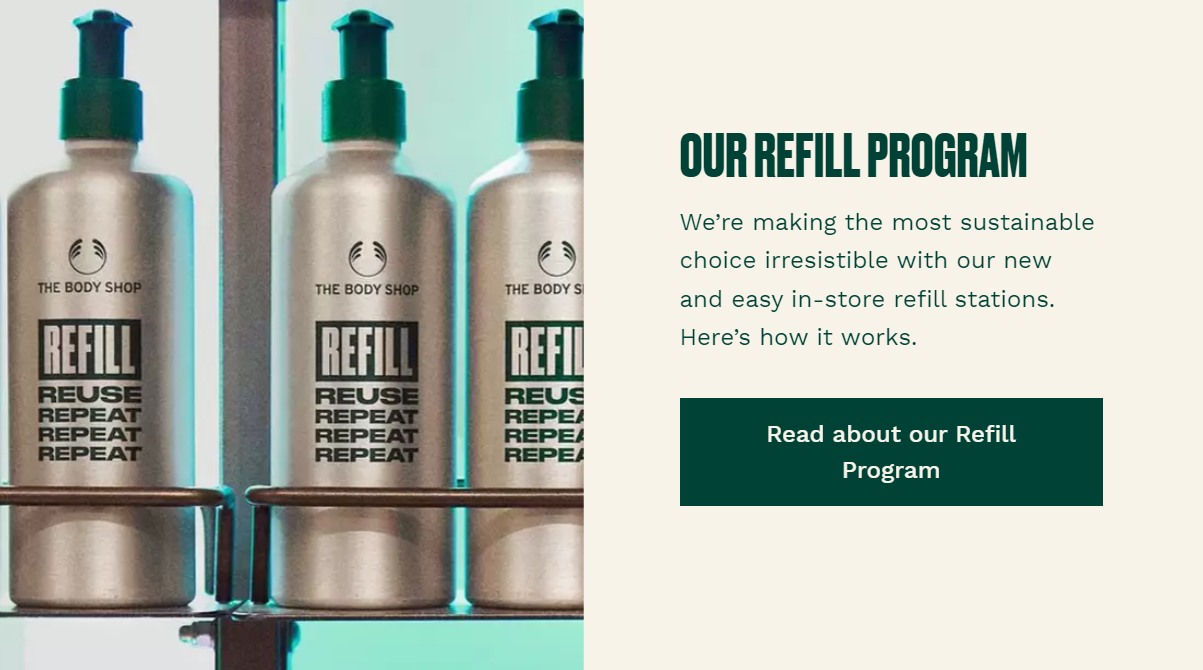 Also, the company is actively working on creating a fully inclusive, positive, and transparent work culture. All in all, this sustainable marketing example demonstrates a holistic, omnichannel approach.
On top of that, The Body Shop has a full-time activism team based in London and local teams around the world. Currently, the company uses full-scale marketing campaigns to shift power to the youth and help them participate in the decision-making.
Sustainable marketing example #5 Planet Oat
This non-dairy milk producer goes the extra mile ensuring that its products and processes have a positive impact on people's lives and the planet. In its marketing communications, the brand specifies that its oat milk is high in protein and fiber and is free from artificial additives, which makes it a truly better-for-you option.
The company launched The Planet Oat Project supporting non-profit organizations that fight water and soil pollution, study underwater ecosystems, plant trees, and rescue and rehabilitate wild animals.
Also, this brand teaches its customers how to live a more sustainable and wholesome life by cooking delicious meals and desserts at home using Planet Oat products.
Dos and don'ts of sustainable marketing
Let's do a quick sum-up based on what we've learned from our sustainable marketing examples.
The dos of sustainable marketing:
Listen to your audience and support the causes they believe in.
Don't be shy about your company's achievements, even small ones.
Set clear, trackable sustainability goals and work towards them.
Work with green influencers and sustainability experts.
Make your sustainability initiatives and efforts public.
Spark green innovations and projects within your company.
Amplify the voices of activists and non-profit organizations.
The don'ts of sustainable marketing:
Don't exaggerate your sustainability progress just to win your target audience's attention.
Don't sweep unpleasant facts about your company under the rug instead of addressing them.
Don't try to educate your customers if you don't know the topic deep enough.
Don't set unrealistic goals just to impress your audience.
Don't tell, show.
Becoming climate-positive in our current economy is challenging, if not impossible, but it doesn't mean that businesses should stop trying. The opposite is the case — the more vocal brands are, the more traction their eco-initiatives gain.
Choose reliable, non-intrusive channels for your sustainable marketing
Deliver personalized, informative, engaging, and converting messages, and be sure that your audience will notice them. Try our email automation service — it allows you to create stunning emails in minutes and automate your brand communications without losing the personal touch.
We offer an easy drag-and-drop builder, customizable templates, an audience segmentation feature, a subscription form builder, useful integrations, and more. No strings attached — you can try it for free to make sure it's a good fit for your business.