Brand activation is an event, campaign, or any interaction through which a company drives customer actions. This technique aims to generate brand awareness, build lasting relationships with the target audience, and develop customer loyalty. It helps engage more customers by enabling them to interact with a certain company directly.
Why is brand activation important?
In the times of digital marketing, it's extremely hard to stand out among thousands of brands that do their best to achieve their goals. Marketers look for interactive and effective methods of attracting their target audience to make a brand recognizable. Different forms of experiential marketing, including brand activation, guerilla marketing, ambient marketing, and ambush marketing, come to the rescue.
If you are just starting your business, you know your audience well, and yet they don't know you. Brand activation is an excellent opportunity to present your brand and create emotional connections with your future buyers. Experiential marketing allows you to create something intriguing and related to your company that will generate interest even among those who don't know you yet.
Now that you know the reasons why companies often conduct various events, create unique campaigns, and directly interact with their customers, it's time to learn more about this strategy.
Brand Activation Strategy
Determine what your brand stands for
Define your audience
Make a SWOT analysis
Explore the tactics to reach your audience
Think about management
A dull and improper approach can't attract more people to your brand. If you strive to make a buzz around your company, a brand activation strategy is a great solution. Let's walk you through several necessary steps.
Determine what your brand stands for. The first and foremost is to decide what you want to be known for and what you value. It's not just how you position your brand but more about what people think about it. Therefore, you need to ensure that your brand message is clear.
Define your audience. Taking a wild guess and trying to meet the needs and wants of your audience without analyzing and segmenting it is not a good idea. According to the survey, 72% of customers prefer to engage with marketing messages tailored to their interests. That's why you need to know the demographics, interests, and traits of your ideal buyers. You should f

ind clients who will appreciate your products or services the most. 

For this purpose, consider creating buyer personas. Visit our blog to find out how to develop a customer profile.
Make a SWOT analysis. Before planning various events, campaigns, and installations, you should be aware of your brand's strengths, weaknesses, opportunities, and threats. Do not forget that some brand activation campaigns can require a lot more resources, while some of them can be simple and cheap. However, you don't necessarily need a lot of funds to launch a campaign since even something like a creative booth installation can attract the masses.
Explore the tactics to reach your audience. Keep in mind that there are many ways to appeal to your prospects, including product demonstration installation, mobile vans, games, and many other activities. Choose a suitable method to communicate your message to your target audience

clearly

.
Think about management. The last step is to bring the previous ones together and form a great team to bring it all to life. Assign the responsibilities to the right people to engage everyone on your team.
Now that you know about the necessary steps, let's explore five ideas that will inspire you to create your outstanding event.
5 Brand Activation Ideas
Surprise your audience
Make your event interactive
Show the new features of your products
Consider partnerships with other brands
Promote your brand's values
If you aim to improve brand awareness and reach more people, brand activation is the right decision. We've prepared several ideas for you to get inspired for your next campaign and connect with your leads and customers creatively and unusually.
1. Surprise your audience
The best way to build strong brand awareness is to do something that nobody expects. That's what Lipton Iced Tea did — the brand erected a giant yellow water slide in the center of London. As a result, this object gathered amazed and curious people around. Moreover, Lipton gave out free samples of their products to boost engagement.
2. Make your event interactive
One of the keys to the success of your event is to make it interactive. Make the customers engage with your brand. Don't forget to promote your event on social media to attract as many visitors as possible. According to statistics, 88% of brands use social media platforms to increase awareness.
Let's take the experimental Dining Club launched by IKEA. People had an incredible opportunity to cook under the supervision of chefs and serve dishes for their closest people.
3. Show the new features of your products
If you have a new product or an old one but with new features, go ahead and demonstrate them and highlight the benefits they can bring to your audience.
Apple's "One Night on iPhone 7" is an excellent example of how you can present your product. The famous technology company's team did their best to surprise the brand's fans and, at the same time, show the advantages of their products. They invited photographers from different countries to take photos on their Apple devices to showcase the new camera features.
4. Consider partnerships with other brands
It's also a great idea to find a non-competing brand with a similar audience. You can collaborate and create something together: a product, campaign, event, or something else.
You can find tons of examples all over the world. For instance, the "Soundtrack for Your Ride" campaign is the result of Uber & Spotify's cooperation. This campaign demonstrates good results — a wider audience and more leads interested in these brands.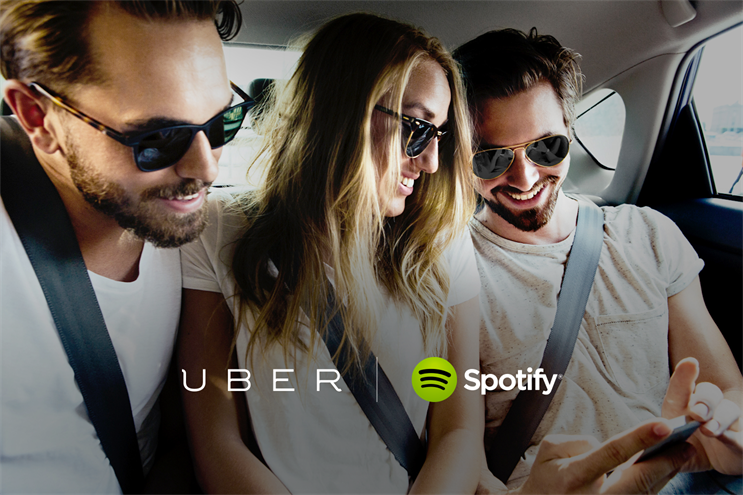 5. Promote your brand's values
A successful campaign will help promote your brand values and turn your regular customers into admirers of your company. Consider presenting your values with the help of compelling visuals to reach more people and create a powerful impact.
Let's take Ben & Jerry's, for example. The value-driven brand often promotes the protection of the environment. Ben & Jerry's values encouraged them to create a film festival, where they decided to screen eight movies. The brand used environmentally friendly hybrid power technology to power the big screen. The festival's visitors were also able to learn about the brand's 'Save our Swirled' campaign for climate justice.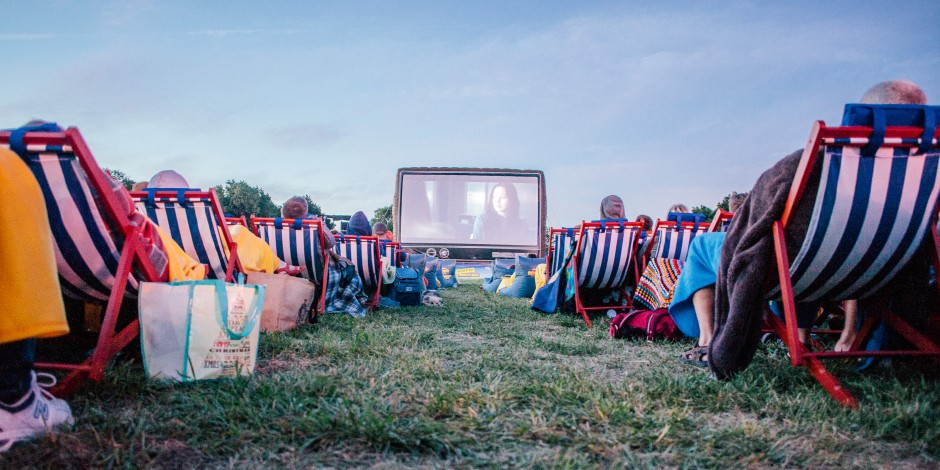 If your resources are not limited, you can always create something incredible and surprise your audience. Different brands prove that creativity and smart use of available tools can work wonders for your company. Yet after the interaction with your customers, you should know how to measure your success.
How to Measure Brand Activation
To figure out whether you did everything right during your brand activation campaign, you can look through your:
customer acquisition (check whether the number of your customers, sales, and revenue increased);
engagement on social media (find out whether you have more followers, mentions, comments, and likes on social media);
live engagement during the event (you can easily measure your success if you see that there are many people involved during the event);
metrics (track the performance of your campaign).
Now you know a lot about brand activation, so it's time to proceed to the examples to grab some inspiration.
Brand Activation Examples
Revolve
Foster's No Worries Motel
GoGo SqueeZ: Goodness Machine
Vitaminwater
Whether you are just starting your business, your company plans to launch a new product and needs some extra hype, or maybe your brand strives for more recognition, brand activation is here for you. Here you can see several outstanding examples. Let's dive in.
Revolve
A famous brand of apparel, shoes, and accessories uses brand activation very often. Their "Revolve Around The World" campaign included influencer marketing to drive a bigger interest to their company. The brand sent opinion leaders on a trip starting with a "carnival" in L.A. to build a following, promote their clothes, and improve brand engagement.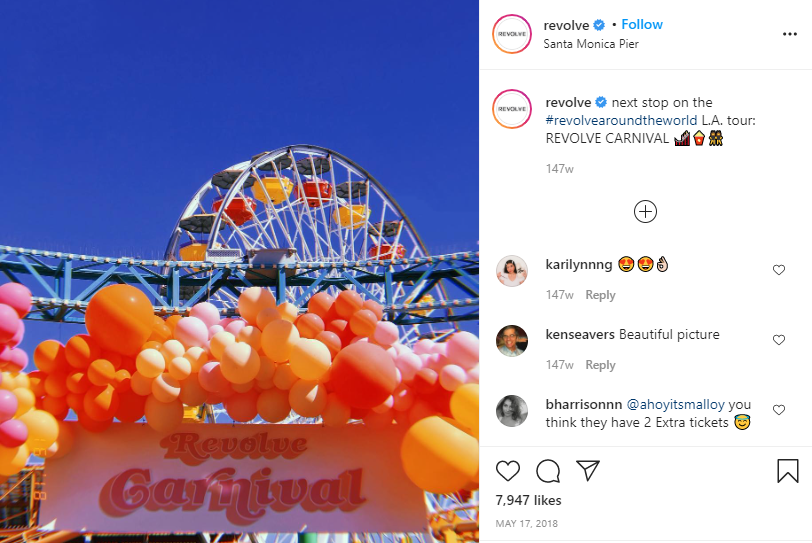 Foster's No Worries Motel
In partnership with Airbnb, the famous Australian beer brand set up a pop-up hotel at one of the country's music festivals to reach young music fans in Finland. The hotel was created inside a blue shipping container. A ticket to the festival allowed visitors to book a room in this extraordinary hotel using the Airbnb app.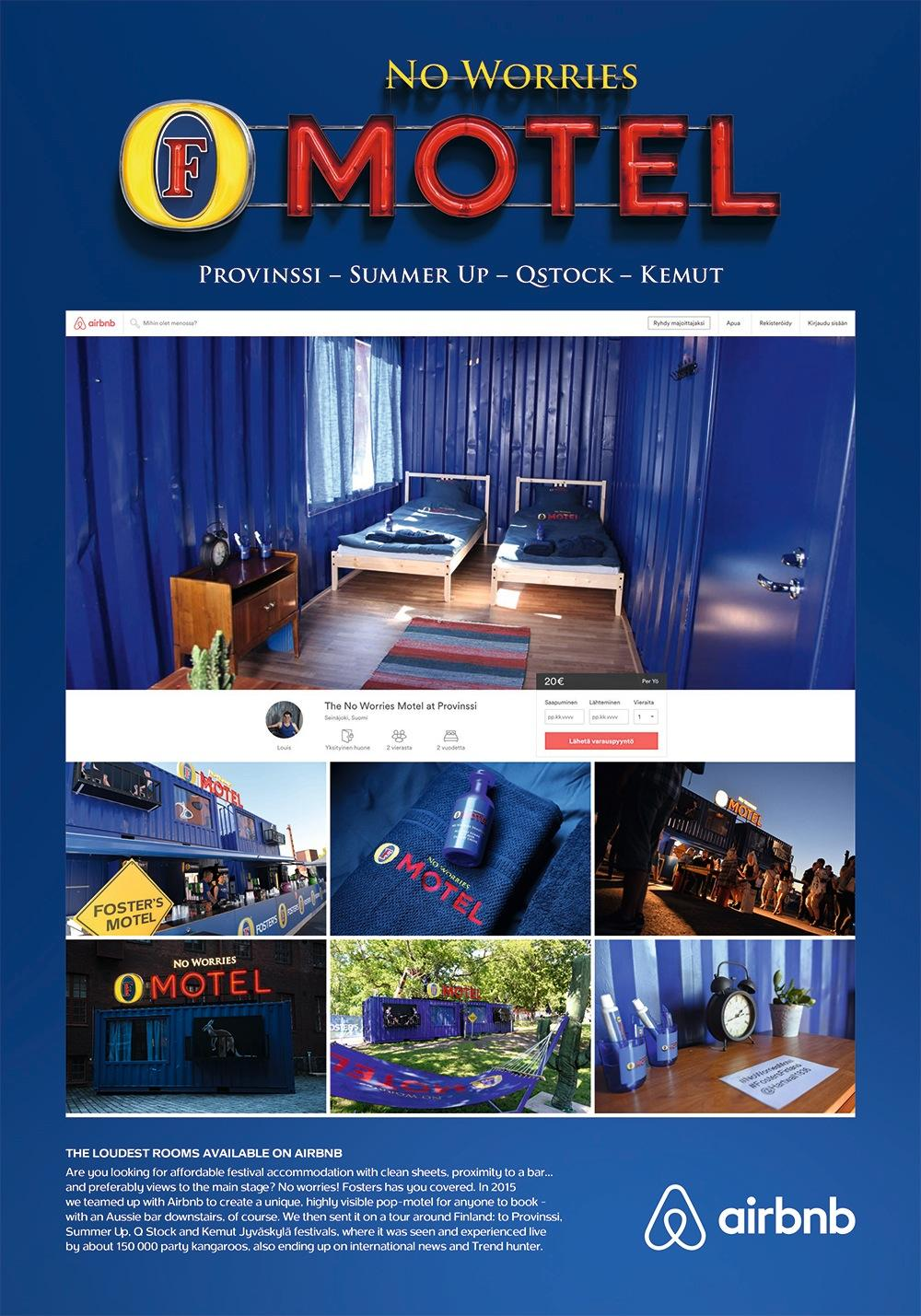 GoGo SqueeZ: Goodness Machine
The brand famous for its applesauce and yogurt pouches showed particular creativity when developing its brand activation campaign. GoGo SqueeZ's team created a giant version of their unique squeezable applesauce that produced children's favorite dessert when they activated the machine, aiming to attract children and their parents. The picture below demonstrates that the event evoked pleasant emotions and was extremely interactive.
Vitaminwater
Like the majority of brands, Vitaminwater also decided to use a popular event to promote its products and attract more prospects. For this purpose, the brand chose the WayHome Music Festival, where the Vitaminwater team created a "misting station," allowing those who don't tolerate heat to cool down. They designed a great place in bold colors, attracting a lot of people.
To conclude, brand activation can be presented in the form of an event or any type of campaign to boost brand awareness. It's interactive and creative, which is very important in attracting more and more people. It suits both startups and well-established companies. You can easily establish communication, maintain engagement, and boost sales with SendPulse's chatbots, web push notifications, SMS, and bulk email service.
Resources:
This article provides readers with excellent brand activation examples.
This article defines the term, explains four types of brand activation, and gives some tips to implement brand activation effectively.
This article defines the term and explains how to activate a brand.
Last Updated: 21.03.2023