Brand engagement is the process of building and sustaining a commitment to a brand from its customers. This is one of the most important marketing goals for every business. It allows companies to constantly interact with customers and increase their brand loyalty.
Why is brand engagement important?
Building a strong emotional connection with customers provides several important advantages. Let's look at them in more detail.
It means high client engagement. This is the first and most obvious benefit of building brand engagement. A well-thought strategy along with a set of effective techniques will help you interact with users on social networks, messengers, and via email campaigns. As a result, you'll build a great community around your brand.
It allows companies to increase both customer retention and loyalty. If you take care of your clients' needs and preferences, ask their opinion about your brand, and do your best to ensure a positive user experience, you will certainly be rewarded. Customers will pay you back with their loyalty. As you know, it's a lot easier to sell to an existing client than to a recently acquired lead.
It helps boost sales. This benefit comes as a result of the previous point. The level of customer engagement directly affects the number of sales. Users buy not brands' products, but solutions to their problems, so the goal is to persuade a client that cooperation with this particular brand will bring them the benefits they want.
It facilitates the improvement of products and services. If a brand manages to build trusting relationships with its customers, it will result not only in high sales but in collecting valuable feedback. Clients are happy to help their favorite brands grow and improve. Your task, as a marketer, is to use various channels and techniques to interview clients. They include surveys, polls, quizzes, feedback forms, etc. You may reward customers for feedback shared with a discount or any other offer.
Now you know why brands invest a lot in building relationships with their community. Very often brand engagement and brand awareness go hand in hand. Let's find out the differences between these terms.
Brand Awareness vs Brand Engagement
Both terms belong to the key concepts of brand marketing. This approach implies reaching several objectives each brand needs to pursue to be successful. They include brand awareness, brand engagement, brand loyalty, brand advocacy, brand equity, brand identity, and brand image.
Brand awareness comes first when designing your brand strategy. It requires marketing activities aimed at raising awareness of your brand. Potential clients should be able to recognize your brand among competitors and recall your products. In other words, if they find a need for a product they haven't used before, your company's name should be the first to come to people's minds. Brands invest a lot in advertising on various channels to achieve this goal.
After you build brand awareness, you should work on increasing brand engagement. Users need to be interested in your company to make a purchase. So, let them interact with you on several channels — let them know that their opinion matters. The higher your brand engagement, the better the relationship with your audience, resulting in more sales.
Now you know a lot about the advantages of building brand engagement, so it's time to find out some effective techniques. We've shared a few tips below.
5 Tips and Examples to Increase Brand Engagement
Hold giveaways, contests, and polls
Organize events
Personalize communications with clients on different channels
Encourage user-generated content
Ask clients for feedback
Internet marketing opportunities are only limited by your creativity. A great variety of channels, content formats, and tools that are available today let every brand find the best fit for their audience. In this section, we'll share proven practices that will help you boost your brand engagement.
Hold giveaways, contests, and polls
These content formats allow companies to skyrocket their engagement rates, bring in new clients, and increase sales. People enjoy interactive content as well as getting freebies. That is a win-win for both parties.
Giveaways are especially popular among young companies since they help build brand awareness and bring in potential customers. Motivate users to join your mailing list or share your brand with friends in exchange for an incentive. It can be a special offer, a discount, a free trial, or anything valuable.
Below you see a giveaway held on Facebook. The company encourages users to interact with the post to win a divan set.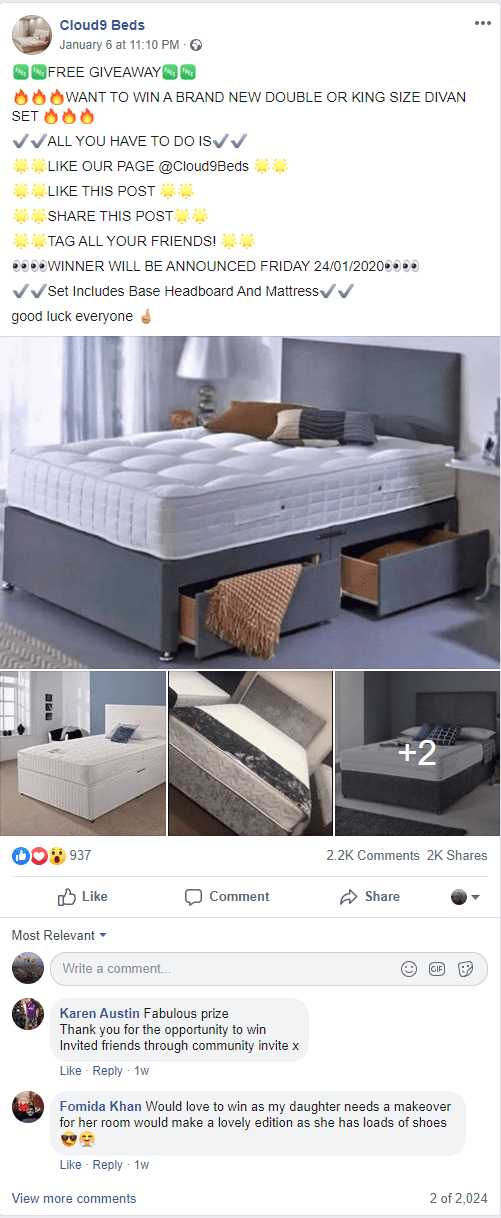 Contests work almost the same way. Polls are popular on Instagram because they help brands increase customer engagement in posts and stories. Since users check stories first, they're very likely to interact this way. Besides, it makes customers feel meaningful and lets brands discover their most active clients.
Check out the Instagram poll below. A wedding dress retailer asks its followers to choose their favorite shape for the back of a wedding dress. Then, the brand can use this information to promote the dresses users like or give a discount to increase sales.
2. Organize events
Event marketing is a sure way to promote a brand. Events help brands acquire new leads, build brand recognition and awareness, educate leads, and increase engagement. This is all possible with the help of both online and offline events: webinars, seminars, conferences, thought-leadership events, workshops, etc.
You can use a bunch of marketing tools to promote your future event. Send an event invitation email, create a landing page, promote events on social media.
With SendPulse, you can create a professional event invitation email for free without any technical skills. Our drag and drop editor allows users to use text, images, buttons, add videos, and design each element to their liking. Look at the process of creating a campaign below.
3. Personalize communications with clients on different channels
Personalization is the key to building long-lasting relationships with customers. Clients won't be committed to your brand if you know nothing about them and interact with your entire audience the same way.
To approach every user individually, make use of personalization and segmentation. The first tool allows marketers to use clients' personal information to send targeted messages. This data can include name, gender, country, birth date, address, etc. Segmentation enables brands to divide their audience into segments and address each segment with highly targeted offers. You can create segments based on demographics, interests, preferences, buyers' journey stage, purchasing behavior, etc.
With segmentation, you can provide a client with a highly relevant offer at the right time. For example, if a user adds an item to their shopping cart without buying, they will be added to a corresponding mailing list and receive an abandoned cart email. Incentivize them with a discount or free shipping to boost sales.
You can send triggered emails automatically according to predefined events. Automation 360 is exactly the tool you need for this purpose. It allows marketers to create events and an email will be sent automatically after a user performs the necessary action — books a hotel room, places an order, adds a product to the shopping cart, registers for a webinar, etc.
You can see an abandoned cart email below. The brand saves their customers' picks and invites them to go back to their shopping cart. To provide an additional incentive, the company offers a 15% discount.
Follow this step-by-step guide to creating an abandoned cart email flow with SendPulse.
4. Encourage user-generated content (UGC)
User-generated content means content created by the audience of your brand. It's extremely effective since it helps promote your company, increase brand awareness and engagement, reach new potential clients, and works better than any type of content created by the company itself. People trust other people.
UGC can be anything — photo and video reviews, comments, participation in contests, and giveaways. Very often brands let their audience generate fresh ideas and win a prize for the most creative one. To make this strategy work, analyze both your audience and the most promising channels. Hashtags on Instagram and Facebook will help your content go viral.
Below you can see how Starbucks collects UGC. The brand encouraged clients to create a new design for their cups and share it on Instagram with the corresponding hashtag. 4,000 peoplw took part in the contest which definitely helped increase brand engagement on socials.
5. Ask clients for feedback
It's hard to find any popular big brand that doesn't collect their clients' feedback. It helps companies not only better understand their customers, but find ways of improvement. You can reveal the weak points of your products and some issues with the customer support team.
Customers are pleased to share their opinion with the brands they adore. This way you'll show that you care and appreciate the opinion of every user. Besides, you can reward those who really help your brand grow and improve.
Ask clients to leave comments on socials or product pages. You can also send a feedback request email in a week or two after the purchase. Check out below how Biscuiteers asks clients to share their thoughts on products in a review.
Now you have at least five effective tips to increase your brand engagement. It's time to find out how to measure the achievement of this goal.
How to measure brand engagement
Everything depends on the channels you use and your short-time goals. If you put all your effort into social media, monitor the number of shares, reposts, hashtags, and mentions. Choose the necessary periods to have a clear picture of the performance of your strategy. Find out more about SMM KPIs in this article.
If you want to track user engagement on your site and particular pages, make use of analytics tools. Google Analytics provides businesses with reliable and accurate data on user activities on their site. In particular, you can discover the way users navigate your site, their interests, devices they use, traffic channels, and even real-time users. This information will provide you the insights on the most interesting pages and how users interact with your site.
If you communicate with clients via email campaigns, you should monitor email analytics. These metrics include email open rate, click-through rate, and conversions. Of course, there are many more indicators worth your attention, but these three influence your brand engagement mostly.
Your email open rate shows the level of engagement in general and how well your subject line reveals the topic of your email. The click-through rate indicates whether you managed to create a relevant offer interesting for subscribers. The conversion rate shows the number of users who performed the necessary action. It tells whether your email marketing efforts bring results.
You can also monitor high-quality backlinks and branded search terms. Use Ahrefs to track links and Google Trends to see how often your brand is mentioned.
Measure these important metrics to have a clear picture of the performance of your brand engagement strategy and be ready to improve it.
Congrats, you know pretty much about building brand engagement, so it's time to outline your strategy. Make use of SendPulse tools to communicate with your customers effectively.
Last Updated: 21.03.2023