Event marketing is a type of marketing that implies promoting a brand, product, or service by holding, participating in, or attending events. Event marketing helps build more profound relationships with customers and educate them about your product.
How does event marketing work?
Event marketing can work in several ways. The most obvious is when a brand hosts some occasions. Depending on the event type, it can help you build stronger relationships with customers and prospects, find new partners, acquire leads, and more.
Another strategy is attending events as a guest. In this case, a company representative can promote products or services or strengthen a brand reputation by showing expertise in the field. Finally, you can sponsor events and increase your brand awareness.
Whatever strategy a brand sticks to, most marketers consider event marketing to be the most important way to achieve business goals. Let's discover why this opinion is prevailing.
Importance of Event Marketing
Event marketing importance boils down to growing your credibility. Partners and customers get a chance to interact with a brand in person and find it more trustworthy. This makes events a golden networking opportunity. 75% of business owners say that the chance to make useful contacts is their primary reason for participating in events.
Holding or attending events is a powerful part of a healthy lead acquisition strategy. Large business meetings gather an audience which has an interest in your field, product, or new opportunities in general. Chances are the attendees will become warm leads and loyal customers later on.
Events are an excellent opportunity to boost customer loyalty. People visit conferences or seminars not only to make contacts and absorb new knowledge but also to get away from their routines and have a good time. Such positive experiences create a strong emotional connection with a brand. Thus, holding events may be a good strategy for relationship marketing.
Surprisingly, event marketing helps increase your brand's online presence as well. 48% of millennials attend events to share their experiences on social media. For businesses, this means higher outreach and brand awareness.
This quick once-over of the event marketing importance gives some hints about how effective this marketing channel is. It's time to delve deeper into the details.
How Effective is Event Marketing?
Event marketing seems an alluring opportunity for your business, right? Just in case you are still on the fence, we've found some more reasons to take advantage of this marketing channel:
Event marketing is highly effective for achieving business goals, boosting revenue, and making strong connections with prospects and customers. Still, not all events are equally beneficial for your brand. Let's unveil the types of occasions that marketers consider the most valuable.
Types of Events
Conferences
Seminars
VIP events
Thought-leadership events
Product launches
There are a ton of event formats that can be held both off and online. It's time to unpack the most popular event types according to the Harvard Business Review:
Conferences
Conferences are large-scale events, which focus on educational speeches from industry leaders and experts. They often include workshops and networking sessions to double the attendees' benefits. 40% of businesses believe conferences are the most impactful event type for their business objectives.
Seminars
The main goal of this type of event is to educate visitors. Hence seminars often take place in smaller venues and imply a limited number of participants. 8% of companies consider seminars crucial for achieving their business goals, but this format contributes the most to increasing attendees' expertise.
VIP events
These events aim at sales acceleration and key customer loyalty enlargement. VIP events can achieve these goals by gathering a room full of influential shareholders, key customers, and other honored guests. 7% of business representatives said VIP events have the highest impact on their company's KPIs.
Thought-leadership events
The supreme goal of these events is networking. A bunch of professionals with the same interests get together for in-person communication. Thought-leadership events allow organizers to boost their authority in a certain field and drive amazing business results – 14% of business leaders believe this type of event is the most beneficial for their companies' outcomes.
Product launches
Companies use this type of event to showcase their upcoming products to potential or existing customers. The goal is to make prospects and buyers excited about a new product's features and benefits.
Event marketing is a potentially powerful tool. It allows you to build and maintain strong relationships, acquire new customers, create robust partnerships, and nail business KPIs. If you want to squeeze every bit of value from this channel, take care of promoting your event.
5 Event Marketing Strategies and Ideas
Build a high-converting landing page
Promote events on social media
Take advantage of FOMO
Encourage user-generated content
Engage attendees with email automation
The best way to ruin your event is by neglecting to promote it. You'll get next to no in visitors, and your event will be dead in the water. To reduce the odds of this gloomy outcome, consider adopting the strategies and ideas we've prepared for you.
Build a high-converting landing page
Although there are many ways to get registrations, from special websites to social media chatbots, do not overlook such a simple yet effective landing page. Roughly 60% of marketers believe their own websites are the most effective channel for marketing their event.
Create your landing page in advance to stir up interest in your event. You can make a great landing page with zero budget and no coding or designing skills – just use a landing page creator. Follow our list of the best landing page builders to choose the perfect decision for you.
To get tons of registrations, your landing page should provide the following information:
who the hosts and speakers are, and why your reader should care about their opinions;
what the event is about and why it is worth your landing page visitor's time;
details about your event, including the date, location, agenda, and other significant things;
clear-cut, prominent, and strong calls to action.
Now it's time to adopt some best practices. Take a closer look at the Call To Action Conference landing page. The Unbounce logo at the top and the list of speakers further answers the who question. The phrase "The marketing conference that gets you more conversions" states clearly what the conference is about and which benefits it will deliver. The page contains all the essential details and an eye-catching CTA-button.
To drive more registrations, Unbounce uses a few gimmicks. The host gives a link to the previous year's recap to fuel the reader's desire to participate, adds a customer review to increase credibility, and offers to sign up for updates to stay in touch.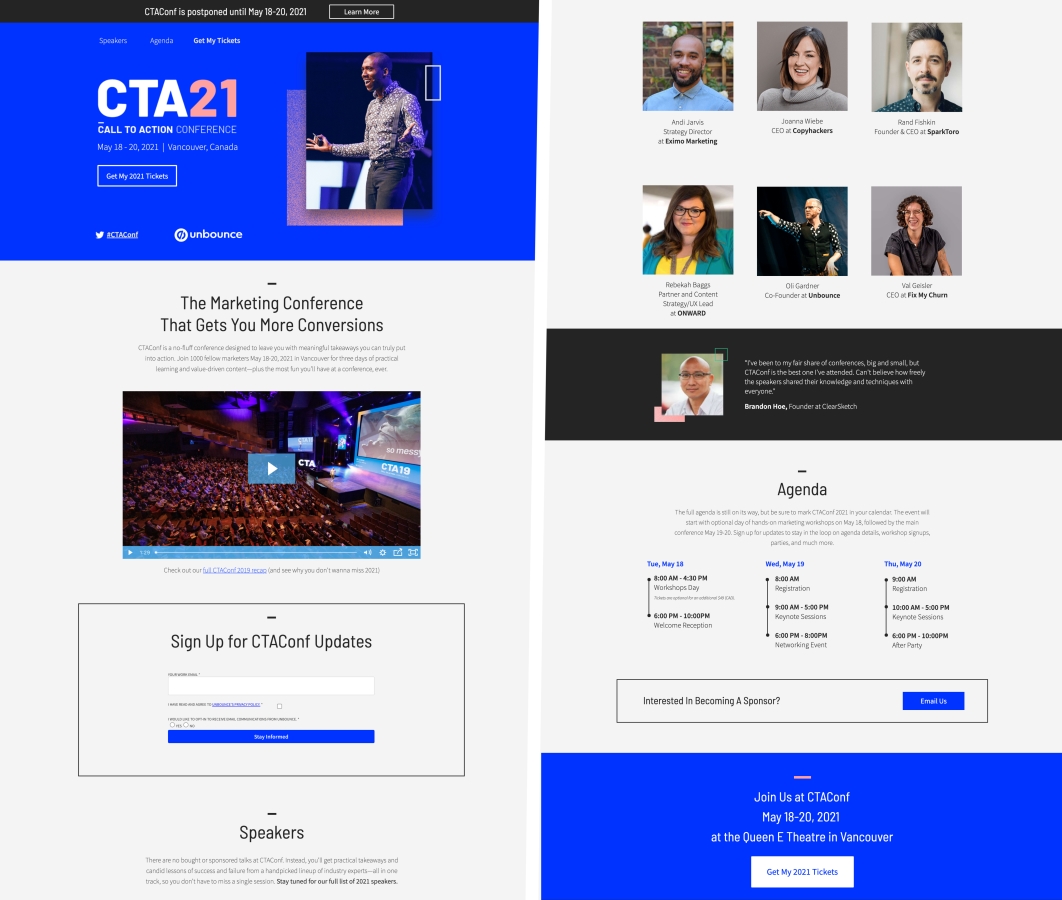 The techniques Unbounce uses for their landing page is just a tiny part of tricks for conversion rate enlargement. To learn more about them, consider reading our comprehensive guide on how to increase landing page conversions.
Promote events on social media
Social networks have a tremendous audience – 3.8 billion people use this communication channel. This number is consistently growing – since 2019 the audience has increased by 9.2%. It makes promoting your event through social media too entrancing opportunity to leave it on the table.
Social media gives plenty of tools to market your event, from creating special pages on Facebook to buying sponsored ads on blogs. To increase your outreach, try cross-promotion with an event's co-hosts or speakers – they can provide you with a fresh and engaged audience. Another tip is to employ niche influencers' resources.
If you want to not only promote your event but also keep the audience attracted for a long time, consider using chatbots. Hubspot knows a little something about employing this strategy.
The company uses a bot to collect registrations to its online event series. On its Facebook page, Hubspot invited the audience to register with Facebook Messenger. The bot took all the essential data for registration and set reminders for attendees, so they won't miss the occasion.
You can take your chatbot marketing a step further. For instance, your bot can send information about speakers, event programs, or even some relevant fun facts to keep the audience engaged. To apply this tool to your event marketing strategy, sign up with SendPulse. With our service, you can build Facebook and Telegram chatbots and send up to 10,000 messages monthly for free.
Take advantage of FOMO
56% of people are afraid of missing an event, news, or important update on social media. This makes FOMO, or the fear of missing out, a significant driving force for your event marketing.
Fuel your audience's desire to attend your event with vivid and engaging materials – photographs and videos from the last year's occasion, interest-provoking announcements, and so on. Let's learn some encouraging FOMO techniques from Adobe MAX organizers.
On their Facebook page, Adobe MAX introduces the conference guests, publishes creative videos, busts myths about the conference and online events. Better yet, event organizers also engage the audience with micro-contests, preparation checklists, and special treats for early birds. These efforts combined make people crave attending the conference once again.

Encourage user-generated content
User-generated content helps reduce the load of your content creation team. Better yet, it allows you to reach more people, spread the word about your event organically, and build social proof.
The easiest way to obtain user-generated content is to create a hashtag on social media and encourage users to employ it. Another option to provoke some buzz is to launch a competition. For instance, you can promise free tickets to those whose publications get the most likes or reposts.
Consider learning from Refinery29's experience of working with user-generated content. The company hosts an annual event called 29 Rooms. Apart from music and fun experiences, the event's main thing is flashy decorations, which are perfect for Instagram.
Thus, Refinery29 encourages social media users to take a snapshot and publish it with the hashtag #29rooms. As a result, it brought the brand almost 89 thousand publications, 166,000 followers, and attracted over 100,000 visitors.
Engage attendees with email automation
Email marketing is still one of the most powerful channels in your overall marketing strategy. Almost 66% of event managers say email campaigns are the most effective tool for event promotion.
Remember that a single email probably won't drive the amazing results. Promotion through this channel requires building a flow, which leads a subscriber through a marketing funnel. Consider starting with an invitation email that helps you get in touch with your current subscribers and drive event registrations. For a dose of inspiration, follow our guide on creating event invitation emails.
Email marketing allows you to nurture leads from registration and increase the percentage of event attendees. You can make them anticipate the event without wasting tons of time and money. All you need is to create an automated email flow with SendPulse's Automation 360 tool, as we did in the example below.
We used a special date to trigger the beginning of our flow. The system automatically starts sending reminders a week, a day, and several hours before the event. Campaigns are sent only to those who have registered for a webinar or conference, as long as their contacts are in a separate mailing list.
You can make your automated flow even more effective by adding different types of emails, such as registration confirmation, lead nurturing, and so on – read our compilation of email types necessary for your email marketing strategy.
For better results, you can add other communication channels to your flow. For instance, you may duplicate email reminders with web push notifications or send SMS reminders 15 minutes before the webinar. All of these easy-to-apply options are available at SendPulse.
We've unpacked a few techniques that will help you get more registrations and visitors to your event. Read on to find some examples of exceptional event marketing and hints on what you can learn from them.
Examples of Event Marketing
Some events help brands not only achieve their goals but also achieve the status of legendary must-attend events. Let's take a glance at their organizers' tricks and use them as a cheat sheet for making your event marketing more effective.
Google I/O
Although Google holds its conference for developers offline, it also streams the event on the Internet. To achieve the presence effect and provide a high quality of the broadcast, Google uses a 360-degree camera. The videos from previous years are available on YouTube, which wins the hearts of both those who couldn't see the event live and those who decided to refresh their impressions.
Speaking of the content, Google provides a perfect mix of educational lectures from top experts and the company's own product promotion. Each year, the brand shows new features for its software and hardware products.
Takeaways for marketers:
Provide the opportunity to watch your event both on and offline.
Combine your product promotion with quality educational content.
Let people access conference materials after the event.
Forbes Under 30 summit
Forbes provides a classic example of a thought-leadership and networking event with its Under 30 Summit. Most importantly, that get-together meets its target audience's interests precisely.
The company aims its event at young people. Thus, the Under 30 summit includes not only speakers, presentations, and networking, but also a whole lot of suitable entertainment activities. Among the latter are a private music festival, speed-pitching, industry-focused field trips, a food festival, and community service.
Takeaways for marketers:
Bear in mind your audience's interests and your business goals when holding an event.
Provide outstanding breathtaking experiences for your audience.
Remember to add a dose of entertainment; it will spice up even the most serious event.
Fuckup nights
This format is a proof that an original idea can be a game-changer for your event marketing. Fuckup nights, or Stories of Failure, originate from a group of professionals tired of listening to success stories at every conference. They decided to go the opposite way and started to talk about their fizzles. Now Fuckup nights are a worldwide movement and popular event format many companies are eager to adopt.
The approach that Stories of Failure founders used was a sip of fresh air for a modern success-centered world. Better yet, Fuckup nights managed to pinpoint audiences' pain and fears and boost listeners' confidence.
Businesses love Fuckup nights because they create powerful motivation and help build tight-knit relationships in a team. Seeing your boss sharing his failures increases trust and empowers employees to tackle their own issues.

Takeaways for marketers:
Don't be afraid of employing unusual ideas for events, but make sure they meet your business needs.
To come up with a fresh yet successful idea try to spot your audience's pains and challenges.
There are plenty of ways to do event marketing and benefit from it. To leverage your business goals with this channel, pay attention to event promotion and nurturing obtained leads. For these purposes, chatbots, email marketing, web push notifications, and SMS will come in handy. To implement these tools into your marketing strategy, sign up with SendPulse.
Last Updated: 07.09.2023