Customer support automation is the process of replacing human customer support agents with technology. It implies no human intervention when managing customer inquiries. Rule-based chatbots, email automation, knowledge base, and ticketing system help reduce the workload on the company's customer support team, increase customer satisfaction, provide instant answers 24/7, and generate more leads.
In this article, we'll uncover the importance of customer support automation and tasks that should be automated. We'll also explain how to automate customer service.
Why is it important to automate customer support?
By automating customer support, you increase the productivity of your customer support agents. With instruments like chatbots and bulk email services, you can reduce human intervention in communication with clients and their workload. Artificial intelligence takes care of customer questions and troubleshooting issues.
According to statistics, marketing automation enables companies to boost lead generation by 80%. ¾ of businesses succeeded in increasing conversions. As you can see, marketing automation instruments like email marketing solutions, chatbots, and CRM enable brands to reach multiple business goals. The same thing happens when you implement customer support automation. Prospects and clients have your support 24/7 and instant answers. Clients are happy with your company and service.
With automation, you can provide a seamless customer experience without spending much money. You also save time and effort for your customer service team. They can prioritize more important tasks and ensure that all serious issues with the product are solved. The response time of your customer support team improves, and clients are satisfied with your brand.
Useful tools such as chatbots unlock the ability of your team to provide instant answers through multiple channels. You can set up chatbots for messengers and social media platforms you use most often. Among them are WhatsApp, Facebook Messenger, Instagram, and Telegram.
If leads are satisfied with the instant answers of your customer support automation, they can convert into customers. So, this technology also serves you as a lead generation tool that improves the conversions and revenue of your company.
Now that you know why it's essential to incorporate customer support automation, it's time to explore the benefits in more detail. They will help you decide whether your business needs innovative methods for your customer service.
Benefits of Automating Customer Support
Customer support automation can bring many advantages to your business. In this section, we'll uncover them so you can know which areas of your customer support you can improve with this technology.
Reduced workload on your customer support team. First, customer support automation helps your team avoid answering repetitive questions and reduce the workload. With this tool, customer service agents can focus on urgent tasks that chatbots can't solve. Chatbots allow your company to deliver real-time support instantly, provide all the necessary information, and be online 24/7. You don't need to waste your customer support agents' time answering basic questions about pricing, features, and how-to guides. Customer support agents can focus on customer cases that require human intervention. When your company expands, you won't need to hire new customer support agents to manage many basic inquiries. Chatbots can do this for you.
Higher customer satisfaction. If you want happy customers and conversions, there's no way to let users wait for hours for your customer support agent to answer. To increase customer satisfaction, you need to provide instant answers. Chatbots can do it for you 24/7 on weekdays and weekends. Since potential customers can have questions any time of the day, your company needs to be online. If you manage to do it with chatbots, you can boost satisfaction with your brand.
Improved response time. When your customer support agents are not supported with technology, it can be difficult for them to manage all inquiries. When all the agents are busy with urgent tasks, there's nobody left to answer the generic questions. It can make prospects wait for hours. To prevent such scenarios, you can incorporate chatbots. With their help, users will receive all the information they need quickly. As a result, the response time improves. Customer support agents continue working on complex customer cases while the AI chatbot answers FAQs.
Omnichannel support. Automation can be applied to several channels. As a result, you can provide your customers with omnichannel support. You can automate communication on your website, messengers, and social media. The choice depends on the communication channels your target audience prefers the most. Your chatbot can handle direct messages on Instagram and messages on Facebook Messenger, WhatsApp, and Telegram. This way, you help your customer support team and clients. Consumers can use the channels they are used to and receive information, whatever is convenient. As a result, prospects and clients have excellent customer experience with your brand.
Fast feedback collection. Chatbots and email campaigns can be perfect tools for gathering customer reviews and feedback after interacting with your company or product. Your agents don't need to spend time on calls to get the information. Just send them automated messages through chatbots or emails.
Reduced costs on customer support. Customer support automation enables your company to reduce costs on salaries for customer support agents. With chatbots, you don't need to hire new specialists to answer repetitive tasks. That's how your costs can decrease. Moreover, chatbots help encourage more conversions. Proactive bots contact prospects at specific touchpoints of their buyer journeys and provide help. They don't wait for leads to ask for assistance. This way, the possibility of conversion increases. Even more, AI chatbots can identify users who are more likely to make a purchase. It usually happens after the bot analyzes shopping behavior and questions. The bot can detect a high shopping intent and provide all the necessary materials like product catalogs, specific product information, and personalized assistance.
Now that you know the benefits, it's time to find out where to apply this technology. We'll uncover some excellent ideas in the next section.
What customer service tasks should be automated?
In this section, we'll provide some ideas of tasks that can be automated in your customer service. Let's dive in.
Routine inquiries. With chatbots and virtual assistants, you can easily manage FAQs without human intervention. Users receive instant and accurate answers to their queries, and customer support agents focus on more complex tasks. Bots can manage questions about product features, pricing, installment, etc.
Appointment scheduling. Customer support automation enables you to make appointments on autopilot. Customers can contact you through WhatsApp, Telegram, or Facebook Messenger and make appointments and reservations through the chatbot. With the bot's help, you can also schedule service calls online without the involvement of customer support agents.
Order status updates. By incorporating automated systems, you can ensure that your customers will be updated on their order status, shipping notifications, and delivery estimates. Setting up triggers will deliver the notifications to customers once the order's status changes in the system.
Password resets. Technology allows customers to reset their passwords without human help. Whether customers forget their password or just want to change it, they can do it freely through the chatbot or email. The bot will guide them through the password reset process. This way, clients don't need to wait for customer support agents to join the chat.
Payment processing. You can set up your chatbot to receive payments. This way, you can automate common transactions, billing inquiries, and payment reminders. When transactions are successful, customers will receive payment receipts.
Knowledge base access. The chatbot enables you to connect your knowledge base so that users can search for the necessary information by themselves. The search feature will help them find all the materials to make positive customer decisions.
Feedback collection. After interacting with users or after they perform purchases, send clients automated surveys or feedback forms. It will help you figure out whether customers are happy with your product or service. They can share their opinion about your customer support, product features, or delivery. As a result, you'll be able to assess the quality of your service or product.
Email responses. Email marketing platforms help you send automated emails after your company accepts payment, sends a product, or asks for feedback. This way, you acknowledge that the payment was received or the product was sent.
Issue routing. You can use automated platforms to assign different inquiries to appropriate company departments on autopilot. The system will analyze the nature of the inquiry and route it to the agent responsible for this task.
Returns and refunds. Chatbots can handle returns and refunds without your customer support agents' involvement. It makes the process so much easier for your team and customers. Clients can initiate returns online without long calls and unanswered emails. Once their inquiry is approved, they will receive automated updates on the status of their request.
Social media engagement. With social media monitoring tools, your team can automatically react to customers' feedback, reviews, and comments on your posts. Send automated responses to users' comments to acknowledge that you hear what they say and value their feedback. Handle complaints on Facebook and Instagram with bots to provide instant responses and show that you care.
Analytics and reporting. Automatically gather information about customer service (call center metrics, customer satisfaction scores, and performance analytics). This way, you'll be able to identify gaps and find areas for improvement of your services.
Now that you know where to apply the technology, let's learn how you can automate customer service.
How to automate customer service?
Automating customer service involves incorporating technology to manage repetitive tasks without human intervention. Here's a short guide on how to improve your customer support and increase satisfaction.
1. Determine areas of need
The first thing you should do is to focus on the areas of your business that need automation. Maybe your business is growing, and the number of customers has increased, so you have to automate communication with clients on WhatsApp. Some companies might need to automate their email campaigns because it's the most preferred channel for communication with the target audience. Think of the areas where automation can bring real change.
Analyze which channels your audience prefers the most. You might need automation for these messengers or social media platforms. Remember that omnichannel support is always needed. You can set up chatbots for multiple channels to make sure that clients feel comfortable contacting your customer support. Focus on customers' preferences to provide the best experience with your customer service and company in general. You should select the right platform to bring all your ideas to life.
2. Choose the appropriate platform
Once you figure out what kind of automation you need, it's time to select the platform that covers all the features. When choosing software, pay attention to details like your budget and pricing, features, and automation you need. All these factors will influence your buying decision. If you want to automate several channels, select an omnichannel platform. This way, you'll be able to avoid unnecessary spending. SendPulse is a multichannel software that empowers you to automate communication in messengers and social media. You can send automated email campaigns and manage inquiries in its built-in CRM. The service lets you set up chatbots for WhatsApp, Telegram, Facebook Messenger, and Instagram. It makes it so much easier for you to handle repetitive questions and some basic inquiries.
Below is an example of a chatbot that updates customers when an order is sent.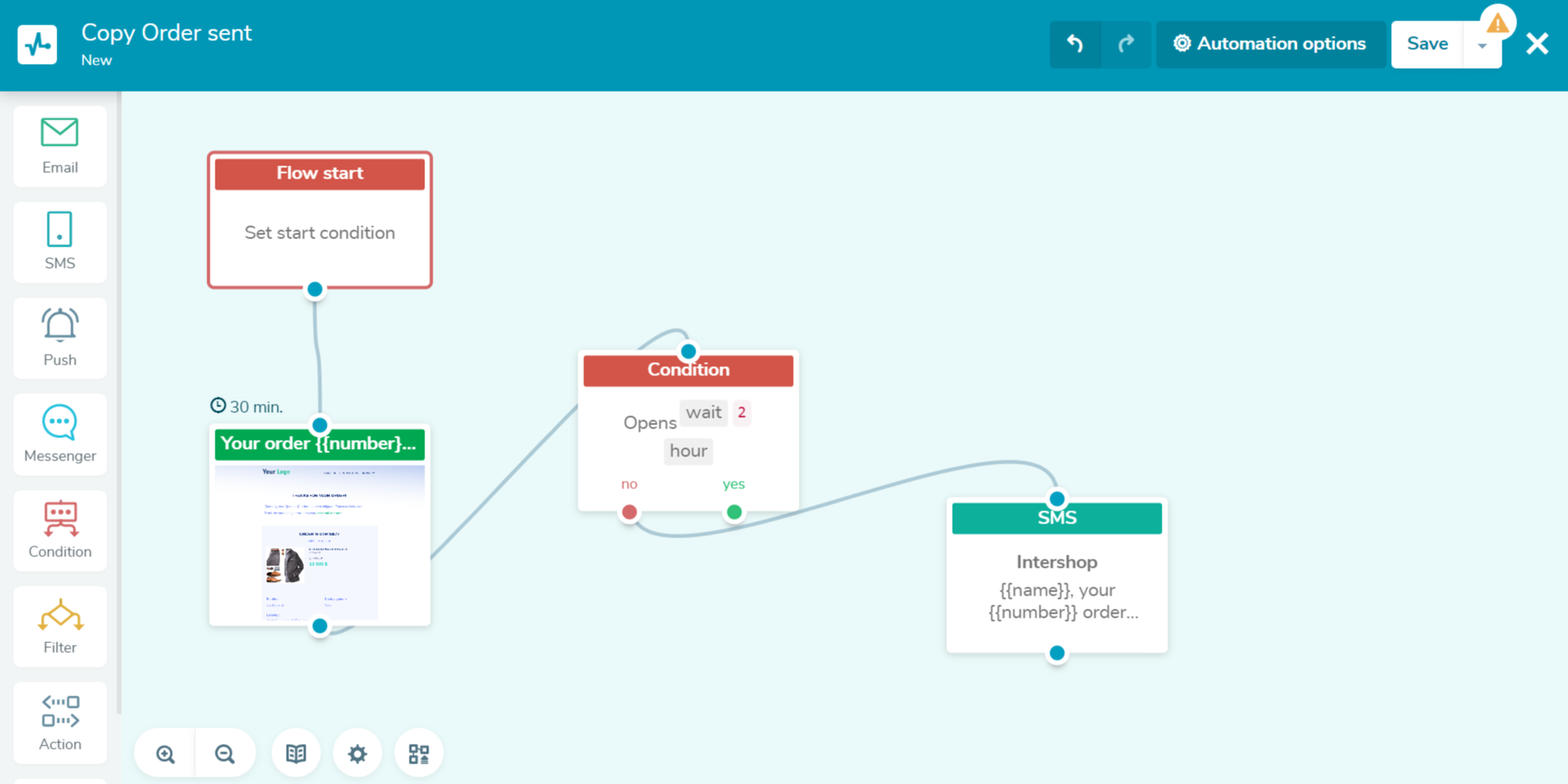 With customer support automation, you can drastically increase the quality of your customer support, improve response time, and ensure support 24/7. As a result, higher satisfaction with your brand and more happy customers. Hope that our ideas will help you figure out how to incorporate automation into your business. Register with SendPulse to enjoy the benefits of automation for free.
References: 
This article defines the term and unveils the pros and examples of customer support automation.
In this article, you'll find how automation helps your customer support team.
Last Updated: 04.12.2023