A flash sale also called a deal of the day, is a sale with a big discount that can reach up to 80% on particular items and is only valid for a short period, usually for 24-36 hours. It helps your brand draw the attention of buyers, improve conversions, increase sales and revenue, and improve customer loyalty.
Flash sales allow brands to access a bigger audience at no cost and sell items with a low sales ratio. Deals of the day are especially popular among apparel brands. This is because there is a huge audience of online shoppers looking for discounted clothes. Brands choose this method because it is one of the most cost-effective ways to sell their products.
Why do flash sales work?
Time-limited sales are beneficial for both parties of the purchasing process. On one hand, it allows you as a seller to improve brand visibility and site traffic, increase revenue, and sell out of excess items. On the other hand, buyers can obtain the desired products with a big discount.
A strong sense of urgency and a low price during flash sales are popular among brands. Limited offers leave no time for customers to think and a significant discount entices buyers to make impulse purchases.
Let's discover the main advantages of limited deals.
Benefits of Flash Sales
Different companies rely on deals of the day to improve sales and visibility. However, they can bring even more pros for your brand's growth than you think. Flash sales help you:
Now that you know the main benefits, choose the right moment to run a flash sale.
When should you run a flash sale?
The shorter a flash sale, the better the results will be for your brand. It is a known fact that a sense of urgency and a big discount make buyers decide quickly. 
Let's consider the best time to run a deal of the day. Here are several ideas.
So now that you know when the right time to conduct a deal of the day is, you should consider how to do it.
How to run a successful flash sale
Define your goal
Select the right products or services
Promote your sale
Limit the time of the deal
Check your stock
Get ready for delivery
To kickstart your promotion strategy, you need to be aware of the necessary steps. Here are the main points to consider.
1. Define your goal
Determine the goal of your flash sale as it helps measure your success. Decide what you want to achieve: decreasing the number of poor-selling products, driving traffic to your site by providing a good discount on the best selling product, or stabilizing your inventory. After determining your goal, you will know for sure which products to choose for your deal of the day.
2. Select the right products or services
Ensure that the products you select align with your target audience. This step is very important to get long-term buyers. It is a good idea to provide a discount on the products customers are interested in. As a result, the right people will click on your brand's website. For your sale, you can choose non-seasonal items, poor-selling items, or simply try to liquidate your excess inventory. If you aim at boosting sales, you can sell products that are in demand among your buyers.
3. Promote your sale
Maximize your efforts to promote your short-time sale and make an announcement the day before it starts. You can engage a bigger audience by promoting your flash sales on various channels like social media, email newsletters, and web push notifications.
Email newsletters
3.9 billion daily email users make email the channel with the highest engagement. So when you want to sell your products, this channel is the most suitable and cost-effective way to do so. To start, you need to build a mailing list. You can do this by creating a subscription form or uploading an existing list of contacts. Remember to get customers' consent to receive your emails. With this channel, you can drive traffic to your website during the campaign.
With SendPulse, you can send automated emails to the contacts on your list. To create professional email templates for your deals of the day, you can use our drag and drop email editor or choose from our ready-to-use templates.
Do your best to create a catchy subject line, a preheader, an interesting banner, a clear call-to-action button, and a short and concise copy. Make sure that your email newsletter has a clear subject line. Here are several tips to create a perfect subject line for your promotion:
Here is a great example of the subject line of an email from The North Face. Customers can understand the email's content by simply reading its subject line. Also, it enables shoppers to immediately find out the amount of the discount.
Push notifications
A web push is a browser message that notifies users about sales, new content, or updates. It is a perfect way to inform shoppers about a flash sale because these messages are difficult to miss. Customers can receive notifications in all of the popular browsers and on smartphones.
SendPulse's push notification service allows you to start sending personalized offline notifications about your flash sale. This feature allows you to personalize your notifications and segment your audience.
Here you can see the process of creating a push notification in our service. SendPulse allows you to select a list of contacts, use segmentation, insert a title, text, a link, and an image to notify your customers about your flash sales. The preview function on the right enables you to see how your push notification will look.
SMS
If you have a local business, you can promote your flash sales using SMS campaigns. This direct channel enables you to deliver messages about your limited promotion to the right people and increase customer engagement. You can create personalized messages to reach your target audience.
Here you can see how to create an SMS campaign for your time-limited offer with ease using our service. Add a sender name, your SMS text, and a list of contacts. You can also use segmentation and schedule the date and time for your SMS campaign. The preview function enables you to see how your message will look on a smartphone.
Social media platforms
Use social media channels like Facebook, Instagram, and Twitter to connect with your audience and promote your sale. You can create posts and videos to increase customer engagement during your promotion. Besides, make use of social media tools such as stories, IGTV, hashtags, and more.
4. Limit the time of the deal
An ideal deal of the day shouldn't exceed 24 hours. Statistics show that three-hour sales have the highest transaction rates at 14%. We've already mentioned that a flash sale works because of its urgency and a rush that appears among buyers. This "rush" provokes people to make impulse purchases.
Here is an example of a promotional email from MAC Cosmetics. The email is short and sweet. It includes the amount of the discount. The brand also mentioned that the offer is valid for a limited time. The call-to-action "Shop" encourages shoppers to click and see the discounted items.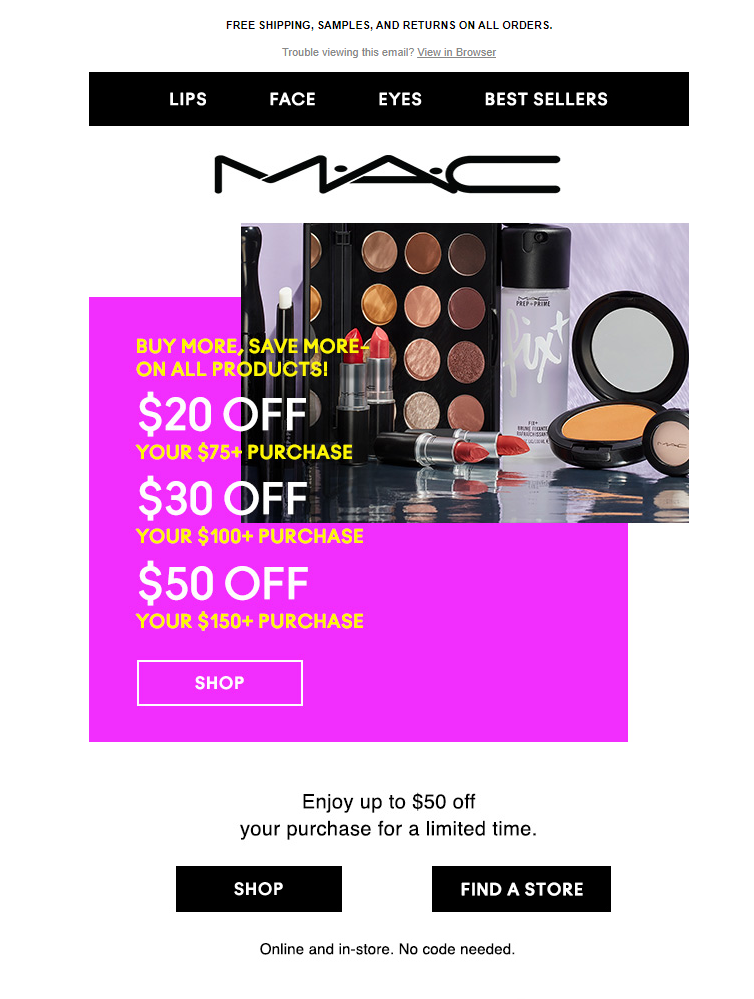 5. Check your stock
Ensure that you have enough of the products in stock that you plan to offer. Calculate approximately how many products you will need. This is necessary to make sure that you won't sell out the discounted products too fast leaving customers with negative impressions about your company.
6. Get ready for delivery
In today's world, it is critical to deliver products as soon as possible. People expect to receive their orders the next or even the same day. That's why you need to be ready for mass shipping to provide an excellent customer experience with your brand from start to finish.
To find out how flash sales work, look through some examples. They can serve you as ideas for your future promotions.
Flash Sale Ideas and Examples
Steve Madden
Pegasus Airlines
Monki
Grammarly
NYX Cosmetics
There are plenty of ideas for providing limited-time offers. Various brands run sales and reap the benefits. Let's consider some examples of deals of the day to see how they work.
Steve Madden
To celebrate Cyber Monday, the Monday after Thanksgiving, Steve Madden decided to give a 40% discount to their buyers. The brand provided customers with a special code to make purchases. The brand's email is short and concise, containing only important information for customers. Besides, it includes a call-to-action button that redirects users to the desired section of the site very quickly.
Pegasus Airlines
A Turkish low-cost carrier made a tempting offer for travel fans. Pegasus provided customers with tickets to Turkey for just €1 plus taxes on select routes. To take part in this sale, people should comply with the rules of this limited promotion.
Monki
The brand allows customers to explore the latest style and get the fashion pieces they like with a great sale. Before the holidays the company conducted a sale on certain items. Shoppers had the chance to receive a 50% discount purchasing online and in-store.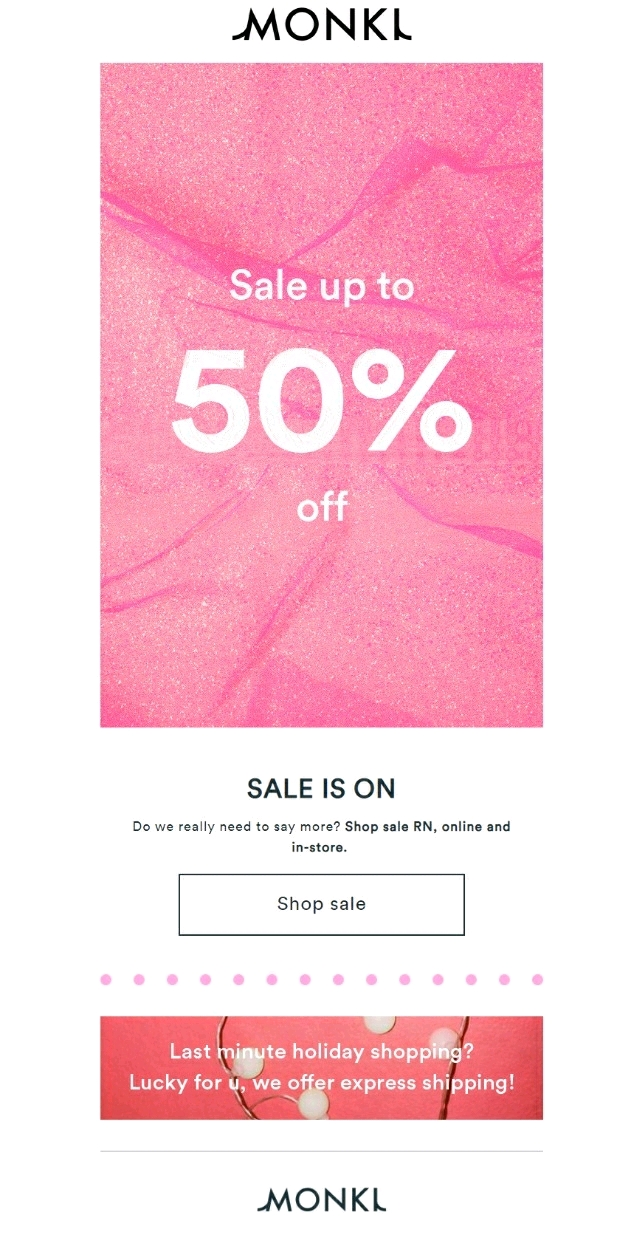 Grammarly
The company informed customers about their 55% discount via email newsletters. Grammarly conducted this sale as a Black Friday offer only for 24 hours. This grammar checking service offered clients to increase the quality of their writing by purchasing their Premium plan with a healthy discount.
NYX Cosmetics
NYX, an American cosmetics brand, invites customers to purchase products on the cheap. The company offered a flash sale on New Year's Eve. As you can see, the offer is only valid for a limited time.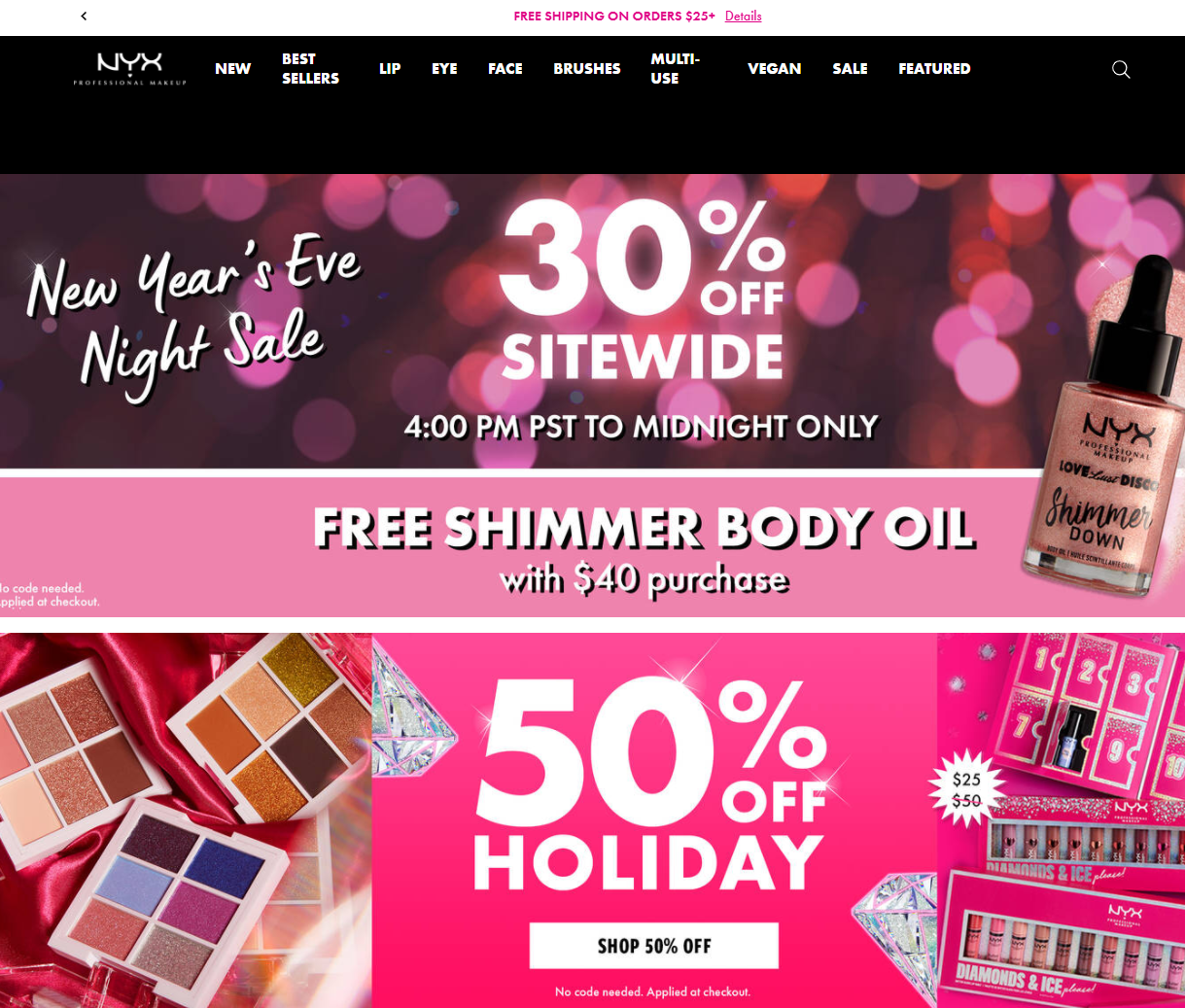 Now that you know how famous brands run their flash sales, let's review some important tips to ensure that this process goes smoothly with your brand.
Flash Sale Tips
Use an email scheduler
Set up segmentation
Prevent website crashes during high traffic
Here are three main steps that can simplify the process of creating your time-limited campaign. With these steps implemented, you have bigger chances to run a campaign successfully.
Use an email scheduler
To reach your audience when you have a flash sale and communicate your message at the right moment, you can use a special email marketing tool — scheduled campaigns.
With our service, you can create an email campaign to send announcement emails notifying customers about your sale. During the "Preview and send" step, schedule it for a particular date and time.
Set up segmentation
Segmentation helps you make your sale more effective by creating a targeted message. You can resonate more deeply with audiences by offering them discounts on the items they like most. In this way, you can directly address customers interested in particular products who are likely to make purchases. You can segment your clients according to behavior (based on shopping habits), demographics, or their place in the buyer's journey.
With SendPulse, you can select variables for the segmentation of your email, chatbot, and SMS audiences, and conduct a successful time-limited offer.
Below you can see how to create an email campaign with SendPulse. The process includes several steps. The first step is to select your mailing list (you can apply segmentation based on variables), add a sender name, email address, and subject line. Next, select a template and add a message content.
Prevent website crashes during high traffic
Christmas, Thanksgiving, Valentine's Day, and the Fourth of July can be a reason to run a flash sale. You can't avoid massive traffic to your brand's website during this season. To meet the expectations of your customers and provide them with a seamless experience, ensure that your website is ready for high traffic from both desktop and mobile users. For this, consider doing several steps before the sale starts.
Every successful flash sale requires you to do several steps to reap the benefits: determine your goal, select items, and promote your sale using channels like email, web notification, SMS, and social media. SendPulse will help you do it with ease. Also, remember to test your website and check its efficiency to prevent website crashes during the sale and achieve your goal. Best of luck!
Resources:
The article "The Ecommerce Guide to Flash Sales (With Examples)" on the HubSpot blog defines the term, provides readers with seven steps to run a flash sale, and shows great examples.
The article "Flash Sales 101: How to Get More Money (and Clients) Fast" on the Optinmonster blog defines the term, explains how flash sales work, provides instructions on how to run an email sequence for a flash sale, and gives some useful tips.
The article "What is a Flash Sale? A Step-By-Step Guide to Make Your Sales Event a Success" on ActiveCampaign blog defines the term, provides pros and cons of flash sales along with tips.
Last Updated: 23.08.2023