Lead conversion is the marketing process of turning leads into paying customers. It entails all the marketing practices that stimulate a desire to buy a product or service and push a lead towards a purchasing decision.
To become a client, each lead has to go through the lead funnel, which has following these stages:
Awareness
Interest
Decision
Action
To drive a lead down the sales funnel and transform them into a customer, you can use a variety of strategies. Read on to learn about the strategies you can leverage for lead conversion.
Lead Conversion Strategies
Use landing pages
Build content marketing
Go social
Apply email marketing
Try push notifications
Proceed to call
Consider chatbots
Retarget through PPC
On average, companies spend $198.44 to generate one lead. To get a return on these investments, you have to take care of converting a lead into a customer. We've picked eight strategies for you to stick to crush your ROI goals.
Use Landing Pages
Marketers consider website home pages dead because they lack personalization. Thus landing pages have gained a foothold in driving better lead conversion. They address narrow audiences and capture leads more effectively.
To nail the lead conversion via landing pages, define your audience precisely. Pinpoint their pain points and concerns to show how your product solves their problems. For better results use our guide on creating a high-converting landing page.
The cornerstone of every landing page is a subscription form. It allows you to get leads and convert them into customers. To get more leads, make your forms easy to fill in – numerous fields scare customers away and perform poorly.
To create appealing and good-looking subscription forms, try SendPulse's free builder. With this tool, you can create various types of forms from scratch. Our robust editor enables you to customize the design, choose various fields, add lead magnets, and more, without the need for any technical knowledge.
If you don't have a landing page yet, create it with our easy-to-use drag and drop landing page builder. It's free and requires no coding skills. You can design a landing page, online store, or link page for your social media bio from scratch or use a ready-made template. Add images, galleries, videos, subscription forms, links to your social media profiles and chatbots, payment options. 
Check out below how the process of creating a landing page looks like. Choose the necessary elements and drag them to your layout. Edit their design with the toolbar.
Look for more information in this guide.
Start Content Marketing
Content marketing is the go-to tool for both generating leads and moving them down the funnel. This strategy involves creating content to educate your leads about your product or service, engage them, and help them make a purchasing decision.
Each of these tasks requires a different type of content. For instance, you can engage a reader with a blog post on how to solve their problem, educate them about your product with an eBook or webinar, and affect their purchasing decision with a case study.
Approach your content not as stand alone pieces, but as flows that drive a lead from awareness of your product to making a purchase. Providing your leads with useful content relevant to their position in the buyer's journey yields 73% higher conversion rates.
The efficiency of your content marketing boils down to keeping your leads' best interest at heart. Make your content concise and engaging. Don't overdo the selling component and CTAs – they should be your suggestion, not the main points of your content. Lastly, maintain a regular publishing schedule and updating your content often.
Go Social
With 3.8 billion users worldwide, social media is a great way to attract and nurture leads. Use social media to get to know your customers better – who they are, what they like, what they are interested in. To nail your SMM efforts, follow these tips:
Create a content plan for every platform. Find the perfect posting frequency, types of content, and themes. Use services for auto posting to maintain all of your pages.
Include hashtags to increase brand awareness. They help your content appear in search results and on trending lists.
Always use visuals to boost engagement. Users share visual content more readily than text. For instance, they retweet posts with images or videos 1.5 times more than posts without them.
Remember that 43% of internet users research products through social media. Thus brands should provide them with the opportunity to purchase without leaving a social network page. Facebook and Instagram already allow businesses to do so through Facebook Shops and Instagram Shopping tools.
Use Email Marketing
This way of converting leads to customers has proven its efficiency time and time again. 80% of business professionals consider email marketing their primary customer retention channel.
To convert leads via email marketing, stick to these rules:
Use different types of emails in your strategy. Marketing emails help nurture leads. Triggered campaigns – abandoned cart or re-engagement emails – boost conversions in the lower stages of the funnel.
Segment your mailing list and personalize your content. According to 51% of email marketers, list segmentation is the most effective way to personalize lead nurturing. Provide each lead with customized content. Make offers based on their browsing history, gender, or region.
Make your emails appealing. Create catchy headlines, attractive designs, and concise and interesting to read copies.
To compile perfectly looking, personalized, and automated email campaigns, try SendPulse for free.
Employ Push Notifications
When it comes to working with leads on the bottom of the funnel, web push notifications are nothing to sneeze at. The average reaction rate of push notifications is 7.8%. It makes them the perfect complement to other lead conversion strategies.
Rules for using this tool resemble email marketing rules: apply a good-looking design, make appealing offers, and create clear calls to action. Segment your leads and create personalized notifications for the best results. Sending web push notifications to a segmented audience increases their CTR by up to 218%.
Segmenting your leads and creating personalized notifications is a piece of cake with SendPulse. Add the lead's name, region, or favorite products to your messages and send them automatically.
Proceed to Call
41.2% of sales representatives believe phone calls are the most effective sales tool. So, it's worth using calls for lead conversion if it makes sense in your niche. For instance, phone calls work well in the B2B sector or selling complex products, such as business software.
Be wary of timing with your phone calls. Avoid calling too early – 60% of leads want to have a chat with a salesperson after they've researched the market and made a shortlist. To avoid unwanted calls, encourage your leads to book a call from you when they're ready.
To make your phone sales more efficient, try following the SPIN selling technique. S stands for situation, P – problem, I – impact, N – the need for a solution. These are the topics to talk about with your lead. Find more tips on selling products and services in our direct sales guide.
Consider Chatbots
57% of businesses agree that chatbots deliver high ROI with minimal effort. To leverage lead conversion goals, teach the bot to understand your audience's needs. In the beginning, it can ask about the problems a lead wants to solve and offer some solutions.
Make the chatbot sound like a human. Although the audience knows they are dealing with a robot, they still like it to resemble humans. The chatbot's style of conversation should reflect your company's tone of voice.
Make your first steps in chatbot marketing by creating a Facebook or Telegram chatbot with SendPulse. Send up to 10,000 messages a month to an unlimited number of subscribers for free.
Retarget through PPC
75% of people consider paid ads to be helpful in finding what they need. 26% clicked on an ad because they were familiar with the brand. That makes PPC advertisements effective in interaction with interested and loyal customers.
To leverage lead conversion through PPC, target your ads at those who've already visited your website or landing page. Make sure your offers are relevant to your lead's interests and location. Create ads that stand out with visuals and copy. Make sure your calls to action are clear.
You can show PPC commercials several times, but remember to stock a variety of them. Otherwise, your leads will get bored with seeing the same old ad.
Whatever strategy you choose for lead conversion, keep track of its efficiency. Rely on lead conversion metrics to get credible and clear results.
Lead Conversion Metrics
Metrics help you evaluate how successful your marketing efforts are in achieving your goals. And when it comes to lead conversion metrics, you can encounter a myriad of them. We've picked several indicators to help you understand the effectiveness and cost of your lead conversion.
Lead conversion rate helps check your ability to attract the audience and turn them into leads.
Time to conversion enables you to spot how long it takes for a visitor to become a lead.
Cost per conversion shows how much it costs to get a customer.
Lead value allows you to estimate how leads are valuable to the success of your company.
Lead-to-sale conversion rate shows you how likely it is that a lead will turn into a sale.
Conversion ROI helps track the return on investment per conversion.
Follow the table below to calculate these metrics.
| Metrics | How to calculate |
| --- | --- |
| Lead conversion rate | Total number of new customers / Number of leads*100 |
| Time to conversion | Total time spent by all visitors / Total number of leads |
| Cost per conversion | Total cost of advertising / Number of conversions |
| Lead value | Total sales value / Total leads  |
| Lead-to-sale conversion rate | Converted Leads / Total Lead Volume |
| Conversion ROI | (Lead value - Cost) / Cost |
What is a good lead conversion rate?
The short answer is between 1-3%, according to Econsultancy. Speaking precisely, ideal conversion rates vary based on different factors: channels of lead generation, ways of lead nurturing, and more.
Moreover, the lead conversion rate target is different for various industries. Unbounce has calculated the median conversion rates for sixteen industries.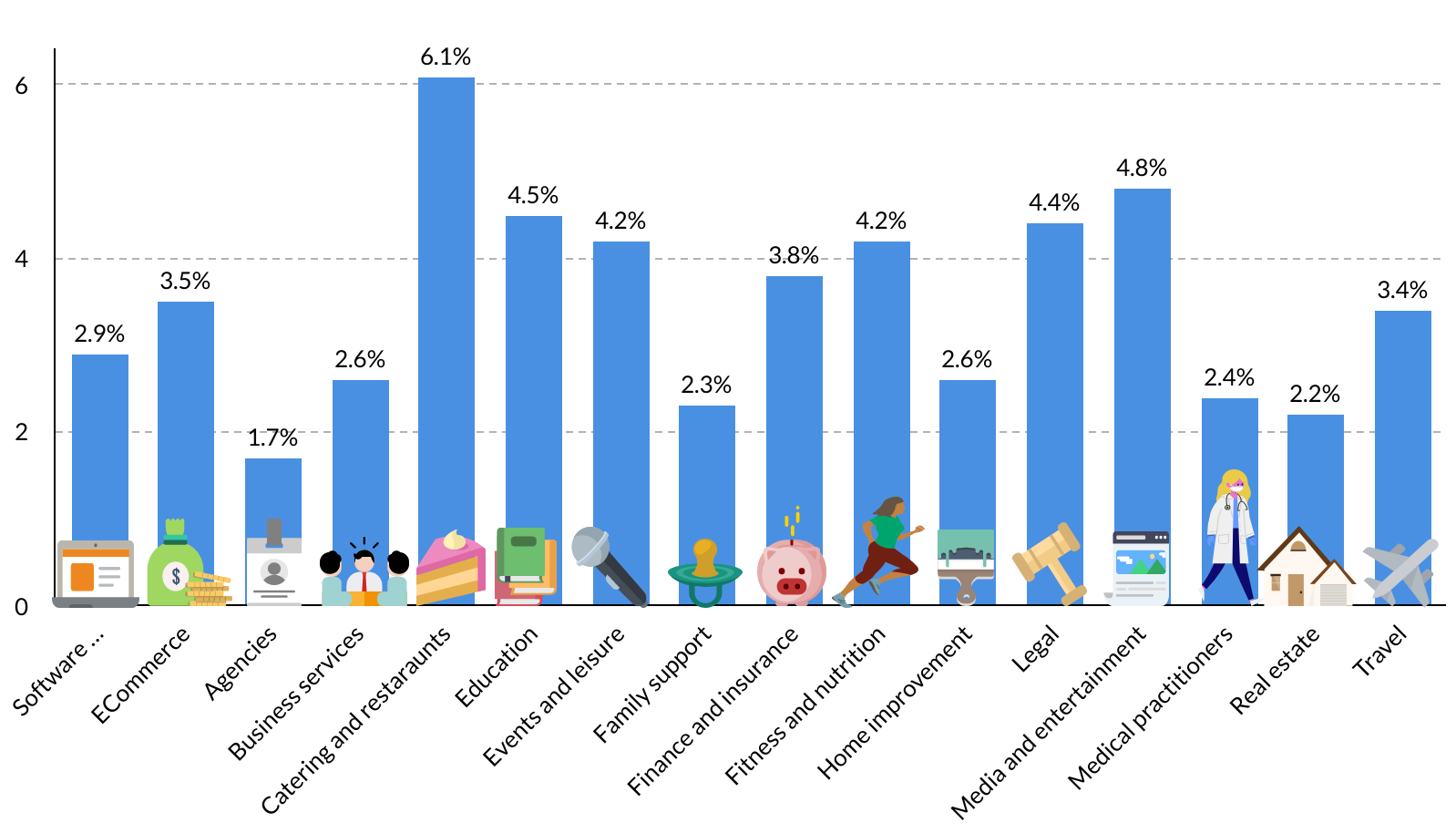 9 tips to increase lead conversion rate
Only work with quality leads
Make a killer offer
Include customer testimonials
Use clear calls to action
Offer a guarantee
Add a countdown timer
Add leads to your CRM system
Automate your lead conversion process
Create a live chat
No matter what your lead conversion rate is, you can always increase it. We've picked seven tips to help you get higher conversion rates.
Only Work with Quality Leads
At least 50% of leads or prospects turn out to be a bad fit for companies. Target only those who are the most likely to become your customers. Learn about your leads' occupations, marital status, geographic location, income, pain points, and interests. Compare their portrait to your typical buyer persona or current customers.
To make the evaluation even clearer, try lead scoring. It implies giving your leads certain points for their professional status, and engagement with your website and brand. To save time, use lead scoring software and services, such as Leadspace or Velocify Lead Manager.
Make a Killer Offer
To convert your lead into a customer, start with an alluring offer. And by alluring we mean personalized. 91% of consumers are more likely to shop with brands that provide highly relevant offers and recommendations.
To personalize your offer, learn your leads' preferences by tracking their behavior on your website. Another way to make the best offer possible is to follow Birchbox's example. To start, the beauty box service asks a lead to fill out a questionnaire. It includes questions about their appearance, favorite products, and problems with their skin and hair. Based on this information, Birchbox tailors its beauty boxes individually for each customer.
Include Customer Testimonials
92% of consumers read reviews before purchasing, and 88% trust testimonials as much as their friends or family's recommendations. This makes testimonials, reviews, and other types of social proof a powerful tool for growing your lead conversion rates. You can incorporate testimonials into your landing and product pages, emails, social media, or even PPC ads.
Zapier provides an A+ example using their clients' reviews on the website's main page. The testimonials show real cases of people using Zapier's software and highlight its advantages. Each quote is accompanied by the customer's photograph, which increases credibility.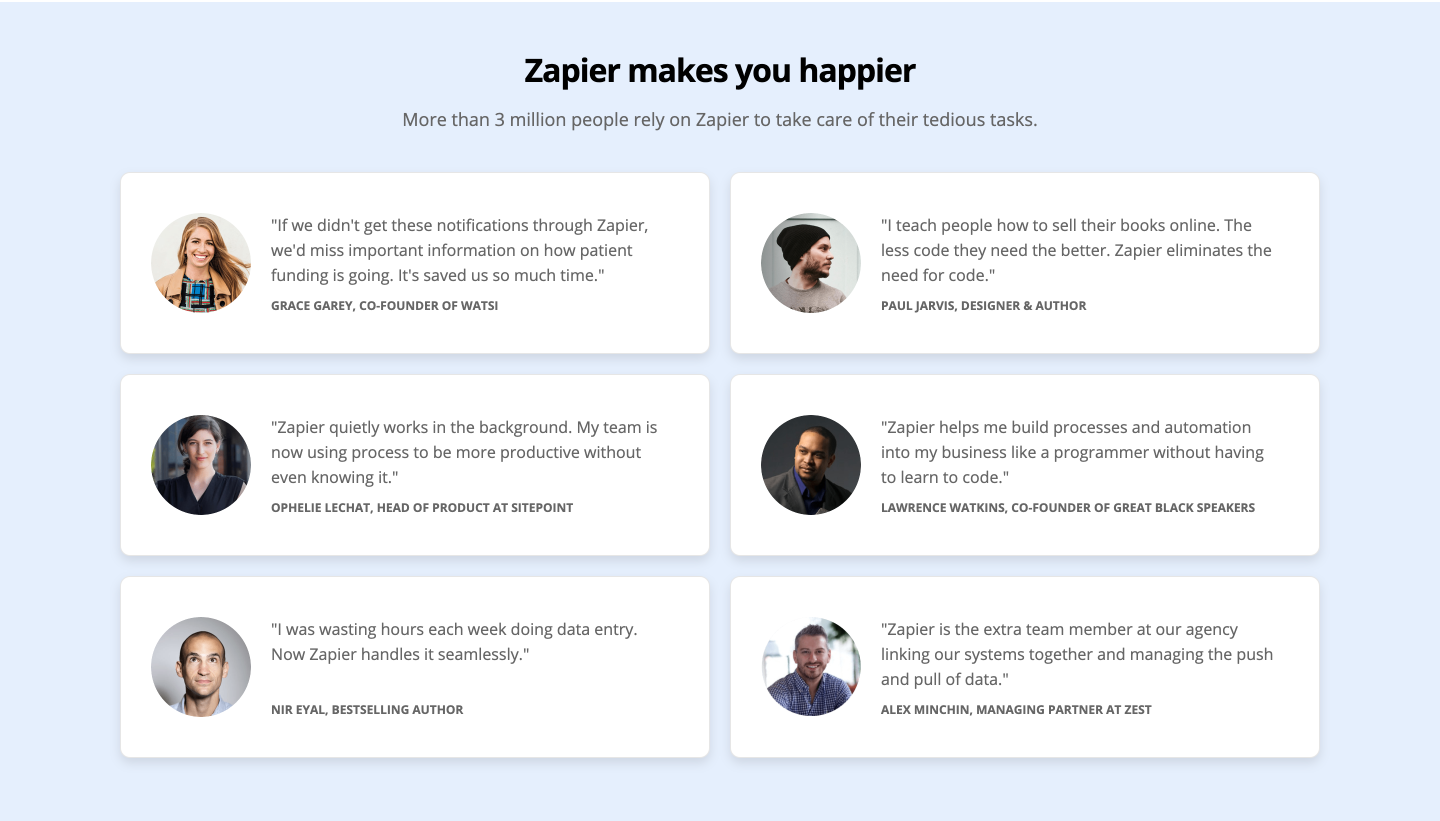 Use Clear Calls to Action
Having too many choices can make your leads get confused. They may leave your landing page or email without clicking a CTA button. Here is a proof: pages with only one call to action have a 3% higher conversion rate than pages with five or more.
To increase your conversion rate, revise your content carefully, and exclude multiple calls to action. Avoid ambiguity – your calls to action need to be crystal-clear. If you have a nagging doubt which CTA performs better, run an A/B test – it can boost conversion rates as well.
Blue Apron does an excellent job with their CTA. The cooking service provides only one option in their email – pushing the "Let's cook" button.
Offer a Guarantee
This move helps eliminate your lead's doubts and increase your conversion rate. Adding a 30-day money-back guarantee on the website can increase sales by 21%.
A money-back guarantee may be tricky to employ – it drives extra costs, customer service congestion, and can create a mess of documents. That's why businesses sometimes make vague guarantees, such as 100% satisfaction. Do not follow their example – offer something sustainable, as Sixthreezero does. The company gives a buyer a year to return the bike if they don't like it.
Add a Countdown Timer
Creating scarcity is a simple trick to pull a lead towards making a purchase. Humans crave things that are rare. To make scarcity and limited nature of your offer even more obvious, add a countdown timer.
Be honest – leads will find out about the fake limitations and lose trust in your proposals. In the example below, the clothing store Bonobos used an email with a countdown timer. What a pity we didn't get in time with this offer.
Add leads to your CRM system
With a CRM system, you can store all the information about your clients and their orders in one place. This will help you develop a step-by-step sales plan based on the needs of every customer. So, you'll not only close deals faster but improve your relationships with clients.
The SendPulse CRM system allows companies to accept orders, automate the sales process, keep information about customers, communicate with them with the help of email campaigns and chatbots, and share deals between your team members absolutely for free. You can visualize all your work on a kanban-board paying special attention to the statuses to have a full picture of the processes.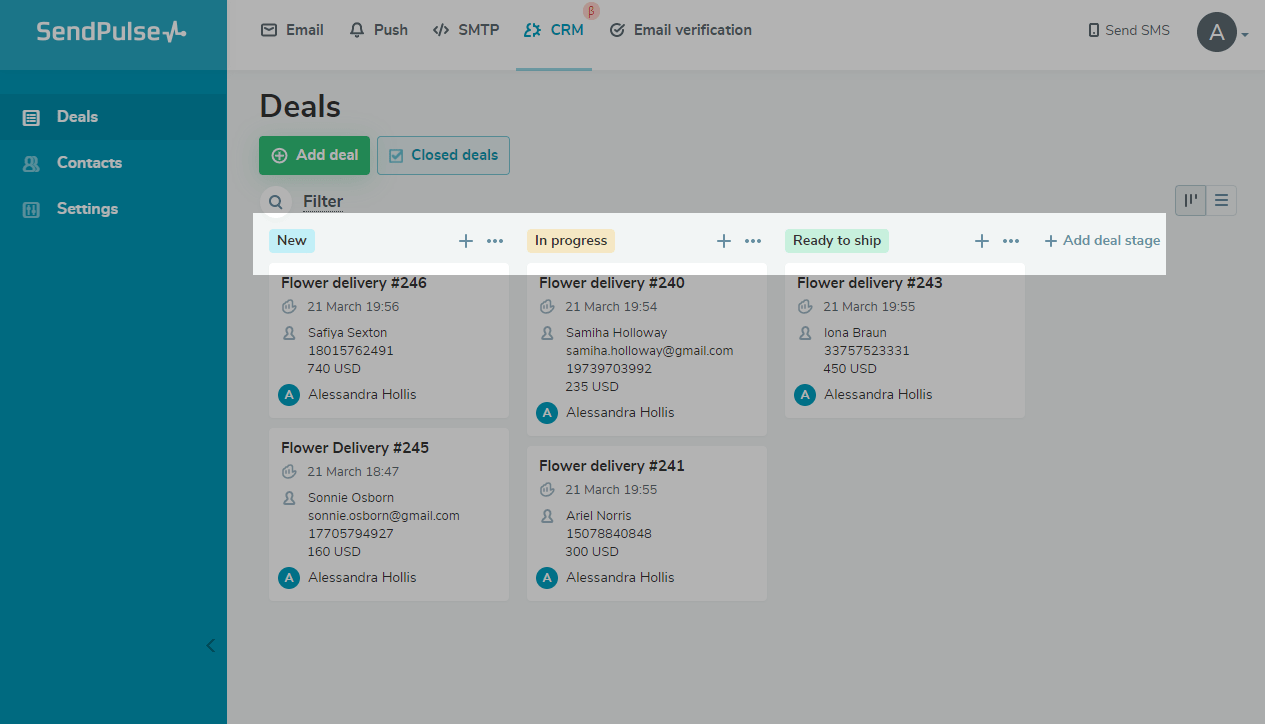 For detailed guides on using our CRM, check out the SendPulse Knowledge Base.
Automate the lead conversion process
79% of the most successful companies automate their work with leads. The software helps generate more leads, provides analytics to evaluate your work and optimize your strategy, and saves time on interactions with leads.

To automate your communications, try SendPulse. Our Automation 360 tool allows you to send emails, SMS, and web push notifications to segmented contact lists automatically. Add conditions for each interaction with a lead and automatically stop the flow after reaching the goal – converting a lead into a customer.
Create a live chat
With a live chat, you can drive website visitors' attention. Offer them answers to FAQs, assist in their journey, and provide help. You can collect their personal information and use it to your advantage in your future campaigns. With SendPulse, you can convert site visitors into clients by adding a live chat widget to your website.
Trying to figure out how to apply these strategies and tips to your business tasks? To get a clearer understanding, check out the examples below.
Lead Conversion Examples
Some brands know a thing or two about converting leads into customers. Let's learn how they use different strategies and tools to drive leads down the funnel.
Hootsuite goes for an eBook
Social media management tool Hootsuite uses content marketing to get leads and draw them further down the funnel. At first, you find their proposal to learn more about what customers want from a social brand. To get it, you have to fill in the form; it helps segment and evaluate leads from the beginning.
In the next step, Hootsuite redirects you to a guide. Apart from educational information, the document contains promotional sections and calls to action.
If the lead doesn't convert in a previous step, Hootsuite proceeds with an email offering subscribers a chance to get in touch with a sales representative. This way the service gets valuable information about leads, such as their occupation and the size of the company they work for. Coupled with the free eBook in advance, it helps score leads from the beginning and increases the chances for future conversions.
Mango sell through social networks
The clothing retailer makes the most of its Instagram account by simplifying the journey from being a lead to a customer. Once you see a gorgeous outfit, you can click on the image and get a link to the particular item and shop it immediately.
On the social network shopping page, Mango upsells the chosen product offering other pieces from the same post and other popular items. Going directly to a product page from an Instagram post allows Mango to get the most from the lead's impulsive wish to buy something.
Hubspot uses chatbots
The marketing software developer provides an A+ example of converting a lead through chatbots. The conversation starts on Facebook with a question about what the user is interested in – reading the blog or getting free tools.
If they chose the last option, the chatbot pinpoints your main goal and redirects you to a corresponding landing page with sales software products. There you can go for a free trial or engage in conversation with another chatbot. The latter connects you with a salesperson to consult.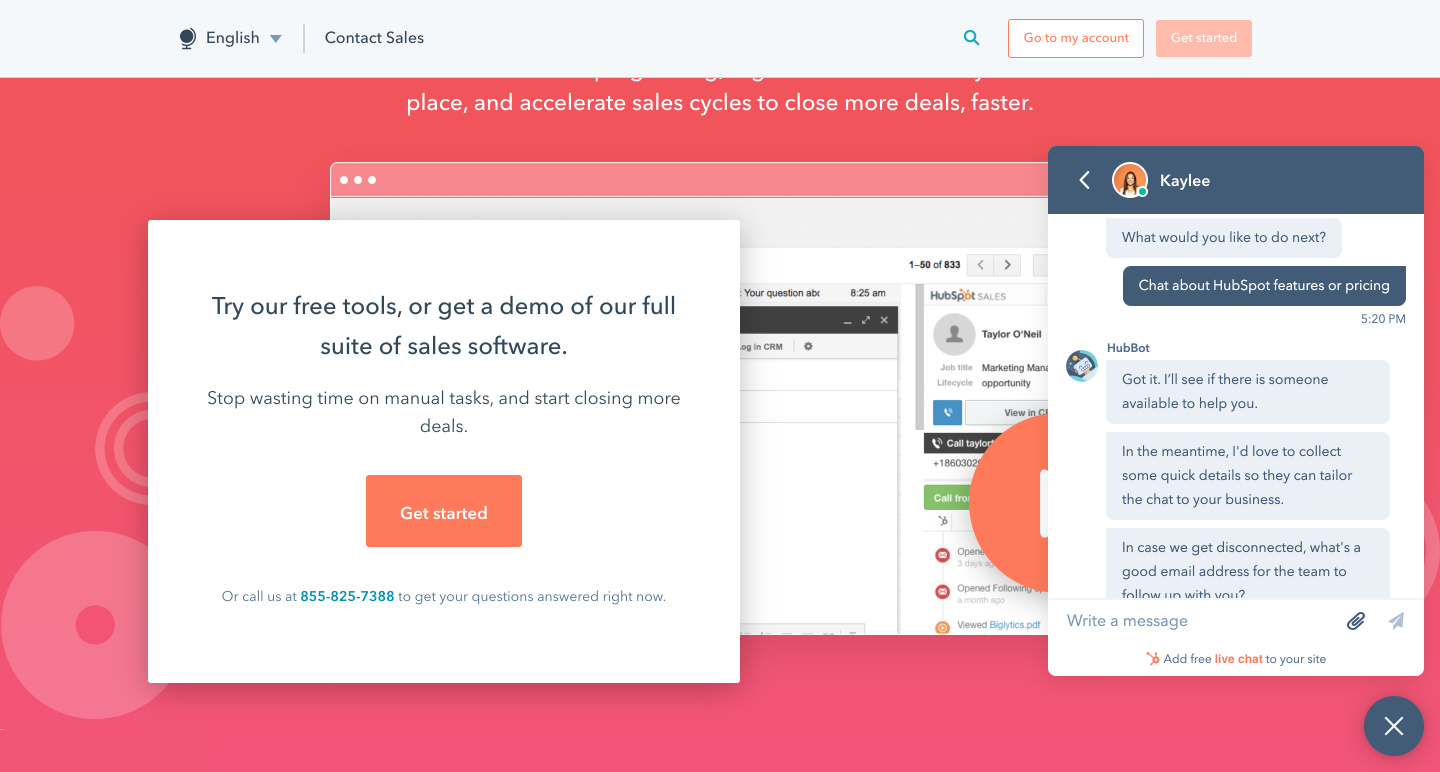 In case of problems, HubSpot gently reminds users about the conversation through email and encourages you to visit their website again.
To unlock your full lead conversion potential, try various tools and strategies. Consider starting with email, web push, or chatbot marketing – register with SendPulse and create beautiful, personalized, highly converting, and automated email campaigns.
Last Updated: 03.07.2023