Impulse buying is a tendency of a customer to purchase products without planning ahead. It happens because of a well-marketed product or a good promotional message. Impulse buyers purchase items spontaneously because they rely on sensations that urge the necessity to buy.
In this article, we'll review the psychology of impulse buying, 7 ways to increase impulse buying online, and unveil 5 most popular impulse purchases.
The Psychology of Impulse Buying
Statistics show that the number of spontaneous purchases is increasing every year. Whether it is the influence of online stores, paid advertising on various platforms, or people's urge to feel happy and excited, but the numbers confirm this fact. Now an average American makes around 12 impulse buyings per month. Moreover, 62% of respondents affirm that they feel happy after such kind of shopping. So, it's time to figure out why there's a great tendency of impulse buying.
The psychology of impulse purchases is quite simple. Market-related stimuli often cause it. Many external triggers stimulate impulse shopping. Huge discounts, attractive offers, 'Buy One, Get One Free,' etc. These are the most powerful causes of unplanned purchases. Marketing strategies provoke an urge to buy and evoke positive emotions and satisfaction. This is since customers feel that they bought some products at a bargain price. This kind of shopping is the easiest way to get dopamine here and now.
Discounts appeal to the emotional side of purchasing. People don't use rational decision-making, which is typical for planned purchases. They are guided by the emotions that emerge during the shopping. Many customers engage in impulse buying because of the unique experiences and sensations.
Now that you know how impulse buying works, it's time to proceed to the 7 ways that help drive impulse purchases online.
7 Ways to Increase Impulse Buying Online
Consider upselling
Implement limited-time offers
Create engaging email campaigns
Conduct a giveaway
Offer free delivery
Leverage social listening tools
Use social media tools
Discounts, upselling, excellent promotional campaigns across different channels, social media tags — are only a few of the tactics you can implement to hook your target audience and expand your reach. You can make your company attractive for impulse buys in a number of ways. We'll review different strategies brands use to encourage unplanned purchases.
Consider upselling. You can evoke the urge to shop not only with your prospects but also with existing customers. For example, you can use upselling. During the checkout, recommend relevant products that might be useful. Besides, you can offer discounts for the 'Frequently bought together products.' This way, you'll be able to upsell some additional items. It's a very effective approach since it evokes fear of missing out.
Implement time-limited offers. Discounts, special deals, gifts, rewards, and free delivery work like a charm on users who purchase online. Moreover, if they are limited-time only. You need to provide customers with a reason to buy right now and drive urgency. When the discount or special deal is bound by time, you can trigger the fear of missing out. This way, prospects or your loyal clients will definitely make a purchase.
Create engaging email campaigns. Email marketing is an effective marketing channel that helps communicate the message to subscribers. To encourage consumers to make impulse purchases, make an attractive offer. Users often seek promo codes and discounts before making any buys online. That's why you need to interest your target audience with a good discount or a promo code. Send an email campaign to your subscribers informing them about a sale and mentioning a promo code that will reduce the price. SendPulse's bulk email service empowers you to do it for free.
Conduct a giveaway. A giveaway is a wonderful excuse for two brands to share similar audiences. With your giveaway partner, you'll be able to encourage purchases not only from the people who land on your site but also leads from the other brand's following. By running a giveaway and providing special offers, you can expand your reach fast. As a result, new customers and more sales.
Offer free delivery. According to statistics, 94% of people are more willing to buy if the delivery is free. One of four respondents expect online brands to have free delivery. So, it's a great idea if you want to increase impulse purchases online. You can provide it if a customer buys for a certain amount of money. This way, people will gladly add some more items to their carts to avoid paying an additional fee for shipping.
Leverage social listening tools. With social listening tools and search on social media, you can easily find potential customers whose needs aren't met yet. If you have a great offer for this person, then you need to establish interaction. There are plenty of ways to do it. Consider using social listening platforms like Sprout Social, Hootsuite, or BuzzSumo.
Use social media tools. Word-of-mouth promotion works smoothly when we talk about impulse buys. Once people hear about discounts, limited-time offers, BOGO (Buy one, get one free), and specials from bloggers, they instantly search the site and products it offers. So, it's also a great idea to use social media and its tools. You can ask an opinion leader to promote your sale and leave the link to your brand. Consider influencer marketing while creating a post with a tag. The more people will know about your brand and discounts, the more impulse purchases they will make.
Now when you are aware of these marketing techniques, it's time to delve into the most popular impulse buys.
5 Most Popular Impulse Purchases
Since the logic of impulse purchases works on irrational decision-making and sensations, this is an effective way to sell huge quantities of products. Try the recommended approaches to reach and hook your target audience. As a result, your reach and sales volume will expand. We've prepared the 5 most popular unplanned purchases people make. They will help you decide which products are best to sell. So let's dive in.
Apparel
Clothes are at the top of our list of impulse buys. More than half of impulse purchases are apparel. When people make unplanned visits to stores or search for specific items online, they can encounter discounts. What can be more tempting than a sweater with a 40% discount, a new pair of jeans and a T-shirt for free, or free delivery? Often customers can't resist even when these products weren't on their shopping lists.
Below you can see an example from Motel Rocks. Anyone who lands on the brand's website for sure would like to explore items with an 80% discount.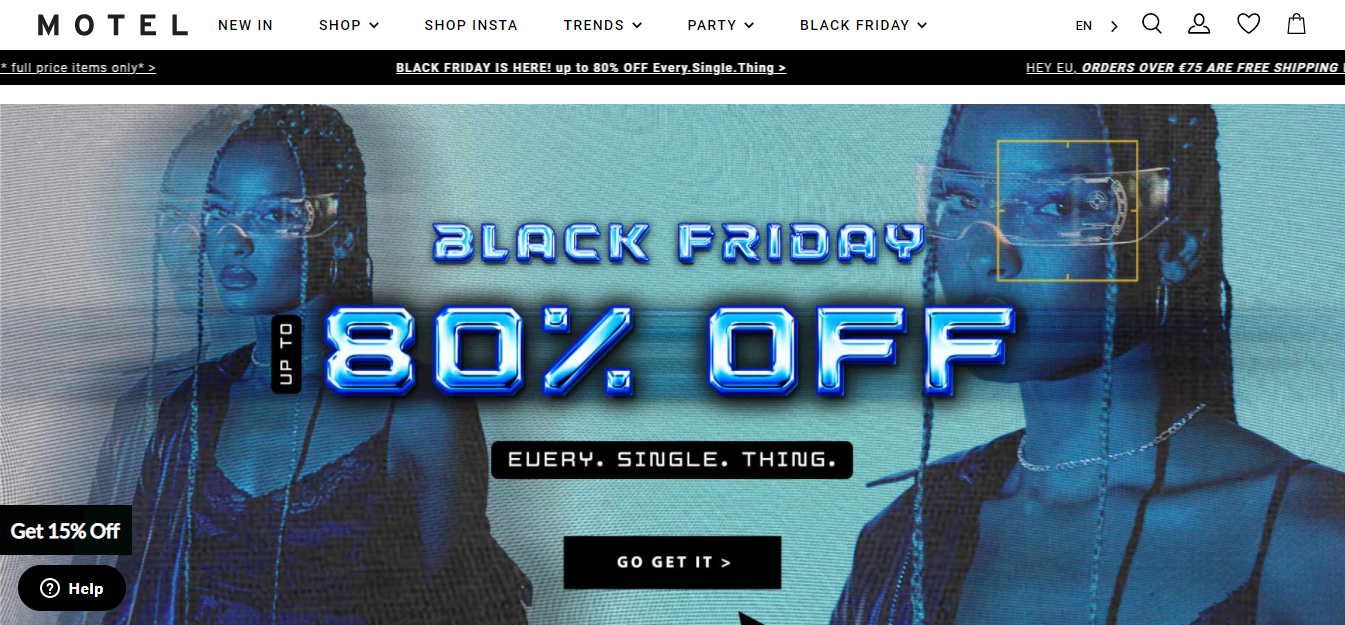 Food & Grocery
The essential thing for our living is food. Customers visit grocery stores every day and accordingly make many unplanned purchases in supermarkets. As a result, food is among the top-selling impulse products. The desire to buy increases when a hungry customer sees discounts and red price tags. They drive the urge to buy and satisfy needs in food or sensations.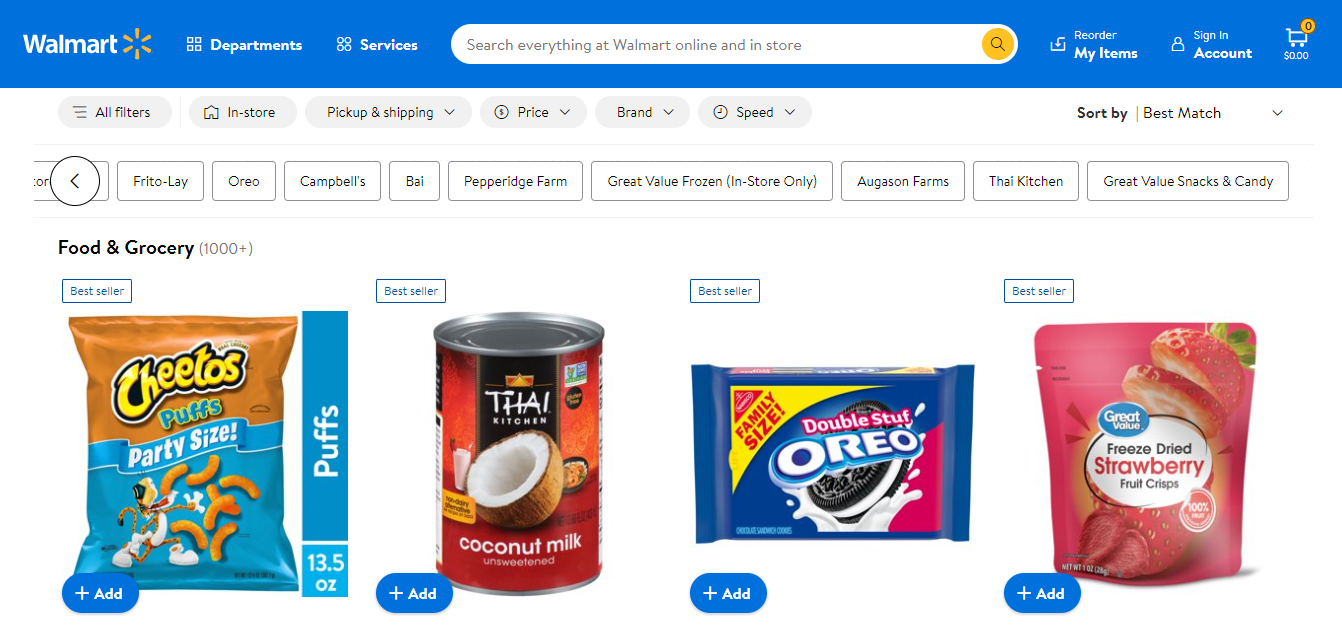 Shoes
If customers already have shoes for different weather, they still won't miss a chance to grab an additional pair of Nikes or Pumas at an attractive price. That's the reason why shoes are among our 5 most popular impulse purchases. Sporty, elegant, comfy, and original shoes are united by people's strive to look good and explore some great discounts.
For example, Puma entices customers with Black Friday deals.
Beauty & Personal Care Products
Beauty products are also in high demand as customers care about their appearance. That's why you can encounter personal care items on our list of most popular impulse buys. Shoppers might be attracted by the miraculous benefits of the products, their price, ads, or beautiful packaging and they make these purchases often.
Below you can see attractive offers and discounts from the famous retailer of beauty products.
Home Decor
People buy home decors such as paintings, pillows, bedspreads, rugs, and beautiful dishes to make their homes feel comfortable. This eagerness pushes them to impulse purchases during big sales such as Black Friday, Christmas, Cyber Monday, Mother's Day, etc. Customers can't pass by a wonderful soap dish that matches their bathroom or a cup with a cute reindeer.
You can see amazing offers from H&M Home at affordable prices.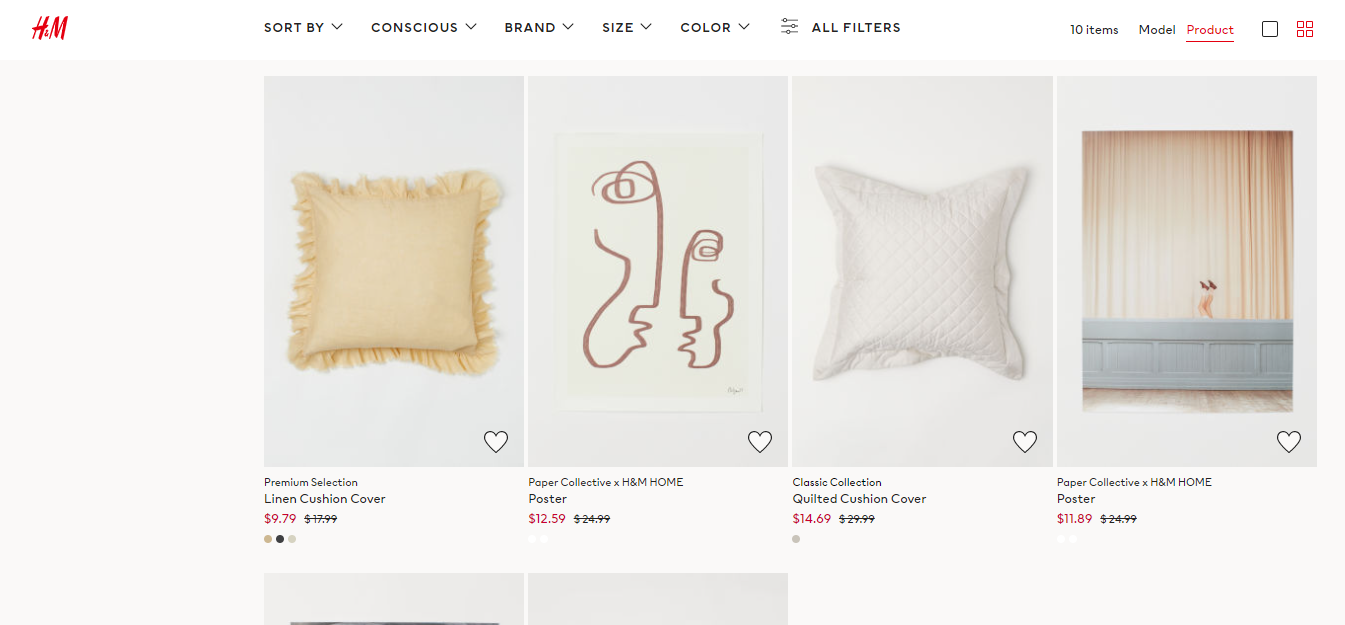 To sum it up, impulse buys can significantly increase your customer base and revenue. If you implement the tactics right, you'll build an effective marketing strategy that sells. Your business will thrive and grow. Hope our examples inspired you to develop your impulse buying strategy.
References:
This article unveils 6 ways to increase impulse buys.
In this article, you'll find factors that affect impulse purchases.
This article provides readers with tactics to boost impulse buys.
Last Updated: 24.05.2022