An email lead is a prospective customer who has expressed interest in a product, service, or brand and has opted in for marketing emails from the business. The lead's email address is usually collected through a subscription form, direct chat, or phone.
Leads have the potential to become future clients. So, once a lead shares their contact information, the business should embark on an email campaign to convert them into buyers. The percentage of converted prospects from the total amount of generated leads makes up the conversion rate.
The lecturer from HubSpot Academy provides tactics on how to convert leads. Watch it to draw inspiration!
Why is email lead generation imperative?
Despite the emergence of new communication channels, email is still a popular and reliable channel for marketers to reach and engage with target audience. Why focus on email lead generation?
It brings high ROI: for every $1 spent on email marketing, $38 is generated.
It's a way to collect better quality leads.
It offers an opportunity to build better relationships with customers.
Email provides an easy way to inform prospects about new offers, deals, products, events, or services.
Email Lead Generation Best Practices
Signup form on a website or blog and an attractive lead magnet
After abandoning a shopping cart
Offer users to subscribe via social media
An email marketing service is a must when planning to generate email leads. This service helps automate routine tasks and improve email marketing performance with the help of professional instruments. Here are ways to generate leads for free.
Signup form on a website or blog and an attractive lead magnet
Adding a subscription form with an enticing lead magnet on a website or blog is an easy way to turn site visitors into subscribers. Get email leads for free with SendPulse by creating branded subscriptions forms using pre-designed templates.
Below is a subscription form created with a functional SendPulse form builder.
You can easily grow your audience by creating multichannel forms. Add links to your chatbots in Facebook Messenger and Telegram. Look below.
After abandoning a shopping cart
This kind of email is an excellent method to reduce the number of losses in sales. Why should you miss a chance to remind the clients about the products they've added to their carts? If a lead has entered their email address but didn't buy, send them this kind of email and enjoy additional sales.
Check out how Bonobos makes use of an abandoned cart email campaign.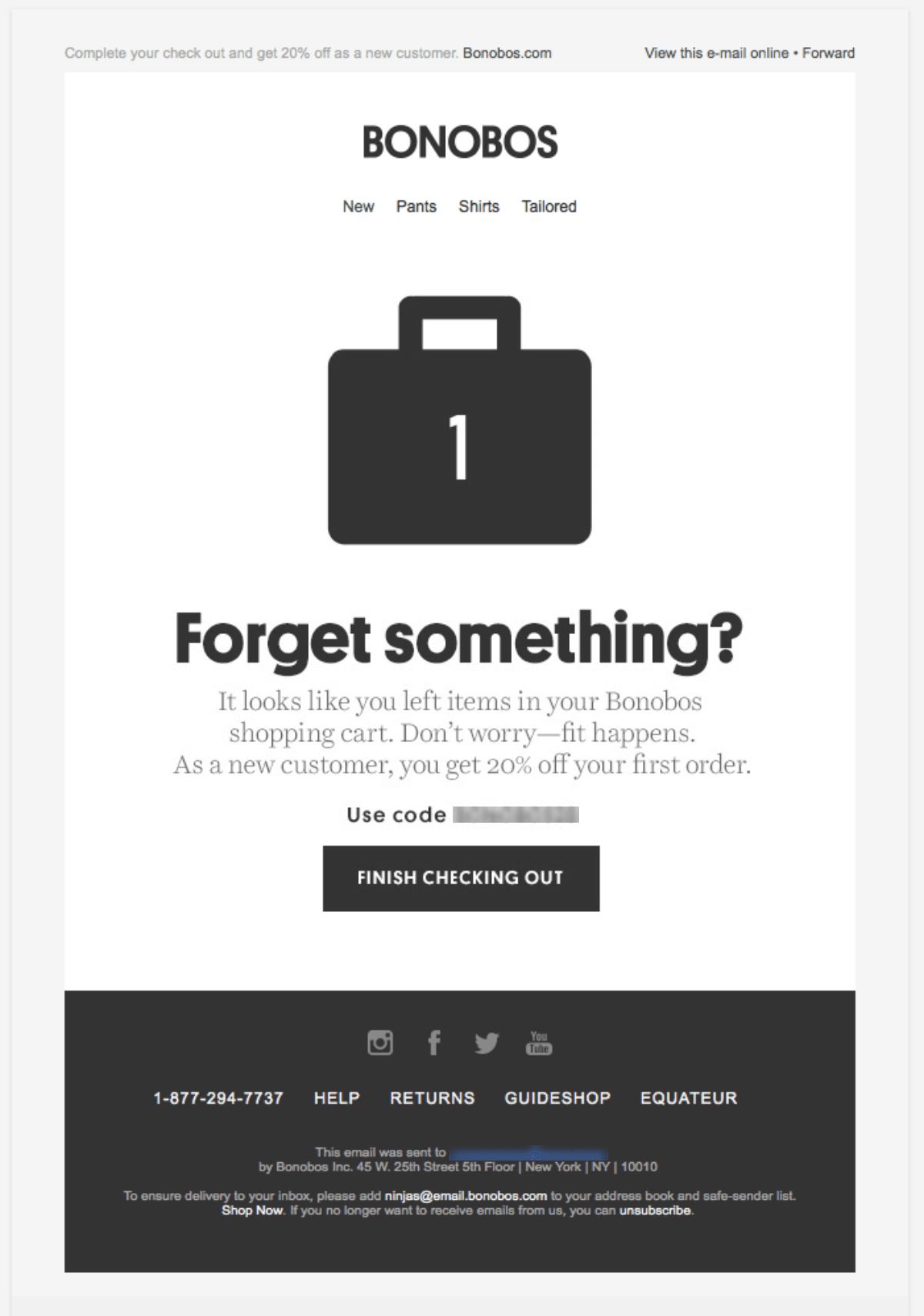 Offer users to subscribe via social media
Reinforce your email marketing with social media. If a big part of your audience is made up of socials, don't miss an opportunity to turn them into email leads. All you need is to add a sign-up form on your brand profile. Facebook is an excellent place to start.
How to Nurture Email Leads
Qualify, and segment leads
Send drip email campaigns
Automate email sending
Facilitate multi-channel marketing
Not all leads end up buying, and sometimes it's because a business has not taken steps to nurture them. So, here are some ways to nurture leads:
Last Updated: 22.03.2023