Mobile advertising is using different formats of ads suitable for mobile devices to promote products. It helps companies reach people in real-time, receive instant responses from customers, create shareable content, and track the results.
In this article, we'll uncover why mobile advertising is important, its advantages and disadvantages, and its types. We'll also unveil how to do mobile advertising with SendPulse and provide you with some outstanding examples.
Why is mobile advertising important?
According to Statista, there are around 6.6 billion smartphone users worldwide. They use their mobile devices to explore products, search for necessary information, and order different items. That's why it's crucial to adopt mobile advertising. There are many reasons to consider mobile ads for your business, and now we'll review them all.
First of all, people spend around five to six hours on their smartphones during their spare time every day. This means that they search for information using Google or social media platforms. Customers use their cell phones to order from famous eCommerce platforms like Amazon and eBay and buy food from grocery stores and restaurants. Brands that develop mobile campaigns to introduce their products and lead consumers toward a sale, see a considerable increase in their profits.
With location data and search history, businesses can understand the needs of their prospects and address them. Entrepreneurs can leverage personalization and deliver targeted messages to the right people. Besides, marketers can tailor relevant offers and see real-time customer responses.
Now that you know why mobile advertising is important, it's time to see the advantages and disadvantages.
Advantages and Disadvantages of Mobile Advertising
Mobile advertising has both advantages and disadvantages. Once you decide to adopt mobile ads to your business, you can reap the following benefits:
messages delivered to people in real-time;
minimum content to achieve results;
instant responses from leads;
shareable content;
higher reach;
increased revenue;
targeted messaging;
personalized offers;
the possibility of online payments to conduct instant transactions;
multiple functions (brands can educate about their product, ask for feedback, advertise promotions, and sell).
However, mobile advertising also has its disadvantages like any other form of advertising. First of all, mobile ads can be interruptive. Some people can be irritated because ads might interrupt their experiences online. People even use mobile ad-blocking apps to avoid seeing advertising on sites they visit. Secondly, if you fail to deliver timely and relevant messages to your customers, your brand can shape a negative first impression on potential customers. That's why you always need to avoid typos and show ads at the right time. Since phones are different in their shapes and sizes, you can't be sure that users will see them in the format you wanted them to be. This can also be a problem for users.
Now that you know the pros and cons of mobile advertising, it's time to explore the types.
Types of Mobile Advertising
The type of mobile advertising you use to attract customers depends on the platform prospects visit. You can select a suitable ad type to place on a website, an app, or on a video streaming platform.
Banner ads. These are image-based ads. Banners are embedded into the web pages and aimed at driving the number of visitors and generating traffic. You can find these ads at the top or bottom of the screen of your mobile device on a website or online media property. Entrepreneurs can share their advertising campaigns with users at a low cost. As a result, you can increase brand awareness without interrupting customers.
Video ads. A mobile video ad is a pre-, mid-, or post-roll video from 15 to 30 seconds in length you can see on YouTube and across sites and applications that run on Google video partners. Users can tap the video to watch it. A creative, unique, and relevant video can increase engagement and establish an online presence.
Native ads. These are ads that match the platform they are used in. You can find them in social media feeds or recommended content on websites. Native ads fit the media format perfectly and are non-intrusive. There are many ways to promote your business with native advertising. You can implement "In-Feed" ads, content recommendations, and search and promoted listings.
Swipe ads. These ads perfectly suit online shopping platforms and companies engaged in eCommerce. They help showcase a product, demonstrate how to use it, and provide a product tour for users. Once customers see this type of mobile advertising, they can swipe it to see all the images a company provides. Each image includes a link to a separate landing page. This format is highly engaging and can bring new prospects to your business.
Interstitial ads. These are full-screen ads that appear when a user loads or closes the app, during the transition to the next game level, or the pause. This type of mobile ad perfectly fits the screens of various mobile devices and attracts customers' attention. Once you succeed in creating quality content with informative visuals and compelling copy for your interstitial ads, you can gain impressions and more click-through rates.
Now that you know the types, it's time to figure out how to do mobile advertising with SendPulse.
How to do mobile advertising with SendPulse?
Since many people use their smartphones to search for the necessary brands and products, mobile ads can bring excellent results to your business. We've prepared a step-by-step guide for you to know how to do mobile advertising with our all-in-one marketing solution — SendPulse.
Now that you know how to incorporate mobile advertising with SendPulse, let's jump into the examples.
Examples of Mobile Ads
There are dozens of amazing examples of mobile ads on different platforms. We've found some of them to show how mobile advertising works.
Video Ad on YouTube
Since YouTube is an extremely popular video streaming platform with 2.24 billion users worldwide, it's no wonder that brands use it to promote their products. Moreover, today YouTube users access the app from their smartphones or tablets, so business owners should be ready with mobile formats of their ads. Below you can see a great example of an ad on YouTube that promotes a band's new song to interest people and attract their attention to its music.
Ad on Instagram Story
Northumbria University searches for its potential students on Instagram through Instagram Stories. The ad looks natural and non-disturbing. With its help, the university strives to find new students for one year's masters in Amsterdam.
Native Ad on Facebook
The Wall Street Journal uses Facebook and its native ads to advertise its spring sale. The brand offers people to subscribe at a discounted price. The ad looks natural in the feed and doesn't irritate users.
Interstitial Ad
Singular, a software solution company, uses interstitial ads to promote its product. The ad appears full screen when you wait for an app to open. The ad contains a call to action button so that users can download Singular's app if they are interested.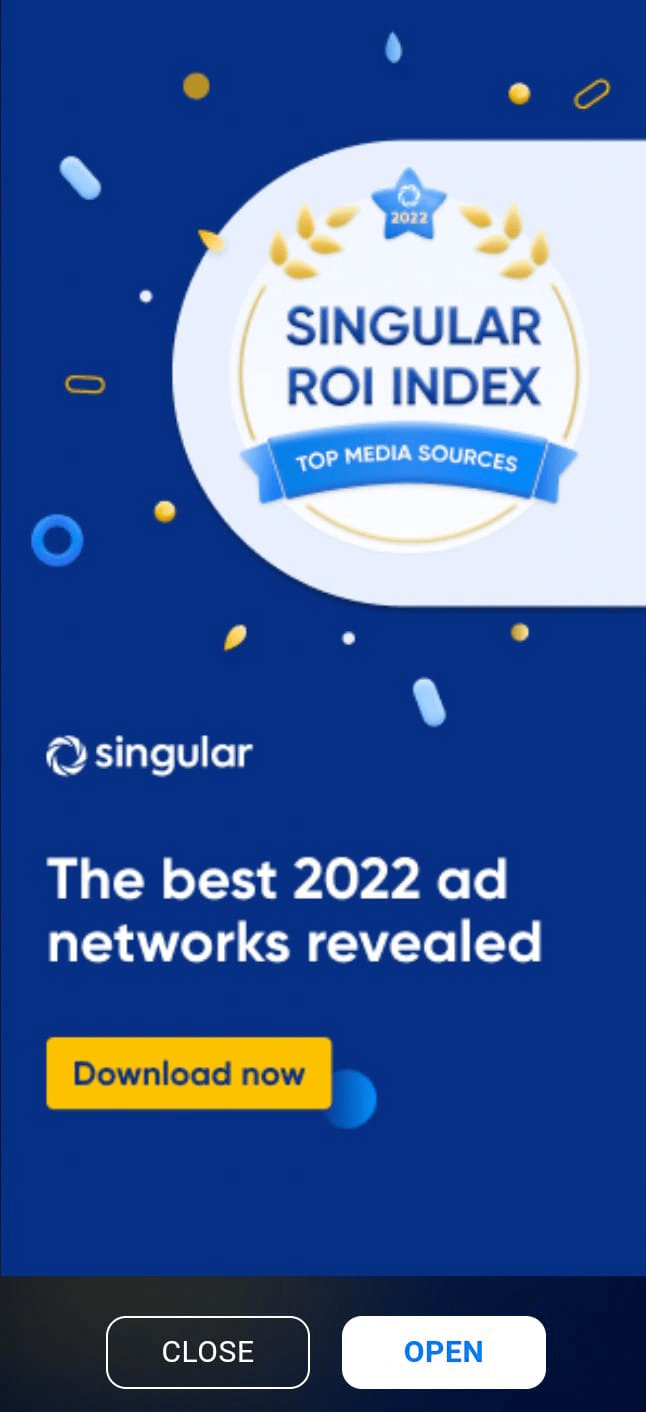 Congrats, now that you know different types of ads and their descriptions, you can decide which of them will enable you to reach your business goals. Hope our examples will help you with your choice.
References:
This article defines the term and provides readers with the types and benefits of mobile advertising.
In this article, you'll find 11 awesome examples of mobile marketing campaigns.
Last Updated: 22.03.2023