Retail email marketing is a set of strategies that help businesses increase their sales by promoting awareness and interest in their products. If a company manages to choose the right advertising strategy and effective tools, it'll get profitable business development and high return on investment.
Why does your retail business need email marketing?
Better ROI
Direct communication
Valuable feedback
Email marketing is a proven way for any retail marketer to keep in touch with their clients and provide them with information about new products. Post-purchase emails are especially important since they show that a brand cares even after a purchase. Besides, email is a great chance to collect customer feedback and improve your service.
According to the statistics, the company can get about $38 ROI for every $1 it has spent on the email marketing campaign. Companies like Adidas and Rip Curl invest in their email marketing campaigns regularly. That's why they continuously reach high business goals. If you choose a reliable marketing service, you will get such benefits as:
Better ROI. A well-planned email marketing campaign can increase your sales level. 72% of users prefer receiving promotional content via emails, but mind that bulk email with the same offers sent to thousands of recipients won't do. Fuel up your efforts with personalization and segmentation options to provide individual approach.
Direct communication. A personalized email is a proven way to attract potential clients. It provides you with the chance to communicate with them directly. Also, you can use some email services such as SendPulse to cope with this task more effectively.
Valuable feedback. You can use email to ask your clients what they think about your products and services. That will give you insights that will help improve your strategy.
Email Ideas for Retailers
Birthday emails
Emails with tips
Emails with rewards
Each business needs a unique email campaign to attract new clients and partners. However, take into account that there are several new email marketing solutions provided by such marketing platforms as SendPulse that can help you increase user engagement, sales, and customer loyalty.
Birthday emails
Everyone likes surprises. It'll be a great idea to congratulate your customers on their birthdays. Accompany warm greetings with an exclusive one-day discount to encourage purchasing something in your shop. A lot of companies boost sales by stimulating their clients. Just have a look at the vivid and bright email solution from the British brand Topshop.
Emails with tips
You can send your customers emails that include useful tips and pieces of interesting information. Such messages can acquaint your customers with different problems and tell them how your products or services can solve these issues. It's an excellent opportunity to develop your brand and show your professionalism. Consider the following example from Siege Media, which entirely fulfills the requirements of this marketing idea.
Emails with rewards
Like Pet Valu, remind your customers that you appreciate their loyalty, providing them with bonuses. Usually, people want to get free rewards so much that they don't notice they've spent a good deal of money to get the prize. That's why this type of email marketing will encourage your customers to visit your shops over and over again.
Retail Email Marketing Tips
Automate email marketing
Segment your mailing list
Create mobile-friendly messages
There are several simple marketing tips you need to follow if you want your email campaign to work out. Stick to these three important pieces of advice and your business will flourish:
Automate email marketing. With services like SendPulse, there's no need to send post-purchase emails with delivery information manually each time a user makes an order. You can automate sending triggered emails based on users' actions. This way, you'll not only save a lot of time and ensure a smooth movement of leads down the sales funnel.
Segment your mailing list. While dividing your clients into different groups, take into account not only their info, including age, gender, location, but needs and interests. It'll help you select the right marketing strategy for a particular group of your customers.
Create mobile-friendly messages. More and more people use mobile devices to check their inbox. Don't forget to preview your email to make sure it's mobile-friendly. With SendPulse, this is a no-brainer since all the templates created in the service are responsive by default.
Retail Email Marketing Examples
Thousands of examples show how email marketing can help owners of retail businesses. Some of them are so inspiring that you should get acquainted with them.
With the help of email marketing, Nike regularly attracts new clients and encourages existing customers to purchase its products. Their marketers use segmentation and simple design to keep the focus on the message.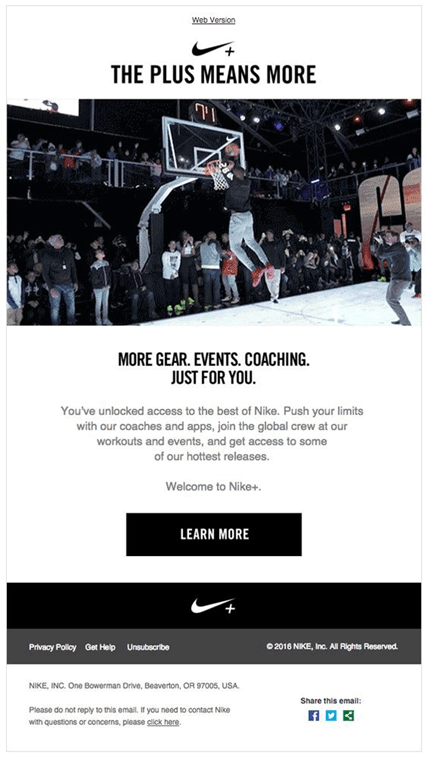 Check out how Kade Spade personalized their email campaign. They segment subscribers by their preferences and give 50% off the items users are interested in, along with free shipping.
UncommonGoods motivate their subscribers to purchase during their anniversary, offering to win a $100 gift card.

Choose the right email marketing strategy to grow your retail business. For this purpose, compare different marketing platforms and select one that meets your requirements at reasonable prices. It will simplify your everyday marketing routine and provide you with the necessary tools for a successful email campaign.
References
Here's the guide for email marketing for retailers.
Check out the list of Do's and Don'ts of email marketing for retail.
Last Updated: 24.08.2023