Unsolicited bulk email is the formal name for spam or junk emails that are sent to users who haven't opted-in to receive them. Most of these emails are commercial and commonly referred to as unsolicited commercial emails.
The key characteristics of unsolicited bulk email are:
they are sent in mass to a huge number of recipients;
a part of these recipients haven't opted-in to receive messages from the sender.
Sending these emails, which are mostly for advertising purposes, costs the sender little to nothing. However, unsolicited bulk email can cost a business both its reputation and losses in revenue (from penalties). ISPs try to control the distribution of these emails by blocking persistent senders and the associated IP addresses. Once a sender is blocked or blacklisted, they cannot send emails using the affected IP and email address again.
Unsolicited bulk email is often common with spammers and phishers. It is also the main reason the CAN-SPAM Act of 2003 was established. Enforced by the Federal Trade Commission, this law protects email users by requiring commercial email senders to comply with a particular set of rules. The best way to avoid ending up as spam and breaking this law is to use an email service. SendPulse, which enforces a strict anti-spam policy, is one such service enabling sending of bulk email without spamming.
The First Unsolicited Bulk Email
Gary Thuerk sent the first spam email in 1978. Working as a marketing representative at Digital Equipment Corp, he asked his assistant to send a single message about a new computer model to all ARPANET addresses — 393 recipients. It was opposed to the common practice of sending a separate message to each recipient. Though the UBE did generate a couple of sales for the company, the general reaction from those who received it was negative.
About 10 years later, the first-ever known chain email was sent with the subject line "Make money fast" to numerous inboxes in 1988. From then, unsolicited mass emails became quite common. In fact, as of 2018, approximately 53.5% of emails were spam. Today, trying to send a single message to over 100 addresses at a go can land the sender in a lot of trouble. Choose an email service instead and send bulk email without worry.
How to Avoid Being Flagged as Unsolicited Email
Never buy mailing lists
Use permission-based marketing
Activate your mailing list
Practice good mailing list hygiene
With all the problems that unsolicited email can bring to a business, anyone looking to use bulk email strategy should be keen on steps to avoid being flagged as spam. Here are a few ways:
Never buy mailing lists
Regardless of what the seller says, never buy a mailing list from any source. Instead, commit to growing an authentic mailing list using subscription forms. Even if it is from a seller who has a good reputation, anyone using a purchased list does not have permission from the recipients to send them messages. Learn how to create a subscription form using SendPulse and start growing your own mailing list.
Use permission-based marketing
Use the double opt-in approach when gathering new subscribers. Once a visitor signs up, send a confirmation message with a link to verify their subscription. With permission from the recipient, emails sent to them will be welcomed and will likely end up in their inboxes.
Activate your mailing list
Mailing list activation involves providing information about the source of a particular mailing list. These sources can be opt-in subscribers from a website, addresses from business cards or addresses imported from a different mailing service.
Practice good mailing list hygiene
Regularly checking a mailing list for invalid addresses and examining bulk email reports are effective ways of avoiding the spam folder. Keep the list clean, up-to-date and accurate.
What counts as permission to send bulk emails?
Having access to a specific mailing list and permission to send marketing emails to those addresses are two different things. More simply, just because a marketer has an email list, it does not mean that they are allowed to send promotional emails to those addresses. To create a successful bulk email list, business owners and other marketing experts ought to seek permission from their subscribers ahead of sending any email marketing campaigns to them. Asking for permission is not only courteous but a requirement when working with SendPulse.
Marketers should refrain from assuming permission. Instead, they should confirm the same when they are in doubt. Moreover, they should use best practices when acquiring and managing their lists. For instance, businesses should never use third-party lists. This provision means that renting or purchasing email lists is a no-no. The email list is to be collected by yourself. Now, to manage a list effectively, it is vital for a marketer to use a single list rather than maintaining several lists on their SendPulse account. It is also necessary for marketers to keep their permission status "fresh" by engaging their customers regularly.
Furthermore, all inactive subscribers should either be re-engaged or removed from the lists entirely. It is also essential to ensure that subscribers update their profiles by providing a link for doing the same in the marketing emails. All recipients should be able to update their subscription preferences and personal info.
To be sure about "permission to send," marketers should also implement double opt-in. Here, people have to confirm their registration by email before they are included in a marketer's list of subscribers.
Learn more about what is considered permission by checking out this page on our site.
How to Send Bulk Emails for Free in SendPulse
With the help of SendPulse, you can send legal email campaigns. After registering, add your mailing list to the service and activate it. This is a must since the service combats spam deliveries. You only need to describe the source of your list. After it's activated, start sending bulk emails!
Unsolicited Bulk Email Examples
Here are examples of unsolicited marketing emails. First, a marketing email from Wowcher and corresponding complaints about the inability of customers to unsubscribe: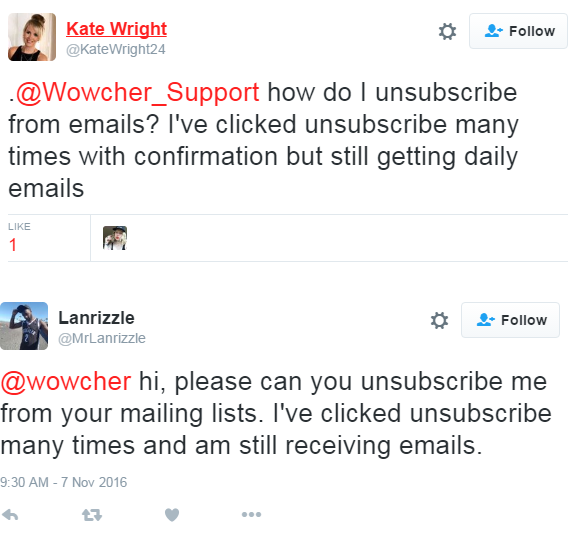 Here is another example of an unsolicited bulk email. The sender's email address looks suspicious and there are too many spam-like words.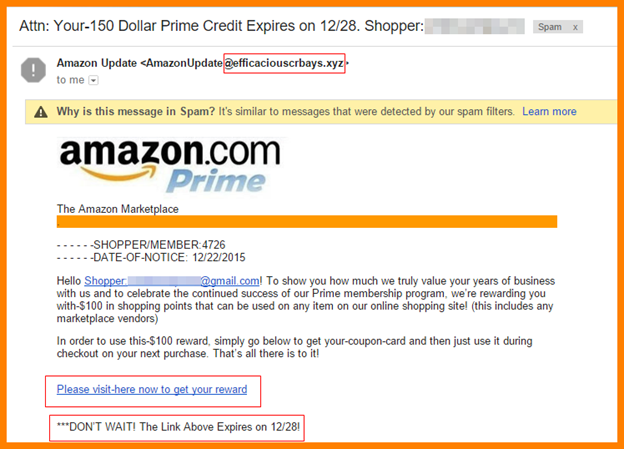 Sign up with SendPulse to send bulk emails straight to your subscribers' inbox!
Last Updated: 23.03.2023