An email spam checker is a service that runs your emails through the spam filters detecting issues like a blacklisted IP-address or email domain, inappropriate email content, etc., that might cause your message to end up in spam.
Plain and simple: an email that goes to spam harms your email deliverability, which, in its turn, impacts your sender reputation, and endangers all your email marketing efforts. Ending up in spam is the worst-case scenario, so it's excellent that there is software to check your emails for spam before you send them.
Why should I use an email spam checker?
To positively influence your sender reputation
To improve email deliverability
To increase the quality of emails for both ESPs and recipients
To positively influence your sender reputation. Email template design, copy and CTAs are only the tip of the email marketing iceberg. Understanding the bottom — sophisticated concepts like sender score, authentication, email domain, blacklists, etc., which form your sender reputation, is a must for getting more control over your email marketing strategy.
To improve email deliverability. An Email spam checker sheds light on some weak points that your email strategy might have, like lame authentication or poor email content. Having your email checked shows you the ways to more efficiently earn a place in your client's inbox.
To increase the quality of emails for both ESPs and recipients. Delivering your message to the recipients' inboxes is a hard craft since nearly 45% of all emails go to spam. This level of competition requires you to keep up with the high standards of technical and marketing aspects when sending emails. Using an email spam checker enables you to raise the bar for both.
What does an email spam checker do?
To run a test, an email spam checker sends a copy of your email through its accounts on popular email service providers and analyzes received data. Let's have a closer look at how the average email spam checker works:
Which email spam checker should you use?
Search engine results suggest there are many email spam checkers with different functionality and pricing plans. Here are three easy-to-understand email spam checkers:
Mail-Tester. This email spam checker runs your emails through SpamAssassin, verifies authentication details, checks the message for viruses, ensures that you are using the right email format, proves that no blacklists mention you and detects broken links. In one word — multifunctional. Mail-Tester also gives your email a score from 0 to 10 points and provides lots of useful insights and details.
ISnotSPAM.This service is free. Like with Mail-Tester, you need to send your test email to the copied random address and you will see the report in just a minute. However, you will receive fewer details than some other popular spam checkers.
Postmark. It is also a free service, and it allows you to insert the code of your email and get the SpamAssassin score.
How to Check Your Emails for Spam with SendPulse
Create your email campaign
Get recommendations
Follow recommendations and send
SendPulse recently updated the drag and drop editor with a built-in spam checker feature so that you could improve your email deliverability in a flash. For this you need to:
Step 1: Create your email campaign
Сreate an email with the HTML editor, drag and drop template builder, or make use of our template library. Avoid using spammy words in your subject line, preheader text, and copy. Below, you can see a SendPulse campaign builder where you can easily customize all of the elements to your liking.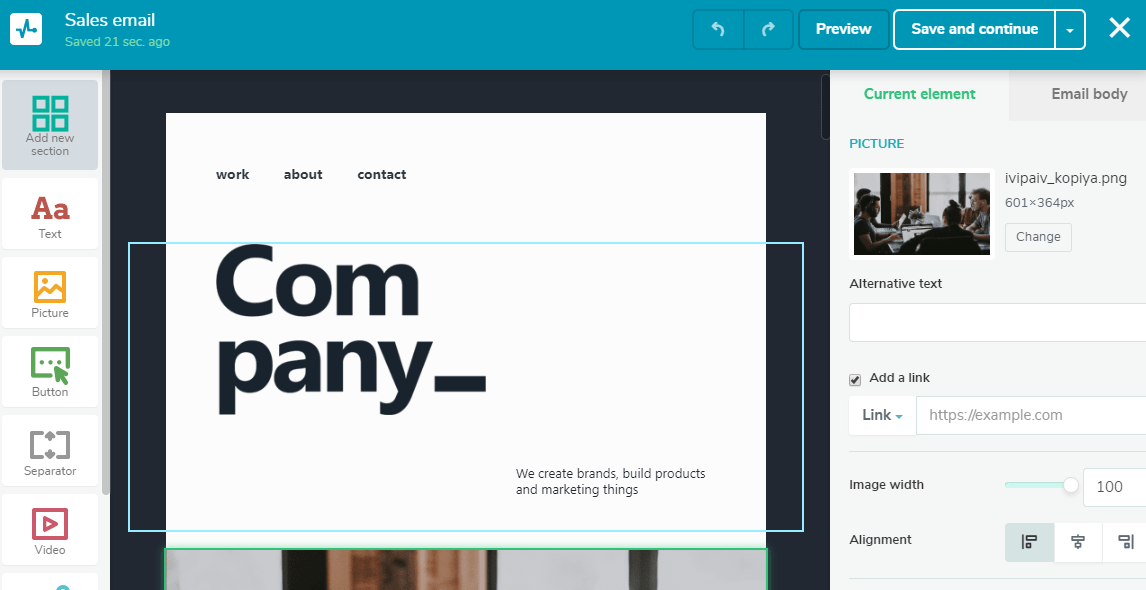 Step 2: Get recommendations
At the last stage of creating an email campaign, click on "Get recommendations." A pop-up message, like on the screenshot below, will reveal issues with sender data and the email body. It may be the absence of DKIM or SPF signature, or images may have no alternative text, so users whose email provider blocks images may miss the point of your message.
Step 3. Follow recommendations and send
Make some of those changes without leaving a drag and drop editor: for example, you can add alt text, links and reduce the number of capital letters. Fixing the authentication parameters takes more time, but it's time worth spending because your messages will reach more of your clients and increase your revenue.
FAQ
Last Updated: 22.03.2023