Giveaway email is a source of holding giveaways. Сompanies use it to inform users about the beginning and ending of the giveaway, keeping them interested with updates and notifications via emails along the way.
This video by Teachable explains what a giveaway is and provides 4 advanced tips for gathering more subscribers.
Giveaway is a promotion tool for gathering new subscribers which spins around the concept of a gift — some product which companies give away to the luckiest participant at random. It is expected that for the sake of winning the prize people will spread the word about the brand on socials.
Why are giveaways important?
Engage with an existing audience
Accelerate your mailing list growth
Improve brand image
Gain product exposure
Easy and cheap to create
Engage with an existing audience. Giveaways are great for refreshing relationships with your subscribers since regular newsletters and promotions are sometimes not enough for keeping people engaged. The hope of getting a free item brings subscribers lots of positive emotions associated with your brand.
Accelerate your mailing list growth. Your current audience can generate new entries for you. It happens if you give bonus points for sharing that giveaway on socials, fuelling the word-of-mouth. That is a reason why some giveaways go viral bringing new subscribers in even if there is no audience yet.
Improve brand image. When your company gives away something that people need and like, it results in a wave of positive feedback. Giveaways enable you to spread a positive image of your company when people mention your brand in their posts and tweets.
Gain product exposure. If you sell electronics and set wireless headphones as a prize, such giveaway will attract much attention to the product. A giveaway may also work as a method of promoting particular products.
Easy and cheap to create. There are many services on the internet for creating giveaways. It is also cheaper compared with other promotions since it requires only one product and a little bit of email marketing magic.
How to write a giveaway email?
Holding a giveaway is not about sending a single email — it requires creativity and a few email campaigns. To create a successful giveaway email strategy, you may utilize the following sequence of emails:
Giveaway submission — Notification about expiry — Winner announcement — Thank-you email.
If you sell accessories, you can give two items away as a prize: a watch for men and a fitness bracelet for women to cover a broader audience. When you close a giveaway, you have a segmented audience for future email campaigns. Let's have a closer look at the giveaway email types:
Giveaway submission. In this email, name the prize that appeals specifically to your target audience and tell how to take part in a giveaway. Create a CTA leading to the website to show more details on participation terms and leave their personal information like email addresses, names, gender, mailing addresses, etc., to join the giveaway. Send it to your existing audience first, and then set it up as a triggered email for new entries.
Notification about expiry. Depending on the sweepstakes' duration, send an email to tell how many days are left before you choose a winner. Include a timer with a countdown to create that feeling of urgency. The longer the giveaway, the more emails you need to send for keeping participants engaged. Keep on encouraging shares all the time by giving bonus points.
Winner announcement. Send an email to inform all participants about the luckiest one. Make a transparent random choice using service like random.org. Add a link to a video in this email to ensure that everything is fair. And don't forget to mail the prize to a winner!
Thank-you email. Follow-up giveaway's success by sending a thank-you email to all participants. Give a time-limited discount on the product that they have been hoping to get recently to increase sales. You can ask a winner to live feedback, make photo or video, which you can use for increasing trust to the brand.
Giveaway email examples
Lonely Planet. This giveaway offers a trip for two to the Yellowstone National Park and a complete set of new guides to get the most of it.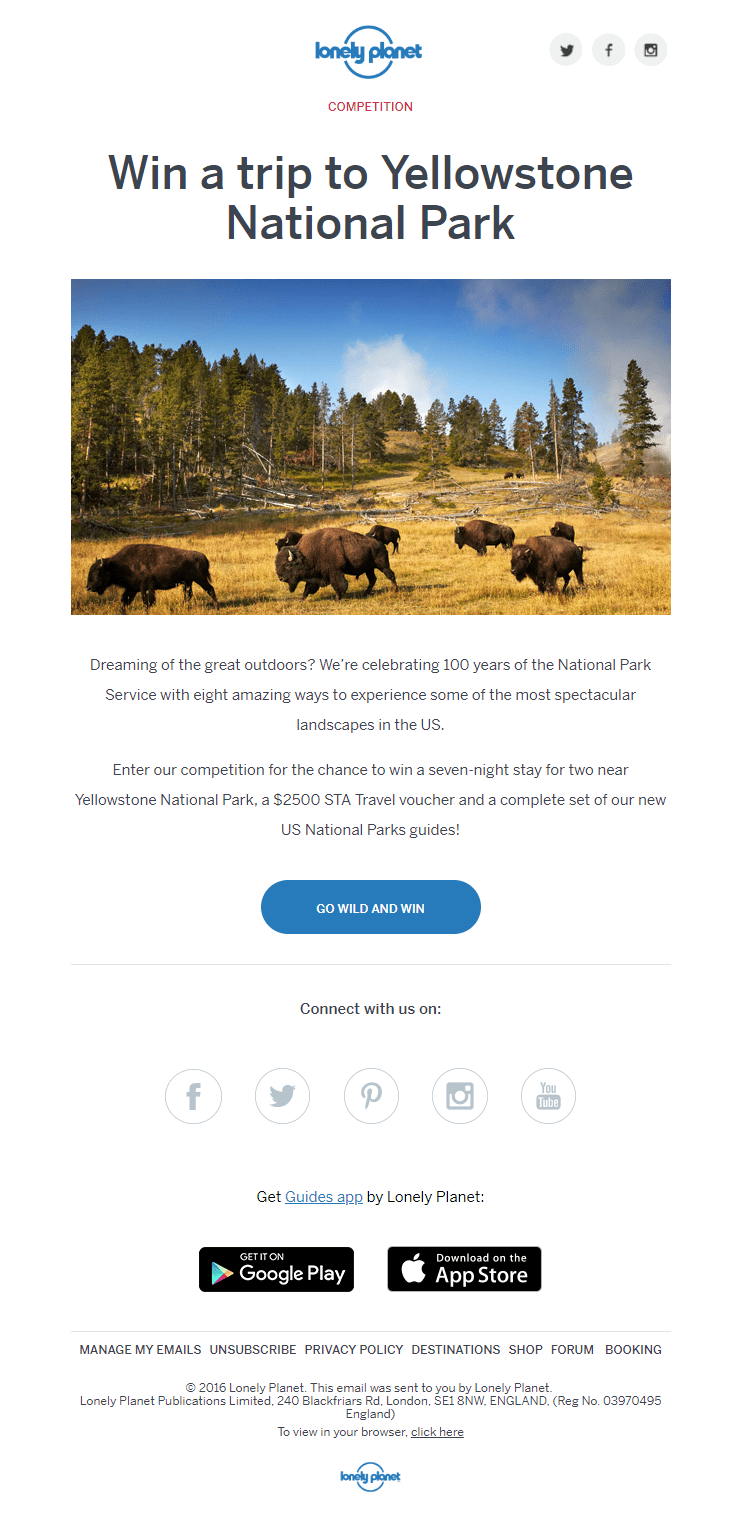 Apple Music Festival. In this example, free tickets are the prize for the winner. There is nothing but the names of famous bands and musicians that make users click that call-to-action button and take part.

Kid & Coe. The text "Let's get lost" is the first thing that gathers users' attention and reminds about the famous Chet Baker's song, romantic and lighthearted. The giveaway suggests taking part for the sake of winning one of five tours worldwide.

References
The article "How to Use a Giveaway to Accelerate the Growth of Your Email List" on Neil Patel blog explains 3 successful cases of utilizing giveaways.
The guys from ReallyGoodEmails gathered wonderful examples of giveaway emails.
FAQ
💌 How do I use email when running giveaways?
You can keep the participants informed by sending them email updates. Besides, you can announce the results of your giveaway, reward the winners, and thank the rest for participation. After the giveaway, you can continue communication with new subscribers to convert them into customers.
Last Updated: 28.03.2023