How to Send Automated Emails
Sending automated emails is easy with SendPulse. You need to register your account, create an email workflow, fill it with content, and launch!
Step 1: Register with SendPulse
SendPulse is a marketing automation service that offers all the essential tools for email marketing automation. With SendPulse's Automation 360, you can send emails, SMS, and web push notifications within one flow triggered by users' actions.
Register your account and move on to creating automated emails.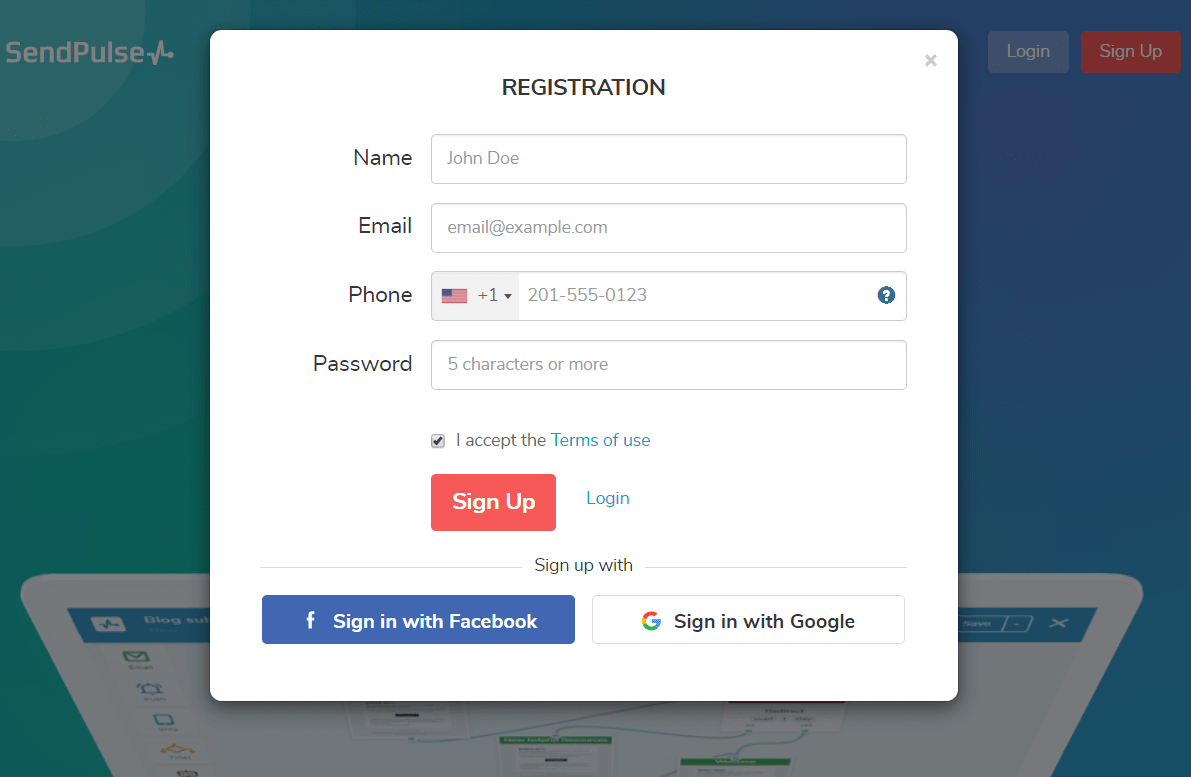 Step 2: Create an Event
Once you log in to your account, configure SendPulse Automation 360 for sending automated emails in reply to specific events like registration, purchase, cart abandonment, or any custom event.
To create an event, open the "Automations" tab and choose the "Events manager."
Now, choose one of four default events, which you can customize using variables to meet your goals.
Once you create the desired event, SendPulse will generate a unique URL. Ask your developers to send data to that URL.
Here's a detailed guide on creating events.
Step 3: Create an Email Workflow
Get back to "Automations" and select "Create new automation."
Specify information about your automated email campaign before you move forward to creating the workflow.
Firstly, decide which user action will trigger email sending. For instance, the flow can start when a subscriber abandons their shopping cart.
Then simply drag and drop elements into the working area, fill them with content, and connect them into one email workflow. Below is an example of an abandoned shopping cart workflow that triggers sending follow-up emails in 24 hours after the event takes place.
Here are the elements you can utilize for creating perfect automated emails:
Three communication channels. Note that you can combine email with SMS and web push notifications within a single automation flow. For example, you can send a follow-up SMS if subscribers don't open your email.
Filter. Using a filter, you can send personalized emails based on segments — groups of subscribers that share the same gender, location, buyer journey stage, etc. Filters will help you communicate more relevant emails to satisfy specific social groups of your mailing list.
Condition. It determines the direction of your flow based on user interaction with your campaign. For example, if a subscriber hasn't registered for your webinar, you can send them an SMS adding a time-sensitive incentive to the original invitation; if they have – just send a thank-you email.
Action. This element helps you automatically manage your mailing lists. You can move, copy, and remove subscribers from a mailing list, and change the variables assigned to them. For example, if a client changes their preferences, you can move them to another mailing list to send more relevant emails.
Goal. This block is designed to track conversions and stop your automation flow when necessary. For example, if you set a purchase as a conversion, this action will trigger a right-away sending of a thank you email, following up with a feedback email in a week or so. Get more details on how to calculate conversions here.
Mind that you can create and combine up to 50 elements in Automation 360.
Step 4: Track Performance of Your Automated Emails
Once you save your email workflow, and it is active, you can get a lot of data to analyze from your campaign. You can see the number of deliveries, opens, and clicks for each part of the flow in real-time. Below is an example of a real-time report.
You can use this data to optimize your automated emails.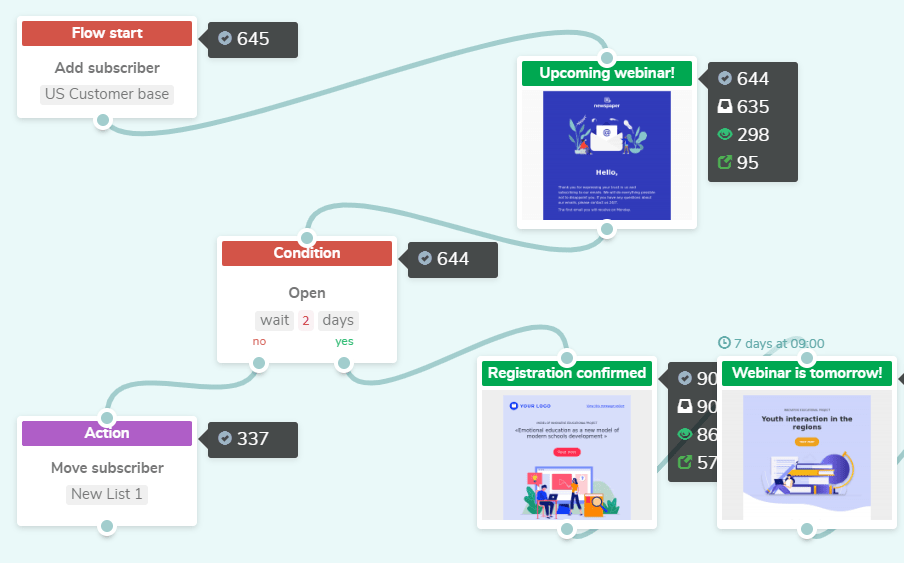 Besides, you can see these statistics separately for each message in the flow or get a general report for the entire automation flow.
SendPulse's Automation 360 allows you to create advanced automation flows, monitor every client's position in your flow, and get a better idea of how to optimize your marketing efforts.
Last Updated: 30.01.2023