How to Purchase Bulk SMS
You can purchase Bulk SMS from SendPulse. There are no pricing plans for this service. You just add the necessary amount of funds for your future campaigns.
Register with Our Service
If you still do not have an account with SendPulse – register. 
Click "Sign Up" and fill in all the fields.
Make sure that you read our Terms of Service.
Determine the Price of 1 SMS for Your Country
Having registered, go to "Pricing Plans" and choose "SMS plans." Here you will see the price of 1 SMS for every country.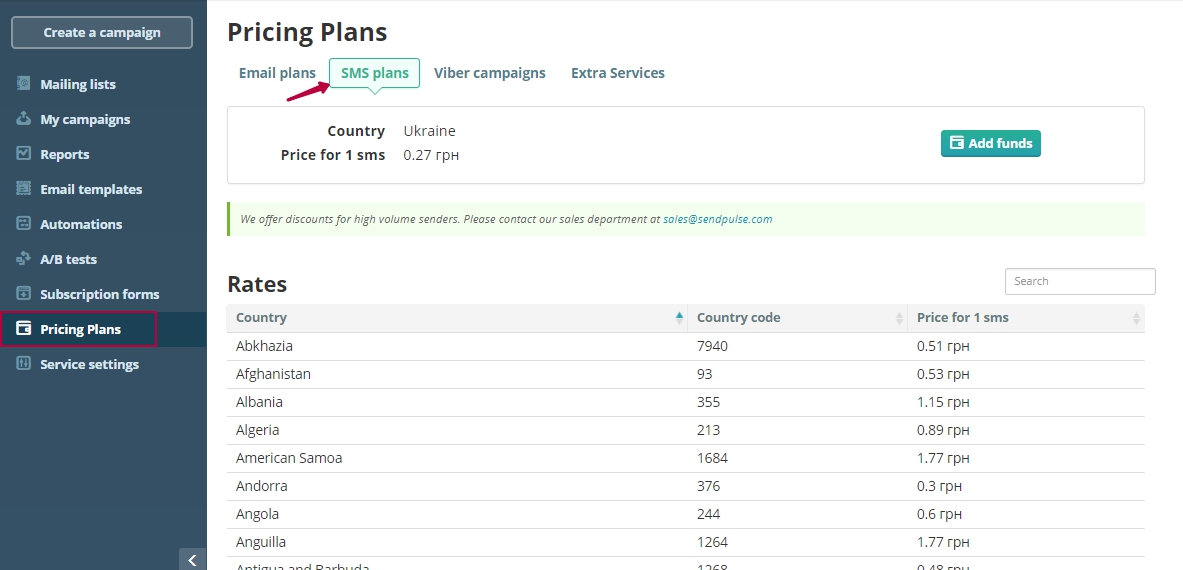 Add Funds
Click "Add funds." Select the necessary currency and specify the amount to be paid. After that, click "Add funds."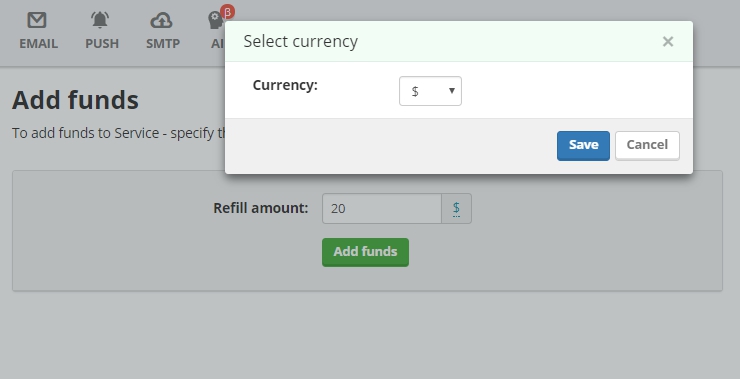 Create a New Mailing List
Click ''New mailing list," give it a name, and click "Add."
You will then be redirected to the page where you can add your clients' phone numbers to the mailing list.
There are several options to add phone numbers:
Upload a file
Copy and Paste
Import from…
The picture below shows how to enter phone numbers manually. If you want to use personalization in your text messages, you must put a comma and space, and then specify the name of the recipient.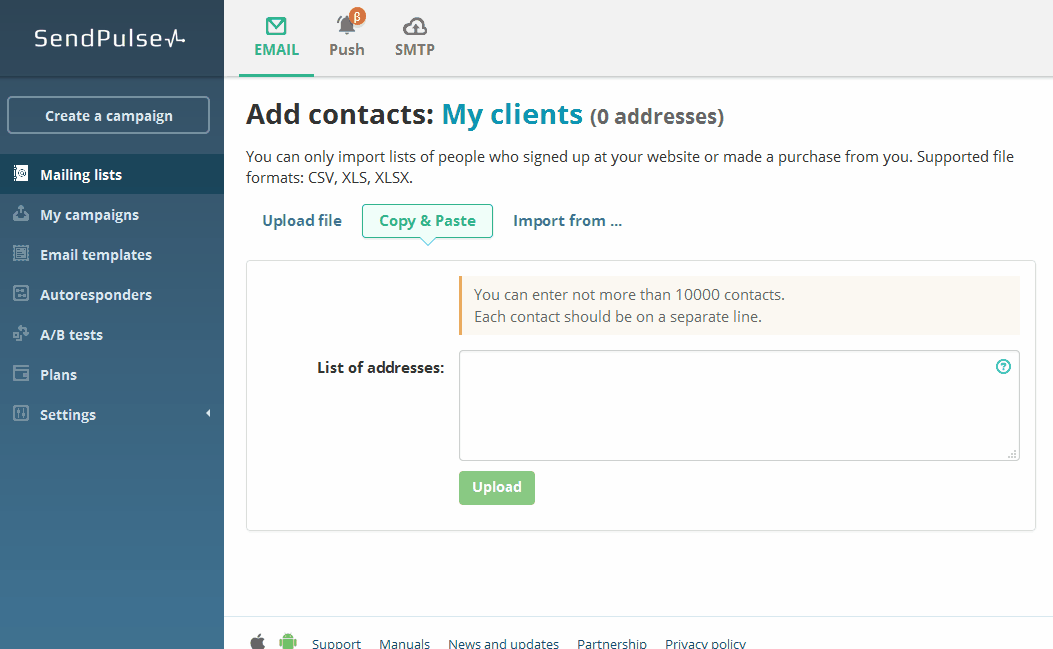 After the phone numbers are loaded, you need to determine the name of the variable for the clients' names (select from the suggested options or use your own).
Send SMS
After creating a new mailing list, you can already send a bulk SMS campaign. Click "Send SMS."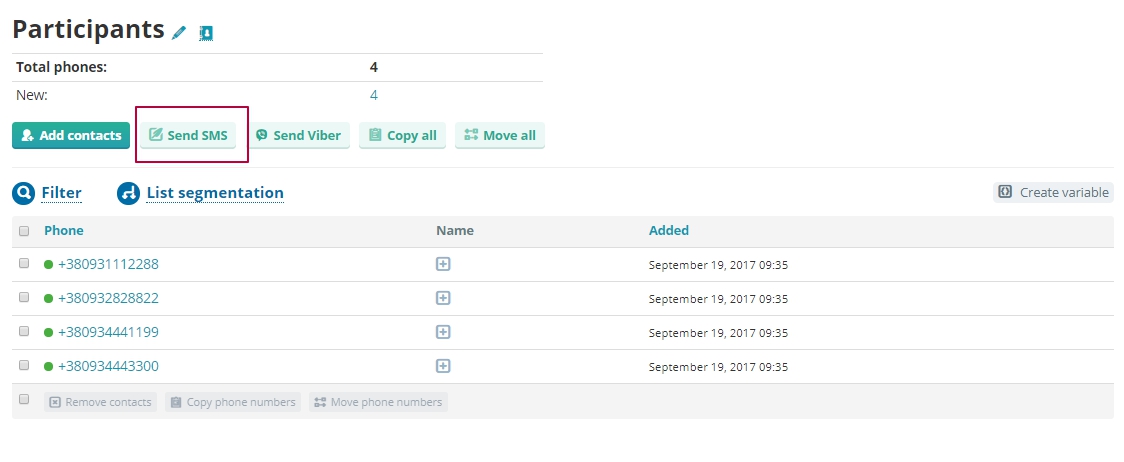 Fill in All the Fields
Fill the "From" field, write your SMS text – it is recommended to write not more than six parts, you can add an unsubscribe link, in this case, the size of your SMS will increase.
You can choose the necessary mailing list or type(paste) the phone numbers manually. 
A preview of your SMS is available. To make sure that it looks okay, click on the mobile phone icon to the right of the "From" field.
You can send an SMS immediately after creating or set a sending date and time. For this purpose, choose "Start sending SMS at" and specify the date and time.
Your bulk SMS campaign is ready for sending.
You can track the statistics of your campaign. Go to "My campaigns" and choose the necessary one, you will see the number of delivered and not delivered SMS.
If you doubt, to send Bulk SMS campaign or not, you can use ten free text messages for testing, but you won't be able to change SMS text. It will look like this: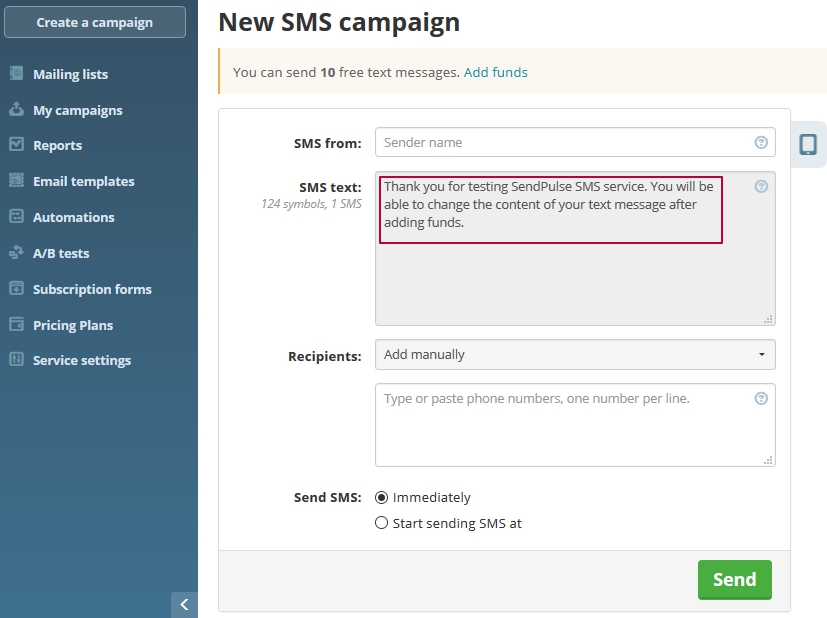 Create a bulk SMS campaign now!
Last Updated: 09.12.2020